Recently on Cyclingnews.com
The Emma James Diary 2002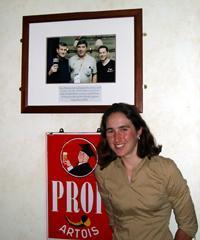 Emma and the Cannibal
Photo: © CN/Anthony Tan
Welcome to Cyclingnews.com's newest female diarist, Australian Emma James. Emma's enjoying her first year as a scholarship holder with the Australian Institute of Sport (AIS) road cycling team, managed by coach James Victor. She's a gutsy rider who's decided that she'd rather be testing the waters of professional cycling than testing the salinity of the Sydney's waterways as an environmental scientist - which used to be her previous occupation before Emma decided to take the plunge.
La Grande Boucle Féminine
Stage 5 - August 8: Saint-Vallier - Montceau les Mines ITT, 31.2km
Stormy weather and killer cereal
The time trial circuit was fairly tough, with a fair few hilly sections especially in the first half of the course including one long steep one of about 1.5km. There were a few technical sections / sharp corners which it would have been good to ride through beforehand.
I had a decent warm up, and was fairly early starting as my place on GC is not brilliant! I caught three riders – some of whom may have been thinking more about other stages, and I was caught by the Italian road champion Lapomarda who started a minute behind me. In the end I finished in 28th place, four minutes behind the winner – Leontien Z-Van Moorsel. Stathurskaia was second, 25 seconds down, and Judith Arndt third, 54 second behind Van Moorsel.
The weather was not good for a time trial where the first rider starts nearly two hours before the last rider as a storm was brewing all day. The wind was quite strong before the storm blew in. Riders starting midfield found wet roads about half way through the circuit. The last ten good riders had a huge dump of rain as they rode the last part of the course. At the finish it was quite an impressive storm, with heavy rain – as view from the warmth of a massage room after a shower. It was an impressive ride for the last seven riders to start (including Van Moorsel and Arndt) because of the huge downpour that really changed the conditions.
One of my team mates, Miho Oki, the five time Japanese champion, and former speed skater crashed today quite early in the time trial. She cut her arm quite badly (needed 20 stitches), and there was concern that it was broken. She was seen to by the race doctor, but has not had to go to a hospital at this stage. Hopefully the morning will bring good news but it looks painful now. She had been finishing in about the top ten in all the sprint finishes, and was the best placed rider from our team on GC.
We had an easy transfer of 150km on an auto route to Lyon, where we are all staying in single rooms in a up-market youth hostel type place. We have been spoilt so far on the tour, staying in wonderful hotels. The food tonight was not great in comparison to the buffet feasts we have enjoyed, but microwaves were available to reheat the pasta if it was already cold when served. The Italians cooked up their own pasta, which many more people noticed tonight as they looked around the army mess style eating area. An awesome Kellogg's cereal that I have never been able to get in Australia ("Country Store") has been the key nutritional element at breakfast. It is quite sweet, but tastes excellent with extra oats and hot milk. With a packet of that, I'm happy to have breakfast anywhere.
We have the first mountainous stage tomorrow, with a couple early climbs, and a final 20km climb to the finish. I'm hoping for good weather, but the odds are not too good!
A toute a l'heure,
Emma
Emma's racing exploits in 2002