The Emma James Diary 2002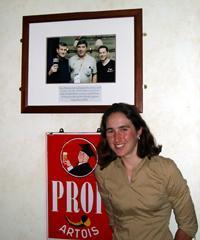 Emma and the Cannibal
Photo: © CN/Anthony Tan
Welcome to Cyclingnews.com's newest female diarist, Australian Emma James. Emma's enjoying her first year as a scholarship holder with the Australian Institute of Sport (AIS) road cycling team, managed by coach James Victor. She's a gutsy rider who's decided that she'd rather be testing the waters of professional cycling than testing the salinity of the Sydney's waterways as an environmental scientist - which used to be her previous occupation before Emma decided to take the plunge.
La Grande Boucle Féminine
Stage 4 - August 7: Bar le Duc - Nogent-sur-Seine, 156.2km (+20km neutral)
Attack attempts and Lindberg's long escape
The devil (who follows almost every big cycling event on the planet) was at the end of the stage yesterday with his huge bike, and again this morning to cheer us on. The neutral was very controlled and slow. Someone must have said something after yesterday. It was a good chance to chat for more than half an hour! We had a quick peloton toilet stop in some cornfields just before the end of the neutral zone. Quite a funny scene with bikes and bottoms everywhere!
The stage was almost entirely flat with one cat 4 climb which until 500m from the top I thought was a joke – the roads leading up to it were almost completely flat.
It is hard to know when the peloton will let a break get up the road. A couple of riders tried at the 20km mark, but were brought back by Van Moorsel. At the 40km mark I attacked a little, got a small gap and a few with me; but it seemed Saturn wanted to sit on everything. Five km later Ghita Beltman with AccaDueO got away on her own. It was just before a narrow road, and her team sat up on the front of the bunch, and the gap grew to about two minutes. We crawled along for a while, and went through the very uneventful ÔmountainŐ sprint.
I was looking for opportunities, but not in the right spot to go when an Edilsavino rider (Chuzhynova) attacked, and Madeleine Lindberg (Farm Frites) went with her. A little later they had 40 seconds, and I tried to get across. I was tailed by a Farm Frites rider, but I thought if I got close enough to the break, she would be happy to work to then join her team-mate. We had a good gap for a while I think, and I kept the pressure on for about a km, but someone was not happy with that move and dragged the whole peloton back.
It would have been nice if a group had attacked and joined me without 100 other riders. I keep thinking if I had sat up just a little earlier, and then countered my own attack, maybe it would have worked. There was a slight drag just where I was caught – it is a pity there was no counter attack – it was the last chance to get to the break in front. A short while later the three in front had joined up, and not long after that their lead grew from 40 seconds to four minutes.
Boredom was setting in for us. I rode for ages in the small chain ring thinking that this stage was much easier than it may have been. The gap to the three leading riders grew to ten minutes, and Madeleine Lindburg was the ÔvirtualŐ yellow jersey (only 7 minutes down on GC). Saturn did not seem to keen to do anything until about 30km to go, and then they seemed to pull the gap down to 4 minutes just by maintaining a decent pace. A fair few crashes – some quite big – were the feature of the last couple of hours of racing. I think fatigue may have played a part in it! I was very glad not to be involved in any of them, but was close enough to a couple of them to get a bit of adrenaline/fear in me.
The finish was mainly nice sweeping curves in the road for the final four km, except for a couple tight corners in the last kilometre. Debby Mansfield and Zinaida Stathurstkaia came down together on a little rise / bridge just under the one km to go banner. Olga Slioussareva finished just ahead of Judith Arndt in the bunch kick for fourth. Madeleine Lindburg won the stage, ahead of the other two in the break: Chuzhynova second, and Ghita Beltman third.
Our team had decided to spend a couple hours at the finish, getting massages done, and eating some nice pasta, salad etc before heading off on the 300km transfer! At least we didnŐt have to ride it – and it gave me a chance to write this among other things. I am feeling OK considering we have had a fair few hard days of racing. With a time trial tomorrow, and some mountains on the way I hope I still have some life in me in the second week. I would love a good result in the Grande Boucle!
A toute a l'heure,
Emma
Emma's racing exploits in 2002