The Emma James Diary 2002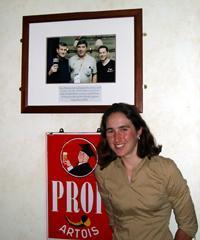 Emma and the Cannibal
Photo: © CN/Anthony Tan
Welcome to Cyclingnews.com's newest female diarist, Australian Emma James. Emma's enjoying her first year as a scholarship holder with the Australian Institute of Sport (AIS) road cycling team, managed by coach James Victor. She's a gutsy rider who's decided that she'd rather be testing the waters of professional cycling than testing the salinity of the Sydney's waterways as an environmental scientist - which used to be her previous occupation before Emma decided to take the plunge.
La Grande Boucle Féminine
Stage 3 - August 6: Charleville-Mezieres - Val de Fensch, 154.8km (+12km neutral)
Splitting up is easy to do when it's flat and windy
Today's stage was fairly flat with three cat 4 climbs, one at the three kilometre mark. It was good to have a little neutral zone before the first climb, but after the neutral, we stopped for a minute just on the base of the climb. There must be something about womenŐs racing which requires at least one stage to start on a climb. Last year a stage started half way up the Tourmalet!) The neutral was fairly fast, and after someone punctured from a big bit of metal debris on the road, we cruised at 45km/h for a while.
There was another little pinch at the 20km mark, and then basically flat roads for the next 100km. Farm Frites mad things interesting by trying to get a group up the road. I went with one little attack, but it got nowhere. Our team director told us that we would be in cross winds for about 20km leading up to the climbs in the last part of the race. At that moment Saturn started driving on the front – and I mean 45km/hr into strong winds for 20km! It was strung out for ages, with some of the good climbers suffering in the fast, windy conditions.
The last two climbs were at the 135km and 145km marks. On the first one the peloton split with about 40 riders up the road. I was in the following group of about 40, with another 20 behind. Our group chased fairly hard to start with, and we even had a couple of echelons forming (nearly) to work together better. We finished a minute behind the front group.
Kimberley Bruckner from Saturn got away towards the end, but was caught and countered by Zabirova who ended up winning by five seconds. It was a good finish, with a little climb with four km to go.
Tomorrow is 160km with a 20km neutral zone. 160km would be too short. Forecast weather wise is rain for the mountain stages in a couple days time. I am optimistic that they will be wrong. We have been quite lucky so far with only a sprinkle of rain from time to time, and the heaviest rain falling on our transfers in the car.
A toute a l'heure,
Emma
Emma's racing exploits in 2002