The Emma James Diary 2002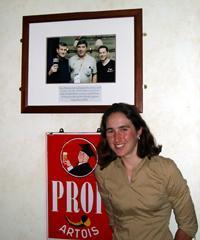 Emma and the Cannibal
Photo: © CN/Anthony Tan
Welcome to Cyclingnews.com's newest female diarist, Australian Emma James. Emma's enjoying her first year as a scholarship holder with the Australian Institute of Sport (AIS) road cycling team, managed by coach James Victor. She's a gutsy rider who's decided that she'd rather be testing the waters of professional cycling than testing the salinity of the Sydney's waterways as an environmental scientist - which used to be her previous occupation before Emma decided to take the plunge.
La Grande Boucle Féminine
Our team had a media presentation at the Lido de Paris, on the Champs Elysees a few days before the tour started. The director of the Grande Boucle, Pierre Boue, was there as well as plenty of reporters and photographers. The Lido is a sponsor for our team for the Grande Boucle, and one of the girls in the team (Cynthia) has danced there for four years. She gave us the low down on the Lido, and has planned to get tickets for us to see the spectacular night performance when we get back to Paris after two weeks of racing!
The Lido de Paris started as a place for classical ballet dancers who had grown too tall for the top ballet scene. Now the Lido only accepts girls over 175 cm, and with other important characteristics. For our team presentation we walked through the staff corridors, with huge feathered head dresses and amazing sequin costume displays on the corridor walls. We wandered into the performance theatre and were stunned by the red velvet seating, grand chandeliers and beautifully set tables on two levels, seating 1700. We were treated to a gourmet lunch from the kitchen that prepares the range of meals served at the spectacular night performances (from 50 Euro to the 400 Euro Iranian Caviar – for two!)
The actual presentation itself went well. I found my school girl French suffers more than normal with nerves and microphones – must prepare something next time, and remember to answer blunt questions with anything interesting! Afterwards we headed to the Bois de Bologne on the outskirts of Paris (five km from the centre) where there is a popular cycling circuit of about two km. Everyone assured me that cycling anywhere else in Paris would be impossible – ensuring death, so we could not do laps of the Champs Elysees even though the barriers were still around from the final stage of the men's Tour de France the previous weekend.
Reconnaisance
En route to Holland for the depart of the Grande Boucle, we detoured via the pavé (cobbled) section in the last 40km of the stage on the second day. We stopped numerous times to stand gob-smacked in front of a series of holes and sharp cobbles – knowing it was impossible to remember where it would be better to be on the left or right, and already thinking the most important thing on the day will be LUCK. All I can say is it will be very interesting, an amazing memory/souvenir, and perhaps influential for the top riders on GC in the same way that crashes in the first week of the men's Tour destroy the chances of some of the favourites.
The only other essential thing in Belgium was to find a 'rijst tartje' or 'tarte au riz'. This is a rice tart: a pastry base with rice pudding inside and cinnamon on top. I am a connoisseur, having had a perfect one after a very hard circuit race in Belgium last year, and even found one from a Belgian train station well worthwhile! I found on in a small bakery, and later that evening it was met with approval by most of the team.
Stage 1a - August 4: s'Hertogenbosch - s'Hertogenbosch, 92.9 km
The first stage was a 90km circuit from s'Hertogenbosch in Holland. This town is only 50km from where I lived in Holland for several months last year. It was great to have some supporters for the start of the race: friends who had helped me so much last year in Nijmegen. It was great to see Holland again – all the things that are typically Dutch from the style of the houses to the bike paths and food brands. All good memories of time spent racing in Holland.
The circuit felt more like a criterium than a road stage with heaps of corners, roundabouts and 'traffic calming' obstacles. There was a sense also that there was hard work to be done in the team time trial that afternoon, so the pace was not too frantic for most of the race. A small group tried to get away at one point, but the field is full of awesome, strong riders who don't want give up a minute on GC on the first day. It finished in a bunch sprint which Petra Rossner won after a strong lead out from Saturn in the last four km. Sylvie and Miho from my team finished in the top ten, and our team was 3rd on the team classification after that stage! The peloton was quite strung out in the last kilometre, and little gaps appeared which led to time splits in the peloton (5, 8, 13 seconds). I was a little further back than midfield, but happy to have the first stage done. There will be plenty of opportunities for a good placing in a stage in the next two weeks.
Stage 1b - August 4: s'Hertogenbosch - s'Hertogenbosch TTT, 15.1km
A nice flat circuit of 15km, mainly like a cycle path through a marshy park area. There were a fair few corners and the path was narrow in some sections so it was a true test of how well the team could work together. We thought we did OK, and the girls in the team said it was a huge improvement on a time trial they did in May. We ended up 14th out of 17 teams, losing 1:52; but the competition was good, and not all the girls in our team are flat time trial specialists. Leontien Z-Van Moorsel's Farm Frites team came 1st, which we had guessed from the raw of the crowd at the podium as we were packing up. Saturn was second, 11 seconds down. At the start the atmosphere was great with the crowds drumming on the barriers and live music (trumpet, lots of brass) helping to count down the time for each team to start.
We had a long drive to Brussels, so the camping car/caravan was a treat, enabling us to have a decent shower before we left, and then to be able to lie down for most of the trip with our special blood circulation socks on. The Brussels hotel turned out to be harder to find than expected, so we did laps of the town for what seemed like forever for a few of the girls.
It was great to catch up with some of the other Aussies in the tour over dinner, and the gap between entrée and main course gave us plenty of time. Kym Shirley, Katie Mactier, Anna Millward and Alison Wright are all racing. Margaret Hemsley would have made it six Aussies all up if luck had been with her on that descent in the Commonwealth Games.
Stage 2 - August 5: Bruxelles - Valenciennes, 159.5km (with 6 pavé/cobbled sections)
This was a stage that was bound to cause trouble. The 140km stage was preceded by a 20km neutral zone, with huge dark clouds looming ahead, and the knowledge that the pavé sections would be slippery as hell if it rained. Our team was as well prepared as you can be for this stage. We had seen the last 40km as a little detour on our trip from Paris to Holland, we had special tyres, tips from a pavé specialist: Christian Pezard, and we had people with spare wheels at each section.
Most of the stage was not too dramatic, just really long! The pace was not too fast except for the pavé sections. The first 3km pavé section was at 40km. It started raining a little just before we got there. It was not too bad, strung out, but regrouped fairly soon after. A few girls suffered punctures just after the cobbles, but would have had not much trouble rejoining the group. The race just dragged on from then until the 100km to go mark where all the action was.
As always it is better to be at the front for anything important. I was happy with my position leading into the crucial pavé sections with 40km to go. As we went down a little slope leading onto the pavé everyone braked heaps, two girls crashed in front of me, and I didn't manage to avoid it totally – luckily I didn't hurt myself. My front wheel was damaged, but I got a fairly quick change from our team car which had felt the need to be close to the front before we even had any dramas. I was caught up behind a couple cars for a couple hundred metres on the slippery, muddy pavé, but they somehow let me pass with a couple other girls, and we picked up odd riders along the way. We chased to regroup with a few bunches ahead, but the race was well and truly up the road.
The pavé would not so bad if you could do it without everyone else! We had so much discussion about what to do, and only 10m onto the pavé a crash foiled our plans – I hadn't even had a chance to ride it properly. It was disappointing.
Judith Arndt won the stage and now is in the yellow jersey. Polkhanova was second, and Rossner third bringing in a bunch of 30 riders. The next 20 riders were three minutes down, then a bunch at sic minutes, then my group at nine minutes, and a few stragglers after that. A fair few good riders lost time today.
A long transfer, heavy legs, long stage tomorrowÉ these reports are going to get shorter and shorter!
A toute a l'heure,
Emma
Emma's racing exploits in 2002