The Emma James Diary 2002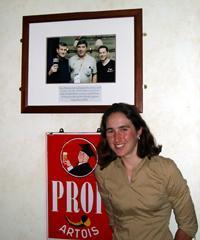 Emma and the Cannibal
Photo: © CN/Anthony Tan
Welcome to Cyclingnews.com's newest female diarist, Australian Emma James. Emma's enjoying her first year as a scholarship holder with the Australian Institute of Sport (AIS) road cycling team, managed by coach James Victor. She's a gutsy rider who's decided that she'd rather be testing the waters of professional cycling than testing the salinity of the Sydney's waterways as an environmental scientist - which used to be her previous occupation before Emma decided to take the plunge.
Heat, hills and hard racing. Ugly.
June 27, 2002
Emma learns all about motorpacing, Italian style... no fair.
Hi all,
The three day Giro del Trentino was as hilly and hard as we expected (actually harder!), and combined with seriously hot weather, saying the race was tough is an understatement.
The first day was flat for the first 50km, then an 18km climb and a short descent to the finish. It was definitely over 30 degrees C and alot of riders struggled with the heat.
The police on motorbikes and team cars assisted the Euro riders in true Italian style - it seemed like it was only the Aussie and Swedish riders and a couple of others who weren't going 30km/hr up the climb without pedalling. The top 20 riders were separated by about 10 minutes and the next 80 riders by about 20 minutes.
The following day was also tough with an early GPM at 30km and a final climb towards the finish. Sara Carrigan rode wonderfully that day to finish 9th in the stage - right up there with the best climbers.
The final day also had plenty of hills and heat. I rode much better that day to be in a group chasing the front bunch from about the 40km mark for the next 35km, and then I could help Sara out once we caught the front group to assist her in holding on to her 10th place on GC. A couple of the other Aussies and myself helped pull back a break in the last 15km before the final climb for the day. Sara rode well on the final climb to finish 10th on GC.
I am looking forward to the Giro d'Italia Feminine that starts in just over a week. Hopefully some good form coming!
Emma
Emma's racing exploits in 2002