The Emma James Diary 2002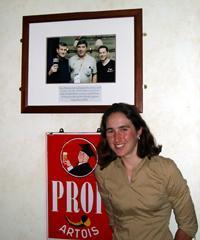 Emma and the Cannibal
Photo: © CN/Anthony Tan
Welcome to Cyclingnews.com's newest female diarist, Australian Emma James. Emma's enjoying her first year as a scholarship holder with the Australian Institute of Sport (AIS) road cycling team, managed by coach James Victor. She's a gutsy rider who's decided that she'd rather be testing the waters of professional cycling than testing the salinity of the Sydney's waterways as an environmental scientist - which used to be her previous occupation before Emma decided to take the plunge.
My first week in Tuscany
May 2, 2002
Here's Emma first diary entry that she wrote only a few days after landing in Tuscany, wide-eyed and full of enthusiasm. Over to you Emma...
Hi all,
I arrived safely, with bike intact and having slept a bit on the plane (that was the best way to minimise conversation with the smelly, old guy next to me who didn't quite have the same view as me about personal space!).
I was met at Bologna and we then drove a couple hours to Novellara. I have a new Met helmet (in silver - lovely) and nice new Sidi shoes! I did a little settling in and swept a year of dust from the floor of the large room I'm staying in. The house is pretty cool - large shared bedrooms on the first floor above a huge garage, and other rooms on the ground level.
My first ride was most enjoyable on quiet country roads, always bordering on getting lost! Later we went out and met some of the locals who the girls have befriended during the last couple of seasons here.
The glass of red wine at the pub reminded me that jet-lag induced fatigue would set in soon, but I had enough energy to enjoy a beautiful pizza in Campagnolo (they come on a huge sized plate but perfectly thin, and the one I chose was simple: cheese, tomato based sauce and vinegar). The Australian U23 team was at the same restaurant, and I get the impression they might be regulars.
They have recycling bins everything here - paper, plastic, compost, batteries, glass and tins. They are on every second block on the side of the road, but I don't think the Italians (or the Aussies for that matter) know how to use them!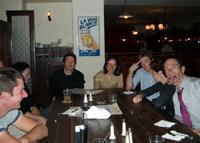 The night before hopping on the plane to Italy
Photo: © CN/Anthony Tan
Six of us went for a ride this morning and got back just before the rain started. I managed to get a lift in to the supermarket to stock my empty food shelf - the supermarket reminds me of the ones in Holland - it's all good. It appears everyone eats separately most of the time. After a massage I managed to borrow the car which is available for the girls over 25 (Emma's 25 and 9 months! - Ed), and I've found the library that has fast internet access - and free!
I am settling in here already, and the jet lag is no where near as bad as last year - I think I'm nearly over it already! The most interesting event so far is that James Victor (head women's coach) mentioned to me that Bridget Evans (an Aussie who was with the Monte La Ville french semi-pro team) is no longer with that team, and the team is looking for an additional rider for the Tour de L'Aude (starts on 15 May) - and maybe for the rest of the season...
James suggested that I consider it - perhaps doing some key races with them, but staying in Italy for training blocks when everyone (the AIS riders) are here. It could be good! - I know a few of the girls on that team, and i'm sure we would have fun. I think it will sort itself out over the next week or so. Our next race is on the 11th May, a Italian national race, around 100kms on a 4km circuit (Emma finished 16th in the Giro del Friuli, 3.30 down on winner Zinaida Stahurskaia of Belarus - Ed).
I'm looking forward to it, and enjoying life as a full-time cyclist already. It is going to be a good season!
Emma
Emma's racing exploits in 2002