2002 Australian National MTB Championships - CN
Thredbo, NSW, February 23-24, 2002
Four-cross - February 23: AIS Car Park
Results Next race Previous race
Kovarik skores kontroversial koup
By John Stevenson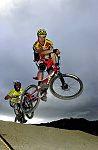 Chris Kovarik
Photo: © Tom Balks
Chris Kovarik won the inaugural Australian national four-cross championships in a controversial final that was re-run after a start judge admitted causing a false start.
On a custom-built course next to the AIS facility in Thredbo, Kovarik saw off the cream of Australia's downhillers to take the title, but he took two attempts to do so. The first final, which came after a complex series of rounds and repechages, was halted when the starter realised he'd changed the start instructions from previous rounds, causing Chris Kovarik to practically jump the start gate. In the resulting confusion, Nathan Rennie and Joel Panozzo stormed down the course but Kovarik and Andrew Mills stopped and returned to the start.
When the re-run came, there was no stopping Kovarik. Howling out of the number 2 gate, he closed the door on Rennie, almost putting the NSW rider off the course and into this reporter – I was standing trackside assisting with commentary and I was definitely a shade too close...
From there it was all over. Kovarik didn't put a tyre knobble wrong down the rest of the steep, twisty course, with a long, low controlled jump down the steep ramp section and a perfect transition from the inside of the berm pair to the following tabletop jump. Joel panozzo fought to catch him, but couldn't get close and Andrew Mills followed them in for third as a dejected Rennie rolled down for fourth.
Rennie was undoubtedly the crowd favourite after his win in the first run, but accepted the final result with good grace.
Photography
Results
1 Chris Kovarik
2 Joel Panozzo
2 Andrew Mills
4 Nathan Rennie