GP de Suisse Féminin - CDM
Embrach, Switzerland, September 9, 2001
2000 Results Results World Cup standings
Ljungskog wins her second
Millward extends lead in World Cup
By Giana Roberge, Team Saturn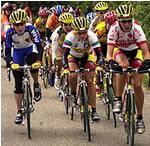 The main bunch trying to bridge the gap
Photo: © Pascal Meisser

The second last round of the women's World Cup was contested in Switzerland today. The Grand Prix de Suisse Cycliste Féminin was held over six laps of a challenging 21.5 kilometre course around Oberembrach (129 km total). This race was crucial in determining who will be World Cup champion in 2001 as things have been heating up between Saturn's Anna Millward and Acca Due O's Mirjam Melchers. Millward and her Saturn Team continued to successfully defend the Rainbow Jersey which Millward has held from the onset of the series in Australia in March; however, the Switzerland World Cup was one of the races that the Saturn Team was vulnerable to Melchers' very strong Acca Due Team.

Millward has fond memories of this race, as it was two years ago she clinched the World Cup in this same race, sensationally beating German Hanka Kupfernagel in a sprint finish, which won her the World Cup Title by seven points. This year, Millward went into the final two rounds with a 51 point buffer over Dutchwoman Melchers.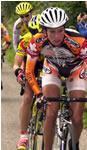 Brändli takes a turn at the front
Photo: © Pascal Meisser

Today's race featured two climbs on each of the 21.5 kilometre laps. The second climb was a two kilometre leg buster, which shattered the field by the third time up. A group of climbers got away half way up, including eventual winner Ljungskog, climbing sensation Fabiana Luperini (Edil Savino), Edita Pucinskaite (Alfa Lum) and Luperini's teammate, Nicole Brändli.

These three were chased for the remaining 40 kilometres by Alessandra Cappellotto (Gas) and Marianna Lorenzoni (Team Aliverti-Immobiliare Luca). The two groups quickly put time into the remaining group which contained Millward and the Saturn Team. Keeping their collective sights on the World Cup Points, and not the race win, Saturn focused on Melchers and the Acca Due Team. The six riders up the road were no threat to Millward's lead of the World Cup.

In the finish it was Ljungskog alone, having escaped Luperini, and coming into a cheering crowd of fans for a stellar win, her second of the season after La Primavera Rosa in March. Pucinskaite was third to Luperini, and 7:47 later Millward won the bunch sprint for seventh, while Melchers finished ninth.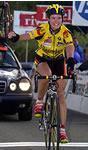 Susanne Ljungskog
Photo: © Pascal Meisseri

This means that Millward leads Melchers by 57 points in the World Cup, and looks set to clinch the title in the final round next Sunday in Rotterdam Holland, although Melchers will have her work cut out for her defending second place.

More race photo's provided by Pascal Meisser
Results - 129 km
1 Susanne Ljungskog (Swe) Vlaanderen-T-Interim Ladies Team    3.40.22 (35.123 km/h)
2 Fabiana Luperini (Ita) Edilsavino                              0.37
3 Edita Pucinskaite (Ltu) Alfa Lum R.S.M.
4 Nicole Brändli (Swi) Edilsavino                                1.25
5 Alessandra Cappellotto (Ita) Gas Sport Team                    5.54
6 Marianna Lorenzoni (Ita) Team Aliverti-Immobiliare Luca        6.56
7 Anna Millward (Aus) Saturn-Timex                               7.47
8 Monica Valen (Nor) Team Sponsorservice
9 Mirjam Melchers (Ned) Acca Due O-HP-Lorena Camicie
10 Petra Rossner (Ger) Saturn-Timex
11 Angela Brodtka (Ger) German National Team 1
12 Ragnhild Kostöl (Nor) Team Sponsorservice
13 Olga Zabelinskaia (Rus) Carpe Diem-Itera
14 Tanja Hennes (Ger) Nurnberger-Ondernemers van Nature
15 Priska Doppmann (Swi) Acca Due O-HP-Lorena Camicie
16 Heidi Van De Vijver (Bel) Vlaanderen-T-Interim Ladies Team
17 Trixi Worrack (Ger) German National Team 1
18 Chantal Beltman (Ned) Dutch National Team
19 Jenny Algelid (Swe) Equipe Nürnberger
20 Marcia Eicher-Vouets (Swi) Swiss National Team
21 Cindy Pieters (Bel) Vlaanderen-T-Interim Ladies Team
22 Nataliya Kachalka (Ukr) S.C. Michela Fanini Record Rox
23 Valentina Karpenko (Ukr) Ciegi Professional Cycling Team
24 Ceris Gilfillan (GBr) British National Team
25 Lyne Bessette (Can) Saturn-Timex
26 Rasa Polikeviciute (Ltu) Acca Due O-HP-Lorena Camicie
27 Judith Arndt (Ger) German National Team 1                     7.53
28 Tina Liebig (Ger) German National Team 1                      7.55
29 Sara Carrigan (Aus) Australian National Team                  8.26
30 Solrun Flataas (Nor) Team Sponsorservice
31 Bogumila Matusiak (Pol) Polish National Team
32 Sarah Düster (Ger) German National Team 2
33 Julia Martissova (Rus) Carpe Diem-Itera
34 Liane Bahler (Ger) German National Team 1
35 Vera Hohlfeld (Ger) Acca Due O-HP-Lorena Camicie
36 Kimberly Bruckner (USA) Saturn-Timex
37 Miho Oki (Jpn) Rest of the World                             10.18
38 Rachel Heal (GBr) British National Team
39 Sandra Wampfler (Swi) C.A. Mantes La Ville 78                10.19
40 Yvonne Schnorf (Swi) Swiss National Team
41 Angela Rotter (Ger) German National Team 2                   10.51
42 Simone Trafelet (Swi) Post Swiss Team                        11.24
43 Hayley Rutherford (Aus) Australian National Team             11.46
44 Andrea Bosman (Ned) Dutch National Team
45 Annette Beutler (Swi) Equipe feminin Thomus Veloshop Fun
46 Laure Werner (Bel) Vlaanderen-T-Interim
47 Paulina Brzezna (Pol) Polish National Team
48 Sarah Grab (Swi) Equipe feminin Thomus Veloshop Fun
49 Natalya Kishchuk (Ukr) Team Composite
50 Katie Mactier (Aus) Australian National Team
51 Youlia Razenkova (Rus) Team Composite
52 Tetyana Andrushchenko (Ukr) Ciegi Professional Cycling Team
53 Dotsie Cowden (USA) US National Team 1
54 Silvia Parietti (Ita) Gas Sport Team
55 Marika Murer (Swi) S.C. Michela Fanini Record Rox
56 Simone Klewitz (Ger) German National Team 2
57 Daniela Kenty (Ger) German National Team 2
58 Birgit Söllner (Ger) Nurnberger-Ondernemers van Nature
59 Sigrid Corneo (Ita) Carpe Diem-Itera
60 Kym Shirley (Aus) Australian National Team
61 Irene Hostettler (Swi) Equipe feminin Thomus Veloshop Fun    11.50

World Cup standings after round 8
1 Anna Millward (Aus) Saturn Cycling Team                            324 pts
2 Mirjam Melchers (Ned) GS Acca Due O Lorena Camice                  267
3 Susanne Ljungskog (Swe) Vlaanderen - T-Interim Ladies Team         240
4 Fabiana Luperini (Ita) G.S. Edilsavino                             136
5 Zinaida Stahurskaia (Blr) Gas Sport Team                            91
6 Heidi Van De Vijver (Bel) Vlaanderen - T-Interim Ladies Team        91
7 Petra Rossner (Ger) Saturn Cycling Team                             86
8 Edita Pucinskaite (Ltu) Team Alfa Lum - Ciegi - Mixte Team          80
9 Sara Felloni (Ita) Team Alfa Lum - Ciegi - Mixte Team               76
10 Olga Slioussareva (Rus) Carpe Diem-Itera Cycling Team              75
11 Geneviève Jeanson (Can) Equipe Cycliste Rona                       75
12 Debby Mansveld (Ned) Vlaanderen - T-Interim Ladies Team            62
13 Nicole Brändli (Sui) G.S. Edilsavino                               54
14 Ceris Gilfillan (Gbr) British National Team                        54
15 Regina Schleicher (Ger) German National Team 2                     50
16 Sarah Ulmer (Nzl) Autotrader.Com Cycling Team                      45
17 Priska Doppmann (Sui) GS Acca Due O Lorena Camice                  45
18 Monica Valen (Nor) Team Sponsorservice                             42
19 Trixi Worrack (Ger) German National Team 1                         39
20 Sandy Espeseth (Can)                                               36
21 Lyne Bessette (Can) Saturn Cycling Team                            35
22 Rochelle Gilmore (Aus) NSWIS Trek Team                             35
23 Chantal Beltman (Ned) Dutch National Team                          35
24 Alison Wright (Aus) AIS                                            34
25 Mari Holden (Usa) Team Alfa Lum - Ciegi - Mixte Team               33
26 Sara Symington (Gbr) British National Team                         32
27 Sara Carrigan (Aus) Australian National Team                       30
28 Simona Parente (Ita) G.S. Edilsavino                               30
29 Cindy Pieters (Bel) Vlaanderen - T-Interim Ladies Team             29
30 Alessandra Cappellotto (Ita) Gas Sport Team                        27
31 Vera Hohlfeld (Ger) GS Acca Due O Lorena Camice                    25
32 Giovanna Troldi (Ita) GS Acca Due O Lorena Camice                  25
33 Marianna Lorenzoni (Ita) Team Aliverti-Immobiliare Luca            24
34 Jeannie Longo-Ciprelli (Fra)                                       24
35 Miho Oki (Jpn) Team Rest Of The World                              24
36 Yvonne Brunen (Ned) Team Farm Frites-Hartol                        21
37 Madeleine Lindberg (Swe) Team Farm Frites-Hartol                   21
38 Bridget Evans (Aus) Team Next 125                                  21
39 Rosalind Reekie-May (Nzl) U.S.C.I. Chirio Forno D'asolo            19
40 Rosa Maria Bravo Soba (Esp) Bik - Toscany Sport                    18
41 Elisabeth Tadich (Aus) Jayco VIS                                   18
42 Yvonne Mcgregor (Gbr)                                              16
43 Mirella Van Melis (Ned) Dutch National Team                        15
44 Paula Macnamara (Usa)                                              15
45 Kimberly Bruckner (Usa) Saturn Cycling Team                        15
46 Arenda Grimberg (Ned) GS Acca Due O Lorena Camice                  13
47 Melissa Holt (Nzl) New Zealand                                     13
48 Olga Zabelinskaia (Rus) Carpe Diem-Itera Cycling Team              12
49 Joanne Kiesandowski (Nzl)                                          11
50 Susy Pryde (Nzl) Autotrader.Com Cycling Team                       11
51 Fany Lecourtois (Fra) Team Alfa Lum - Ciegi - Mixte Team           11
52 Lara Ruthven (Usa) Carpe Diem-Itera Cycling Team                   11
53 Angela Brodtka (Ger) German National Team 1                        10
54 Gina Grain (Can)                                                   10
55 Judith Arndt (Ger) German National Team 1                          10
56 Jenny Algelid (Swe) Equipe Nürnberger - Ondernemers Van Nature     10
57 Ragnhild Kostöl (Nor) Team Sponsorservice                           9
58 Esther Van Der Helm (Ned) Team Farm Frites-Hartol                   9
59 Karry Ellen Hellmuth (Usa) Carpe Diem-Itera Cycling Team            9
60 Svetlana Samokhvalova (Rus) Carpe Diem-Itera Cycling Team           8
61 Melanie Sears (Gbr) British National Team                           8
62 Sophie Creux (Fra)                                                  8
63 Sandra Wampfler (Sui) Swiss National Team                           8
64 Tanja Hennes (Ger) Equipe Nürnberger - Ondernemers Van Nature       7
65 Patricia Roel (Esp)                                                 7
66 Anne Samplonius (Can)                                               7
67 Rhonda Quick (Usa) US National Team                                 7
68 Hayley Rutherford (Aus) Australian National Team                    7
69 Julia Martissova (Rus) Carpe Diem-Itera Cycling Team                6
70 Erin Carter (Can)                                                   6
71 Kym Shirley (Aus) Australian National Team                          6
72 Anke Erlank (Rsa) Saturn Cycling Team                               6
73 Jennifer Dial (Usa)                                                 5
74 Vanessa Rochelle Cheatley (Nzl) Vlaanderen - T-Interim Ladies T     5
75 Margaret Hemsley (Aus) Australian National Team                     5
76 Sigrid Corneo (Ita) Carpe Diem-Itera Cycling Team                   4
77 Séverine Desbouys (Fra) Gas Sport Team                              4
78 Luisana Pegoraro (Ita) Carpe Diem-Itera Cycling Team                4
79 Emma James (Aus) NSWIS Trek Team                                    4
80 Magali Le Floch (Fra) C.A. Mantes La Ville 78                       3
81 Cybil Di Guistini (Can) C.A. Mantes La Ville 78                     3
82 Nataliya Kachalka (Ukr) S.C. Michaela Fanini Record Box             3
83 Joane Somarriba Arrola (Esp) Team Alfa Lum - Ciegi - Mixte Team     3
84 Katia Longhin (Ita) GS Acca Due O Lorena Camice                     3
85 Vanja Vonckx (Bel) Vlaanderen - T-Interim Ladies Team               2
86 Manon Jutras (Can) Equipe Cycliste Rona                             2
87 Katie Mactier (Aus) Australian National Team                        2
88 Vera Carrara (Ita) Australian National Team                         2
89 Marcia Eicher-Vouets (Sui) Swiss National Team                      2
90 Mélanie Dorion (Can)                                                1
91 Tatiana Stiajkina (Ukr) Team Alfa Lum - Ciegi - Mixte Team          1
92 Pamela Schuster (Usa) Autotrader.Com Cycling Team                   1

Past winners
2000 Pia Sundstedt (Fin) GAS Sport Team
1999 Anna Wilson (Aus)