41st Internationale Delta Profronde - 1.2
Netherlands, September 8, 2001
2000 Results Results Past winners
Eeckhout wins amongst the wind
By Reinier Meijer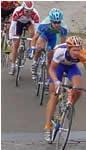 Spread out in town
Photo: © Frans Meijer
Nico Eeckhout (Lotto-Adecco) won the 41st edition of the Delta Profronde, formerly known as the Ronde van Midden-Zeeland, held over a 194 kilometre parcours with strong winds as the principal difficulty. Eeckhout was too strong for breakaway companion Geert Omloop (Collstrop), with Servais Knaven (Domo) taking third.
From the start, the race was made more aggressive by the very strong winds. Kurt Asle Arvesen (Team Fakta) attacked from the very beginning. At km 35 a group of five riders joined him. A short while later this lead bunch swelled to 30 with another group of 24 bridging the gap.Amongst this group were, Leon van Bon (Mercury), winner of the DELTA Profronde in 2000, Nico Eeckhout (Lotto-Adecco), Johan Museeuw and Servais Knaven (Domo Farm Frites) and Aart Vierhouten, Steven de Jongh (Rabobank) Peter van Petegem (Mercury) and Jeroen Blijlevens (Lotto-Adecco).
The peloton was taken out of the race for falling too far behind the leaders. They crossed the finish line with 3 laps to go, 7'30 down on the lead group. This left the lead group of 30 battling for the honours.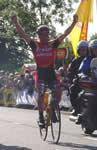 Eeckhout winning
Photo: © Frans Meijer
The lead group contained two teams with five riders, Rabobank and Lotto-Adecco. Jeroen Blijlevens (Lotto-Adecco) attempted to escape twice; both times without success. This series of attacks was repeated by several riders, without success.
Taking his chances Nico Eeckhout (Lotto-Adecco) attacked twice, the second time creating a gap. Eeckhout was chased and caught by Geert Omloop (Collstrop Palmans). Once Omloop had joined Eeckhout, the two riders began to work together.
With 1 km to go Nico Eeckhout pulled away from Omloop to seal his victory. Servais Knaven did the best of the following group, picking up third place.
Photo's of the race have been provided by Frans Meijer
Results - Middelburg to Goes, 194 km
1 Nico Eeckhout (Bel) Lotto-Adecco                         4.28.56 (43.27 km/h)
2 Geert Omloop (Bel) Collstrop-Palmans                        0.14
3 Servais Knaven (Ned) Domo-Farm Frites                       1.06
4 Arvis Piziks (Lat) CSC Tiscali                              1.39
5 Hendrik Van Dijck (Bel) Lotto-Adecco
6 Jeremy Hunt (GBr) Mixed Team                                1.44
7 Peter Van Petegem (Bel) Mixed Team
8 Jeroen Blijlevens (Ned) Lotto-Adecco
9 Gerben Lowik (Ned) Rabobank
10 Aart Vierhouten (Ned) Rabobank
11 Michel Van Haecke (Bel) Landbouwkrediet-Colnago
12 Bram Schmitz (Ned) Bankgiroloterij-Batavus
13 Lars Bak (Den) Team Fakta
14 Paul Van Hyfte (Bel) Lotto-Adecco
15 Andrey Kashechkin (Kaz) Domo-Farm Frites
16 Daniel Van Elven (Ned) AXA-VVZ Professional Cycling Tea    1.48
17 Stefan Van Dijk (Ned) Bankgiroloterij-Batavus              3.43
18 Adam Wadecki (Pol) Mroz-Supradyn Witaminy
19 Gorik Gardeyn (Bel) Lotto-Adecco
20 Steven De Jongh (Ned) Rabobank
21 Bert Scheirlinckx (Bel) Collstrop-Palmans
22 Ralf Grabsch (Ger) Mixed Team
23 Rudi Kemna (Ned) Bankgiroloterij-Batavus
24 Coen Boerman (Ned) Rabobank
25 Jurgen De Jong (Ned) AXA-VVZ Professional Cycling Team
26 Dimitri Muravyev (Kaz) Domo-Farm Frites
27 Johan Museeuw (Bel) Domo-Farm Frites
28 Glen Chadwick (Aus) Landbouwkrediet-Colnago
29 Kurt Asle Arvesen (Nor) Team Fakta
30 Mathew Hayman (Aus) Rabobank

Starters: 123
Classified: 30

Past winners
2000 Leon van Bon (Ned) Rabobank            204 kms in 4.28.15
1999 Servais Knaven (Ned) TVM-Farm Frites   194 kms in 4.24.05
1998 Erik Zabel (Ger) Telekom               194 kms in 4.24.52
1997 Cancelled
1996 Jelle Nijdam (Ned)
1995 Jeroen Blijlevens (Ned)
1994 Maarten Den Bakker (Ned)
1993 Jo Planckaert (Bel)
1992 Johan Capiot (Bel)
1991 Wiebren Veenstra (Ned)
1990 Gerrit Solleveld (Ned)
1989 Jelle Nijdam (Ned)
1988 Peter Pieters (Ned)
1987 Jean-Paul Van Poppel (Ned)
1986 Gerrit Solleveld (Ned)
1985 Ferdinand Van den Haute (Bel)
1984 Luc Colijn (Bel)
1983 Jan Raas (Ned)
1982 Henk Lubberding (Ned)
1981 Eddy Planckaert (Bel)
1980 Gerrie Knetemann (Ned)
1979 Bert Oosterbosch (Ned)
1978 Gerrie Knetemann (Ned)
1977 Freddy Maertens (Bel)
1976 Fedor den Hartog
1975 Gerard Vianen
1974 Tino Tabak (Ned)

Past winners by Reinier Meijer