Results and Reports for October 27 - 28, 2001
USA
Promoters wishing to submit results should send them to cyclingnews
Urban Cyclocross
Belly Cross 2001
River City Bicycles Cyclo-Cross Crusade, Round #4
Boss Cross Cyclo-cross Series
Nebraska Cyclo-cross Series
Urban Cyclocross
Los Angeles, CA, October 28, 2001
Report
By Emilio Cervantes
The first Urban CX in the 8 race series drew out some of California's best cross talent. The course was dry, hard and fast as usual. In the men A's race Brent Prenzlow, Mark Noble and Emilio Cervantes broke away early. Former teammates Cervantes and Prenzlow took turns attacking Noble in an attempt to get either away. After dropping Cervantes with 2 laps to go, the finish came down to a two man 30mph slightly downhill paved sprint into a 180 double barrier. Prenzlow thought he had it by carrying the inside line but, was thwarted by an "aggressive" block by Noble and blocked again amidst the double barriers 20 meters before the finish. Cervantes managed to hang onto third, holding off recently crowned Junior national Road champion Dane Jankowiak, who worked his way through the elite field for an impressive fourth. Next week brings a new venue in south Los Angeles.
In the Women A's, Dorothy Wong ably demonstrated why she is the Elite District champion with a steady and smooth victory. Tomarra Notch and Jennifer Franklin rounded out the podium, respectively.
Results

Men's Category A (Pro 1-5)
 
1 Mark Noble (Rocket Parts)
2 Brent Prenzlow (Unattached)
3 Emilio Cervantes (Simply Fit)
4 Dane Jankowiak (Roger Young's TC)
5 Garnet Vertican (ODI)
6 Joel Kath (Danger Boy)
7 Brian Keate (Velocity)
8 Paul Hernandez (Bicycle Johns)
9 Erik Luk (Back On Track/Team King's)
10 Dain Zaffke (Cycle Works)
11 Brent Vandenberg (Trek/VW)
 
Women's Category A,B,C (Pro 1-4)
 
1 Dorothy Wong (Kelly Cycles)
2 Tomarra Notch (Natural Solutions)
3 Jennifer Franklin (Simply Fit)
4 Diana Barnes (Unattached)
 
Juniors 16 & Under
 
1 Chance Noble (Rocket Parts)
2 Matt Mussig (Unattached)
3 Travis Barnes (Unattached)
 
Men's Category B  (3-5)
 
1 Tom Farley (Imperial Bank)
2 Dain Zaffke (Cycle Works)
3 Jeffrey Wilson (LA Grange/Bridtol Farms)
4 Dan Nelson (Rocket Parts)
5 Waily Fung (Jelly Belly)
6 Eric Sanderson (Schroeder/Incycle)
7 Marco Calzadilla (Abici)
8 Jay Brown (Schroeder/Incycle)
 
Men's Category C (4/5)
 
1 Jason Vorell (Team Velocity)
2 Thad Sparrow (SDBC)
3 Victor Viscio (JAX)
4 Mark Helms (Atomic Bikes)
5 Craig Schoebaum (LA Grange/Bristol Farms)
6 Curt Dosier (Unattached)
7 Paul Hernandez (Bicycle John's)
8 Gustavo Vegas (Unattached)
9 Art Aguilar (Atomic Bikes)
10 Steve Brown (Schroeder/Incycle)
11 Shawn Lowery (Celo Pacific)
12 Dave Reilly (SDBC)
13 Mitch Frisigman (LA Grange/Bristol Farms)
14 Richard Murphey (Celo Pacific)
15 Brent Vandenberg (JAX)
16 Rene Lehive Jr. (PAA)
 
Master's 30+
 
1 Gary Hanson (Rocket Parts)
2 Erik Luk (Team King's)
3 Arron Shrier (Sundance Cycle)
4 David Boulton (Unattached
 
Master's 35+
 
1 Joe Hageman (Mazda/Simple Green)
2 Chris Gallip (Unattached)
3 Doug McWhinney (Unattached)
4 Jim Pappe (Action Sports)
5 Mark Helms (Atomic Bikes)
6 Larry VanZant (Echelon)
 
Master's 40+
 
1 Eddie Arnet (Mt. Bike Action)
2 Charles Morris (Universal)
3 Mark Sauer (Radsport)
4 Gregory Townsend (Velo Pasadena)
5 Jeff Steinhart (Universal)
 
Master's 45+
 
1 Jonathan Livesay (Simply Fit)
2 Jerry Meyers (L' Equipe Cheval)
3 Joseph Crabtree (Open Air Bicycles)
4 Willy Boundurant (Team Velocity)
5 Brian Olson (Team Hollywood)
6 Rick Swanson (Radsport)
7 Steve Brown (Incycle)
8 Jay Brown (Schroeder/Incycle)
9 Scott Godfrey (Paramount)

Belly Cross 2001
Bellingham WA, October 28, 2001
Ok, now it's getting personal-
Three weeks ago, I showed up for what I was thinking would be a fun, easy going cross race in Olympia, WA. What the race turned out to be was an all out assault on my good buddy Loren Hanson. With one race in me for the season, I showed up rather charged and ready to go for it. Loren and I went toe to toe for the majority of the 60 minutes, with Loren getting the better of me in the last barrier. Now, three weeks later, I find myself asking, how the hell do I beat this guy?
This Sunday afternoon, dry and crispy, was a nice change of scenery from last week. The Seattle Metro South Sea-Tac race last week was a greasy, cold and wet battle between; you guessed it, Loren and I. I had my usual hard and fast start, gaping Loren and the rest of the field on the first lap. I held them off until around about lap three while Loren made a great effort to reel me in. In the end, he had more strength and gaped me on the final paved section. We went one-two for the second strait time. Going into the Belly Cross race, I REALLY wanted to win.
The Belly cross race has a lot of tradition to it. The promoters really take pride in their efforts to keep this race exciting and cool. They do things like the Lemans start. It must be pretty funny to watch a bunch of shaved legged cyclists running across a green field in spiked shoes and spandex. I know I was laughing before the start. Loren and I both took it pretty easy in the field, keeping pace with the faster runners but not really concerned about getting to our bikes first. We know we are stronger on the course where it matters.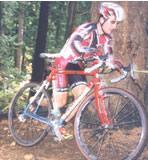 Russell Stevenson
Photo: © Hyan Lee

I was on the bike and into the woods in about 12th place or so. I quickly picked my way to the front and sat on the leader, Joe Brown, for nearly the first two laps. I didn't want to go out early as usual and give Loren something to chase. He had a much slower start and was not a part of our five man lead group. During the first few laps, I knew he was coming.

Loren does not take it easy in a cross race. I rode the early laps in anticipation of his catch. I knew our lead pace was not fast enough and Loren would be gaining ground quickly if we didn't up the tempo, so I did. Lap two, on the long paved strait, I punched it up a notch and dropped the group I was with. Now off on my own, Loren still a ways back, I began my own campaign for the win.

About the middle of lap four, I was coming into the only barrier section of logs and branches when my bike took a hike. I was in mid drift, dismounting when something took my front wheel. "He went that way, we went this way," wolf man said, "where'd he go?".I said, "where'd who go?"

My bike took two complete end over end rolls in the air. I laid sprawled on the ground, hands out in front of me. To the cheers of the crowd, I got up, did an idiot check and ran over to my bike. I checked over my shoulder and there was Loren, right on me. I laughed and said, "you see that?". Loren didn't reply. He was fully frothing at the mouth, in pain from his impressive effort to make it to the front. I threw my Redline over my shoulder and hit the run up. "That should make a great photo", I yelled as I made it over the top. Now into lap five, Loren and I were clearly away from the others, showing again that we are stronger and faster than the rest. The closest was Mark Hanson, with Aaron Mendenburg and Steve Crossier sitting on him until the last lap.

It was eerie how evenly matched we have both become. I know now that I should not be looked at as the roadie on the cross bike. My technical skills have elevated so much just racing and training with guys like Loren. Today's course was very technical and I was handling it well. I guess I was "respecting the sketch." Loren tried to drop me in the technical sections on the very next lap. He put in a very fast lap but could not shake me. I was already thinking of how and where I was going to go for the winning move.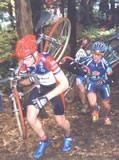 Heading into the runt
Photo: ©Hyan Lee

Like the Olympia race, I was riding one section clearly faster than L daddy. There was a big log laid diagonaly across the course. It was a challenging bunny hop. In practice, no sweat, but during the intensity of the race, it made things interesting. If you didn't clear it, your back wheel would most likely wash out to one side and you could go down. I would jump and he would run. I was only gaining a few feet on him here but it seemed a good place to give it a go.

As the bell rang for our final lap, I must say, I think I had the crowed behind me. There were many there who have seen me finish second to Loren enough and wanted to see a new winner. I planned my final lap out well.

Going into the log, I surged. I took the inside line into the paved turn and put on the afterburners. Heading down the long straits, into a very greasy chicane, I had a slim gap. My bike was in full drift through two slippery turns just before a slow u-turn back towards the start area. My gap was still very small. Coming out of the woods onto the final long paved strait, I punched it with all I had. I was holding Loren off to this point.

I led us up the pavement, thinking I had Loren right where I wanted him, on my wheel and suffering. He had to work to keep me in reach. As the strait ended, Loren was right on my wheel, seeing stars. I didn't think he would do what he did.

Just before the end of the pavement and the final four or five turns to the finish, Loren pulled along side me. I guess he was attacking but it didn't seem that way. It happened rather slowly. I was looking to my right, seeing if he was planning anything tricky. He came to my left. I looked at him and said, "oh ESE" in a rather calm and peaceful voice. He had come around me and I didn't even challenge him! He had the upper hand now with very little race course left. I tried my best to find some way at getting by him in the last few tight turns but it was not to be. Loren won for the third strait time as I rolled across the line very disappointed.

I think about that very short instant where I just sort of froze up. I can't say I blew up. I can't even say that Loren overpowered me to the line. I can say that I was somewhere else at that exact moment, probably absorbed in my own pain with very little sense of urgency. I watched Loren ride by me, as if I had another chance to get him back. I know we were both hurting bad, our last lap was nearly 40 seconds. faster than our previous fast lap. I think Loren just wanted to win a little more. Maybe I was lacking that killer instinct that you need to push just that little more for a victory. In that split second, I lost the race and I knew it as I crossed the line. Where was my head?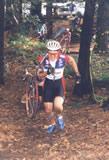 Loren Hanson
Photo: © Hyan Lee

It is very hard to answer why I didn't challenge Loren into that ever-important turn. It just didn't seem like the thing to do. We had been having so much fun out on the course all day. We shared laughs and reminded each other how much we like cross. During the race, we were courgle to each other, sharing the pace making, gracefully taking our turns at the front, like two teammates. In the end, maybe reality took control and Loren remembered that we were racing against each other.

No matter, he deserves the win, as he has deserved them all this year. Loren has found a way to beat me three strait weeks now. I really thought I had it this time but as I've described, he wanted it more. That is what makes for such great races.

A true rivalry is here now. I look at many other sports and what attracts the fans, rivalries. Without good competition, there isn't much excitement. If there is no excitement, who really wants to come out on a cold Sunday and watch a cross race?

What Loren and I have together is great. I'm not really upset that he keeps getting the best of me, I'm more proud that we make the races entertaining. So respect your competition ya'll, chances are your getting better because of it.

Till next time,

Russell Stevenson
Photography
Photos supplied by Hyun Lee
The race begins......
Aaron Menenberg - hopping the log
Hometown hero Aaron Menenberg - leading the chase group up the hill
Aaron Meneneberg (Ti-Cycles)- on the run
Russell Stevenson (Redline) leading Loren Hanson (AT&T) - at the top of the run-up
Leaping Loren Hanson (AT&T) - clears the log infront of Russell Stevenson
Loren Hanson clears off - Is that a smile or a grimace?
Mark Hanson and Aaron Menenberg - chasing through the fields
Mark Hanson - leading the chase group to the two leaders
Matt Hill (TiCyclies) - jumping the log
Russell Stevenson (Redline) - looking strong on the run
Russell Stevenson - jumps the log
Steve Crosier riding for K2 bikes - he finished 4th
Steve Crosier and Mark Hanson - about to be caught by Aaron Menenberg
Results
Men's A
 
1 Loren Hanson (AT&T)
2 Russell Stevenson (Redline)
3 Aaron Menenberg (TiCycles)
4 Steve Crosier (K2 Bike)
5 Mark Hanson (AT&T)
6 Joe BrownBolla  (Bianchi)
7 John Flack (Recycled Cycles)
8 Naraion Maylon (TiCycles)
9 Matt Hill (TiCycles)
10 Dale Plant (Kona/VoiceStream)
11 Trevor Mormon (RAD Racing)
12 Randy Daniels
13 Seth Davis
14 Randy Iddings (RAD Racing)
15 Douglas Graver
16 Peter Held
17 David Fleishauer
18 David Stonich
19 Derek Shirshi
20 Dave Bruning
21 Ted Mittelstaedt (Saturn of Bellevue)
22 Mike Guthrie (Commencement Bay)
23 Todd Anderson
24 Ed Authur
25 Rick Knowles (Old Town Bicycle)
26 Will Freeman (RAD Racing)
27 Mike Smith
 
Women A
 
1 Jennette Nussmbaum-Bolla (Bianchi)
2 Josie Beggs (JF2)
 
Junior A
 
1 Colin Carbaugh (RAD Racing)
2 Stephen Howard (RAD Racing)
3 Will Freeman (RAD Racing)
4 Keith Robingson
5 Devin
 
Men's B
 
1 J Murray
2 Dana Parnello
3 Glenn Connelly
4 Chris Mellick
5 Mike Rolick
6 Jim Clevenger
7 Rich Blanco
8 rom Holmes
9 Dave Neubeck
10 Sean Witmer
11 Galen "Rocky Von" Rochenbach
12 Francis McGrady
13 Scott Alderson
14 Mike Albright (Redline/SBS)
15 Bob Ling
16 Adam Southerlan
17 Andrew Malacov
18 Justin Harmon
19 Chris Bigos
20 Alan Perkins
21 Matt Vanselow
22 Dave Stanton
23 Jesus Otello (Redline/SBS)
24 Mark Beaudrea
25 Mark Kunnecke               1 Lap
26 Hyun Lee
27 Mike Mackay
 
Women B's
 
1 Nicola
 
Beginner Men
 
1 Dave Reed
2 Tom Popowski
3 Steve Vandersay
4 Rodney Zimmershield
5 Grady Nace
6 Rob Larsen
 
Beginner Women
 
1 Maribeth Evezich
2 Rachel Roberts
 
Jr Beginner Men
 
1 John Larson
2 Justin Kerr
3 Cole Cutright

River City Bicycles Cyclo-Cross Crusade, Round #4
Johnson Farm, Forest Grove, Oregon, October 28
Tonkin, Mazza Harvest Victories
Keeping the dignity in cycling...
Photo: © Matt Miner
In a festive day of exciting cyclo-cross racing, Eric Tonkin (Kona/Voicestream Wireless) and Rhonda Mazza (Team S & M) were treated with their first 2001 series wins in the annual Halloween round of the River City Bicycles Cyclo-Cross Crusade Series
The ambiance of the late October classic makes it no surprise that the Cyclo-Cross Crusade is one of the best-attended cyclo-cross series in the United States. The 2001 edition saw more than 230 total competitors, including 30 audacious souls that earned discounted entry fees and prizes for racing in costumes. Another tradition is that each race winner took home a unique glass sculpture that was created during the race at the on-site glassblowing shop.
The technical Johnson Farm course challenges racers by starting with a steep 200-meter climb that forces many riders into their lowest gear. Much of the rest of the course is single-track weaving under a thick canopy of a fir tree farm, including a climb lined with two-dozen jack-o-lanterns. The crisp, sunny 50-degree weather on race day followed a soaking rain that helped firm the clay soil for a fast track.
The Category A Men's race opened with a burst by Jeremy VanSchoonhoven (Bike Gallery) who led the first lap in spectacular fashion. Fresh off representing the United States in the Trials competition at the UCI World Mountain Bike Championships in Colorado last month, VanSchoonhoven used his world-class bike handling skills to bunny-hop several barriers which gave him enough of an advantage to win the first-lap prime.
The remainder of the seven-lap race featured a one-on-one shoot-out between Tonkin and last-week's winner Shannon Skerritt (Bike Gallery). The two leaders were never separated by more than several seconds as they pulled away from the field. Zac Houghton (Presto Velo), Derl Miller (Bike Gallery) and Jonathon Myers (Team S & M) chased hard and stayed within 45 seconds.
As they got the bell, Tonkin and Skerritt received some unique (albeit disturbing) encouragement from the Gentle Lovers Gymnastics Squad (and Cycling Team) who were also racing the Elite Men's event. The group of three male teammates, resplendent in leotards Marilyn Monroe wigs, and badly in need of a bikini wax, performed a well-executed human pyramid.
The gesture was appreciated by the crowd and even brought smiles to the leaders' faces.
As tension mounted around the course, the question was whether Skerritt or Tonkin had enough energy to seal the win. Skerritt's quick sprint combined with Tonkin's grueling racing schedule made him on the odds-on favorite. In fact, Tonkin had only arrived in Oregon two hours prior to the race after catching an early-morning flight from Massachusetts where he raced in the UCI Cat.3 Amherst International Cyclo-Cross.
With 500 meters to go, Skerritt put in a blistering attack and took a risk by diving into a hairpin turn, but Tonkin held his ground and was able to stay in front going into the final single-track section. The position gave the Kona/Voicestream rider the advantage as he was able to show his form by crossing the finish line with two seconds in hand for his first Cyclo-Cross Crusade victory in 2001 Houghton scored his best finish of the season in third, followed by Miller and Myers.
In the four-lap Women's race, Rhonda Mazza (Team S & M) scored a wire-to-wire win, which was also her first win of the season. This was Mazza's race from the start as she quickly built a lead that grew with each successive lap.
The drama was for second where series points leader Karen Kenlen (Sunnyside Sports) battled with Emily Miazga (Hutch's). Miazga held second position for the first two laps as Kenlen followed a few seconds behind. On the third lap, Kenlen was able to get around Miazga and limit the damage from Mazza who took over the series lead. Naomi Gollogly (Bike Gallery) in her hula costume, including a grass skirt, and Becky Walter rounded out the top five.
The next round of the $10,000 River City Bicycles Cyclo-Cross Crusade will be held November 4 at David Douglas Park in Vancouver, Wash. Most of the track is over grassy fields with the exception of a long run-up that will test each racer's anaerobic ability.
Results
Category A Men
 
1 Eric Tonkin (Kona/Voicestream Wireless)
2 Shannon Skerritt (Bike Gallery)
3 Zac Houghton (Presto Velo)
4 Derl Miller (Bike Gallery)
5 Jon Myers (Team S & M)
6 Jeremy VanSchoonhoven (Bike Gallery)
7 Mike Schindler (Sunnyside Sports)
8 Brody Anderson
9 Sean Garvin (GS Camerati)
10 Chad Swanson (Bike Gallery)
11 Jeff Struck (Gentle Lovers)
12 Michael Sylvester (Bike Gallery)
13 Chris Brandt (Collins)
14 Rich Cramer (Presto Velo)
15 John Boelsems (G.S. Camerati)
16 John Stambaugh (Safeway/Saturn of Beaverton)
17 Kevin Condron (G.S. Camerati)
18 Scott Robinson
19 Sasha White (Gentle Lovers)
20 Brian Poetter
 
Women
 
1 Rhonda Mazza (Team S & M)
2 Karen Kenlen (Sunnyside Sports)
3 Emily Miazga (Hutch's)
4 Naomi Gollogly (Bike Gallery)
5 Becky Walter
6 Joanne Stevens (Sunnyside Sports)
7 Leah Toffolon (Bike Gallery)
8 Marjon Marik (River City Bicycles)
8 Robyn Fuchs (Sobe Headshock)
10 Michelle Groez (Bike Gallery)
Courtesy Brian Witty
Boss Cross Cyclo-cross Series Rd 3 (Final)
Penn Valley Park, Kanas City, October 28, 2001
The final race of the "Boss Cross Series" took place under warm and windy conditions. Dry ground made for some rough going and hairy corners on the technical course. Spectators were treated to excellent views with thrilling action (and some spills). Race promoter Jeremy Haynes of Midwest Cyclery handed out overall series awards, cyclocross specific medals to podium placers for each event, and some first class swag from the raffle. mind you, the most talked about item of the day was the flushable portable toilet!
Results

A Grade
&nbsp
1 Doug Plumer
2 Josh Johnson
&nbsp
B Grade
&nbsp
1 Aaron Fader
2 Steve Songer
3 Jason Ozenberger
4 Alejandro Schlagel
5 Monte May
6 Andy Lucas
7 Lynn Neir
8 Joel Dyke
9 Ken Harkin
10 John Hackman
11 Rick Finley
12 Dustin Ridgeway 
&nbsp
C Grade
&nbsp
1 Michael Snell
2 Ed Nelson
3 Paul Haldeman
4 Mark Schoonbeck
5 Michael Young
6 Brendan Sheehan
7 David Pitt
8 Joe Horgan
9 Russ Pedersen
9 Gregg Rupp
10 Chuck Millen
11 Greg Cummins
12 Brian Robinson
13 Kent Lewis
14 Eric Wineinger
15 Kevin Lee
16 Michael Cleveland
17 Tom Pierce
18 Mark Breeding
19 David Greffenius
20 Nick Stinson 
&nbsp
Women
&nbsp
1 Juilie Snell
2 Jean Lucas
3 Teresa Jarzemkoski
4 Courtney Wilson
5 Sherry Adkison
&nbsp
Juniors
&nbsp
1 Andy Slater
2 Rehan Nana
&nbsp
Masters 60+
&nbsp
1 Jim Witt
&nbsp
Masters 40+
&nbsp
1 Dean Parker
2 Bob McCrady
3 Mark Thomas
4 Pat Houtakker
5 Mike Berning
6 Mike Morris

Henry Meyer Memorial Overall Series Winners

A Grade 
 
Doug Plumer
  
Women 
 
Teresa Jarzemkoski 
 
B Grade 
 
Steve Songer
  
C Grade 
 Mark Schoonbeck 
 
Masters 40+ 
 
Dean Parker 
 
Masters 60+ 
 
Jim Witt 
 
Juniors 
 
Andy Slater

Results courtsey of Mark Thomas
Boss Cross Series Rd 2
Penguin Park, Kanas City, October 21, 2001
Under the shadows of giant Penguins and Kangaroos, the second event of the "Boss Cross" series was contested. The North of the river venue drew a quality field.
Jed Schneider, 2000 Collegiate 'Cross Champion, demonstrated techniques for the novice and experienced in a fine pre-race clinic. Jed continued the schooling as he spanked the field in the main event. The course was very American style cross with fast transitions and fast approaches to barriers.

A Grade
 &nbsp
1 Jed Schneider
2 Ryan Pirtle
3 Josh Johnson
4 Doug Plummer
5 Chris Woody
6 Matt Gilhousen
7 Eric Carter
8 Justin Hawkins
&nbsp
Women
&nbsp
1 Jean Lucas
2 Julie Snell
3 Teresa Jarzemkoski
&nbsp
Juniors
&nbsp
1 Andy Slater
2 John Hackman
&nbsp
Masters 40+
&nbsp
1 Dean Parker
2 Paul Haldeman
3 Bob McCrady
4 Pat Houtakker
5 Michael Berning
6 David Conrad
7 Michael Morris
8 Bruce Tanner DNF
&nbsp
Masters 60+
&nbsp
1 Jim Witt
&nbsp
B Grade
&nbsp
1 Lynn Neir
2 Steve Songer
3 Alejandro Schlagel
4 Dustin Ridgeray
5 Ken Harkin
6 Monte May
7 Jordan Tull
8 David Hegar
9 Jason Ozeberger
10 Andy Lucas
11 Matt McKillip
12 Jennifer Tilley
13 Josh Klinger
&nbsp
C Grade
&nbsp
1 Scott Hammack
2 Ed Nelson
3 Jon Martinez
4 David Pitt
5 Richard Arnoldy
6 Franklin Nowlin
7 Michael Snell
8 Gregg Rupp
9 Paul Haldeman
10 Mark Schoonbeck
11 Mike Borylo
12 Nick Stinson
13 Eric Winerger
14 Todd Wilson
14 Russ Pederson
15 Charles Miller
16 Phil Duran
17 Mark Breeding
&nbsp
Kids Race
&nbsp
1 Kat Songer (10 yrs)
2 Greyson Dilbeck (11)
3 Terry Krieg (10)
4 Melissa Conrad (11)
5 Trevor Korchack (11)
6 Chris Locke (5)
7 Jacob Pitt

Results courtesy of Mark Thomas
Boss Cross Series Rd 1
Spring Valley Park, Kanas City, October 14, 2001
Spring Valley Park, in the heart of urban Kansas City, was the site of furious racing October 14th. The first of Jeremy Haynes three race series was held on a challenging bowl shaped course. Very tough runups alternating with a wide uphill road section required the full range of 'cross skills. The scenic park was very spectator friendly, with neighbors joining the usual fans. A generous raffle, cool medals, and a party atmosphere made for a great kick off.
Masters 40+
&nbsp
1 Bruce Tanner (Overall winner)
2 Dean Parker
3 David Conrad
4 Bob McCrady
5 Pat Houtakker
6 Michael Berning
7 Mark Thomas (DNF)
&nbsp
Masters 60+
&nbsp
1 Jim Witt
&nbsp
Womens
&nbsp
1 Teresa Jarzemkoski
&nbsp
Juniors
&nbsp
1 Andy Slater
2 Dan Martin
&nbsp
B Grade
&nbsp
1 Alejandro Schlagel
2 Steve Songer
3 Ken Harkin
4 Monte May
5 Jason "the tallboy" Ozenberger
6 Lynn Neir
7 Greg Seamon
8 Chris Locke
9 Franklin Nowlin
10 Michael Snell
11 Matt McKillip
12 Chris Woody
13 David Tjiptogarsono
&nbsp
C Grade
&nbsp
1 Jordan Tull
2 Dustin Ridgway
3 Paul Haldeman
4 Mark Schoonbeck
5 Brendan Sheehan
6 Dale Buckner
7 Hanson Kirby
8 Todd Simchuk
9 Alan Shumate
10 Tim Gauthier
11 Mike Borylo
12 Gregg Rupp
13 Russ Pederson
14 Matthew Kephart
15 Todd Wilson
16 Jerome Jackson 

Results courtsey of Mark Thomas&nbsp
Nebraska Cyclo-cross Series (Race #4).
Pioneers Park, Nebraska, October 28, 2001
Points Title Goes to Schlake
For the second week in a row, Darin Schlake of OBCR claimed victory in the 2001 Nebraska Cyclo-cross Series.
This was Schalke's third top finish in the series and solidified his status as Points Champion heading into next weeks State Championship at Mahoney Park.
Another afternoon of strong winds from the south created a difficult challenge for the Cat. 1/2/3 riders who displayed incredible form throughout the field. "My plan was to sit in today, but the race broke up a little bit sooner than I thought. I just wanted to make sure I could get a gap on Christian Davnport (RCRC)," explained Schalke. The competition spread out early on with Schalke, Kevin Wilkins of Team Kaos and Davenport of RCRC leading the charge.
Midway through the battle, it looked as if Matt Gersib of Kaos might make a late race charge to shake things up again, as he did during Race #2 at Pioneers Park. But after taking a spill on the back-half of the course, those plans were dashed. However, Gersib was not the only course casualty of the day. Schalke went down in the tricky off-camber section leading to the third set of barriers, as well. "I was not very smooth today. I really had to power this race out," Schlake commented.
Next weeks State Championship is shaping up to be quite promising with many riders in the Cat. 1/2/3 field coming on strong. Kaos rider, Kevin Wilkins has swept the Cat. 3 Points Championship and looks to top off the cross season with a District Gold Medal. Nipping at his heels will be teammate Gersib and OBCR rider Stephen Jarrett who is a sure contender. Other riders to watch include: Tony Wilhelm from the Cycle Works team, Paul Chapman of Kaos and Mark Savery of SNORT who looked impressive in his Cyclo-cross Series debut.
Mahoney Park will hold the final challenge in this years Nebraska Cyclo-cross Series. As Schalke illustrates, "It is a selective course. You don't attack as much. You just see who can hold on."
Results
Cat. 1/2
 
1 Darin Schlake (OBCR-Gary Fisher)        1.03.10
2 Christian Davenport (RCRC)              0.00.58
3 Mark Savery (SNORT)                     0.01.20
 
Cat. 3
 
1 Kevin Wilkins (Team Kaos)               1.04.08
2 Matt Gersib (Team Kaos)                 0.01.02
3 Stephen Jarrett (OBCR-Gary Fisher)      0.01.02
4 Paul Chapman (Team Kaos)                0.01.24
5 Tony Wilhelm (Cycle Works)              0.02.02
6 Matt Slaven (Team Kaos)                 0.02.27
7 Matt Tillinghast (Team Kaos)            0.03.55
8 Nate Woodman (SNORT)                    0.03.55
9 Matt Landen (OBCR-Gary Fisher)
 
Cat. 4
 
1 John Lefler, Jr. (Team Kaos)            0.45.10
2 Sam Rosenau (unattached)                0.01.05
3 Tyler Carmichael (Blues Bikes)          0.03.00
4 Chris Van Ooyen (unattached)            0.03.40
5 Corey Godfrey (Cycle Works)             0.03.45

Cat. 5
 
1 TJ Carmichael (unattached)              0.39.20
2 Dustin Clements (unattached)            0.00.55
 
Masters 30+
 
1 Jesse Petersen (Team Kaos)              0.44.05
2 Jared Shuttleworth (Husker Road Club)   0.01.05
3 Jordan Brasch (Team Kaos)               0.02.05
4 Mitch Gonzales (Team Kaos)              0.03.55
 
Masters 40+
 
1 Al Boone (unattached)                   0.47.05
2 Tim Carmichael (unattached)             0.02.15
3 Mike Sweet (Blues Bikes)
  
Masters 50+
 
1 John Varga (Husker Road Club)
 
Juniors (Boys)
 
1 Adam Boone (unattached)                 0.35.25
2 Jerick Wilson (unattached)              0.02.20
3 Robb Hiatt (Blues Bikes)                0.04.50
 
Women Cat. 1/2/3
 
1 Renee Carter (OBCR-Gary Fisher)         0.40.30
 
Women Cat. 4
 
1 Katherine Humphrey (Cycle Works)        0.39.20
2 Kristin Siebenlist (DMOS/DMCC)
3 Jill Thomas (Team Kaos)