Mild Seven Outdoor Quest
China, November 1- 4, 2001
The event is a team multisport stage race. The four-person teams, that have to include at least one female, contested over 400 kilometers of mountain biking, trail running, inline skating, team biathlon, lake paddling, adventure skills, and kayaking. Adding to the difficulty, team members must stay together at all times. The team with the lowest cumulative time will take home the lion's share of the $200,000 (US) purse. Since the inaugural event in 1997, the Mild Seven Outdoor Quest has become one of the world's premier endurance races, attracting elite athletes from all around the world. A record 30 teams entered this year.
Report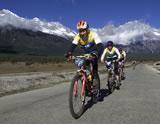 Team Down Under
Photo: © Mild Outdoor
With snow-capped Jade Dragon Mountain framed in the background, Team Down Under galloped across the Mild Seven Outdoor Quest finish line, winning their first ever title. The victory meant a lot to Team Down Under, who had spent eight months training for the event. "It's great to win. This is such an intense race," said John Jacoby of Down Under.
"I think experience made the difference," echoed teammate Keith Murray. "All four of us have years of experience in multisport competition. We know how to race as individuals and how to work together as a team. That sort of knowledge is invaluable."
Down Under's final time was 27:30:06. Two-time defending champion Team Nokia was second in 28:16:08. In third, Team Mountain Designs, in 29:18:05. Team Mild Seven had a solid 32:48:02 finish.
The scene at the starting line for the race's fourth and final stage was a combination of cold, fatigue and nervousness. Cold, because the athletes began the day in a meadow near the summit of Jade Dragon Mountain, at an elevation of 3500 meters. Fatigue, because Mild Seven Outdoor Quest 2001 has been the most challenging in event history, and the athlete's bodies were sore and tired. And nervousness, because Team Down Under had an uncomfortable sensation something calamitous would rob them of victory. "I feel great now," Down Under's Danelle Ballangee said after crossing the finish line six hours later. "But at the start I was so nervous something would happen and we would lose."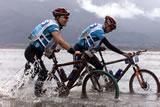 Are you sure we need our bikes?
Photo: © Mild Outdoor
They didn't. They charged hard from the start. Under clear blue skies and puffy white clouds, Down Under raced with the determination of champions. Team Nokia has a reputation for never quitting, so Down Under didn't take anything for granted. On a day whose event focus was mountain biking and trail running - Team Nokia's specialties - Down Under thoroughly dominated. "To be honest, it was easy," said Jacoby. "On one section, running through a pine forest, it felt like heaven. I found myself watching the scenery it was so pretty."
Nokia was frustrated with their loss. "We're disappointed right now," said Nokia's Jukka Pinola. "We had injuries and mechanical problems that slowed us down. I think the race would have been much closer if those hadn't happened. But we have to be happy with second, because this year they were just the better team."
For Down Under's Murray it goes back to experience. "We all have great mountain biking and running and kayaking skills. We know how to pace ourselves during an event of this duration. And we know how to eat and drink the proper foods to keep our bodies going. Nokia's just as fit as we are. It was experience that made the difference."
Photography
Photos kindly supplied by Mild Outdoor Seven
Day 1
Day 2
Day 3
Day 4
Results
1 Team Down Under (Keith Murray, John Jacoby, Stephen Gurney,Danelle Ballengee)
2 Team Nokia (Petri Forsman, Mika Hirvinen, Jukka Pinola, Elina Mäki-Rautiala) 
3 Team Mountain Designs (Guy Andrews, Gary Sutherland, Novak Tompson, Jody Mielke)