53rd Grand Prix du Midi-Libre - 2.1
France, May 22-27, 2001
Main page Results Previous stage
Stage 4 - May 25: Pont-du-Gard - Laissac, 209 km
Bradley McGee wins in a sprint(!)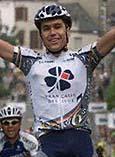 McGee wins it
Photo: © AFP
Bradley McGee's road apprenticeship with La Francaise des Jeux has slowly but surely been bearing fruit for the young Australian who made his mark on the track. Always a noted time trialist (especially over short distances), he overcame the entire peloton today to win the bunch sprint into Laissac at the end of the fourth stage. Meanwhile, Khazakh Andrei Teteriuk (Mercury) finished safely in the bunch to keep hold of the yellow leader's jersey.
McGee's second place in yesterday's Montpellier time trial did not seem to tire him, and he climbed both first category mountains today with the leaders. The day's primary attacker was Anthony Langella (Credit Agricole), who left the peloton after 27 kilometres to gain a maximum advantage of 15'14 by the foot of the Col de Jalcreste (km 90). This was reduced to 4'02 at the summit of the Col de Cabrunas (km 147) under the impetus of Euskaltel, but the peloton remained intact.

The peloton cruising along in the sunshine.
Photo: © AFP
With 44 kilometres to go, Langella was caught after 138 kilometres by himself. Already by this stage, McGee had shown himself to be one of the strongest in the group, going for the intermediate sprints whenever they were on offer.
At 25 kilometres to go, Benoît Salmon attacked, gaining 43 seconds over the next 15 kilometres. With 5 km to go, he was caught by three others, and the rest of the peloton followed soon after. 98 riders arrived to contest the sprint, and McGee was the quickest of them all on the uphill sprint, beating Nicola Loda (Fassa Bortolo, now points leader) and Robert Hunter (Lampre), who is finding his legs again after his early season was written off.
"I who am a specialist against the clock, did not win on Thursday in Montpellier," he said. "On the other hand, today where I was not, I won it."
"Marc Madiot said to me that if I felt good, I could have a go. I would have liked to have taken the leader's jersey, but it is not so bad. Loda attacked too early, and I could squeeze around him in the last 100 metres."
Results
1 Bradley McGee (Aus) La Francaise Des Jeux          5.29.05
2 Nicola Loda (Ita) Fassa Bortolo
3 Robert Hunter (RSA) Lampre-Daikin
4 Candido Barbosa (Por) iBanesto.com
5 Laurent Brochard (Fra) Jean Delatour
6 Iker Flores (Spa) Euskaltel-Euskadi
7 Anthony Morin (Fra) Credit Agricole
8 François Simon (Fra) Bonjour
9 Geert Van Bondt (Bel) Mercury-Viatel
10 Samuel Sanchez (Spa) Eusktaltel-Euskadi
11 Alexei Sivakov (Rus) Bigmat-Auber 93
12 Uani Etxebarria (Ven) Euskaltel-Euskadi
13 Jamie Drew (Aus) Mercury-Viatel
14 Oleg Pankov (Ukr) Collstrop-Palmans
15 Christophe Moreau (Fra) Festina
16 Didier Rous (Fra) Bonjour
17 Claude Lamour (Fra) Cofidis
18 Andrei Kivilev (Kaz) Cofidis
19 Karsten Kroon (Ned) Rabobank
20 Bram De groot (Ned) Rabobank
21 Ludovic Turpin (Fra) Ag2R Prevoyance
22 Christophe Rinero (Fra) Cofidis
23 Vincent Templier (Fra) Saint-Quentin Oktos
24 Kim Kirchen (Lux) Fassa Bortolo
25 Jose Silloniz (Spa) Euskaltel-Euskadi
26 Matthé Pronk (Ned) Rabobank
27 Christopher Jenner (Fra) Credit Agricole
28 Gerhard Trampusch (Aut) Team Deutsche Telekom
29 Francisco Mancebo Perez (Spa) iBanesto.com
30 Xavier Zandio (Spa) iBanesto.com
31 Sven Montgomery (Swi) La Francaise Des Jeux
32 Stéphane Heulot (Fra) Bigmat-Auber 93
33 Pascal Chanteur (Fra) Festina
34 Walter Beneteau (Fra) Bonjour
35 Iban Mayo (Spa) Euskaltel-Euskadi
36 Nicki Sorensen (Den) CSC-World Online
37 Francisco Javier Cerezo (Spa) CSC-World Online       0.08
38 Benoît Poilvet (Fra) Credit Agricole
39 Patrice Halgand (Fra) Jean Delatour
40 Laurent Lefevre (Fra) Cofidis
41 Richard Groenendaal (Ned) Rabobank
42 Pascal Lino (Fra) Festina
43 Gregory Vollet (Fra) Saint-Quentin Oktos
44 Gilles Maignan (Fra) Ag2R Prevoyance
45 Udo Bolts (Ger) Team Deutsche Telekom
46 Emmanuel Magnien (Fra) La Francaise Des Jeux
47 Laurent Roux (Fra) Jean Delatour
48 Jérôme Bernard (Fra) Jean Delatour
49 Gilles Bouvard (Fra) Jean Delatour
50 Grzegorz Gwiazdowski (Pol) La Francaise Des Jeux
51 Florent Brard (Fra) Festina
52 Rafael Diaz de Cerio (Spa) Euskaltel-Euskadi
53 Angel Casero (Spa) Festina
54 Christophe Oriol (Fra) Jean Delatour
55 Rubens Bertogliati (Swi) Lampre-Daikin
56 Gorka Gerrikagoitia (Spa) Euskaltel-Euskadi
57 Stephane Goubert (Fra) Jean Delatour
58 Laurent Paumier (Fra) Saint-Quentin Oktos
59 Loïc Lamouller (Fra) Bigmat-Auber 93
60 Olivier Trastour (Fra) Jean Delatour
61 Jonathan Vaughters (USA) Credit Agricole
62 Frédéric Bessy (Fra) Credit Agricole
63 Xavier Jan (Fra) Bigmat-Auber 93
64 Marco Fincato (Ita) Fassa Bortolo
65 Nicolas Jalabert (Fra) CSC-World Online
66 Volodymir Gustov (Ukr) Fassa Bortolo
67 Benoît Salmon (Fra) Ag2R Prevoyance
68 Stéphane Berges (Fra) Ag2R Prevoyance
69 Laurent Jalabert (Fra) CSC-World Online
70 Andrei Teteriouk (Kaz) Mercury-Viatel
71 Carlos Dacruz (Fra) Festina
72 Frank Vandenbroucke (Bel) Lampre-Daikin
73 Patrick Jonker (Aus) Bigmat-Auber 93
74 Thorwald Veneberg (Ned) Rabobank
75 Phillip Bordenave (Fra) Ag2r-Prevoyance
76 Sylvain Chavanel (Fra) Bonjour
77 Marc Wauters (Bel) Rabobank
78 Alexandre Botcharov (Rus) Ag2R Prevoyance
79 Aitor Osa Eizaguirre (Spa) iBanesto.com
80 Francisco Javier Vila (Spa) iBanesto.com
81 Denis Menchov (Rus) iBanesto.com
82 Ramon Gonzalez Arrieta
83 Cyril Saugrain (Fra) Bigmat-Auber 93
84 Addy Engels (Ned) Rabobank
85 Sandy Casar (Fra) La Francaise Des Jeux
86 David Lefevre (Fra) Cofidis
87 Dominique Rault (Fra) Bigmat-Auber 93
88 Paolo Tiralongo (Ita) Fassa Bortolo
89 Jakob Piil (Den) CSC-WorldOnline
90 Alexandre Vinokourov (Kaz) Team Deutsche Telekom
91 Thomas Bodo (Fra) Francaise des Jeux
92 Laurent Madouas (Fra) Festina
93 Vincent Cali (Fra) Collstrop-Palmans
94 Niklas Axelsson (Swe) Mercury-Viatel
95 Leonardo Giordani (Ita) Fassa Bortolo
96 Anthony Charteau (Fra) Bonjour
97 Fillipo Casagrande (Ita) Fassa Bortolo
98 Matteo Frutti (Ita) Lampre-Daikin                    12.11
99 Zbigniew Spruch (Pol) Lampre-Daikin
100 Olivier Perraudeau (Fra) Bonjour                    13.13
101 Bjarke Nielsen (Den) CSC-World Online
102 Torsten Hiekmann (Ger) Team Deutsche Telekom
103 Ralf Grabsch (Ger) Team Deutsche Telekom
104 Médéric Clain (Fra) Cofidis
105 Oleg Kozlitine (Kaz) Saint-Quentin Oktos
106 Steffen Wesemann (Ger) Team Deutsche Telekom
107 Stuart O'Grady (Aus) Credit Agricole
108 Fabrice Gougot (Fra) Credit Agricole
109 Roger Hammond (GBr) Collstrop-Palmans
110 Max Becker (Lux) Collstrop-Palmans
111 Robert Bartko (Ger) Team Deutsche Telekom
112 Jan Svorada (Cze) Lampre-Daikin
113 William Frischkorn (USA) Mercury-Viatel
114 Luciano Pagliarini (Bra) Lampre-Daikin
115 Christophe Gauthier (Fra) Saint-Quentin Oktos
116 Laurent Chotard (Fra) Mercury-Viatel
117 Marcellino Garcia Alonso (Spa) CSC-WorldOnline
118 Bert Scheirlinckx (Bel) Collstrop-Palmans
119 Frédéric Gabriel (Fra) Bonjour
120 Anthony Langella (Fra) Credit Agricole
121 Laurent Estadieu (Fra) Ag2r-Prevoyance
122 Alexandre Grux (Fra) Ag2r-Prevoyance
123 Jeremy Hunt (GBr) Bigmat-Auber 93
124 Staf Scheirlinckx (Bel) Collstrop-Palmans
125 Erik Dekker (Ned) Rabobank
126 Alberto Benito (Spa) iBanesto.com
127 Marco Serpellini (Ita) Lampre-Daikin
128 Phil Zajicek (USA) Mercury-Viatel
129 Franck Renier (Fra) Bonjour
130 Jimmy Casper (Fra) La Francaise Des Jeux            13.42
DNF Yoann Le Boulanger (Fra) Cofidis
DNF David Moncoutie (Fra) Cofidis
DNF Dirk Aernouts (Bel) Collstrop-Palmans
DNF Frédéric Lecrosnier (Fra) Saint-Quentin Oktos
DNF Christophe Morel (Fra) Saint-Quentin Oktos
DNS Michael Olejnik (Pol) Saint-Quentin Oktos
DNS Oscar Pozzi (Ita) Fassa Bortolo
 
Points
 
1 Bradley McGee (Aus) La Francaise Des Jeux                20 pts
2 Nicola Loda (Ita) Fassa Bortolo                          17
3 Robert Hunter (RSA) Lampre-Daikin                        15
4 Candido Barbosa (Por) iBanesto.com                       13
5 Laurent Brochard (Fra) Jean Delatour                     11
6 Iker Flores (Spa) Euskaltel-Euskadi                      10
7 Anthony Morin (Fra) Credit Agricole                       9
8 François Simon (Fra) Bonjour                              8
9 Geert Van Bondt (Bel) Mercury-Viatel                      7
10 Samuel Sanchez (Spa) Eusktaltel-Euskadi                  6
11 Alexei Sivakov (Rus) Bigmat-Auber 93                     5
12 Uani Etxebarria (Ven) Euskaltel-Euskadi                  4
13 Jamie Drew (Aus) Mercury-Viatel                          3
14 Oleg Pankov (Ukr) Collstrop-Palmans                      2
15 Christophe Moreau (Fra) Festina                          1
 
Mountains
 
Col De Jalcreste - km 89.5
 
1 Anthony Langella (Fra) Credit Agricole                   20 pts
2 Karsten Kroon (Ned) Rabobank                             15
3 Jérôme Bernard (Fra) Jean Delatour                       12
 
Col De Cabrunas - km 147
 
1 Anthony Langella (Fra) Credit Agricole                   20 pts
2 Stephane Goubert (Fra) Jean Delatour                     15
3 Christophe Moreau (Fra) Festina                          12
 
General classification after stage 4
 
1 Andrei Teteriouk (Kaz) Mercury-Viatel              15.05.37
2 Christophe Moreau (Fra) Festina                        0.21
3 Gilles Maignan (Fra) Ag2R Prevoyance                   0.22
4 Bradley McGee (Aus) La Francaise Des Jeux
5 Uani Etxebarria (Ven) Euskaltel-Euskadi                0.26
6 Iban Mayo (Spa) Euskaltel-Euskadi                      0.36
7 Sven Montgomery (Swi) La Francaise Des Jeux            0.41
8 Laurent Brochard (Fra) Jean Delatour                   0.45
9 Laurent Jalabert (Fra) CSC-World Online                0.52
10 Jamie Drew (Aus) Mercury-Viatel                       0.55
11 Florent Brard (Fra) Festina                           0.56
12 Didier Rous (Fra) Bonjour                             0.58
13 Stéphane Heulot (Fra) Bigmat-Auber 93                 0.59
14 Nicola Loda (Ita) Fassa Bortolo                       1.00
15 Sylvain Chavanel (Fra) Bonjour                        1.01
16 Nicki Sorensen (Den) CSC-World Online                 1.06
17 Benoît Salmon (Fra) Ag2R Prevoyance
18 Andrei Kivilev (Kaz) Cofidis
19 Nicolas Jalabert (Fra) CSC-World Online               1.09
20 Angel Casero (Spa) Festina                            1.11
21 Benoît Poilvet (Fra) Credit Agricole                  1.14
22 Jonathan Vaughters (USA) Credit Agricole              1.15
23 Patrick Jonker (Aus) Bigmat-Auber 93
24 Marc Wauters (Bel) Rabobank                           1.16
25 Christopher Jenner (Fra) Credit Agricole
26 Rafael Diaz de Cerio (Spa) Euskaltel-Euskadi          1.18
27 Pascal Lino (Fra) Festina                             1.20
28 Anthony Morin (Fra) Credit Agricole                   1.22
29 Jérôme Bernard (Fra) Jean Delatour                    1.24
30 Grzegorz Gwiazdowski (Pol) La Francaise Des Jeux      1.26
31 Udo Bolts (Ger) Team Deutsche Telekom                 1.28
32 Samuel Sanchez (Spa) Eusktaltel-Euskadi               1.29
33 Robert Hunter (RSA) Lampre-Daikin                     1.41
34 Frank Vandenbroucke (Bel) Lampre-Daikin
35 François Simon (Fra) Bonjour                          1.45
36 Stéphane Berges (Fra) Ag2R Prevoyance                 1.47
37 Iker Flores (Spa) Euskaltel-Euskadi
38 Sandy Casar (Fra) La Francaise Des Jeux               1.48
39 Geert Van Bondt (Bel) Mercury-Viatel                  1.50
40 Alexei Sivakov (Rus) Bigmat-Auber 93                  1.51
41 Laurent Lefevre (Fra) Cofidis                         1.53
42 Frédéric Bessy (Fra) Credit Agricole                  1.57
43 Ludovic Turpin (Fra) Ag2R Prevoyance                  1.57
44 Bram De groot (Ned) Rabobank                          1.59
45 Niklas Axelsson (Swe) Mercury-Viatel                  2.02
46 Pascal Chanteur (Fra) Festina                         2.03
47 Loïc Lamouller (Fra) Bigmat-Auber 93                  2.06
48 Rubens Bertogliati (Swi) Lampre-Daikin
49 Candido Barbosa (Por) iBanesto.com
50 Gerhard Trampusch (Aut) Team Deutsche Telekom         2.09
51 Aitor Osa Eizaguirre (Spa) iBanesto.com               2.10
52 Alexandre Vinokourov (Kaz) Team Deutsche Telekom      2.17
53 Emmanuel Magnien (Fra) La Francaise Des Jeux          2.18
54 Laurent Roux (Fra) Jean Delatour                      2.19
55 Francisco Mancebo Perez (Spa) iBanesto.com            2.20
56 Cyril Saugrain (Fra) Bigmat-Auber 93
57 Olivier Trastour (Fra) Jean Delatour                  2.21
58 Walter Beneteau (Fra) Bonjour                         2.27
59 Alexandre Botcharov (Rus) Ag2R Prevoyance             2.30
60 Thorwald Veneberg (Ned) Rabobank                      2.32
61 Addy Engels (Ned) Rabobank                            2.33
62 Kim Kirchen (Lux) Fassa Bortolo
63 Dominique Rault (Fra) Bigmat-Auber 93                 2.35
64 Carlos Dacruz (Fra) Festina                           2.36
65 Christophe Rinero (Fra) Cofidis                       2.37
66 Claude Lamour (Fra) Cofidis                           2.50
67 Phillip Bordenave (Fra) Ag2r-Prevoyance               2.51
68 Xavier Jan (Fra) Bigmat-Auber 93                      2.54
69 Jose Silloniz (Spa) Euskaltel-Euskadi                 2.57
70 Francisco Javier Cerezo Perales (Spa) CSC-World On    2.59
71 Karsten Kroon (Ned) Rabobank                          3.03
72 Ramon Gonzalez Arrieta                                3.05
73 Thomas Bodo (Fra) Francaise des Jeux                  3.10
74 Leonardo Giordani (Ita) Fassa Bortolo                 3.11
75 Francisco Javier Vila (Spa) iBanesto.com              3.13
76 Laurent Paumier (Fra) Saint-Quentin Oktos             3.16
77 David Lefevre (Fra) Cofidis                           3.18
78 Gorka Gerrikagoitia (Spa) Euskaltel-Euskadi           3.21
79 Fillipo Casagrande (Ita) Fassa Bortolo                3.26
80 Laurent Madouas (Fra) Festina                         3.33
81 Richard Groenendaal (Ned) Rabobank                    3.48
82 Gregory Vollet (Fra) Saint-Quentin Oktos              4.04
83 Matthé Pronk (Ned) Rabobank                           5.31
84 Volodymir Gustov (Ukr) Fassa Bortolo                  6.20
85 Stephane Goubert (Fra) Jean Delatour                  6.46
86 Patrice Halgand (Fra) Jean Delatour                   7.33
87 Vincent Cali (Fra) Collstrop-Palmans                  7.43
88 Gilles Bouvard (Fra) Jean Delatour                    8.06
89 Denis Menchov (Rus) iBanesto.com                     10.49
90 Vincent Templier (Fra) Saint-Quentin Oktos           11.03
91 Xavier Zandio (Spa) iBanesto.com                     11.31
92 Oleg Pankov (Ukr) Collstrop-Palmans                  11.33
93 Jakob Piil (Den) CSC-WorldOnline                     12.03
94 Marco Fincato (Ita) Fassa Bortolo                    12.25
95 Anthony Charteau (Fra) Bonjour                       13.25
96 Robert Bartko (Ger) Team Deutsche Telekom            14.20
97 Jan Svorada (Cze) Lampre-Daikin                      14.26
98 Stuart O'Grady (Aus) Credit Agricole                 14.37
99 Matteo Frutti (Ita) Lampre-Daikin                    14.54
100 Paolo Tiralongo (Ita) Fassa Bortolo                 14.55
101 Anthony Langella (Fra) Credit Agricole              14.57
102 William Frischkorn (USA) Mercury-Viatel             15.08
103 Fabrice Gougot (Fra) Credit Agricole                15.13
104 Ralf Grabsch (Ger) Team Deutsche Telekom            15.13
105 Phil Zajicek (USA) Mercury-Viatel                   15.23
106 Erik Dekker (Ned) Rabobank                          15.25
107 Christophe Oriol (Fra) Jean Delatour                15.42
108 Alberto Benito (Spa) iBanesto.com                   15.52
109 Laurent Chotard (Fra) Mercury-Viatel                15.54
110 Alexandre Grux (Fra) Ag2r-Prevoyance                15.58
111 Zbigniew Spruch (Pol) Lampre-Daikin                 16.00
112 Jeremy Hunt (GBr) Bigmat-Auber 93                   16.07
113 Bjarke Nielsen (Den) CSC-World Online               16.08
114 Oleg Kozlitine (Kaz) Saint-Quentin Oktos            16.09
115 Frédéric Gabriel (Fra) Bonjour                      16.10
116 Luciano Pagliarini (Bra) Lampre-Daikin              16.11
117 Steffen Wesemann (Ger) Team Deutsche Telekom        16.15
118 Roger Hammond (GBr) Collstrop-Palmans               16.16
119 Olivier Perraudeau (Fra) Bonjour                    16.33
120 Torsten Hiekmann (Ger) Team Deutsche Telekom        16.39
121 Max Becker (Lux) Collstrop-Palmans                  16.52
122 Christophe Gauthier (Fra) Saint-Quentin Oktos       16.54
123 Médéric Clain (Fra) Cofidis                         17.01
124 Marco Serpellini (Ita) Lampre-Daikin                20.50
125 Bert Scheirlinckx (Bel) Collstrop-Palmans           21.45
126 Jimmy Casper (Fra) La Francaise Des Jeux            22.49
127 Laurent Estadieu (Fra) Ag2r-Prevoyance              23.58
128 Franck Renier (Fra) Bonjour                         24.50
129 Staf Scheirlinckx (Bel) Collstrop-Palmans           24.53
130 Marcellino Garcia Alonso (Spa) CSC-WorldOnline      30.43
 
Points classification
 
1 Nicola Loda (Ita) Fassa Bortolo                          45 pts
2 Bradley McGee (Aus) La Francaise Des Jeux                44
3 Jan Svorada (Cze) Lampre-Daikin                          41
4 Iker Flores (Spa) Euskaltel-Euskadi                      31
5 Jérôme Bernard (Fra) Jean Delatour                       24
6 Robert Hunter (RSA) Lampre-Daikin                        23
7 Stuart O'Grady (Aus) Credit Agricole                     21
8 Christophe Moreau (Fra) Festina                          19
9 Laurent Brochard (Fra) Jean Delatour                     17
10 Andrei Teteriouk (Kaz) Mercury-Viatel                   15
11 Alexandre Vinokourov (Kaz) Team Deutsche Telekom        15
12 Alexei Sivakov (Rus) Bigmat-Auber 93                    15
13 Candido Barbosa (Por) iBanesto.com                      13
14 François Simon (Fra) Bonjour                            12
15 Bram De groot (Ned) Rabobank                            11
16 Gilles Maignan (Fra) Ag2R Prevoyance                    10
17 Jeremy Hunt (GBr) Bigmat-Auber 93                       10
18 Anthony Morin (Fra) Credit Agricole                      9
19 Oleg Kozlitine (Kaz) Saint-Quentin Oktos                 9
20 Uani Etxebarria (Ven) Euskaltel-Euskadi                  9
21 Florent Brard (Fra) Festina                              8
22 Grzegorz Gwiazdowski (Pol) La Francaise Des Jeux         8
23 Geert Van Bondt (Bel) Mercury-Viatel                     7
24 Didier Rous (Fra) Bonjour                                7
25 Alberto Benito (Spa) iBanesto.com                        7
26 Samuel Sanchez (Spa) Eusktaltel-Euskadi                  6
27 Gerhard Trampusch (Aut) Team Deutsche Telekom            6
28 Anthony Langella (Fra) Credit Agricole                   6
29 Matthé Pronk (Ned) Rabobank                              6
30 Carlos Dacruz (Fra) Festina                              5
31 Claude Lamour (Fra) Cofidis                              5
32 Angel Casero (Spa) Festina                               4
33 Leonardo Giordani (Ita) Fassa Bortolo                    4
34 Max Becker (Lux) Collstrop-Palmans                       4
35 Jamie Drew (Aus) Mercury-Viatel                          3
36 Iban Mayo (Spa) Euskaltel-Euskadi                        3
37 Olivier Perraudeau (Fra) Bonjour                         3
38 Oleg Pankov (Ukr) Collstrop-Palmans                      2
39 Jonathan Vaughters (USA) Credit Agricole                 2
40 Robert Bartko (Ger) Team Deutsche Telekom                1
41 Laurent Chotard (Fra) Mercury-Viatel                     1
 
Mountains classification
 
1 Anthony Langella (Fra) Credit Agricole                   40 pts
2 Jérôme Bernard (Fra) Jean Delatour                       32
3 Karsten Kroon (Ned) Rabobank                             20
4 Stephane Goubert (Fra) Jean Delatour                     15
5 Christophe Moreau (Fra) Festina                          12
6 Matthé Pronk (Ned) Rabobank                              12
7 Didier Rous (Fra) Bonjour                                 9
8 François Simon (Fra) Bonjour                              9
9 Frédéric Bessy (Fra) Credit Agricole                      8
10 Aitor Osa Eizaguirre (Spa) iBanesto.com                  6
11 Benoît Salmon (Fra) Ag2R Prevoyance                      5
12 Emmanuel Magnien (Fra) La Francaise Des Jeux             4
13 Christophe Oriol (Fra) Jean Delatour                     4
14 Iker Flores (Spa) Euskaltel-Euskadi                      3
15 Patrice Halgand (Fra) Jean Delatour                      3
16 Sylvain Chavanel (Fra) Bonjour                           3
17 Alexei Sivakov (Rus) Bigmat-Auber 93                     3
18 Gilles Maignan (Fra) Ag2R Prevoyance                     2
19 Olivier Trastour (Fra) Jean Delatour                     1
20 Gregory Vollet (Fra) Saint-Quentin Oktos                 1