Second edition news for March 9, 2001
Recent results and new features
Canberra World Cup
By Jeff Jones

Talking it up
Photo: © Jeff Jones/CN
The first of nine women's World Cup races this season takes place in Canberra (Australia) this Saturday, March 10 at 9:00 am. Competing in the 102 kilometre event are 75 of the world's best women's cyclists, hailing from 14 different countries. Many have ridden the five day lead up event, the women's Tour de Snowy, which was won by Saturn's Kimberly Bruckner.
Six cyclists competing in the World Cup, Anna Millward and Kim Bruckner (Saturn-Timex), Sarah Ulmer and Susy Pryde (Autotrader), Mari Holden (Alfa Lum) and Alison Wright (AIS), answered questions at the pre-race press conference, held in Canberra's Forrest Hotel on Friday morning. Race promoter Phill Bates started proceedings:
"This is the fourth year that it's been staged and we've maintained having a World Cup in Australia ever since," said Bates. "I'm certainly delighted with the international line up that we have. We had five days of great competition with the racing all throughout the Snowy region, and I think all the riders are primed to do very well."

Phill Bates
Photo: © Tom Balks/CN
The scenic 5.1 kilometre course takes in many of the international embassies in Canberra, and was also used for a stage of the Commonwealth Bank Classic last year. There are a couple of small hills in it, but nothing like the Snowy Mountains. "I think it's good because the riders make the race rather than the course deciding the race," commented Bates.
"After an Olympic year when many federation's budgets are restricted, there is a downturn in the World Cups the year after. I'm delighted with the line up - to have two World Champions here is fantastic."
"I'm making a long term commitment to women's cycling after doing the Commonwealth Bank Cycle Classic for 19 years. I've basically drawn a curtain closed on that event and now I'm looking forward to progressing women's cycling to the nth degree," Bates concluded.
Anna Millward
Photo: © Tom Balks/CN
The odds-on favourite is two time winner of the event, Anna Millward (Saturn-Timex). She led the tour de Snowy for four days before relinquishing the jersey to teammate Kim Bruckner. However, the World Cup is definitely her race.
"It's absolutely of paramount importance to have a strong team here," said Millward. "I have won this event for the past two years, each time with great team support. Obviously now I am a targetted rider because I've won it before. It's certainly not going to be a surprise to everyone that I'm going to try and win tomorrow."
"To have a chance to race against the field in the Tour de Snowy for five days gives you a chance to settle the nerves a little," she added. "Everyone has had a little break from international racing, and you need to find your legs again in a big bunch."
Bruckner, who benefitted from Saturn's flexible team leader policy in the TdS was clear: "Kristy, Anke and I are here in full support of Anna and we'll definitely have our work cut out for us. The entire GAS team is going to be really tough, as well as Alfa Lum and Autotrader. We just really need to follow all the attacks and keep it under control."
"As the laps go on, it will be a race of attrition. It's going to get strung out on the hill and groups can get away. We really just have to watch the gaps."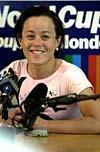 Mari Holden
Photo: © Tom Balks/CN
World TT Champion and Olympic silver medallist, Mari Holden (Alfa Lum) was giving nothing away about her team's plans though. "That's kind of a secret," she said cautiously. "We're here to race a good race and obviously we know the main threats. We're hoping to be in one of those moves and any one of us could go and we'd be happy. We don't have one rider who we think is going to be a World Cup rider necessarily. We're opportunists."
About her four woman team, Holden added that "I think everyone's feeling good after a couple of days off. It was a little difficult coming here into such warm weather after coming from cool climates. I think the couple of days recuperation has been good for us."
Most of the girls on our team are better at the end of the Tour de Snowy than at the beginning of it. I was using the Snowy to get my legs under me, so hopefully my form is good for the World Cup," she finished.
Autotrader.com's two New Zealanders, Sarah Ulmer and Susy Pryde also started to find form at the end of the Tour de Snowy, with Ulmer winning the last stage. "As the race went on, our whole team got better each day," said Ulmer. "We're a new team and still getting to know each other. We were all going to Snowy pretty much as a training tour for the World Cup. Hopefully we'll come out of it alright."
"We're looking forward to it," added Pryde, who commented that this race will be a totally different ball game. Ulmer is a handy sprinter, and should be well looked after tomorrow.
Finally, Australian Institute of Sport rider, Alison Wright was positive about her and the team's chances. "We've got a really strong team overall so we can keep our options open," said Wright. "We've got a good sprinter in Rochelle Gilmore and we've got five other strong girls looking for options to go away in breaks."
"We've had good training camps around the area. We've been in Canberra for a week, so we've had a chance to look at the course and we've raced it twice. We've got no excuses."
"There is a bit of pressure, because there's more people than usual watching me, but it's more excitement than everything. I've just got to take the opportunities when they come and hopefully get in a good break. I'll just watch the riders who I know are going to be good like Anna and work with the team and see what we come up with."
"If everything goes my way, there's always a bit of luck with road racing, but I'm not writing myself off."
Recent results and new features on cyclingnews