56th Omloop Het Volk - 1.1
Belgium, March 3, 2001
Bartoli wins in Belgian heartland

Bartoli wins
Photo: © AFP
Mapei's Michele Bartoli has once again shown his class by becoming one of the rare Italians to win the Omloop Het Volk, the first Belgian race of the season. Bartoli beat Hendrik Van Dijck (Lotto) and Matthé Pronk (Rabobank) in a seven rider sprint to become the only Italian rider to win Het Volk since Franco Ballerini in 1995.
The 200 kilometre classic is neither as long or as hard as the Ronde van Vlaanderen, but the field still had to negotiate nine climbs and 18.1 kilometres of Belgian cobbles. An obligatory early break of seven riders escaped at the 18th kilometre, but did not gain much more than four minutes' advantage on the peloton before the Muur at Geraardsbergen (km 84).
An important move came from Bartoli and Andrei Tchmil, who bridged up to the leaders. By kilometre 120, a group of 17 had formed in front containing a strong Lotto force (Nico Eeckhout, Hendrick Van Dyck, Paul Van Hyfte, Fabian de Waele) as well as other riders like Emmanuel Magnien, Christophe Agnolutto, Michele Bartoli, Daniele Nardello, Gianluca Bortolami, Matthé Pronk, Maarten Den Bakker and Peter Van Petegem.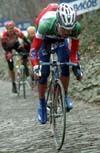 On the Muur
Photo: © Sirotti
The new leaders could not gain a huge advantage on the chasing bunch that included the entire Domo and Cofidis teams. Van Dijck attacked on the Molenberg (the final climb) with 57 kilometres to go, but was easily countered by Nardello, although the leading group was subsequently reduced to ten riders: De Waele, Van Hyfte, Van Dyck (Lotto), Den Bakker, Pronk (Rabobank), Pieter Vries (Batavus), Nardello, Bartoli (Mapei), Piziks (CSC) or Rous (Bonjour).
An attempt to bridge came from Van Petegem, Ivanov and Klier, and they got within 38 seconds at 48 kilometres to go, but they couldn't match the strength of Lotto, Rabobank and Mapei in front. The winner would certainly be from one of these three teams, as Vries and Rous were dropped. Meanwhile, the peloton with Tchmil and Musueew were delayed by a train crossing, and lost several more minutes but the race was well over for them.
Van Dijck was strong, and attacked again on one of the final cobblestone sections, but he was unable to escape the clutches of Rabobank and Mapei. Nardello and Den Bakker took it in turns to attack in the final 5 kilometres, but the group came back together every time. In the final 400 meters, Bartoli came to the front and kept ahead of Van Dyck and Pronk to take his first win of the season.
His immediate comments were, "Now I want Sanremo", and it seems every Italian wants to win the opening World Cup race in three weeks time. He has proved himself again after a 2000 season where he was dogged by his knee injury, although he did manage to win the GP Ouest France in Plouay, as well as placing fourth in the Olympics and World Championships.
"Today I have found feelings that I have not felt for a long time," said Bartoli, who expressed further optimism about the upcoming classics in spring. "I raced it [Milan-San Remo] with one leg last year, now I have two I finally want to win it."
Het Volk, 2001, blow-by-blow
by Hans Wilbrink
11.40 After a small demonstration by the elite riders without contract, the start is a little bit delayed. Anton Chantyr didn't start because he's ill. 247 riders start.
12.18 Avelgem: after 30km a group of 8 has 36 seconds: Agnolutto, Flickinger, Salanson, Cortinovis, Cuylits, Mattozza, PrŽtot and Teutenberg.
12.23 The lead break has 2.40.
12.29 Official warning for the Telekom-car because they helped Weseman too much for bringing him back to the peloton. Leaders with 2.35 begin the climb of the Kluisberg.
12.42 Second climb Cote de Trieu: leaders have more than 4 minutes.
13.18 Twenty riders in the peloton take 30 seconds, behind the peloton some lost one, especially Telekom riders.
13.20 After a big fall Sven Teutenberg abandons. The 20 followers are 2.40 to the leaders. 13.29: It's fast. More riders abandon: Coudray, Sassone, Gremelpont, Neuville, Nielsen, Heirewegh, Abe and Bonomi.
13.39: After two hours racing and 82km the seven leaders still have 40 seconds on the Eeckhout group; peloton at 1 minute.
13.51: After the Muur, Bartoli and Tchmil leave the peloton to join the leaders. Sebastian Demarbaix has a fall and shall probably abandon.
14.06: More abandons: Aldat, Hundertmarck (Telekom) and Sciandri (Lampre).
14.35: 17 leaders (incl. Eeckhout, Van Dyck, Van Hyfte, Magnien, Agnolutto, Bartoli, Nardello, Bortolami, Pronk, Den Bakker and Van Petegem) have 1 minute. No Domo and Cofidis in front of the race. Meirhaeghe abandons.
14.55: 73 km to go. Leaders have 1.20. Lotto, Mapei and Rabobank work together. The team-mates of Van Petegem lead the chase.
14.56: Cyclocrosser Sven Nys is still in front of the peloton.
15.00 Leaders have still 40 seconds, because the first part of peloton is fast with Gaumont.
15.10: 60 km to go. Van Dijck attacks on the Molenberg, but Nardello follows easily. 15.15: A group of three (Van Petegem, Ivanov and Klier) tries to reach the leaders.
15.20: Lead group now tem riders incl. Bartoli, Nardello, Den Bakker, Van Hyfte and Van Dyck. First group of peloton (with Van Petegem) on 1.14 and the big peloton on 1.40.
15.23: Van Petegem's group 55 seconds behind the leaders.
15.30: 48 km to go. Van Petegem's group at 38 seconds. Peloton (incl. the complete Domo team) on 2.23.
15.38: 43 km to go. The lead group all working together. Van Petegem's group at 1.10.
15.41: 40km to go: Van Petegem's group on 1.30; peloton on 3.13.
15.47: Winner will be in the lead group. (incl. 3 Lotto, 2 Mapei, 2 Rabobank). GVan Petegem's group is losing time: 2.19.
15.56: 27km to go. Who will win? De Waele, Van Hyfte, Van Dyck (Lotto), Den Bakker, Pronk (Rabobank), Vries (Batavus), Nardello, Bartoli (Mapei), Pisiks (CSC) or Rous (Bonjour).
16.05: No chances for Museeuw, Tchmil etc. They have to wait for a train crossing.
16.06: First (of 4) sections of pave. No rider can attack.
16.15: Van Dyck tries to go on the third section of cobbles, but Bartoli and Pisiks catch him. Vries and Rous can't follow anymore. Lead group down to 8.
16.25: 8 leaders have 27 seconds on Rous and Vries.
16.26: 7km to go. Very high tempo. Nobody can attack because the pace is too high.
16.29: Lotto keeps tempo high for Van Dyck. Maarten Bakker tries several times, but the leaders are coming together every time.
16.32: Last kilometer. Nardello tries, but without result. In the last 400 meters Bartoli comes in front and is the winner, ahead of Van Dyck and Pronk.
Results
1 Michele Bartoli (Ita) Mapei-Quick Step          4.52.00 (41.096 km/h)
2 Hendrik Van Dyck (Bel) Lotto-Adecco
3 Matthé Pronk (Ned) Rabobank
4 Arvis Piziks (Lat) CSC-World Online
5 Fabian De Waele (Bel) Lotto-Adecco
6 Daniele Nardello (Ita) Mapei-Quick Step
7 Maarten Den Bakker (Ned) Rabobank
8 Paul Van Hyfte (Bel) Lotto-Adecco                  0.18
9 Didier Rous (Fra) Bonjour                          2.15
10 Pieter Vries (Ned) Bankgiroloterij-Batavus        2.58
11 Hans De Meester (Bel) Collstrop-Palmans           5.49
12 Frank Hoj (Den) Team Coast
13 Andreas Klier (Ger) Team Deutsche Telekom
14 Mauro Radaelli (Ita) Tacconi Sport-Vini Caldi
15 Emmanuel Magnien (Fra) La Francaise Des Jeux
16 Peter Van Petegem (Bel) Mercury-Viatel           
17 Gianluca Bortolami (Ita) Tacconi Sport-Vini Caldirola
18 Rolf Sorensen (Den) CSC-World Online
19 Serguei Ivanov (Rus) Fassa Bortolo
20 Geert Omloop (Bel) Collstrop-Palmans
21 Nico Eeckhout (Bel) Lotto-Adecco
22 Hans De Clercq (Bel) Lotto-Adecco
23 Fabrice Salanson (Fra) Bonjour 
24 Ivan Basso (Ita) Fassa Bortolo 
25 Peter Farazijn (Bel) Cofidis 
26 Gordon McCauley (NZl) Landbouwkrediet-Colnago    11.02
27 Denis Lunghi (Ita) Team Colpack 
28 Lars Michaelsen (Den) Team Coast 
29 Roger Hammond (GBr) Collstrop-Palmans 
30 Michel Vanhaecke (Bel) Landouwkrediet-Colnago 
31 Tom Desmet (Bel) Bankgiroloterij-Batavus
32 Frédéric Guesdon (Fra) La Francaise Des Jeux
33 Alessandro Cortinovis (Ita) Team Colpack
34 Jan Scaffrath (Ger) Deutsche Telekom
35 Christophe Mengin (Fra) La Francaise Des Jeux
36 Andrei Tchmil (Bel) Lotto-Adecco
37 Koen Beeckman (Bel) CSC-World Online
38 Andrej Hauptman (Slo) Tacconi Sport-Vini Caldirola
39 Tom Flammang (Lux) Cofidis
40 Ludovic Capelle (Bel) Ag2R Prevoyance
41 Thierry Marichal (Bel) Lotto-Adecco
42 Nicolay Bo Larsen (Den) CSC-World Online
43 Kim Kirchen (Lux) Fassa Bortolo
44 Aart Vierhouten (Ned) Rabobank
45 Sven Nijs (Bel) Raobobank
46 Bart Voskamp (Ned) Bankgiroloterij-Batavus
47 Bert Hiemstra (Ned) Bankgiroloterij-Batavus
48 Max Van Heeswijk (Ned) Domo-Farm Frites
49 Bart Leysen (Bel) Mapei-Quick Step
50 Jurgen Van Roosbroeck (Bel) Vlaanderen-T Interim
51 Thor Hushovd (Nor) Credit Agricole
52 Stuart O'Grady (Aus) Credit Agricole
53 Roberto Petito (Ita) Fassa Bortolo
54 Bert Scheirlinckx (Bel) Collstrop-Palmans
55 Jo Planckaert (Bel) Cofidis
56 Matthias Kessler (Ger) Team Deutsche Telekom
57 Matteo Tosatto (Ita) Fassa Bortolo
58 Ludo Dierckxsens (Bel) Lampre-Daikin
59 Wilfried Peeters (Bel) Domo-Farm Frites
60 Jurgen Guns (Bel) Vlaanderen-T Interim
61 Paolo Bossoni (Ita) Tacconi Sport-Vini Caldirola
62 Chris Peers (Bel) Cofidis
63 Nico Mattan (Bel) Cofidis
64 Raphael Schweda (Ger) Team Coast
65 Wim Vansevenant (Bel) Mercury-Viatel
66 Stefano Zanini (Ita) Mapei-Quick Step
67 Geert Van Bondt (Bel) Mercury-Viatel
68 Luca Scinto (Ita) Mapei-Quick Step
69 Zbigniew Spruch (Pol) Lampre-Daikin
70 Romans Vainsteins (Lat) Domo-Farm Frites