The John Lieswyn Diary 2001
Klasna vs Mercury
May 20, 2001
Housatonic Valley Classic Road Race, Connecticut 220km/138mi
160km/100mi 10-town loop, then 14 laps of a 5km/3mi Danbury technical course. Nice weather.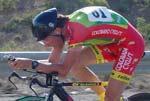 John Lieswyn in action

After winning the local races last weekend and taking four days very easy, I figured I was physically ready for Housatonic. At the start line I spoke with Chris Horner who said he was pretty fried from flying back from Europe to California, one day off, then flying cross country to do this one. Trent Klasna (Saturn, National Calendar points leader) agreed with me that sometimes us USA-based riders have it good compared to those who have to go back and forth to Europe. Trent commented that he thought it might just be the two of us with maybe one other at the end. I surely felt it could be so.

The pace at the start was calm. Connecticut in springtime is absolutely stunning, with lush foliage and overhanging trees all around the smooth, undulating and winding back roads. All the major players sat back for the first 30km, and some of the locals attacked for the TV cameras. Team 7UP/Colorado Cyclist riders were represented in most of the breaks early on. When Trent and Eric (Saturn) and Moninger (Mercury) would attack on the steeper hills then it was pretty much up to Doug and I. The descents were smooth and fast, up to 80kph/50mph. Good crowds lined the roads in the towns for the sprints, and the organizers had even provided a spectator "trolley" bus that was going town to town ahead of the peloton. The police were doing an awesome job waving motorists off the road ahead of us, until one time when I was chasing Eric Wohlberg (Saturn) just ahead of the peloton and we hammered a fast downhill corner right into a cluster of civilian and organizer vehicles. That was pretty exciting, slamming on the brakes and weaving around cars while trying to stay with Eric.

I had figured that the race winning break would go after about 75 miles. I' d been marking Trent really heavily all race, and he'd been attacking relentlessly. At about 85 miles in, he hit me from behind. As I'd missed the jump, I started looking around for a Mercury rider to mark him. We'd just completed a number of gruelling climbs so the only Mercury guy nearby was Moninger, and he was waiting for his team to rejoin. Chris Baldwin (Navigators) didn't wait around for Mercury and bridged to Trent, and the pair quickly gained 30 seconds. I was thinking that Trent would blow himself up trying to stay away from seven Mercury guys. In fact the opposite occurred. Trent and Chris had nearly a minute by the time we reached the circuit, and they continued to add to this lead despite the efforts of a whole train of Mercurys. For 7UP/Colorado Cyclist we had Andrew Randell, Oscar Pineda, and Doug Ziewacz in this lead group of 20-odd riders. As the gap grew I sent Andrew to help. It was up to 1:40 with 30km to go and I decided to sacrifice Doug and myself to the chase, hoping that if Trent or Chris ran out of gas and we caught, that Oscar could win the sprint. Just as Doug and I were getting to the front Andrew slid out in a 180 degree corner. Only Moninger and Sayers were left for Mercury (Gord was protected for the sprint) so the four of us continued trying to bring Klasna back.

With three laps remaining it was painfully obvious that I'd miscalculated Mercury's (and Trent's) power. We were going for third. The last three laps up the hill someone attacked each time. My legs were cramping up from the eight laps I'd worked 110 per cent on the front, but I would stay within myself and catch back on over the top each time. Only Gord was left now for Mercury, and despite numerous attacks he wasn't getting anywhere. I slugged it out in a personal battle pitting my fading reserves against cramping legs, to finish a disappointing eighth. It was just a bit too soon to run the Mercury versus Saturn strategy, as Klasna pretty much single-handedly demolished Mercury and us. It will be harder for him to do so when all the Euros and a strengthened Mercury team arrive for the Capital Cup and US Pro week. The rest of team 7UP/Colorado Cyclist looks quite strong, and I'm sure that as my confidence and strength increases they will be there for me at Lancaster and Philadelphia.