The John Lieswyn Diary 2001
On the Soapbox
May 2-6, 2001
Tour of the Gila, Silver City New Mexico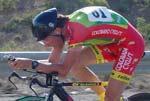 John Lieswyn at the Gila
It's becoming one of the best stage races in the USA. There are races with more money, points, miles, and spectators, but I've come since 1989 because it has tough courses, great weather, and a perfect date on the calendar. US based pro teams need more stage races so we can compete (or at least hang onto) with Domo, Mapei and Postal in June.
The final 6 mile ascent of Mogollon and the swooping descents of the final Gila Monster stage would make exciting television. You'd need a production crew, tv motorbikes, and (as Eddie B unsuccessfully pleaded for at the managers meeting) a team cars caravan. If the small but vocal minority of race-opposing locals don't deep-six the race first, it could grow to that level.
Which brings me to my soapbox, the future of the sport. Why are there fewer juniors today? Some say cycling is too expensive or point to the advent of mountain biking. I posit that the decline is due to angry motorists. Commuters and farmers alike get behind the wheel of their trucks and normally friendly people feel empowered to take pedestrians and cyclists' lives in their hands. These few motorists are angry because of the huge increase in traffic that comes from one thing: car dependent developments sprawling out into the farmland. In 1994 I left Boulder (once revered as a cycling mecca), partly due to motorists and constant police harassment/ ticketing. What about the motorists who "buzz" inches away from riders? Our Proctor & Gamble sister team-mates related to us the story of a raging mad Boulder pickup driver who slammed on his brakes in front of a large group ride, causing a 60 rider pileup.
At the Tour of the Gila, the racers bring about $500,000 into the local economy. While most of the residents recognize this benefit at some level, this year was a quantum leap from last in motorist harassment. The drivers don't understand that the cyclists are riding in the right lane because broken glass and gravel litters the shoulder. A car hit a group of riders right in front of our hotel, knocking one rider on his head (he's going to be ok, thank God). A truck doing 50mph swerved at me during the time trial, leaned on his horn, and his passenger opened the door at me. Another driver stopped in front of my team-mates (who were riding on the shoulder), got out in a bulging vein, shaking rage to scream inches from Doug's face. For 15 years I've ridden 15,000 miles annually all over the country, and it's steadily worsening everywhere.
I am asking every one of you to join me in trying to become better ambassadors for cycling. Don't run red lights, flip off drivers, or trackstand ahead of the stop lineat busy intersections. Do wave, single up when there's a car back, and stay behind a short line of cars at a light. Take every opportunity to champion the benefits of cycling and bicycle commuting. See if local school principals will allow your club to talk with their kids about bicycle safety and racing. Call the local papers and ask to talk with the sports editor, the lifestyle editor, whatever. Key words are "Olympic hopeful", "road rage", "sharing the road", "safety", "traffic congestion", etc. Here in Massachusetts the bicycle coalition helped pass a new law requiring law enforcement officers to take a three-hour course in bicycle/car relations and bike traffic enforcement. Every state should have this!
Oh yeah, the Tour of the Gila. After the time trial, preliminary online results showed us 7UP/Colorado Cyclist riders nowhere in the top six. We were pretty disillusioned for a few hours until Jeff came back with the official results: Doug was third, Clark and I were also in the top 10. Moninger (Mercury) won convincingly and his team spent the next four stages riding on the front for him. On the Inner Loop road race I got in a four-man break but highly-placed Mercury rider Phil Zaijcek was in there sitting on the back. I couldn't tow Phil all the way to the final climbs and have him jump away from me with fresh legs. The other two guys weren't pulling hard enough to give us a significant lead so I tried to go alone, but that didn't work and we were all caught with 20 miles to go. In the criterium, Clark finished fourth and he was really hard on himself for not winning the stage. Sometimes these setbacks can give you mental fuel to win in the future.
In the final 100 mile Gila Monster stage, our plan was to try and get all three of us in the final selection and then try to use our numbers to put pressure on Moninger. It didn't quite work out that way as (despite the protection from the wind given by Ryan, Oscar and Dave in the first 50 miles) Clark and I had a bad day and only Doug made it. On the huge climb out of the Gila Cliff Dwellings I found myself unable to get near my normal climbing pace of 186 bpm. It was hard to maintain motivation when I realized my group would never catch back up and that I wouldn't get a chance to help Doug. I didn't quit and Svein Tuft (Broadmark Capital) powered our group for the last 15 miles. We caught several of the lead group including Wohlberg and Price, ultimately finishing three minutes down on Moninger, Creed, and two Mexicans. The good news is that thanks to Doug winning a 15 second time bonus sprint and his dogged determination, he moved up to third overall for Team 7UP/Colorado Cyclist. I feel I'm still five per cent behind where I was last year. Now I'm healthy and my knee is stronger, I should finally be able to train in the big gears these next two weeks before Housatonic and Time Trial Nationals. Until then!