The John Lieswyn Diary 2001
A turning point?
Sea Otter March 22-24, 2001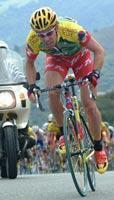 Get angry! (see stage 4)
Photo: © Rob Karman
The Stages
Stage 1 - March 22: Laguna Seca time trial, 27.2km
At 17 very hilly miles with 2000+ ft of climbing , this is the hardest time trial course in the USA and very reminiscent of the old Casper Classic held in Wyoming through the early 90's. A top 20 result would be satisfactory, but top five was what I was looking for.
It turned out to be an unrealistic goal for two reasons: first, my knee was still on the mend from blowing it out in the Redlands TT, and second, even after futzing with the few adjustments possible on my temporary time trial bike I didn't have a powerful position on the bike. I finished a miserable 40th or so, with a left leg absolutely blown from compensating for the right knee. Next year will be different: this course is custom tailored for me and with the right bike and preseason race preparation I can rock out.
Stage 2 - March 22: Cannery Row criterium, 80km
The mood on the team is definitely muted as we've been having a hard time of it this month. Nevertheless, we resolve to start on the front line and not miss any more first lap breaks like at Redlands. My legs were rubbery but I hung it all out to stay at the front. A 50kph (30mph) average pace was taking its toll - 165 starters were being pared down to less than 60 finishers. Technical difficulties (not with our Spinergy wheels or Fuji frames) took two of our riders out of contention, while Andrew Randell pulled a groin muscle. Hmm, when it rains it pours. As it followed a long time trial on the same day, this had to be the hardest criterium I've EVER done in 15 years of racing. Davidenko (Navigators) pulled an awesome move on the last lap to win from the Mercury leadout train.
Stage 3 - March 23: Fort Ord road race, 203km
My legs have rarely felt as empty of energy as they did today, and it wasn't due to my nutritional regimen. My heart rate never went over 173 all day. When Jansen (Saturn) attacked, he was dancing on the pedals so effortlessly that nobody else even considered trying to go with him. So Saturn went 1-2-3. Our morale couldn't possibly get any lower. Until we had a serious lecture from a disillusioned management. My feeling of personal responsibility is deepening, and I'm realizing that if I can find my legs sooner than I was planning it may light the team's fire. Our meeting went round and round in a sea of negativity until we resolved to prove our worth immediately, the presence of Division 1 teams Lotto, Mapei, USPS, and Mercury notwithstanding.
Stage 4 - March 24: Laguna Seca circuit race, 73km
The sun shone through today, and I'm fired up. I'm sick of getting beat up and feeling like I'm hanging on for dear life at the back of the field. Jeff wants us to get in front of the OLN cameras so Fuji can get footage for a TV commercial. It's just Ryan, Charles and me left in the race. In 2000 Charles was fifth on this stage, while I moved up to seventh overall. This year the competition is WAY tougher. Today we are going to do more than survive: we're going to race.
Lap one. Oh no. Nothing in the legs again. I'm in trouble. 20 guys pass me on the first climb. Laps two and three, more of the same. Then, like a light switch being thrown, my mind finally takes control of my body and all of a sudden the complaining is washed away by anger. From laps 4 through 18 I'm in the two major breakaways of the day, and for the most part I'm not just sitting in, I'm driving hard. With four laps to go Danny Pate (Prime A) and Mark Walters (Navigators) catch Dominique Perras, a Nurnberger Euro, and me. Pate throws in a fierce attack on the wall but I don't crack. Nevertheless I'm not going to help him get the finish if he's going to punch my ticket next lap, so I'm done taking my turns at the front. We are caught with two laps remaining. I manage to hang on, but I don't have anything left to help Charles get to the front, and he ends up around 13th.
But the "fire" has been lit.