The John Lieswyn Diary 2001
From disaster to victory
Three weeks is a long time in the life of a pro cyclist. It's all the time it took for John to go from a dejected abandoner of the Saturn Classic to victor at the Chris Thater Memorial.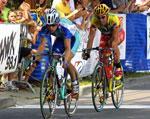 John Lieswyn (R) bides his time at the Chris Thater Memorial
Photo: ©Doug Sheppard
Boulder to Breckenridge Saturn Classic, 145 miles
After finishing 7th in 2000's inaugural Boulder to Breckenridge, this year my body completely shut down with just 20km and Hoosier Pass remaining. I had to abandon, and I was so depressed about it I couldn't write a report. Besides, Cyclingnews' article written by "the unknown rider" was much more interesting than anything I could have done.
US Pro Criterium Championship
Downer's Grove Ill
The next week I was determined to ride flat out and see what came of it. Thursday and Friday Doug, Jeff and I had to do 10 hours of 7UP promotions in various Iowa cities. With driving time included I only got in a couple hours of training. Even though we tried to sit down as much as possible at the promos my legs were pretty much cement by the time I got to Saturday's warm up race. So I could only watch the action Saturday from about 20 guys back. Good thing, because I stayed clear of Ivan's "foot out of the pedal, I'm going 70kph into a sharp turn, and I'm going to biff it" last lap antics. Ivan is a really nice guy and super talented bike racer, if he could just keep it upright he'd probably wax everyone. Graeme Miller's diary went on about how the race he'd trained for all season was ruined due to Ivan's causing him to crash. I'm sorry for Graeme, but at least he didn't end up in the hospital with $1800 in medical bills like I did after last year's crash in the same corner.
On Sunday I knew that my legs weren't there for a "Lieswyn wrecking ball performance" but I wasn't giving up. You never know. Clark and I both made it into a big breakaway at the end, and we didn't have Dave or Kevin (our US champ jersey contenders and team sprinters) there with us. It was up to us to make it happen. Clark did a magnificent job being the rabbit and going solo for at least 5 laps. Saturn had a whole gaggle of guys in the front group and they put paid to Clark's efforts. My turn. For some reason, I was in a defensive, follow the wheel ahead of me mindset. I covered several splits in the break until with 3 laps to go Harm Jansen (Saturn, inelegible for the jersey as a Dutchman, but certainly eligible for $5000 first place) attacked. I had a microsecond to try and go with him, but instead I was sitting on Chris Wherry (Mercury) and wondering why Mercury was letting Harm go. Idiot, there went my chance. I wasn't going to win a 150 meter technical sprint against defending champ Bouchard-Hall (Mercury). I'm so mad at myself that I didn't at least try! Harm looked back and saw that nobody was responding, and just put his head down. The same lap I looked around and saw that our Dave McCook had made it up to us. Nothing for it now but to try and help Dave become first US rider across the line. At one lap to go the announcer was saying something about "Three to go" and the rider ahead of me was on his team radio frantically asking how many laps to go. I could see the lap counter was reading "1" but now I had to be sure as well. These couple moments of doubt aren't what you need to have on your mind with less than 2km to go. Anyway, I absolutely blew it and couldn't get to the front to help Dave. I finished the race frustrated and upset for Dave as he was interfered with in the final corner and lost his momentum, to finish a few centimeters behind Kirk O'Bee (Navigators) and Bouchard-Hall.
I drove home dejected for the second week in a row, and wondering about bike racing and my place in it. The Prime Alliance guys were in Des Moines this week doing promos and rides with their sponsors who are based here, and preparing for the Des Moines Criterium this weekend. I'm scheduled for the much bigger US Pro Tour race in Binghamton NY on Sunday. On Tuesday night I went on my first group ride in Des Moines and found it to be a fun, eclectic group of riders on quiet, rolling roads north of the city. This was my main training ride for the week, and I made the best of it by riding up to 100% several times.
Chris Thater Memorial Criterium
Binghampton, NY - $45,000 prize purse, 50 mile pro event 2km circuit, 40 laps.
Dee Dee asked me how it felt to be going to a race that I'd won in '99 and finished 3rd last year. Nervous, I said. That's a hard record to follow. For the major teams, Navigators will have a huge squad in attendance, Mercury and Saturn have 4 riders each. Although the US Postal Service sponsors the race, none of their riders showed up. Hmm. So much for their increased US presence this year.
The team was leaving the hotel parking lot when I realized I'd left my license in Kevin's car. I got his keys and told them I'd catch up. His VW has messed up door locks, and it took me about 10 minutes to get into the trunk. Then I proceeded to take the wrong road towards the race and started feeling a bit frantic until I finally found the venue. It's a great crowd again, and the park infield is filled with manufacturer's semis and display booths.
We have six guys in attendance. Saturday's Buffalo crit was won by our Andrew Randell, while Juan Carlos Pineda had taken 4th, so I had confidence in my teammates' form as well as my own. With numerous $200 lap primes on offer the race once again promised to be brutally hard. At 30 to go I became active, and went on a solo attack that lasted about 10 laps. I never got more than 20 seconds ahead. The lead group behind me was rapidly changing in composition as guys either bridged up or got dropped. I knew that it would be hard to stay away by myself for 30 laps but I was racking up the $$ and forcing the other teams to chase. Juan Carlos was getting a free ride in the group just behind me. I got to pretend I was Eric Wohlberg for the day. "www.d" = "what would Wohlberg do?" Put your head down and GO. Finally my escape was reeled in. The next break of four included Juan Carlos. Phew, I was really getting tired! They were almost out of sight when Glen Mitchell (Navigators) attacked on the hill. Hilton Clarke (Netzero) and I went with him. As soon as we got a big gap Glen quit working, saying he had a man coming.
Hilton and I drove it to see if we could keep two Navigators from getting together. If we caught Juan Carlos the score would be 7UP, two guys, Navigators, three. Unfortunately Glen didn't waste time, he dropped back to help Littlehales (Navigators) and they quickly caught us. Hilton and I quit working immediately, but Glen took huge pulls and within 2 laps we'd caught the break. Now 7 guys, 10 laps to go. If we slowed up at all the 3 Navigators would have time to pull themselves together and put the screws to us. Repeated attacks kept them at a deficit, and then suddenly I found myself away with Scott Moninger (Mercury). Juan Carlos, help me! My legs were rubbery under me. This isn't supposed to be the plan. Initially Scott and I shared the work equally as we built more than a minute lead. We both knew I was the faster sprinter, but only I knew how easily he could have punched my ticket on the hill. I did less and less work. Scott was going to have to get rid of me or take second. At one to go I got a little chill as the several thousand spectators cheered us on. Scott went to the unprotected from the wind left gutter on the hill and increased the speed. I kept waiting for him to jump me, but he never tried. I came around him with 200m to go, just trying to keep my legs from locking up. Total déjà vu from '99 versus Trent Klasna. Hey, I could have saved myself a bunch of typing by just going back to that diary entry and switching names around!
Down in Texas, Clark is winning the HotterNHell Stage Race for Team 7UP/Colorado Cyclist. Pretty successful weekend. The next five weeks worth of the US season calendar remaining: San Fran, Houston, Irvine, Greenville, and Miami. For us, only San Fran and Houston. Irvine was added too late to make it into our budget plans. After Bermuda, Dave and I will be going Down Under for the 50th Anniversary Herald-Sun Tour.