The John Lieswyn Diary 2001
Tour de Toona, Altoona PA
Reflection and misdirection
Stage 4 - August 4: Jaffa Mosque Road Race, 160 km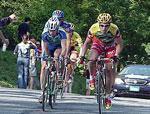 John Lieswyn (R) in action
We've done very little outside of the usual bike racer routine (sleep,eat,ride,watch TV) while here at the WYE Motel. So to get out of the room we've gone to movies for guys who like movies, since Dawn and I certainly wouldn't go see "The Fast and the Furious" or "Legally Blonde". If I had the energy I'd be checking out the antique shops, go karting, eating frozen custard.
For reading I'm following up "Suburban Nation" with "The Old Neighborhood" written by a prominent black journalist and taking a race-based look at what has happened to American cities in the wake of the Great Suburban Migration. Highly recommended.
I'm watching a fair bit of TV and found a few ads to be notable for what they say about American life, or about the sport:
Kia Sedona ad: absolute total summary of car-based life in America today.
Lance sleeping ad: Not a big fan of Lance but this was a great ad celebrating an awesome achievement.
American Pie 2 ad: Jim's Dad walks in on him with his girl. 'Nuff said.
And the best one of them all: the 7UP sponsored NASCAR driver who thinks that you gotta go slow so the logo can be seen.
For the first few days of a stage race when your routine is like this, you tend to think that "this is the life!" After that, I just want to walk my dog in the park, go to a concert, or something else normal. The necessity of being boring and putttin your feet up whenever possible gets old, but it is made worth it by the days when as a professional athlete you have a great day in competition.
Today's race: it's great because it's a rare point to point road race, it's tough, and I won it last year. Do well at something and you always want to do it again.
Usually the first hour of winding hilly roads is blazing fast and littered with crashes. But this year the course is longer and harder than ever before. Alex Lavalee (Kissena) makes a brave solo bid and builds a maximum 3 minute advantage. Passing the start/finish line at the Jaffa Mosque, sprint points got the lethargic peloton going. Everyone spazzed for a while until I got in a move with Mike Ley (Zaxby's) Trent Klasna (SAT) Mike Sayers (MCY) Patrick Heaney (Lombardi's). I helped Ley for a few minutes until it became apparent that nobody else was going to work. So I "sat on" too. Ley singlehandedly drove the break at 40kph all the way to the bottom of the first climb, up to Blue Knob Ski Resort. He was in-between a rock and a hard place strategically, but thanks to his efforts I arrived at the base of the biggest climb of the day fresh and with a minute lead over the main contenders. Heaney held my wheel until about halfway up and then I was alone. After nearly 100km by himself, Lavalee was hitting the wall. Despite closing fast when the "KOM (king of the mountains) 200m" sign appeared, he just held me off to take the first on the mountain points. Scouting the course was a huge benefit (you were right, Jeff!) as I was able to meter my effort and plan for the second half of the stage. All the scouting and planning would be for naught.
Alex and I were caught by Heaney, O'Bee (NAV), Dickey (GP/Bianchi), and mountain biker climbing specialist Carl Swenson (RLX Polo). Heaney was once again refusing to work in defence of his teammate Timothy Larkin (4th overall this morning). At this point Lombardi's would have been better served by aggressive tactics, as the faster our break goes the more likely Saturn (with Harm Jansen in yellow) would crack. Then Larkin could make a bid at moving up on the overall. Whatever. The rest of us worked hard, keeping a lead seesawing around 1 minute ahead of a rapidly shrinking Saturn led chase group. We came upon a highway crossing where I thought we were supposed to go straight. The police escort, media van, and Shimano tech support van all went left, so we followed. Five minutes later an official on a motorbike raced up from behind and shouted that we had been misdirected and to turn around. By the time we got back on course we were now 9 minutes behind the 'chase' group. Déjà vu to the Tour of Willamette.
The officials were at a loss what to do. Navigators director Ed Beamon was absolutely going off on them. They had been planning to attack Saturn on the second KOM climb, and now the climb was neutralized. One official got sick of Ed's tirade and rolled up his car window, later slapping Ed with a $150 fine. Despite his reputation (his nickname is "Crusty") our manager Jeff Corbett can be pretty smart sometimes. Jeff got on the race radio and said the same basic thing as Ed, but with a calm and sweet tone of voice. The officials decided to do the right thing and stop the chase group at the top of the dirt climb to the second KOM, so we could go ahead and re-establish the 54 seconds lead that the officials had as the last time split before the misdirection. This "rest" for the chase may have benefited Saturn. It is possible that between 7UP and Navigators we could have knocked Saturn down to just Harm and Eric, thereby vaulting 7UP into the team classification lead. (Teams overall is computed on the time of the top 3 riders each day, and we had 4 riders in the lead two groups).
At the foot of the day's third major climb the break quit working smoothly and the chasing group was breathing down our backs. Carl and I attacked halfway up and broke clear. With 200m to go to the summit I was thinking about the green climber's jersey for the most KOM points, and I knew that with my 2nd place points from the ascent of Blue Knob and a win on this climb it was possible. I jumped Carl and once I had a gap I just timed it to expend the least effort necessary to take out the points. I didn't think that I could hold off 20 riders on a 20km descent to the finish in Altoona. Clark and I decided not to attack on the ridge road before the descent because Charles and Doug were only ten seconds behind us and chasing alone, with the 3rd Navigator and 2nd/3rd Mercury riders another 40 seconds back. I went back and helped bring our guys into the lead group. At the finish we 'd moved up to 2nd ahead of Navigators in the teams race and Charles took 3rd in the stage, while Doug and I were also top 10. My efforts on the climbs today paid off with a narrow win for the green jersey. No points for that classification in the final stage, tomorrow's criterium, so at least that is wrapped up for us as long as I finish tomorrow.
Stage 5 - August 5: Downtown Altoona Criterium
Flat out fast. It seems that Navigators and Mercury have agreed to join forces and ride hard at the front, preventing a break and giving Davidenko a chance make up his approx. 20 second deficit to Harm through the time bonus sprints every 5 laps. Early on Sayers and Fraser (MCY) crash right in front of me, pinning me to the curb but I luckily manage to stop upright. It's Sayers second crash this week and his rear end gets scraped badly, but he gets back into the fray after two free laps. I'm back in after one free lap and policing the attacks, but nothing seems to be getting anywhere until Clark, Larkin, Wohlberg, and ten others pull ahead to a 20 second advantage. At this point if Larkin had worked he stood a good chance of the break's success and a possible jump up to 2nd overall, but he refused to help and instead rode defensively to try and keep 4th. Since Larkin wasn't helping, Clark had to reduce his effort to save energy for a time bonus sprint. Clark got 3rd for 2 seconds in a bonus sprint just as the break was caught, so Larkin's defensive tactic resulted in his losing 4th overall to Clark. It was all together for the finish and Ivan took the win for Saturn, while in a close race for 3rd Charles lost out to US National Criterium Champion Derek Bouchard-Hall (MCY) by a few centimeters. Oscar, Kevin and I were also right in there somewhere in the top 15 for another solid team 7UP/Colorado Cyclist team performance.
After toweling off we packed the team's Focus wagon so tightly that the rear end was bottomed out, and we hurried to make flights in Pittsburgh. I missed the last United flight to Chicago by 3 minutes so they rebooked me on American. Lucky, because when I got into Des Moines at 11pm I looked at the arrivals monitor to see that the United flight from Chicago was cancelled. So I got to sleep in my own bed instead of Chicago O'Hare Airport!
Next Saturday is the epic Boulder to Breckenridge road race, followed by physio testing at UC Boulder on Monday. I was 7th last year, probably the only guy to finish who wasn't altitude-acclimatized. I'll keep watching my diet and training this week, as I'm 2kg lighter than last year at this time and I'm hoping that will make a difference on the high mountain passes.