The John Lieswyn Diary 2001
Tour de Toona, Altoona PA
Prologue - July 31: Time Trial 5km, downtown Altoona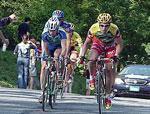 John Lieswyn (R) in action

No matter how I try to prepare for this one I'm never able to crack the top ten. It's just too short for me! 19th, 13 seconds down on Gord Fraser, and 2 seconds outside the top 10. I was spitting distance from my motel room door when I endo'd on a curb, twisting my knee badly and breaking my bike. Good one John. Our mechanic Henk was busy enough so I stayed up til 10 pm switching parts onto the spare frame and icing my knee.
Stage 1 - August 1, Johnstown Circuit Race
I had no idea if I'd even be able to pedal today, but I found that as long as I didn't pull up with the right leg I could ride. I just couldn't accelerate hard. I tried to help out the team today by faking it in a few breakaways. Clark rode like two men today and represented us in both of the day's major breaks.
I'll bring you into the action with about 15km left to race, just prior to the final ascent of the King of the Hill climb. Jeff was saying over the radio that he expected Clark and Doug to cover the moves, and we were all anticipating a field sprint for which we planned on setting up Charles. Eric Wohlberg (SAT) launched with a couple others on a small roller and I'm close so I jump with it. We have a small gap as we rocket over a metal grate bridge just before the climb. It's coming back together now. Doug and Clark come by. I slot in behind Gord (MCY), some twenty guys back. At the 200m to summit sign there's riders exploding everywhere and Clark is closing a gap someone opened ahead of us. Over the top Gord can't hold Clark's wheel any longer and he sits up. Without counting riders I snap judged and sat up too, hoping we weren't outnumbered in the quickly forming group ahead. Sayers had made it for Mercury, and two of his teammates were dangling just seconds behind the now 13 strong lead group. Gord waited it out, and the field sat up to see what the yellow jersey's team would do. A few minutes later the verdict was in: the two Mercurys didn't make it and came back to help Gord chase. Saturn had 3 (Ivan, Harm and Eric) Navigators had 2 and we had Clark and Doug. This combination was neutral for us, as two of our better climbers for Saturday's mountain stage had made the split, but we were losing a bit of ground on the teams classification to Saturn. Navigators watched as Mercury came to pieces trying to chase, and then lent their train to the effort as they didn't want to lose the teams race today either. At the line the lead group still had 25 seconds on the rest of the bunch. Clark and Doug tried attacking in the final km to no avail...
We averaged 49km/hr on this short stage today. Yeah, aggro and fun!
Stage 2 - August 2, Hollidaysburg Circuit Race
This winding, hilly rural course has been used as the US Nationals and Olympic Trials as well as a mainstay of the Tour de Toona. 7UP's own Charles Dionne used the Saturn/Mercury rivalry to his advantage when he broke away to establish the overall winning time gap a few years ago.
Today we covered 50km in the first hour! At the midpoint of the race a general deep breath was taken amongst all, and this was the moment the first and only break of the day went. Doug was the highest placed rider in the break but this information was slow in coming, so he didn't start helping until this was clear. Back in the peloton Dominguez had flatted and Saturn was waiting for him to rejoin before really turning on the gas. While Saturn chased for 20km I led our team up alongside the Navigators to keep our sprinters out of the churning battle behind Davidenko. It was 'groupo compacto' going into the final climb at 3km to go. I surprised myself by being able to follow the attacks on the hill, going over the summit 2nd man. Unfortunately when Charles caught my wheel inside the last K and shouted to move up I didn't have much left. He managed 4th for us, and Oscar was around 7th, while Davidenko took the stage ahead of Fraser. I am stoked on the rapid healing of my knee, hopefully the right leg will be fully functioning by Saturday!
Road construction up on Blue Knob Mountain has resulted in course changes for Saturday, so we're going to scout the climb today at 5:30. It is nice racing so early every day because we've got the rest of the day to relax, do laundry, catch a movie, whatever.