The John Lieswyn Diary 2001
Winning at Superweek
Race 7 - July 20: Brewer's Hill (Schlitz Park) Criterium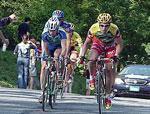 John Lieswyn (R) in action

How much can nearly seven hours driving from Iowa to Milwaukee affect my performance? Combined with nearly no sleep the night prior? Not much, I hoped. The gun went and my hamstrings locked up the FIRST time up the hill. Just 79 more times, whee! At least I'm fresh and fit, perhaps the legs will loosen up. Ivan takes off solo for ten laps early on, but even he can't hold off the field. There's about $15,000 tonight, 12 grand of it in primes. Since all the other races here are $2,300 over 25 or 35 places, this is the one night that you can score if you are ready for it. Halfway the cramping hamstring has let up and I figure I'll have a go at soloing ala Norm Alvis (he lapped the field 3 times here a few years ago). Instead I had enough strength to stay away most of the lap, but someone would catch me at the line for every $100 prime offered before I'd set off again solo for another lap. This went on until I realized the legs weren't there, and I went to the back of the field to see if they'd awaken later. They finally did, with five laps remaining. By this time eight guys had gotten away and all I could do was go for a lower placing. I ended up with 10th, about $75 and angry at myself for the lost cash opportunities tonight.

4. Dave McCook (7UP/Colorado Cyclist)
Race 8 - July 21: Waukesha Cycling Classic
Multiple early crashes. This race is 100km long and everyone thinks that it can be won on the first lap. Jaime Carney, Ivan and I traded pulls at the front to try and stabilize the pace and make it safer. After 10 laps Ivan inexplicably went to front and reeled in EVERY breakaway attempt by himself. In 15 years of racing, in Europe, Australia and the USA, I've never seen anyone ride so hard, so long, and still win the field sprint for 4th. At one point Dave and I attacked together and got 30sec up the road, out of sight, we were going awesome. Ivan and Pele brought us back, and then Ivan set about going so hard on the front I wondered if I could hold his wheel. The one time he wasn't on the front was about 5 laps to go and three riders got clear to take the podium spots.
Race 9 - July 22: Manitowoc Maritime Bay Bike Race
The weather was so bad, I almost didn't go today. A fierce thunderstorm rocked my car on the hour drive. It dried out in time for our race, held this year on a 2km residential/lakefront circuit. The backside had a chicane leading into a three per cent grade, 300m hill. Right from the start Jme Carney and Victor (Russia, Saturn Development) go up the road and build a nice 40 second lead. Today Ivan is playing possum and sitting back. The natural momentum of the field and the distance are taking their toll on the leaders, and as they come back to within 20 seconds. Ivan decides to make up for his relentless chasing of every move I made yesterday by leading me across the gap to the leaders at 60kph (about 37mph) UPHILL. Ivan's bridge was so fast that only Jonas Carney (Prime Alliance) came with us. Ivan blew (he is human, apparently) and dropped back to the field. A few more guys (Ventura, Willard, Sharp, etc) just latched on and we all got to work establishing the break. Doubtful of my staying power but sure that I didn't want to go to the line with so many sprinters, I asked Jme if he'd go with me with two laps to go. He instead offered to open the gap for me. I was running out of time and didn't need to be carrying on a major conversation betraying my intention to attack. From the moment we broke away I'd planned on attacking not on the hill where it was most expected but at the start/finish line. Here the group would be eyeing each other the most, and with three turns shortly after the line it was a prime location to gain ground fast. The attack worked and I won race number three for the season. Sometimes you succeed where you least expect to. Keep your eyes open for the opportunities that abound all around you!
Race 10 - July 23: Tour of Holy Hill Road Race
Superweek is based on points instead of lowest accumulated time so you don't have to start nor finish each day in order to race the next. So it is awesome race training just because there's a constant supply of fresh riders circulating into the peloton every day. My legs are going really flat now. It takes me two hours just to feel sharp enough to follow the wheel in front of me. We start under threatening skies. The first attack of three guys is way up the road by the second lap when the rain hits us hard. Lightning laced the sky and the officials must have been about to suspend the race just as it let up and dried out within half an hour. By the halfway mark another group containing Superweek stars Dewey Dickey and Wong Kam Po got away. I was snoozing two-thirds of the way back through the peloton, keeping one eye on Pele Kil, Harm Jansen, and Ivan Dominguez. Unfortunately all three of my markers succumbed: Harm dropped out, Ivan had just had enough of everyone following him around. Pele crashed himself right in front of me. The guy next to me thought he was cool and rather than alert the riders behind us he just bunnyhopped hapless Pele.
So with 12 miles to go I found strongman Chris Harkey (DeFeet) and attacked after the feed zone. The two of us and one other tough rider managed to roll back four of the lead group. The last time I raced this course I lost in a two-up sprint to Mark McCormack (Saturn) so I knew the final 5km very well. I caught the two guys going for 8th on the last hill and came around in the final 400m for said placing. Not too bad for being tempted to drop out every time I went through the feed zone. I just hate quitting more than I hate suffering. Gotta say Mr. Dickey is riding superbly.
Great bratwurst party over at the Shuler's house. I'm such a lightweight that two margaritas knocked me silly. There was a group of Saturn sponsored fraternity brothers cycling cross country for charity in attendance. I launched into a fevered monologue on my favorite new topic, New Urbanism. I wasn't too looped to miss Tom's beautiful 1899 house either. What a gem with its high ceilings, gracefully curving staircase, grand entry hall with fireplace, and all-original trim.
Race 11 - July 24: Lake Front Road Race (Long Course)
I'm up to 4th on the overall, but my plan calls for a four day rest before ramping it up again just prior to the Tour de Toona (Altoona PA, next week). So this is to be my last race here. I awoke at 10am for a noon start, so I just pulled on the cycle gear and rode down to the bagel shop for breakfast on the go. I knew that meant I'd really start the race slow, oh well. I'd won this race last time I did it, so I had somewhat high expectations. Quickly shattered as for the first several laps I was impressed again with the aggressive racing. Every race here I'm thinking that if these guys can race at this pace for the duration they should all be euro-pros. But inevitably they all slow down and I can get to the front and do something. Again too late today, as I started feeling OK the lap after the break escapes. I owed Jonas for his help in my win at Manitowoc, and he's trying to win the overall, so I set about reeling the break back in. They were at 1:30 when I got to the front, and about two laps later with the help of Jonas' teammates we had them in sight. Jonas made it across on the hill with Ivan, and I could settle back and see what I could make out of the battle for 9th amongst a definitely bedraggled looking and far diminished peloton. Victor the Russian put in numerous attacks near the end, but we couldn't break free. I backed right on out of the field sprint, wishing to preserve my skin for bigger races coming soon.
There's an awesome gourmet burrito place on Capitol that I stopped at on the way out of town. Despite hitting five o'clock traffic I followed the directions of my host Richard Benjamin and using the back roads I made it to Ames in less than six hours.