The John Lieswyn Diary 2001
Arlington & another move cross country !
BMC Software Arlington Grand Prix
Boston July 8, 2001
Could this race be more than a depressing reminder of last year's Reinhart tragedy?*
The organizers have done a magnificent job. A huge billboard welcomed BMC GP participants at the exit to Logan Airport. Saturday's memorial ride was on roads completely shut down to cars and was followed by an interfaith service.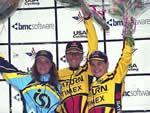 Women's Podium
Despite overcast skies a huge crowd had turned out to pack the bleachers at the start/finish and on the climb. The women raced 12 laps (42mi).
Team 7UP/Colorado Cyclist had our strategy meeting during the women's race, and while we talked about sprint scenarios and which sprinter we'd be leading out, I watched the women's field absolutely detonating. I concluded the meeting by saying I thought sprint scenarios were highly unlikely, that the new course was far more difficult than we were admitting to.
A five woman break with Anna Millward and Lynne Bessette built an insurmountable lead. Last year's winner Tina Mayolo-Pic was lapped, if that was any indication of how much harder this course was. Lynne won a two-up sprint to take out the race, and there was a sense of closure and relief that everything went safely.
Our 18 lap race started half an hour late (I'd miss the last flight home, now for sure!) and wasn't particularly fast. The humidity and difficulty of the climb meant that riders were loathe to put in too much effort on the flat between the first turn and the second turn onto the climb.
Portending the later action, we were outnumbered with just Doug Z in an early breakaway with two Mercurys, two Saturns, two Navigators. Mathew Svatek (Wheelworks) took an incredible one lap pull at the front, achieving 36mph on the start/finish stretch to bring the break back for his teammate Jon Hamblen. By lap 3 the field had dwindled to just 16 riders, including SIX Mercurys. Uh oh!
Doug Z hung on by a thread for a few more laps. Andrew Randell was my only teammate with good legs still in contention. He and I marked several combinations of Mercury, Saturn and Navigators before Chris Horner demoralized all competitors with a blazing attack on the climb. Andrew and Tim Johnson (Sat) went straight to the front and set a steady tempo while Michael Barry (Sat) and I tried to convince Navigators to help out.
While the latter team foundered and only two guys were setting the pace Horner built a 2 minute lead. I thought the race was over, but finally Navigators got it together and went on the defense of their man Davidenko's BMC series lead. Horner was caught a bit too early, at 3 laps to go. Andrew was saying his legs were rubbery and he might as well chase things for me, but I figured everyone's legs were bad by now, as we were crawling around the course.
I wanted Andrew to cover moves instead of chase them. Two to go, and all the "official" and competing teams have got it wrong with what happened next. It wasn't Michael Barry (Sat) who lit it up but rather Baden Cooke (Mcy). Only Barry and Davidenko could hang on, while over the top it was Hamblen 20 meters behind, then me at 40 meters back, and the rest of the group completely splintered behind me.
Hamblen stayed away while I was caught on the descent, and everyone else had a man in the lead trio. So, they sat behind me while I tried to close the gap for a while. When I couldn't do it by the finish line at one lap to go, I had to concede defeat and hope for the best in the battle for 5th. I lit it up on the climb, figuring I was about the strongest climber left. To no avail, as once again I was caught on the descent with 2km to go.
In the sprint I was passed by four guys with just 25 meters to the line. Rats.
I know this is one of my most play-by-play reports. I must say that I'm pretty fried, after having sold and packed my house the week before Fitchburg stage race, racing, then driving nonstop 24 hours in a moving truck to Iowa. There I closed on the new house, and the cycling community came out in full force to help me unload the 12,000 pounds of furnishings and boxes.
I spent the week before Arlington unpacking and attending to the myriad details involved in changing one's address, license, car registration, etc. Needless to say I'm actually pleased that I finished such a tough race as Arlington in the lead group after an exhausting 3 weeks.
And I promise to get back on writing from the US peloton, with future reports less monotone!
*Nicole Reinhart a hugely talented rider with the Saturn Team,was tragically killed during the BMC Tour of Arlington, last year.
Cyclingnews perpared a special tribute section on Nicole.