The John Lieswyn Diary 2001
Mixing with the Euro big guns
June 5, 2001
First Union Invitational, Lancaster PA UCI 1.3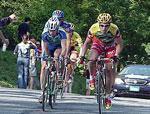 John Lieswyn (R) leads the break
I told my 7UP/Colorado Cyclist team-mates in the pre race meeting that you have to go into the event relaxed and just have fun. Getting nervous just wastes energy. Clark had a unique analogy: the early laps of Lancaster are like playing the video game "Asteroids" and having to hit "hyperspace" to get out of trouble amongst 120 riders. Usually that number is cut substantially by halfway and the race really begins in the final 3 laps when there are less than 40 guys in contention.
Car-dependent suburbanites wonder why the race is held at 4:30pm, when they consider that prime automobile rush hour. My response is "slow down, get some take-out, and enjoy a once a year world class sporting event FREE right in your own city!" If held at 10am everyone would be working and there'd be no spectators at all. An even larger crowd than last year had turned out downtown at the start finish line and in the park at the other end of the circuit.
13 to go. Clark covers the early move for us. The Euros are wondering why everyone is jockeying for position going into the narrow, winding and hilly park roads. They are calling "piano!" (slow) as if to say "the race hasn't really begun yet". Pros often start relatively slow, finish fast.
10 to go. The field regroups. I cover the next attack, which contains 1999 winner Jakob Piil (CSC/World Online), Scott Moninger (Mercury), Eric Wohlberg (Saturn) and two other Euros. The six of us work smoothly but only at about 75 per cent effort, gaining a maximum lead of just 1:45. US Postal and Navigators have missed the move. Eric is protecting his team-mate, US Pro Tour leader Trent Klasna, while Scott is just there as a decoy to force USPS to chase. Now committed to riding in a doomed half-hearted breakaway, I might as well earn something for it. Each lap I time my turns at the front so that I cross the start/finish line in the lead, scoring maximum points in the sprint competition. A minor muscle pull was annoying enough that I considered quitting and icing the leg, but even when I had the sprint points wrapped up I had to finish to claim the prize.
4 to go. The pain had diminished considerably and I was feeling super strong. The road snaking through the park was completely covered by trees and it was getting dark in there as the sun dropped lower. Our break, down to 5 riders for the past lap, was now just 30 seconds ahead of the pursuers. Hoping a team-mate would join me and lend assistance, I scanned the groups that caught up and swelled the leading bunch to over 25 riders. One cannot blame my teammates for not making it up there, as they've been thrown into full-on Euro-level competition. Domestic teams were virtually unrepresented in the leading group. Mercury had 7 guys so I hoped that they would control it for a bunch sprint, where I thought I had a great chance at a top 3 finish.
2 to go. Leon Van Bon (Mercury) attacked on the feed zone climb and I went with him, but Saturn had a lot of horsepower in the lead group and that move failed. After that it was constant attacking, and I couldn't follow every combination of USPS, Mercury and Saturn. I drifted to the back of the group and just watched.
1 to go. Going into the park. It wasn't so much the usual 6 rider abreast jockeying for position, it was more like who had the power to advance alongside a single file line at 65kph. I moved up to tenth, just behind Wohlberg. After a lung-searing anaerobic blast over the hill, there was a bike length between everyone. Eric eased off and opened a gap for Trent. Without hesitation I bombed around Eric on the descent and throttled it immediately out of the bottom corner. I had less than 100 meters to close on the eight guys ahead of me, and I made short work of closing the gap. Just one problem: I didn't see that there were two gaps. I'd already lost all my speed as I latched onto the tail of not 8 riders but just 3. I poked my head around and saw that I had another 100 meters to close to a fearsome quintet: Hincapie, Van Bon, Cooke, Klasna. This premature slowing and merest hesitation sealed my fate. They were gone. The remaining riders regrouped and slowed up for a while before attacks started again to go for 6th. UCI points went down 10 places, US PRO/NRC points and cash down 20 places. On the last lap I tried to go with everything, but 3 more riders slipped away. Wohlberg led it out as we entered the city. I was swarmed for a moment but I latched onto Graeme Miller as he fought his way to the front. The uphill drag to the line was a piece of cake, too bad it wasn't for the win.
With the sprint competition win came a nearly 2 meter wide poster size check for $2000, a podium appearance, and media attention for our 7UP/Colorado Cyclist team. In the post race crush of reporters, photographers, and spectators several people stand out in my mind: the guy who I gave an Enervit waterbottle as I waited on the line prior to the start, now waving it at me with a big smile; the inner city kids I knelt next to for a photo and to whom I offered encouragement to start bike racing; another boy, an aspiring photographer who had taken photos of the team prior to the start using a disposable camera; and the fans who read Cyclingnews and took a moment to thank me for writing. Thanks for reading!