The John Lieswyn Diary 2001
DC racing
June 2-3, 2001
Capital & Clarendon Cup Criteriums, Washington DC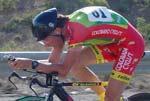 John Lieswyn in action
I had three days off at home after the Iowa trip. Some guys were flying in Friday night, Sunday afternoon, or Monday night, but most of the team was driving on Thursday. As I needed a little extra "home" time I elected to drive myself down early Friday. We had two 7UP promotions and a school visit to make Friday afternoon.

The rain started just around the time I was trying to get through thick GW bridge traffic in NYC, then I was stuck in Washington Beltway traffic for two hours. What should have been no more than six hours took nine. Arriving at the hotel, I dreamt that I could ride the trainer for an hour and then get a therapeutic massage from our soigneur Stephanie. I pinched myself awake to the reality that I had another hour of traffic each way between the hotel and the promo. Charles and I were assigned to passing out 7UP samples at a grocery store for three hours. Needless to say, our legs were hammered by the time we made it to bed that night. I'm relating this for the amateurs who think that being a pro means getting your suitcase carried!
Capital Cup
Saturday the skies cleared in time for the 2nd running of the Capital Cup, this year with a vastly increased crowd, prize list, and TV coverage. The race is 45 laps of a 2 km dog-bone course on Virginia Avenue between the Watergate Hotel and the Washington monument. Despite the hugely two dimensional commentating ("Mercury's attacking! Where's Saturn? Saturn's attacking, where's Mercury?") there were numerous powerful teams included Netzero, Navigators, Zaxby's, Prime Alliance, US Postal, and us. Everyone is looking well-tuned for the biggest week in American cycling.

On the second lap a $200 Festina watch lap prize was announced as I was moving up the side, so I kept accelerating and went for it. I was solo the whole lap before Leon van Bon (Mercury) chased me down for no good reason. Someone else (not Mercury) took the watch sprint. From then on I was the Energizer bunny covering most of the dangerous breakaways. Halfway in we missed a solid eight man break including Klasna, Wohlberg, Fraser, and Hincapie. Kevin bridged me across in one powerful move, but as soon as we got there it seemed that no one was interested in keeping the pressure on. At this point I realized that the course and the number of strong teams meant that today was likely to be a field sprint. Wohlberg (Saturn) did his patented move and went away for about eight laps with one other rider, building up to a 20 second lead. Mercury put nine guys on the front and easily controlled the pace, bringing it all together with two laps remaining. I pulled Dave up to fifth wheel with 1km to go, but faltered in the last kilometre and we got swarmed on the descent to the last turn. Despite the result, I'm really pleased that my knee is holding up and that I feel really good for Lancaster. I'm wishing a speedy recovery to Tim Johnson (Saturn) who broke his collarbone in a crash with the fencing today.
Clarendon Cup
Dave is the defending champ at the Clarendon Cup, so we planned to use the five healthy 7UP/Colorado Cyclist riders we had on the line to police the breaks and then lead him out at the finish. Once again I felt very strong. The single file 55kph pace shed over half the field in the first 10 laps and helped ensure that we all negotiated the technical course without mishap. No attack could get more than five seconds clear for the 80 lap race. Navigators took over from 10 laps to go, and I held Dave at the front until three to go. We couldn't put the lead-out train together, so Dave hit the last lap around 12th man in line. He's going really well right now, but it's pretty hard to give it your all from that far back.

I was pleased to see my friend Colby Pearce back in the peloton and looking solid after his long rehabilitation from knee surgery. Good on ya, Colby!

Post race I went in for my traditional USPRO week diet at the Arlington health food store: a protein shake, sushi, and fruit. After a quick two hour drive to our two host homes in the quaint Pennsylvania rural village of Elizabethtown, I went for a 40km spin to loosen the legs with Doug, who had just flown in to DC in time to see the last 20 laps of Clarendon. We were run off the road by a $30,000, 4WD, two ton, gas-guzzling pickup and told to "get off the road" (we were riding on the shoulder) by another confederate flag adorned truck. Yeah! The quiet country lanes are so beautiful here that annoyances like ignorant hick drivers can't even spoil a nice ride.

Next: Lancaster. The course suits me well but I've never been able to put it all together. Perhaps this year will be different.