The John Lieswyn Diary 2001
The crookedest street in America
May 26, 2001
Snake Alley Criterium, Burlington Iowa
20 laps, 58°F and partly cloudy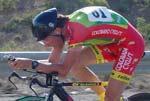 John Lieswyn in action
After suffering mild heatstroke in the oppressive oven-like heat at the Redding California time trial nationals, this weather is a radical but welcome change. I picked up my wife Friday night at the Des Moines airport, and on Satuday we drove around all morning looking at houses in Ames. We found a picture perfect 1924 bungalow less than one kilometer from Iowa State Veterinary School where Dawn will be a small animal internal medicine resident for the next three years. With that big worry off our minds, we hammered out the three hour drive to Burlington for the infamous Snake Alley criterium.

The technical downtown circuit commences with a right turn onto the climb. At first a normal wide paved street, you get a great view of the "crookedest street in America" (I wonder which is twistier, San Fran's Lombard Street or Snake Alley). Despite the threatening weather, a sizable crowd lines the brick five switchback hill. There's over 120 riders lined up in order of one's registration, and I'm #83. Word is there is a first lap crash on the hill and on the descent, every year. It wouldn't do to ruin my chances at US PRO week with a silly crash here in Iowa, so I've snuck up on to the sidewalk and improved my position to around 20th. At the gun, I accelerate right over the curb and straight to the head of the bunch. The early laps are led by Jason McCartney (Jelly Belly), Steve Tilford (former winner here) Kenny Labbe and Robbie Ventura (USPS) amongst others. Within five laps Jason has made his move and leapt away to a ten second solo lead. For a lap I wonder if anyone else is going to have the power to do anything about this attack, and realize it is up to me. Repeating the Carney mantra "Do It! Do It Now!" I jump away solo. For the next four laps I'm in hot pursuit, gaining only a second a lap. When we finally link up we're putting ten seconds a lap into the chasers. We are about to hit the bricks when he says "I hear you are moving here?" and I reply, "Yeah, think I found a house" and I'm grinning because I bet the spectators are stunned that we are talking whilst racing up a steep climb.

The same lap as our mini conversation I hit an expansion joint on the descent. My tire pinch-flats and now instead of fighting it out for the win I'm frantically looking around for another rider to borrow a wheel (there's no free laps at Snake Alley). I spot a spectating rider on the other side of the street from where I've emergency stopped in a corner, and try to cross over to him without getting plowed by other racers bombing down the descent. This guy has just been lapped (and pulled from the race) so he's a little short on oxygen to the brain. It takes nearly a minute to change wheels. For the remainder of the race I'm just clawing my way back from about 15th place up to second. I can see Jason ahead on the climb but he' s got about 40 seconds on me. It's impossible to catch him in the few laps left. I'll have to settle for second today. What a cool race though. With three other races this Memorial Day weekend, great crowds, good prizes, this series should be on the National Calendar and attracting much stiffer competition.

The Muscatine Weed Park Crit and the big money Quad Cities Criterium both turn out to be field sprints. I was heavily marked by the competition and despite my best efforts the courses weren't difficult enough for me to make a breakaway out of them. Rather than end up in one of the many crashes I elected to lead both races out from the front. A final lap crash in the top ten riders at Quad Cities claimed three riders, with one guy carried off on a back board. I was still top ten and these races were a great tune-up for next week.

Until Capitol and Clarendon Cups in Washington DC, then!