The Odessa Files
Gunn shoots in the drive-by interview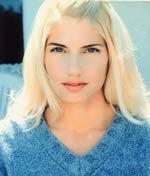 Odessa Gunn
Odessa Gunn spoke with US Postal Service rider George Hincapie while he was driving home in the rain in Spain, after leaving the Tour of Aragon due to mild post-Roubaix sickness, possibly from ingesting too much mud. Hincapie finished fourth in this year's brutal edition of Paris-Roubaix, copping two punctures and the obligatory crash on the cobbles - probably due to riding with a flat front tyre at the time. "With the exception of the odd toll booth it went really well. He is feeling a little bit better, I'm happy to report."
An interview with George Hincapie
OG: What would you say has made the difference this year to your win at Gent-Wevelgem as opposed to your 4th place finish a couple years ago?

Hincapie in G-W
Photo: © AFP
GH: This winter I paid a lot more attention to my training. I feel as though I trained smarter than ever. Less even but more quality.
OG: You clearly have the ability to place well in many world cup events such as Flanders, Milan San Remo, Roubaix and Hamburg. Do you have ambitions of one day winning the overall World Cup?
GH: Yes definitely. Maybe even this year. I know I can do well in a lot of them with the exception of maybe one or two.
OG: Last Sunday at Paris Roubaix you were severely outnumbered in the final by the Domo team and you were obviously very strong. Have you considered riding for a more classics oriented team such as Lampre, Mapei or Lotto?

Hincapie couldn't shake the Domo shadows in P-R
Photo:© Sirotti
GH: I've been asked this question a lot lately. People were wondering where my team was at Roubaix. If they had only seen how strong the team rode for me at Flanders you know, they support me 100%. I'm pretty happy with my situation but my contract is up this year.
OG: What are some of your other goals for the year?
GH: I feel as though I could have a good race at Amstel Gold and would like to place well in the overall World Cup and of course win another Tour.
OG: What best motivates you?
GH: To win.
OG: Where do you consider your real home to be?
GH: Greenville, South Carolina and New York City.
OG: Favorite article of clothing?
GH: Black leather shoes.
OG: Your all time favourite movie?
GH: Can I say two?
OG: Of course.
GH: "Pulp Fiction" and "It's a Beautiful Life."
OG: Favorite European City?
GH: Oslo
OG: If you could take a vacation right now where would it be?
GH: Cabo, San Lucas. I've never been there but I hear it's cool.
OG:Where do you see yourself in 10 years?
GH: Sitting in a house on a beach relaxing.
OG: What kind of car do you drive in the US, and how fast have you had it?
GH: A Mercedes-Benz CLK 430. 120 mph (190km/h).
OG:What is your favorite way to celebrate a win?
GH: Champagne with the guys. Unfortunately we can't party much after races because we're usually off to another race, but the Tour is fun. There is a big party with all of my teammates, friends and family. I like that.
OG: What is your favorite CD right now?
GH: I would have to say two. Limp Bizkit and Dido.
And that's it! I let George continue on his drive home after dropping out of the Tour of Aragon due to a nasty sickness that a few of the guys caught at Roubaix. I promised to bring by some homemade chocolate chip cookies this evening. His favourite kind of cookie I have heard.
Until next time,
Odessa Gunn
Part II of the George Hincapie interview