The Odessa Files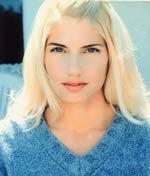 Odessa Gunn
"Allow myself to introduce myself… " - Austin Powers, The Spy Who Shagged Me
I am Odessa Gunn. Former pro bike racer of two years and present full time traveler. Due to a back injury I am taking a year off to heal and travel with my husband, Levi Leipheimer. I have been fortunate to find myself in the company of some of cycling's finest and am here to share with you some of my experiences. I tend to look at life with a sense of humor, (which a cyclist really needs!) and hopefully, my stories will reflect this attitude.
Let me begin with a few of my favorite racers.
Of Bikes and Men...
Levi (Of course he is my # 1 all time favorite)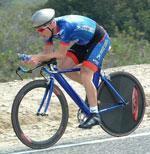 Levi Leipheimer
Photo: © Rob Karman
Taking a break from my own cycling career has been very good for me. I am so inspired by Levi and it's very rewarding to help him achieve his goals in such a demanding sport. I am having a great time traveling with him and seeing the world but one of my favorite parts of being a cyclist's wife has got to be the motorpacing. I've been doing it for years and we have a really fast scooter in California. I really like bikes of all kinds but ones with motors are very cool!.
Although I remain completely focussed while motor pacing, I sometimes slip into my imaginary motorcycle racing world . Our scooter handles well and I usually don't get into trouble, except ......
Last year we were doing a long motor pacing session and I zoomed ahead of Levi on a big climb to wait at the top. After 3 or 4 seconds of waiting I grew bored and slipped into my motorcycle racing persona. I decided to do some fancy figure eights on this narrow desert road for my hundreds of adoring fans.
Fortunately only my pride was hurt as Levi crested the climb to find me baking on the hot asphalt while pinned under the bike, watching the vultures circle above. If only I could develop a longer attention span and some patience I'm sure I would get into less trouble in this world. I have not laid it down since then and I'm looking forward to getting another cool bike in Spain when I return this week.
Tyler Hamilton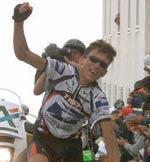 Tyler in the 2000 Dauphine
Photo: © AFP
After having been off my bike for about 5 months with my injury I decided it was time to start riding again. Levi, Fred Rodriguez and Tyler Hamilton and I headed out for a short ride one cool but sunny day in Spain. We started up a decent climb and I was soon maxed out just sitting on their wheels but it was o. k because I wanted a good workout.
After about two hours, of a hard ride for me and an easy day for them, we seperated with Levi and Fred continuing onto a longer route and Tyler and myself heading back. Tyler said there were two ways back to the town where we were staying and that he would show me the cool way back. This was in the hope of one day impressing Levi with my vast knowledge of the Spanish roads. I thought this was great until he said it took in a little climb with some steep sections. Of course Tyler Hamilton's version of a little climb and mine are quite different. A speed bump is a little climb in my books.
This constant wall which Tyler referred to as a stair step was anything but little. Long after my worst fears were realized we were still climbing. I was already tired from the ride and was beginning to fade. I could tell he was going as slow as possible but my heart rate was still 197 and I was trying to remain composed. I thought to myself, "Just show him your heart rate and perhaps he'll slow just a little more." After all, Tyler is a really nice guy and I figured he wouldn't laugh at me or leave me to die on the road in a strange country. So I swallowed my pride and showed him my monitor which was now reading 198. He looked at me in amazement and with a huge smile of disbelief on his face.
"No way!" he said, "Let's see if we can get it to 200."
So there I was. The circus freak on wheels, going 500 meters per hour with a heart rate of 201 in front of one of the worlds best athletes. After it was all over I went back to our hotel room and collasped onto the bed. I considered gaining 300lbs, growing a full beard and taking my show on the road but for Levi's sake I decided to simply start training again.
George Hincapie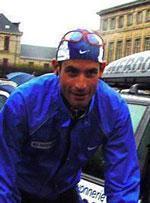 George Hincapie at Paris-Roubaix
Photo: © Jeff Jones
George… the bad ass sprinter from New York City whose image and personality precede him.
I rode over to his house in the dark one evening with Fred (who was staying with Levi and I at the time) to pick up a bike bag. As we entered his flat loud music bounced us onto the walls. George had just purchased a new car, so he was feeling pretty good, and keen to show us his new pride and joy. However the problems of living in Europe had come to destroy George's motoring idle. His new 7 series BMW took 3 people and a considerable amount of time just to get out of George's garage. Once on the road it didn't even fit onto many of the narrow European streets.
Unfortunately on our visit George was reduced to showing us a picture of the car, in the undergroud parking space. For some reason this just didn't seem to have the impact we had been expecting!
My favorite George story however does not involve cars or racing. Just a little bird. A group of us were riding back from a short spin and some coffee when I noticed this tiny bird flying alongside of us. We were on a slight descent so we were moving along pretty fast and this bird was checking us out, going as fast as he could to keep up. His little wings were flapping like crazy and his feathers were slicked back by the wind and I just thought it was adorable. I know however from past experience that guys generally pretend to be way to cool to notice, or acknowledge, such trivial pleasures so I kept my mouth shut. Then much to my surprise George points to the tiring little bird and with a big smile tells us to check him out.
But that is very much George, he is his own man.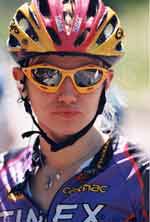 Odessa in Racing mode
This is just scratching the surface of my tales from Europe. I could go on for days about the things that went wrong, about the nightmares of finding a place to live with Levi away racing. But I don't want to focus on the difficult parts, I can keep them for my own , quiet masochistic pleasure.
We are so thankful and lucky to have Tony and Jody Cruz and their friend Danny living just minutes away from us in Spain. We have lots of fun with them, simple things like dinner and cards evenings and we're always checking out the local sights and shopping. If I could just get accustomed to that crazy siesta thing I'd be happy.
For now I plan to meet up with Levi again at our place in Spain after he finishes a series of races in Belgium.
Until next time, ciao
Odessa
Other features by Odessa Gunn: