Denis Descamps' Tour de Faso Diary 2001
Denis Descamps is the press officer of the Société du Tour de France, the organising body of the world's most important bike race and also promoter of the Tour de Faso. In these images and brief diary entries he gives us a flavour of bike racing in one of the world's poorest countries.
Early stages – Faso Kids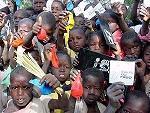 School's out!
Photo: © Denis Descamps
Cycling is the kind of sport that takes you travelling. And not only because races take place in France, Spain, Australia, Malaysia or Burkina Faso. In itself, it's a sport that drives riders (and organizers) from one place to another. Is there a better way to discover a unknown country and to encounter its inhabitants, who stand on the roadsides while they wait for the champions? I think not!
And the Tour du Faso proved it once again, as I met thousands of people, including huge groups of kids, who are allowed to go out of their classroom when the bunch is coming. Children everywhere, shouting, laughing, staring at you with stunned eyes, and expecting a gift from the cycling bandwagon. Their face is so touching, their smile so moving, that it's hard to leave them when it's time to go.
Unlike the Tour's bunch, Faso kids don't travel. But, believe me, they are happy.
Rest day – Back to cycling's roots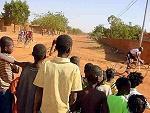 Almost a cyclo-cross
Photo: © Denis Descamps
On Sunday November 4 the Tour du Faso's riders were granted a rest day. And they had the opportunity to attend an incredible show: an amateur race in the streets of Ouahigouya. Imagine old one-gear bicycles, imagine single colored jerseys, imagine riders aged from 15 to 45, imagine a circuit passing through sandy roads, imagine a rider repairing his own bike on the roadside, imagine a hot crowd cheering on the riders, imagine a fabulous & funny speaker talking for hours, imagine cows on the finish line a few minutes before the finish, imagine a Northern town of Burkina Faso, one of the poorest countries in the world… Then you can guess what an amateur race is here: a moment of pure happiness!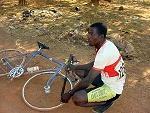 Where's that damn team car?
Photo: © Denis Descamps

Belgian rider Patrice Hemroulle (Aliplast), winner of Tour du Faso Stage 3, was like a kid: "I can't believe my eyes! It's the most spectacular race I've ever seen. No cheating. Just fun. It's so moving. It looks like images I've seen from the first Tour de France."

Imagine Cycling's First Ages…
Stage 5 – The right decision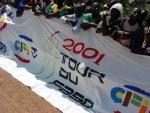 Popularity
Photo: © Denis Descamps
For the Société du Tour de France, it was a big challenge to organize the 15th Tour du Faso alongside the Burkinabe Ministry of Youth and Sports. The first days of the race proved it was a good choice, as the race turned out to be a huge popular success.
Sometimes it becomes easy to imagine oneself as a follower of a Tour de France stage: hot roads, public on the roadsides, team-cars behind the bunch and … Radio-Tour, entertained by former cyclist champion Laurent Bezault.
And the big surprise is the motivation of the riders, who never give up and aim at winning a stage. Yesterday winner, Belgian Patrice Hemroulle confirmed that, like his bunch-mates, he's not looking for money or glory. He told us: "My mother died last Thursday, exactly one week ago. This morning I told myself 'I must win'. To show her how much I love her!" Today's hero, Mohammed Er-Ragragui, said he wanted to win in order to give more publicity to his country, Morocco.
Love, fighting spirit, identity, all values that the Tour de France shares with the riders of the Tour du Faso.
Stage 6 - The Tour du Faso's worldwide popularity

Media scrum
Photo: © Denis Descamps
This year, the coverage of the Tour du Faso is amazing compared to its UCI rank. Accredition requests have come from all over the world, including the USA with Outside Magazine, Switzerland with Facts, France with TF1, Planète, Eurosport, L'Equipe Magazine, Vélo Mag et RFI, Italy with Paolo Pellizzari, and African countries surrounding the Burkina Faso.
Everywhere, photographers taking pictures, TV producers, motorbikes with cameras, interviews, journalists and press vehicles. It's not the Tour de France but it's hard to believe how many reporters are covering the event. Riders, who are not used to talking to the media, are learning how to be a star. Joost Legtenberg for example, who has been wearing the yellow jersey since the first day, has become familiar to interviews, photographers and TV cameras.
Moreover, many newspapers, press agencies or websites have asked for a daily report, like the French Press Agency (AFP).
It has become a small community, in which people involved talk in a friendly way about what they did during the day. They are looking foward to talking to Jean-Marie Leblanc, the boss of the Tour de France, who will be coming at the end of the week.
And they all agree: the Tour du Faso is a breath-taking race and a real adventure.
Yeah!
Stage 7 - Marco Polo: Worldwide Cycling

Team Marco Polo
Photo: © Denis Descamps
This 15th edition of the Tour du Faso has beenundisputably dominated by the Dutch Marco Polo Team, which has possessed the yellow and green jerseys since the first stage and has captured three stages. A good start!
But is there any need to say that the squad is Dutch, as the aim is to race everywhere in the world with riders from exotic countries? We asked the rider and team manager, former professional Nathan Dahlberg, who told us how great it was to participate in the Tour of Tibet (won by Mongolian Marco Polo rider Ulzii Orshikin, nicknamed "Oggi"), the Tour of Morocco (won by Nathan), the Tour of China and in the Tour du Faso, not to mention many other surprising travels. His riders come from Uzbekistan, Hong Kong, New Zealand, Indonesia, Columbia, Estonia and Albania. When you have heard about the Tour of Tibet, with the bunch climbing 5,000 meter high mountains, or Chinese stages in the middle of nowhere, you understand why Marco Polo's adventures are fascinating.
The Marco Polo Boys have to be strong and healthy, riding under hot or cold conditions, under the sun or under the storms, eating Asian or African food, travelling a lot. As the team is not a professionnal one and has no sponsor, it relies on the organizers' invitations or the prize money. That's why the Faso is a good surprise for Natan: first of all, it's well organized, then they win a lot, making for good publicity for Marco Polo.
So we hope the team will keep on riding all over the world and managing fabulous riders, the likes of Joost Legtenberg (yellow jersey and a graduate in sports and economics), Bram de Ward or Marteen Tjallingi, who are all nice guys and real champions.
Some of you could wonder what do these Chinese signs on the blue Marco Polo jersey mean: "We will win".
That's what they have doneÉ
Stage 8 – Alexandre le Grand: Don't Worry, Be Happy!

Alexandre le Grand Rouamba
Photo: © Denis Descamps
Among all characters of this Tour du Faso, Alexandre le Grand Rouamba is indisputably the most original, always smiling and kidding everyone on the finish line. As soon as you meet him, you love Africa. Being happy is for him as natural as breathing.
But he's not only a nice person, he is also an excellent journalist who works for the Burkinabe national paper "Le Pays", published in Burkina Faso in all countries of the West African area. He is responsible for Sports and Religious Affairs. And there is his secret, gathering sports values (generosity, team spirit, hard work) and religious ones (kindness, respect and morality).
He is covering his seventh Tour du Faso and notices an global improvement, except for the classifications, which are published too late. However, he says that the finish line is well managed and is not invaded like it was the previous years. He's happy that the organizers decided to increase the prize money, because "I was so sad that riders who suffer that much on a bike weren't really rewarded. This year, it's better."
We asked him his recipe for happiness: "I believe in God. I always trust in life, even if I face desperate situations. Life is too short to make oneself enemies or to worry. I lost my parents when I was eighteen but that did not prevent me from trusting God. That's why I try to be helpful. Don't forget, three things are essential: singing, dancing and laughing."
We wish God would grant you a long and good life, Alexandre...
Alexandre le Grand in short
Stage 11- The Burkinabe cycling's rebirth
"Without the Société du Tour de France's financial support, the Tour du Faso would have died within two years!" said the President of the Burkinabe Cycling Federation, Adama Diallo, as he commented the situation of cycling in Burkina Faso. "Thanks to this partnership, the Tour du Faso was a popular success we are very proud of. And the major improvement was the quality of food and accomodation for the riders. Now we can say our biggest race had become professional. But some of our everlasting problems remain unsolved."
Rolling past a local market
Photo: © Denis Descamps
Belgian Victor Duchêne, who is the manager of the two national teams and former soigneur of the great Eddy Merckx, thinks that even if his riders eat and sleep well, they did not train enough to compete with the European squads: "they did not compete enough!"
Despite its good reputation, its renowed Tour du Faso and strong external supporters (Société du Tour de France, Seine-Maritime, Loire-Atlantique), national cycling suffers from financial problems. Adama Diall : "except the Tour du Faso, we organize only a few races throughout the season. Our riders had only competed six times before the Tour du Faso." Victor Duchêne confirms: "Our leader Pafadnam is now in good shape. But the Tour is over. Had he participated in more races, he would have been undefeatable!"
However, the Burkinabe riders had a training camp in France in September. But it seems that was not enough. Adama Diallo would have prefered collecting this money in order to organize races in his country: "With that amount, I could have created races all year long, and our riders would have been more competitive. One month before the start, it's too late and too short!"
Sorel withLeblanc
Photo: © Denis Descamps
As Stage 9 winner Jérémie Ouedraogo says: "If our Federation wants good results in the coming years, they will have to focus on our training conditions. We used to enter competitions outside Burkina Faso, such as the Tour of Morocco. But that's over."
But as usual in Africa, the story ends with a smile and an optimistic touch. Pafadnam says he will ride as long as he can: "I know being a rider is a big chance. Cycling is my passion and I wouldn't do something else. I'll come back next year!"
The last word will be the President's one: "By winning a stage, our rider proved that national champions can compete with European riders. Now that we're backed by the Société du Tour de France, I feel confident for the Burkinabe cycling and for the Tour du Faso."
Undisputably, this 15th Tour du Faso was a huge success: a reassuring rebirth.
Paolo Pellizzari's World

Paolo Pellizzari
Photo: © Denis Descamps
Covering the Tour du Faso this year, Italian photographer Paolo Pellizzari has been commissioned by the International Cyclist Union in order to take pictures of exotic cycling tours, the likes of Tour of Peru, Australian Tour Down Under or Tour of Tibet. In Burkina Faso, he's chasing the ideal light and the perfect image.
Paolo's shot are only panoramic! He works with a Noblex camera and refuses to use a flash. Morever, he does not want to change his picture by computer. Paolo takes few pictures and throws a lot of them away. His selection leads him to keep only a minimum of photos. The UCI executives have been impressed by the results of his work on the 2000 Tour de France, which ended with the publication of "La France du Tour", a renowned book published in France one year ago.

Getting the shot
Photo: © Denis Descamps
Three weeks ago, Paolo covered the Tour of Golan and is looking foward to visiting new foreign countries, such as China or Columbia. He enjoys his experience in Burkina Faso, hoping that the pictures he took will be surprisingly good. But cycling is not all he's interested in: on the rest day, he asked his chauffeur to drive him in the Sahel desert, where he discovered humanity's roots.
He considers that travelling is a way to keep being modest and aware of our world's realities: "I often travel in India, where I sometimes feel so alone, away from my country and my relatives. And it helps me keeping in mind that everyone has his place on Earth."
Cycling is for him a new way of travelling and to create his own world.
Paolo Pellizzari's World...
Be sure not to miss Paolo's pictures on his Website: www.pellizzari.net
Photography
More pictures by Denis Descamps.
Rest Day
Local riders took part in a special one-off race that reminded watching European professionals of the early days of the Tour de France
Stage 5 - November 5: Ouahigouya - Yako, 71.5 km
Stage 6a/b - November 6: Ouagadougou - Kaya, 101.5 km/Kaya - Ziniaré, 67.5 km
Stage 7 - November 7: Ouagadougou - Koupela, 136 km
Stage 11 - November 11: Pô - Ouagadougou, 156.5 km
Paolo Pellizzari's World