Ups and downs

Brice Jones
Photo: © Brice Jones
US U23 team member Brice Jones writes from the
Espoir editon of the Thüringen-Rundfahrt and the
Grote Prijs Stad Vilvoorde
26th Thüringen-Rundfahrt - 2.7.1
The US National Team is now racing in Germany. It's our first time to venture east of Belgium this year. It was a seven hour and that was the day after we all crashed in Liege. So when we got here, we all had tight legs and sore spots to say the least. The weather was great today with temperatures reaching up to 80 degrees.

Today was an 8km prologue on an out and back course. The roads were really smooth with a few small climbs. There was a pretty strong crosswind along the course as well. Brad Buccambuso and I were the first ones to go off, and we had wet roads to deal with too. It was mostly nice as day except for about a 30 minute period when some showers rolled in right before our starts.

The results from today were:
1 Danny Pate             11:12
35 Patrick McCarty       11:56
42 Brad Buco             11:59
46 Brice Jones           12:05
75 Walker Ferguson       12:40
84 Nathan Treto          12:44
As you can see, Danny had a really good day. I was in the car following him, and he was rolling a 56x11 almost the whole course. Brad had a good ride too, but crashed in the last corner and lost about 20 seconds. Otherwise, he could have been in the top five. I felt OK today, but a bit blocked from not riding yesterday and sitting in a car all day. Tomorrow we have a 150km stage with a lot of climbs, so look out.
Stage 1
Stage 1 was a 151km road race that was up and down all day long. There weren't any terribly big climbs, but enough to make the legs tired by the end of the day. The hardest climb of the day was a 4km climb of 8%. The weather was very good today with temperatures close to 70 degrees.

Danny was in the yellow jersey today, but our plan was to not defend it. He only had a lead of 8 seconds, and we didn't feel that it was worth it to waste a whole team at the start of the race. So today, as a team, we got out of a lot of work. The Telekom team did most of the work chasing back breaks. We were never even looked at to do any work. It was actually kind of weird.

The race was pretty relaxed for a U23 race. There were no substantial breaks until 90km into the race when three riders got away. One of the riders was this past year's Junior World Road Race Champion, Jeremy Yates. They got away on the 4km climb. We had a bit of bad luck at the bottom when Brad B. crashed hopping up on a sidewalk. He made it up OK, but his chain came off and when he went to pedal, he was thrown over the handlebars. I saw it and it was an ugly crash. He caught back on, but only after two bike changes. He had to ride the spare bike the rest of the day as well. I was actually surprised that he made it back up after all that. Nathan Treto wasn't feeling so well today and got dropped on this climb and ended up losing 25 minutes on the day. He has been coming down with bronchitis and is going home tomorrow. I actually dropped off the pace of the front group over the top of the climb, but came back easily with the group that I was in.

It didn't really start to get exciting until we hit the final 20km circuit of the race. It was a really tough circuit with five good climbs. The Italians were throwing everything they had at Danny, but he had an answer for it all. There were three of them, and they couldn't get rid of Danny on the final loop. Up one of the climbs with about 10km to go, Danny and two Italians were off of the front, but only to be brought back on the downhill.

The peloton split at this point and there were only about 40 guys in the front. We were all there besides Brad and Nathan. Our group caught two of the three leaders at this point, and the pack came back together as well. In the last 2km, Walker and Patrick started a lead out for Danny and me. In the last 1.5km there were two tough climbs that led up to the finish. Walker and Patrick got us to the bottom of the first before the Italians sent four of their six guys on the attack. They weren't able to drop any of us, but they had established a good lead out at this point. Coming into the next to last turn, I was kind of boxed in. Danny was sitting pretty into the uphill drag to the finish. I bumped my way out with about 125 meters to go right before the last turn that was at 100 meters to go. I started the sprint in about 15th and was able to work my way up to 7th in the field and 8th on the day. Danny got 3rd in the field and 4th on the day. Patrick, Walker, and Brad were all around 60th place in the field.

Danny is now sitting in 2nd overall and 14 seconds behind. That is actually better than being in the yellow jersey at this point. Now the Austrian team will have to deal with the pressure of keeping the race together. It would be perfect if we could put Danny in yellow on one of the last two stages. He looks good enough to do it and maybe we can win some stages along the way. Today was pretty good. Now if we can just get two guys in the top 10 every day. The race gets a lot harder though so we will see what happens.
Stage 2
The stage was 140km with a good amount of climbing and a lot of wind. It started raining about 5km into the race and with all the diesel cars over here, the roads became really slippery in the rain. Guys were crashing left and right before the first big climb of the day. I ended up getting caught behind some crashes and catching on right at the base of a 5km climb. I got popped about 1km from the top and never came back.

I was with a group of about 30 guys, and we slowly caught guys all day long. We caught Walker a little bit after that hard climb. And then later on we caught Brad and Patrick. They had went back from the front group to get jackets from the team car and ended up getting popped in the crosswind. Danny was in the front group at this point, but it also split into two and he ended up in the second of the two groups.

Danny dropped from 2nd to 13th after today's stage and the rest of us just rode in with the groupetto twenty something minutes back. Those of us in the back group finished in the 60's today.
Stage 3
Today's stage was a bit better for us as a team. It was only 95km, and the profile showed it to be the flattest stage of the race. It may have been the flattest stage of the race, but it was far from flat. There were about five or six good climbs. Some of them were 2 to 3km in length. It was raining and cold once again today.

By the finish, there were only about 50 guys left in the field, and we had a full team of Danny, Patrick, Walker, and me. Brad had to go home because he woke up really sick. So now there are only four of us left in the race. Danny ended up crashing with about 15km to go and had to chase back on. He caught back up, but at a very bad time. He caught on as we hit the last crosswind section and ended up getting popped because some guys in front of him left a gap.

So it's down to the last 5km and it's Walker, Patrick, and me. We did our best to do a good finish, but we only ended up with a 15th. Walker did a good job getting me close to the front, but I got boxed in the last k and there wasn't much I could do. I ended up passing a lot of people in the last 500 meters, but only to get 15th. Patrick was around 25th, and Walker just cruised in. Danny ended up losing a couple of minutes because of his crash.
Stage 4
This afternoon's stage was a 4.8km uphill TT. Being 25 minutes back on the overall, I decided there wasn't much point in going all out so I just went hard enough not to get last. Danny knew that this was a stage for him so he at least wanted to try for another stage win. And guess what? He won by 12 sec over 2nd place. It was the biggest gap between any two riders in the whole TT. So Danny is the man once again. Walker was 27th and Patrick was 34th. I took 72nd. Tomorrow is 180km with a ton of climbing. I'll try and survive.
Stage 5
We woke up to rainy conditions once again today. I wonder when the weather is going to get better around here. Today was 180km with quite a bit of climbing. The race actually started out really calm. It was like everyone was scared to start racing because of the mileage today. The whole day was just like a steady grind. My heart rate stayed between 140 and 170 for most of the race. It would have gone down on the downhills, but with all of the crazy riders taking ridiculous chances it kept it elevated. We saw one rider crash on a fast decent and go over the railing at the edge of the road. As I rode by, all I could see was his bike on the road, and as we took the next switchback I looked up saw him on the other side of the railing in the trees. It was pretty ugly. Danny and I decided that the safest place was at the very back.

Two trains also stopped us today. So all the guys who were dropped on the hills caught back up at the train stops. There were 86 guys left at the finish, and I ended up getting 17th. It was a crazy finish, and I was up there once again, but got put to the curb a couple of times. My legs were pretty toasted after the long day, and I didn't have much of a sprint left anyway. I just want to make it through this race with some good fitness and try to apply it to some other races that fit me a little bit better. I'm not the greatest climber on the team so this race is a bit of a struggle for me. I feel like I am getting stronger everyday though.
Stage 6
Today was a 134.5km road race, and the course was supposed to be one of the toughest of the race. The weather was great today with temperatures reaching 70 degrees.

The race today was pretty calm. There were some really hard climbs at the first of the stage, but the race was real controlled and it wasn't too hard. The first big move of the race came at about halfway through the race when Patrick McCarty attacked on a climb and bridged up to the lead group of four guys. He went up with two other guys so that made seven total in the break.

From there on out, the race was just steady. Patrick was sitting on the front break, and the rest of us were sitting in the pack chillin'. The race really didn't become a race until the last 5km, which was up a good climb. I had started to feel a bit sick last night and even though the race wasn't too tough, I still suffered the whole day. When we hit the climb, I just went at my own pace and watched up the road as Danny Pate put the hurt on all the guys up front.

Danny attacked everyone in the main group and made his way up to the stragglers of the break. He caught Patrick and a couple others, but couldn't get the top five. He finished 6th on the day and Patrick finished 8th. Walker did a lot of good work at the bottom of the climb for Pate and ended up rolling tempo the rest of the way up the climb after helping Danny. I finished around 55th. I didn't feel good at all today. I think that I am coming down with the same sickness that Brad and Nathan went home for.
Stage 7
Today didn't start off so well for me. I woke up feeling pretty bad. I knew that this was the last stage though and that I wanted to finish the race. It wasn't supposed to be that hard of a stage, but we knew everyone would be out to race on the last day. It would definitely be a fast race.

We had a really good tempo going pretty much the whole race. It was all I could do to hang in the group. I felt achy all over and just didn't feel like being on the bike. It's hard enough to race when you are feeling good. I wanted to hang in and do everything I could to help Pate and the guys.

I hung in until about 30km to go when I just completely ran out of energy. I felt fatigued all day and it finally caught up with me. The suffering wasn't over though because I still had 30km to go and still a couple climbs.

When I made it into the finish, I found out that Danny had almost won the stage. He was off the front of the main group for the last 7km solo, but got caught with 150 meters to go. Patrick and Walker were there doing everything they could to help and to get some good placing for themselves. Once Danny got caught, he just sat up and spun in. It was definitely a good effort. I think that Danny was one of the strongest guys in the race, but just had a couple unlucky days. You can look for him to do really well in some of the other races coming up. Hopefully the rest of us will rise to another level after this race as well.
66th Grote Prijs Stad Vilvoorde
We now have fifteen guys staying here at the house in Belgium. Some guys came in from France and some from here in Belgium to join the National Team in a couple of different races over the weekend. Yesterday we competed in the Grote Prijs Stad Vilvoorde, a Pro 1.5 race here in Belgium. Some of the guys did a race in Holland. I was, at first, supposed to do the one in Holland, but opted for Belgium when I found out that the race in Holland was the same race that I crashed and broke my best friend (my Trek) in last year. So there were eight of us who stayed here in Belgium to race.

It was very nice weather once again with temperatures reaching up to 80 degrees. The course was a 14.7km loop that we were to do 12 times. It was a very rough course with a ton of obstacles to deal with. There were all types of roundabouts and a bunch of pylons in the road. It wasn't that there were cobbles, but the road was just so rough. There were potholes, cracks, and gravel; they were just bad roads. I think that here in Belgium they actually look for roads like this to hold races on. It makes the races much more exciting.

There were only seven semi-big pro teams at the race. They were mostly Belgian pro teams that I can't really pronounce or even attempt to spell. I will just say that it wasn't a huge race, but it was hard anyway. The riders that we had at the race were Danny Pate, Mike Creed, Aaron Olson, Damon Kluck, Mark Fitzgerald, Walker Ferguson, Stephen Flynn, Jason, and me. Marc Fitzgerald lives in Gent and just met us at the race and Jason is from France and I don't recall his last name.

We had a big squad for the race, but most of us were going to just ride and see how we felt. The ones of us who finished Thuringen were told to just use the race to spin our legs and when it got hard towards the end to pull out. Some of the guys like Damon, Aaron, Mike, and Steve just got over here from the States so they too would have to see how they felt. The good thing about one day races is that you can quit without having to worry about starting tomorrow. As you can probably tell from my writing, I am letting you know that we quit the race before actually telling you. Over here it's a different situation than back in the States though. We do so many races here that some of them you just have to bag in order to be going good for the ones that are important. Unless you need the training there's no need to push your body to the max all of the time.

The race started out blazing from the gun and never really let up. It was just a hard tempo the whole race. Some parts of the circuit were easy and some were hard because of the wind. I found out really quick where I had to suffer, and where I could relax. It wasn't so hard that I was cross-eyed all day, but just hard enough to make me struggle a bit. A big break got up the road about 60km into the race and we had Damon and Aaron in it. I think there was a total of 25 guys up the road. I wasn't going to make any break unless it was out of pure luck because all I was doing was following wheels and pretty much motor pacing. I still didn't feel 100 per cent after being sick at Thüringen.

Walker and Danny were the first two guys to drop out. They quit after about three laps of racing. They have a really big race starting next Thursday and want to be fresh for it. Steve and Jason must have quit sometime after Danny and Walker. Mike Creed and I pulled out on the ninth lap and called it a day. At that point, the race started to blow apart and guys were attacking each other left and right. I really couldn't follow the wheels with much ease anymore and decided I was done. Aaron was in the front group, but started to have some stomach problems and he called it a day too.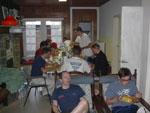 Crowded house.
Photo: © Brice Jones

Damon and Mark are pretty much it. Damon was in the front group and ended up getting 15th on the day, which was pretty impressive. Mark was in what was left of the field going for about 30th. So if nothing else, we all got to go out today and do a pretty good ride in some good weather. The Navigators Pro Team from the US was also at the race. It was pretty cool to get to chat with some other Americans that we hadn't seen in a while.

Full results of the GP Stad Vilvoorde

Finally, here's a picture of our dinner last night just to show how many guys were here at the house. If they add any more people, they are going to have to put traffic signs around the dinner table.