25th Giro del Trentino - 2.2
Italy, April 30-May 3, 2001
Main page Results Previous stage
Stage 4 - May 3: Malcesine - Arco, 165 km
Cipollini roars in the rain
By Alessandro Gretter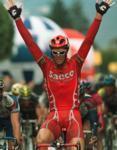 Cipollini gets it
Photo: ©Sirotti
There were few sporting emotions during the last stage of Giro del Trentino, but plenty before and after the race. Mercatone Uno, with Pantani, and Saeco, with Cipollini, were disappointed at their exclusion from the next Grand Boucle and expressed their anger at the media. Saeco's 'Treno Rosso' found another form of expression too: the victory.
After great teamwork and the usual sprint, 'Re Leone', Mario Cipollini won today's final stage in tehlight rainthat characterised the whole day, giving a strong signal of Saeco's preparedness for the forthcoming Giro.
The 176km between Malcesin and Arco was ridden mainly by a bunched peloton. In the first two hours the only important event was the departure of Danilo Di Luca, already tuning himself for the 'Corsa Rosa'. Some movements happened for the TV, with an intermediate sprint won in Rovereto by local Mariano Piccoli (Lampre-Daikin) ahead of Perez and Carrara.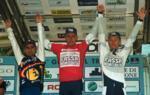 Overall top three, Casagrande,
Piepoli & Rumsas
Photo: ©Sirotti

The only break of the day was at 111km when Frenchman Fabrice Salanson gained a maximum advantage of 1:45. With two laps to go the Bonjour rider had kept the bunch at 48 seconds, but before the last lap 'Treno Rosso' bridged the gap. In the last 12km Scirea and the other guards keep the peloton compact and fast and in the wet sprint Super Mario beat Latvian Andris Nauduzs and Giovanni Lombardi. It was his fourth stage win this year and the 169th of his long career.

In the General Classification no moves happened and Fassa Bortolo took another victory with Casagrande in great form and ready for the Giro, as are competitors like Piepoli, Shefer, Rumsas, Simoni, 2000 winner Garzelli and an "increasingly angry" Pantani.
Results
1 Mario Cipollini (Ita) Saeco Macchine Per Caffé           4.38.19
2 Andris Nauduzs (Lat) Selle Italia-Pacific
3 Giovanni Lombardi (Ita) Team Deutsche Telekom
4 Massimo Strazzer (Ita) Mobilvetta-Formaggi Trentini
5 Nicola Chesini (Ita) Tacconi Sport-Vini Caldirola
6 Mariano Piccoli (Ita) Lampre-Daikin
7 Guido Trenti (USA) Cantina Tollo Acqua & Sapone
8 Stefano Garzelli (Ita) Mapei-Quick Step
9 Giuseppe Di Fresco (Ita) Mercatone Uno-Stream
10 Matteo Carrara (Ita) Team Colpack-Astro
11 Francois Simon (Fra) Bonjour
12 Thomas Muhlbacher (Aut) Gerolsteiner
13 Marek Wesoly (Pol) Amore & Vita Beretta
14 Andrea Noé (Ita) Mapei-Quick Step
15 Gerhard Trampusch (Aut) Team Deutsche Telekom
16 Raimondas Rumsas (Ltu) Fassa Bortolo
17 Sergey Gontchar (Ukr) Liquigas-Pata
18 Peter Luttenberger (Aut) Tacconi Sport-Vini Caldirola
19 José Luis Arrieta (Spa) iBanesto.com
20 Vladimir Duma (Ukr) Ceramiche Panaria-Fiordo
21 Leonardo Piepoli (Ita) iBanesto.com
22 Pablo Lastras (Spa) iBanesto.com
23 Gorazd Stangelj (Slo) Liquigas-Pata
24 Nicola Loda (Ita) Fassa Bortolo
25 Francesco Casagrande (Ita) Fassa Bortolo
26 Adolfo Garcia (Spa) iBanesto.com
27 Juan Manuel Garate (Spa) Lampre-Daikin
28 Mario Scirea (Ita) Saeco Macchine Per Caffé 
29 Pietro Zucconi (Swi) Tacconi Sport-Vini Caldirola
30 Moreno Pezzé (Ita) Tacconi Sport-Vini Caldirola
31 Rinaldo Nocentini (Ita) Mapei-Quick Step
32 David Latasa Lasa (Spa) iBanesto.com
33 Alexsandr Shefer (Kaz) Alessio
34 Igor Kranjec (Slo) De Nardi-Pasta Montegrappa
35 Moreno Di Biase (Ita) Mobilvetta-Formaggi Trentini
36 Paolo Fornaciari (Ita) Mapei-Quick Step
37 Frank Bouyer (Fra) Bonjour
38 Paolo Savoldelli (Ita) Saeco Macchine Per Caffé 
39 Paolo Lanfranchi (Ita) Mapei-Quick Step
40 Massimiliano Gentili (Ita) Cantina Tollo Acqua & Sapone
41 Thomas Voeckler (Fra) Bonjour
42 Massimo Codol (Ita) Lampre-Daikin
43 Davide Bramati (Ita) Mapei-Quick Step
44 Giancarlo Raimondi (Ita) Liquigas-Pata
45 Gilberto Simoni (Ita) Lampre-Daikin
46 Devis Miorin (Ita) Mobilvetta-Formaggi Trentini
47 Marco Della Vedova (Ita) Lampre-Daikin
48 Massimo Giunti (Ita) Cantina Tollo Acqua & Sapone
49 Slawomir Kohut (Pol) Amore & Vita Beretta
50 Sergey Yakovlev (Kaz) Cantina Tollo Acqua & Sapone
51 Stephan Schreck (Ger) Team Deutsche Telekom
52 Ralf Grabsch (Ger) Team Deutsche Telekom
53 Laurent Dufaux (Swi) Saeco Macchine Per Caffé 
54 Giuliano Figueras (Ita) Ceramiche Panaria-Fiordo
55 Unai Osa Eizaguirre (Spa) iBanesto.com
56 Noan Lelarge (Fra) Bonjour
57 Gianpaolo Mondini (Ita) Mercatone Uno-Stream
58 Mauro Zanetti (Ita) Alessio
59 Domenico Romano (Ita) Ceramiche Panaria-Fiordo
60 Georg Totschnig (Aut) Gerolsteiner
61 Jean Cyril Robin (Fra) Bonjour
62 Robert Bartko (Ger) Team Deutsche Telekom
63 Marco Magnani (Ita) Alexia Alluminio
64 Seweryn Kohut (Pol) Amore & Vita Beretta
65 Torsten Hiekmann (Ger) Team Deutsche Telekom
66 Daniel Clavero Sebastian (Spa) Mercatone Uno-Stream
67 José Castelblanco (Col) Selle Italia-Pacific
68 Marco Pantani (Ita) Mercatone Uno-Stream
69 Stefano Cattai (Ita) Liquigas-Pata
70 Corrado Serina (Ita) Alexia Alluminio
71 Dmitri Konyshev (Rus) Fassa Bortolo
72 Hernan Buenahora (Col) Selle Italia-Pacific
73 Marcello Siboni (Ita) Mercatone Uno-Stream
74 Saza Gajicic (Yug) Alessio                                 0.26
75 Paolo Tiralongo (Ita) Fassa Bortolo                        0.30
76 Giuseppe Panetta (Ita) De Nardi-Pasta Montegrappa          0.34
77 Oscar Pozzi (Ita) Fassa Bortolo
78 Franco Pellizotti (Ita) Alessio
79 Cristiano Frattini (Ita) Liquigas-Pata
80 Denis Lunghi (Ita) Team Colpack-Astro
81 Leonardo Scarselli (Ita) Selle Italia-Pacific
82 Sylvester Szmyd (Pol) Tacconi Sport-Vini Caldirola
83 Simone Bertoletti (Ita) Lampre-Daikin
84 Marco Pinotti (Ita) Lampre-Daikin
85 Simone Borgheresi (Ita) Mercatone Uno-Stream
86 Riccardo Forconi (Ita) Mercatone Uno-Stream
87 Ruslan Ivanov (Mda) Alessio
88 Kamil Wolski (Pol) Amore & Vita Beretta
89 Marius Sabaliauskas (Ltu) Saeco Macchine Per Caffé 
90 Ruben Alveiro Marin (Col) Selle Italia-Pacific
91 Yauheni Seniusnkine (Blr) Ceramiche Panaria-Fiordo
92 Massimo Podenzana (Ita) Mercatone Uno-Stream
93 Cristian Auriemma (Ita) Alexia Alluminio
94 Dario Andriotto (Ita) Alexia Alluminio
95 Francesco Secchiari (Ita) Saeco Macchine Per Caffé 
96 Fabio Marchesin (Ita) Liquigas-Pata
97 Ruggero Borghi (Ita) Tacconi Sport-Vini Caldirola
98 Fortunato Baliani (Ita) Selle Italia-Pacific
99 Freddy Gonzalez (Col) Selle Italia-Pacific
100 Gianni Gobbini (Ita) Team Colpack-Astro
101 Ramon Bianchi (Ita) Liquigas-Pata
102 Fausto Dotti (Ita) Liquigas-Pata
103 Aitor Osa Eizaguirre (Spa) iBanesto.com
104 Alessandro Bertolini (Ita) Alessio
105 Dmitri Sedoun (Rus) De Nardi-Pasta Montegrappa
106 Rafael Mateos Perez (Spa) Team Colpack-Astro
107 Andrea Brognara (Ita) Alexia Alluminio
108 Uwe Peschel (Ger) Gerolsteiner
109 Giuseppe Palumbo (Ita) De Nardi-Pasta Montegrappa
110 Roberto Conti (Ita) Cantina Tollo Acqua & Sapone
111 Ivan Gotti (Ita) Alessio
112 Alessandro Cortinovis (Ita) Team Colpack-Astro
113 Alessandro Spezialetti (Ita) Cantina Tollo Acqua & Sapone
114 Pavel Padrnos (Cze) Saeco Macchine Per Caffé 
115 Julio Alberto Perez (Mex) Ceramiche Panaria-Fiordo
116 Luca Mazzanti (Ita) Fassa Bortolo
117 Hidenori Nodera (Jpn) Team Colpack-Astro
118 Fabio Bulgarelli (Ita) Team Colpack-Astro
119 Ronny Scholz (Ger) Gerolsteiner
120 Marco Gili (Ita) Tacconi Sport-Vini Caldirola
121 Michele Colleoni (Ita) Team Colpack-Astro
122 Giuseppe Guerini (Ita) Team Deutsche Telekom
123 Milan Kadlec (Cze) Mobilvetta-Formaggi Trentini
124 Vitali Kokorine (Rus) De Nardi-Pasta Montegrappa           1.09
125 Frederic Mainguenaud (Fra) Bonjour                         1.13
126 Alberto Ongarato (Ita) Mobilvetta-Formaggi Trentini        1.51
127 Domenico Gualdi (Ita) Mobilvetta-Formaggi Trentini         1.53
128 Uros Murn (Slo) Mobilvetta-Formaggi Trentini 
129 Timothy David Jones (Zim) Mobilvetta-Formaggi Trentini
130 Igor Pugaci (Mda) Saeco Macchine Per Caffé                 2.42
131 Anthony Charteau (Fra) Bonjour                             2.49
132 Fabrice Salanson (Fra) Bonjour                             5.01
 
DNF  Danilo Di Luca (Ita) Cantina Tollo Acqua & Sapone
DNF  Filippo Simeoni (Ita) Cantina Tollo Acqua & Sapone
DNF  Pascal Herve (Fra) Alexia Alluminio
DNF  Gianluca Valoti (Ita) Alexia Alluminio
DNF  Eddy Forner (Ita) De Nardi-Pasta Montegrappa
DNF  Remmert Wielinga (Ned) De Nardi-Pasta Montegrappa
DNS  Faat Zakirov (Rus) Amore & Vita Beretta
 
Sprints
 
Lizzanella  - km 81
 
1 Mariano Piccoli (Ita) Lampre-Daikin                        6 pts
2 Rafael Mateos Perez (Spa) Team Colpack                     4
3 Matteo Carrara (Ita) Team Colpack                          2
 
Final general classification:

1 Francesco Casagrande (Ita) Fassa Bortolo                 17.17.58
2 Leonardo Piepoli (Ita) iBanesto.com                         1.00
3 Raimondas Rumsas (Ltu) Fassa Bortolo                        1.02
4 Gilberto Simoni (Ita) Lampre-Daikin                         1.19
5 Stefano Garzelli (Ita) Mapei-Quick Step                     1.41
6 Alexsandr Shefer (Kaz) Alessio                              1.59
7 Peter Luttenberger (Aut) Tacconi Sport-Vini Caldirola       2.06
8 Sergey Gontchar (Ukr) Liquigas-Pata                         2.06
9 Andrea Noé (Ita) Mapei-Quick Step                           2.09
10 Giuliano Figueras (Ita) Ceramiche Panaria-Fiordo           2.09
11 Georg Totschnig (Aut) Gerolsteiner                         2.14
12 Laurent Dufaux (Swi) Saeco Macchine Per Caffé              2.39
13 Gorazd Stangelj (Slo) Liquigas-Pata                        3.16
14 Massimiliano Gentili (Ita) Cantina Tollo Acqua & Sapone    3.34
15 Sergey Yakovlev (Kaz) Cantina Tollo Acqua & Sapone         3.34
16 Pablo Lastras (Spa) iBanesto.com                           3.38
17 Unai Osa Eizaguirre (Spa) iBanesto.com                     3.49
18 Ivan Gotti (Ita) Alessio                                   3.50
19 Marco Magnani (Ita) Alexia Alluminio                       3.53
20 José Luis Arrieta (Spa) iBanesto.com                       3.56
21 Massimo Codol (Ita) Lampre-Daikin                          3.59
22 Paolo Savoldelli (Ita) Saeco Macchine Per Caffé            4.01
23 David Latasa Lasa (Spa) iBanesto.com                       4.44
24 Saza Gajicic (Yug) Alessio                                 4.46
25 Jean Cyril Robin (Fra) Bonjour                             5.15
26 Gerhard Trampusch (Aut) Team Deutsche Telekom              5.24
27 Massimo Giunti (Ita) Cantina Tollo Acqua & Sapone          5.41
28 Domenico Romano (Ita) Ceramiche Panaria-Fiordo             6.10
29 Marco Pantani (Ita) Mercatone Uno-Stream                   6.36
30 Daniel Clavero Sebastian (Spa) Mercatone Uno-Stream        6.36
31 Devis Miorin (Ita) Mobilvetta-Formaggi Trentini            7.17
32 Paolo Lanfranchi (Ita) Mapei-Quick Step                    7.30
33 Hernan Buenahora (Col) Selle Italia-Pacific                7.45
34 Marcello Siboni (Ita) Mercatone Uno-Stream                 8.37
35 Simone Bertoletti (Ita) Lampre-Daikin                      8.49
36 Noan Lelarge (Fra) Bonjour                                 9.19
37 Ruben Alveiro Marin (Col) Selle Italia-Pacific             9.31
38 Fausto Dotti (Ita) Liquigas-Pata                           9.37
39 Ruggero Borghi (Ita) Tacconi Sport-Vini Caldirola         10.08
40 Alessandro Spezialetti (Ita) Cantina Tollo Acqua & Sapone 10.14
41 Seweryn Kohut (Pol) Amore & Vita Beretta                  10.42
42 Simone Borgheresi (Ita) Mercatone Uno-Stream              10.49
43 Mauro Zanetti (Ita) Alessio                               12.19
44 Fabio Bulgarelli (Ita) Team Colpack-Astro                 12.36
45 José Castelblanco (Col) Selle Italia-Pacific              13.05
46 Ruslan Ivanov (Mda) Alessio                               13.24
47 Roberto Conti (Ita) Cantina Tollo Acqua & Sapone          15.03
48 Denis Lunghi (Ita) Team Colpack-Astro                     16.02
49 Vitali Kokorine (Rus) De Nardi-Pasta Montegrappa          16.09
50 Freddy Gonzalez (Col) Selle Italia-Pacific                16.17
51 Marco Della Vedova (Ita) Lampre-Daikin                    16.20
52 Rafael Mateos Perez (Spa) Team Colpack-Astro              16.28
53 Timothy David Jones (Zim) Mobilvetta-Formaggi Trentini    16.55
54 Cristiano Frattini (Ita) Liquigas-Pata                    16.56
55 Paolo Tiralongo (Ita) Fassa Bortolo                       17.30
56 Ramon Bianchi (Ita) Liquigas-Pata                         17.33
57 Uros Murn (Slo) Mobilvetta-Formaggi Trentini              18.48
58 Milan Kadlec (Cze) Mobilvetta-Formaggi Trentini           19.16
59 Alessandro Cortinovis (Ita) Team Colpack-Astro            19.51
60 Stefano Cattai (Ita) Liquigas-Pata                        19.52
61 Torsten Hiekmann (Ger) Team Deutsche Telekom              19.59
62 Fabio Marchesin (Ita) Liquigas-Pata                       19.59
63 Ronny Scholz (Ger) Gerolsteiner                           20.25
64 Gianpaolo Mondini (Ita) Mercatone Uno-Stream              21.28
65 Frank Bouyer (Fra) Bonjour                                21.39
66 Sylvester Szmyd (Pol) Tacconi Sport-Vini Caldirola        22.05
67 Mariano Piccoli (Ita) Lampre-Daikin                       22.11
68 Vladimir Duma (Ukr) Ceramiche Panaria-Fiordo              22.19
69 Rinaldo Nocentini (Ita) Mapei-Quick Step                  23.45
70 Moreno Pezzé (Ita) Tacconi Sport-Vini Caldirola           24.04
71 Fortunato Baliani (Ita) Selle Italia-Pacific              24.25
72 Luca Mazzanti (Ita) Fassa Bortolo                         24.39
73 Pietro Zucconi (Swi) Tacconi Sport-Vini Caldirola         24.45
74 Davide Bramati (Ita) Mapei-Quick Step                     24.45
75 Mario Scirea (Ita) Saeco Macchine Per Caffé               24.49
76 Franco Pellizotti (Ita) Alessio                           25.07
77 Francesco Secchiari (Ita) Saeco Macchine Per Caffé        25.19
78 Pavel Padrnos (Cze) Saeco Macchine Per Caffé              25.21
79 Oscar Pozzi (Ita) Fassa Bortolo                           26.49
80 Slawomir Kohut (Pol) Amore & Vita Beretta                 26.57
81 Paolo Fornaciari (Ita) Mapei-Quick Step                   26.57
82 Julio Alberto Perez (Mex) Ceramiche Panaria-Fiordo        27.53
83 Alberto Ongarato (Ita) Mobilvetta-Formaggi Trentini       27.57
84 Igor Pugaci (Mda) Saeco Macchine Per Caffé                28.35
85 Riccardo Forconi (Ita) Mercatone Uno-Stream               29.12
86 Ralf Grabsch (Ger) Team Deutsche Telekom                  29.58
87 Thomas Voeckler (Fra) Bonjour                             30.06
88 Dmitri Konyshev (Rus) Fassa Bortolo                       30.30
89 Andrea Brognara (Ita) Alexia Alluminio                    30.32
90 Leonardo Scarselli (Ita) Selle Italia-Pacific             30.40
91 Yauheni Seniusnkine (Blr) Ceramiche Panaria-Fiordo        30.40
92 Giuseppe Guerini (Ita) Team Deutsche Telekom              30.40
93 Massimo Podenzana (Ita) Mercatone Uno-Stream              31.04
94 Francois Simon (Fra) Bonjour                              31.08
95 Gianni Gobbini (Ita) Team Colpack-Astro                   31.35
96 Alessandro Bertolini (Ita) Alessio                        31.58
97 Guido Trenti (USA) Cantina Tollo Acqua & Sapone           32.18
98 Nicola Loda (Ita) Fassa Bortolo                           32.18
99 Thomas Muhlbacher (Aut) Gerolsteiner                      32.50
100 Uwe Peschel (Ger) Gerolsteiner                           32.52
101 Adolfo Garcia (Spa) iBanesto.com                         32.56
102 Massimo Strazzer (Ita) Mobilvetta-Formaggi Trentini      33.09
103 Anthony Charteau (Fra) Bonjour                           34.20
104 Michele Colleoni (Ita) Team Colpack-Astro                35.22
105 Marco Pinotti (Ita) Lampre-Daikin                        35.32
106 Stephan Schreck (Ger) Team Deutsche Telekom              35.44
107 Kamil Wolski (Pol) Amore & Vita Beretta                  36.41
108 Hidenori Nodera (Jpn) Team Colpack-Astro                 37.54
109 Giovanni Lombardi (Ita) Team Deutsche Telekom            38.40
110 Igor Kranjec (Slo) De Nardi-Pasta Montegrappa            38.41
111 Dario Andriotto (Ita) Alexia Alluminio                   39.15
112 Cristian Auriemma (Ita) Alexia Alluminio                 39.15
113 Frederic Mainguenaud (Fra) Bonjour                       40.29
114 Juan Manuel Garate (Spa) Lampre-Daikin                   41.23
115 Giuseppe Di Fresco (Ita) Mercatone Uno-Stream            41.28
116 Mario Cipollini (Ita) Saeco Macchine Per Caffé           42.07
117 Matteo Carrara (Ita) Team Colpack-Astro                  43.43
118 Giancarlo Raimondi (Ita) Liquigas-Pata                   43.43
119 Marius Sabaliauskas (Ltu) Saeco Macchine Per Caffé       43.47
120 Nicola Chesini (Ita) Tacconi Sport-Vini Caldirola        44.03
121 Aitor Osa Eizaguirre (Spa) iBanesto.com                  44.17
122 Giuseppe Panetta (Ita) De Nardi-Pasta Montegrappa        44.17
123 Marco Gili (Ita) Tacconi Sport-Vini Caldirola            45.17
124 Giuseppe Palumbo (Ita) De Nardi-Pasta Montegrappa        45.31
125 Dmitri Sedoun (Rus) De Nardi-Pasta Montegrappa           47.04
126 Moreno Di Biase (Ita) Mobilvetta-Formaggi Trentini       47.33
127 Domenico Gualdi (Ita) Mobilvetta-Formaggi Trentini       47.53
128 Marek Wesoly (Pol) Amore & Vita Beretta                  47.59
129 Andris Nauduzs (Lat) Selle Italia-Pacific                48.09
130 Robert Bartko (Ger) Team Deutsche Telekom                48.12
131 Corrado Serina (Ita) Alexia Alluminio                    48.32
132 Fabrice Salanson (Fra) Bonjour                           52.41
 
Sprints classification
 
1 Rafael Mateos Perez (Spa) Team Colpack                    10 pts
2 Mariano Piccoli (Ita) Lampre-Daikin                        6
3 Matteo Carrara (Ita) Team Colpack                          6
4 Pascal Herve (Fra) Alexia Alluminio                        6
5 Marco Pinotti (Ita) Lampre-Daikin                          4
6 Ruslan Ivanov (Mda) Alessio                                4
7 David Latasa Lasa (Spa) iBanesto.com                       2
8 Massimo Giunti (Ita) Cantina Tollo Acqua & Sapone          2
9 Giuseppe Palumbo (Ita) De Nardi-Pasta Montegrappa          2
 
Mountains classification
 
1 Ruslan Ivanov (Mda) Alessio                               18 pts
2 Laurent Dufaux (Swi) Saeco Macchine Per Caffe              8
3 Francesco Casagrande (Ita) Fassa Bortolo                   8
4 Stefano Cattai (Ita) Liquigas-Pata                         6
5 Denis Lunghi (Ita) Team Colpack                            4
6 Pascal Herve (Fra) Alexia Alluminio                        4
7 Hernan Buenahora Gutierrez (Col) Selle Italia-Pacific      4
8 Leonardo Piepoli (Ita) iBanesto.com                        4
9 Fortunato Baliani (Ita) Selle Italia-Pacific               4
10 Jose Luis Arrieta (Spa) iBanesto.com                      3
11 Massimiliano Gentili (Ita) Cantina Tollo Acqua & Sapone   2
12 Danilo Di Luca (Ita) Cantina Tollo Acqua & Sapone         2
13 Vladimir Duma (Ukr) Ceramiche Panaria-Fiordo              2
14 Raimondas Rumsas (Ltu) Fassa Bortolo                      2
16 Freddy Gonzales (Col) Selle Italia-Pacific                2
17 Giuliano Figueras (Ita) Ceramiche Panaria-Fiordo          1
18 Luca Mazzanti (Ita) Fassa Bortolo                         1
 
Young rider classification
 
1 Giuliano Figueras (Ita) Ceramiche Panaria-Fiordo          14 pts
2 Andris Naudusz (Lat) Selle Italia                          6
3 Serguei Yakovlev (Kaz) Cantina Tollo Acqua & Sapone        6
4 Saza Gajicic (Yug) Alessio                                 6
5 Gerhard Trampusch (Aut) Team Deutsche Telekom              6
6 Matteo Carrara (Ita) Team Colpack                          4
7 Marek Wesoly (Pol) Amre & Vita-Beretta                     2
 
Foreign rider classification
 
1 Raimondas Rumsas (Ltu) Fassa Bortolo
2 Alexsandr Shefer (Kaz) Alessio
3 Peter Luttenberger (Aut) Tacconi Sport-Vini Caldirola
4 Sergey Gontchar (Ukr) Liquigas-Pata
5 Georg Totschnig (Aut) Gerolsteiner