News for April 2, 2001
Recent results and new features
Lotto looks likely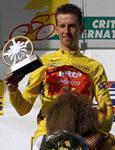 Rik Verbrugghe of Lotto

It's been a great weekend for Lotto, with Rik Verbrugghe winning two stages of the Criterium International and the overall classification, and Andre Tchmil victorious in Saturday's GP E3-Harelbeke. Lotto is therefore currently looking like the strongest team not yet selected for the Tour de France, and it would be surprising if the Tour's organiser's don't recognise this when the next wildcard entries are announced at the end of April.

Of the other significant teams still unselected for the Tour, Mercury-Viatel has also had a strong early season, with Peter Van Pegem's win at Kuurne-Bruxelles-Kuurne and strong showing in Paris-Nice likely to catch the eye of Tour organisers, who may also consider the publicity benefits outside Europe of having two American teams in the Tour.

Other expected contenders have put in much weaker showings. Marco Pantani has yet to finish a stage race and failed to shine in Milan-San Remo, though his track record as a Tour attraction may still be enough to get Mercatone-Uno in. Saeco has yet to really show, though Cipollini's second in Milan-San Remo should help while French teams like Française des Jeux have been loitering in obscurity. CSC-World Online has suffered from the sidelining of Lauren Jalabert after a domestic accident.
Ochoa stable after move
Javier Ochoa was moved to the Cruces Hospital in Bilbao at the end of last week. According to the first medical report issued by the hospital, his condition remains much as it was in the Carlos Haya Hospotal in Málaga, where he was initially treated after the accident that severely injured him and killed his brother in February.
Ochoa remains able to breathe unassisted, and is showing blood oxygenation and haemoglobin levels within normal limits. Otherwise, his condition remains as last week.
The hospital says it will issue information on Ochoa's progress "when significant changes take place, and with the permission of the family."
GP Miguel Indurain
April 7's GP Miguel Indurain was launched on Saturday in Ayegui, Navarre, where the races starts and finishes. According to José Antonio Osés, president of the organisers, Club Ciclista Estella, the list of riders enrolled to start includes: Stefano Garzelli (Mapei-Quick Step), Angel Luis Casero Moreno (Festina), Marco Pantani (Mercatone Uno-Albacom), José Luis Arrieta Lujambio (iBanesto.com) Santiago Blanco Gil (iBanesto.com), Santiago Botero Echeverry (Kelme-Costa Blanca) and Joseba Beloki Dorronsoro (O.N.C.E.).
15 teams will be represented in the third edition of the GP Miguel Indurain, the only major road race of the year in Navarre. The 189km route passes through Pamplona, and takes in several significant climbs, which are expected to be well-manned with spectators. These include the second category Arriba, third category Guirguillano, and Alto de El Perdón, and the first category Echauri, traditionally the crucial point of the race.
The race has a UCI rating of 1.3 and a total budget of 16 million pesetas (US$84,000) with first place prize money of 425,000 pesetas (US$2,200), 212,000 (US$1,100) for second, 143,000 (US$750) for third and from 117,000 (US$600) to 17,000 (US$90) for fourth down to twenty-fifth.
The race was first run in 1951 as the GP Navarra and was later known as the Trofeo Comunidad Foral de Navarra. Previous winners include last year's victor Miguel Angel Perdiguero, Stefano Garzelli, Francisco Mancebo, Mikel Zarrabeitia, Alex Zulle, Johnny Weltx, Julián Gorospe, Pedro Delgado and Miguel Indurain.
Spanish national championships
The Spanish professional national road race and time trial championships will take place in Leon between June 28 and July 1 after an agreement signed on Friday by the mayor Mario Amilivia, and the president of the Federación Española de Ciclismo, Manuel Pérez.
Pérez said he was pleased with the decision to site the championships in Leon because "although many capitals in the South asked for it, there is a great love of cycling in the North, and many riders will be happy about this selection."
The national championships in other categories will run from September 14 to 17.
Vuelta Ciclista al País Vasco
Spain also hosts the next major international stage race, the 2.HC category Vuelta Ciclista al País Vasco, or Tour of the Basque Country. Marco Pantani has already said this will be his next stage race outing, and he hopes to be in better condition than for the Semana Catalana, which he abandoned on stage four.
For many teams, especially Italian ones, this will be essential preparation for the Giro d'Italia and the serious contenders include Pantani, Francesco Casagrande, Davide Rebellin and Dario Frigo, recent winners of Tirreno-Adriatico and paris-Nice; Alex Zulle the winner in 95 and 97; last year's winner Andreas Kloden and Semana Catalan winner Michael Boogerd.
Stages
Stage 1 - April 9: Asteasu-Asteasu, 118km
Stage 2 - April 10: Asteasu- Mungia, 175km
Stage 3 - April 11: Mungua-Araia, 162km
Stage 4 - April 12: Araia-Lekunberri, 182km
Stage 5a - April 13: Lekunberri-Lasarte Oria, 100km
Stage 5b - April 13: Lasarte Oria-Lasarte Oria, 10.2km
Team Stuttgart launch
German women's squad Team Stuttgart was presented on Saturday at the HQ of sponsor Shimano, in the presence of Shimano Inc president Yoshi Shimano.
Measured by championship medals, Team Stuttgart was the most successful women's team in German last year with one German championship and two silvers. The team was third in the federal league.
After some members turned professional for 2001 the team has been strengthened by the addition of former European champion Regina Schleicher and German junior time trial champion Sarah Düster.
Team Stuttgart will concentrate on races in Germay and Switzerland, and will take part in at least five stage races..
Team Stuttgart is:
Manager
Olaf Janson
Riders
Annette Griner
Jenny Held
Katrin Beilharz
Anja Ritter
Johanna Stephan
Regina Schleicher
Sarah Düster
Nicole Faust
Recent results and new features on cyclingnews