MTB index page for all MTB content
Bundesliga XCO - 1/3
Münsingen, Germany, April 19, 2009
2008 results Results Past winners
Näf and Kalentieva win World Cup warm up
Wengelin fastest among Under 23s
Ralf Naef (Multivan Merida Biking Team) wins
Photo ©: Armin M. Küstenbrück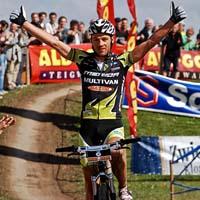 Ralph Näf and Irina Kalentieva won the 23rd Mountain Bike Spring Classic in Münsingen, Germany on Sunday while Matthias Wengelin beat the rest of the Under 23s
The German season opener in Münsingen, one week before the Offenburg World Cup, drew a top field and a big crowd. Both the men's and women's winner of the previous weekend's World Cup in Pietermaritzburg, South Africa, were on hand.
A four-man lead group formed when Marco Aurelio Fontana had a crash in the first lap and Jose Antonio Hermida also found himself at the back and in trouble. Ralph Näf (Multivan-Merida), Martin Gujan (Cannondale), Moritz Milatz (Multivan-Merida) and his teammate Jochen Käss got away.
Fontana was in fourth when he crashed near the finish line on the opening lap. "I jumped over a rock section and crashed in the landing. My bar was turned up because I landed on the right bar end. In the next laps, I realized it must have broken and it came totally loose on lap six, and I could not finish the race. That's bad luck because my legs were really good," Fontana said from the sidelines.
Näf, after skipping the World Cup due to illness, was the strongest and Gujan overdid it by trying to follow him. Gujan suffered cramps and Milatz and Käss passed him to create an all-Merida team break.
Irina Kalentieva (Topeak / Ergon)
Photo ©: Armin M. Küstenbrück

"My team trusted me after being sick and this is my thank you to them," Näf said after what was his second win in Münsingen. He also won this race in 2007.
Milatz took second while Käss finished third. Gujan was fourth. Frenchman Julien Absalon (Orbea) was sick after his South Africa trip and therefore did not compete for the win, but he still battled Hermida for fifth place.
The women's competition was not decided until the last lap. Irina Kalentieva (Topeak-Ergon) and Elisabeth Osl (central GHOST Pro Team) stayed off the front for much of the race together. On the last climb, Kalentieva attacked and took her first win at German spring classics.
"Finally I got the victory after some second and third places here. It's something special to win here," said Kalentieva after her win despite a crash in the first lap.
Tim Lemmers and Andy Eyring drive the pace
Photo ©: Armin M. Küstenbrück

World cup winner Osl was okay with her second place. "I knew she would come. But I'm very optimistic for Offenburg World Cup next sunday," Osl said.
Osl's teammate Sabine Spitz showed an improvement in her performance and took third place ahead of Adelheid Morath (Rothaus-Cube) and Mary McConneloug (Kenda Seven Cycles).
"The result and also how I'm feeling is making me more confident for Offenburg," said Spitz, who's form has been slow in coming this season.
Mona Eiberweiser (SKS M.I.G.Team / Ski & Bike)
Photo ©: Armin M. Küstenbrück

In the Under 23 men's competition, more than 100 riders out of ten nations supported the UCI categorized event. Matthias Wengelin (Swedish National Team) took the win with a long solo ride. Josef Kamler (Ceska Sporitelna) came in as second, just ahead of Lukas Kaufmann (Rothaus-Cube).
"I felt very good, and I had a lot of fun riding through the bike park," Wengelin said.
The Mountainbike Spring Classic in Münsingen is the oldest mountain bike race in Germany. It was the 23rd consecutive edition. More than 1,200 competitors from 18 nations joined the event.
In a warm-up to the cross country, a sprint race held Saturday, Ralph Näf and Alexandra Engen (Swedish National Team) won. Näf beat Hermida and Milatz while Alexandra Engen (Swedish National Team) defeated Claudia Seidel (Ghost) and Ines Thoma (SKS-MiG)
Photography
For a thumbnail gallery of these images, click here
Images by Armin M. Küstenbrück
Results
Elite men

1 Ralf Naef (Swi) Multivan Merida Biking Team               1.43.12
2 Moritz Milatz (Ger) Multivan Merida Biking Team              1.29
3 Jochen Käß (Ger) Multivan Merida Biking Team                 1.59
4 Martin Gujan (Swi) Cannondale Factory Racing                 2.39
5 Jose Antonio Hermida (Spa) Multivan Merida Biking Team       2.44
6 Julien Absalon (Fra) ORBEA                                   2.55
7 Milan Spesny (Cze) Ceska sporitelna MTB team                 3.43
8 Robert Mennen (Ger) Topeak-Ergon Racing Team                 4.47
9 Rudi van Houts (Ned) Multivan Merida Biking Team             5.41
10 Hannes Genze (Ger) Multivan Merida Biking Team              6.01
11 Pierre Geoffroy Plantet (Ger) LAPIERRE INTERNATIONAL        6.09
12 Fabian Giger (Swi) SKS M.I.G. Team                          6.27
13 Thomas Litscher (Swi) SKS M.I.G. Team                       6.47
14 Karl Markt (Aus) Team SRM Stevens                           7.12
15 Klaus Nielsen (Den) Team Pronghorn Racing                   7.26
16 Hannes Metzler (Aut) Vaude-Simplon                          7.38
17 Bjorn Brems (Bel) Team Saeco                                7.43
18 Rene Tann (Ger) Fuji Bike Europe                            8.03
19 Karl Platt (Ger) Team Bulls                                 8.22
20 Balz Weber (Swi) DS-RENNSPORT                               8.31
21 Pascal Meyer (Swi) Sks M.I.G Team                           8.39
22 András Parti (Ger) Team SRM Stevens                         8.49
23 Stefan Sahm (Ger) Team Bulls                                9.22
24 Olaf Rochow (Ger) Team Fuji Bikes Europe                    9.38
25 Nicola Rohrbach (Swi) central GHOST Pro Team                9.49
26 Tomas Trunschka (Cze) Ceska sporitelna MTB team             9.53
27 Daniel McConnell (Aus) SouthAustralia.com                  10.16
28 Anders Ljungberg (Swe) TEAM FIREBIKE                       10.25
29 Uwe Hochenwarter (Aut) Südtirol Rainer-Wurz Team AVS       10.43
30 Tim Böhme (Ger) Team Bulls                                 11.17
31 Frank Lehmann (Ger) Rothaus-Cube MTB Team                  12.22
32 Thomas Bonne (Den) Team Rivette                            13.02
33 Christopher Maletz (Ger) Zweirad-Riese RT                  14.00
34 Andi Weinhold (Ger) Team FUJI-BIKES                        14.00
35 Steffen Greger (Ger) Multivan Merida Road-Team             15.08

Lapped

36 Jochen Coconcelli (Ger) Team Jmaster Racing powered by          
37 Benjamin Rudiger (Ger) Rothaus-Cube MTB Team                    
38 Thomas Dietsch (Ger) Team Bulls                                 
39 Christian Eckart (Ger) Zwillingscraft                           
40 Michael Broderick (USA) Kenda Seven Cycles                      
41 Marco Schätzing (Ger) Zwillingscraft / SSV Mounty Al            
42 Andy Römhild (Ger) Team GERMINA                                 
43 Chun Hing Chan (HKg) Team Hong Kong                             
44 Daniel Federspiel (Aut) Team SRM Stevens                        
45 Ian Bibby (GBr) Great Britiain                                  
46 Uwe Hardter (Ger) Rothaus-Cube MTB Team                         
47 Thomas Pfrommer (Ger) Team Radax / Aktin                        
48 Anders Hovdenes (Nor) Team ETTO Hoydahl                         
49 Sebastian Mordmüller (Ger) FOCUS Bad Salzdetfurth racing        
50 Sebastian Bergmann (Ger) Ghost Racing Team, Verein: ESV         
51 Sascha Schwindling (Ger) Endorfin-Solvis                        
52 Kilian Pfeffer (Ger) Team Cmtb                                  
53 Michael Stieglbauer (Ger) Sportivo St.Englmar/Trek Team         
54 Sebastian Weigel (Ger) Zweirad- Riese RT                        
55 Christoph Hopp (Ger) Zweirad-Riese RT                           
56 Robert Michaelis (Ger) powersilde- racing                       
57 Guido Thaler (Aut) corratec world team                          
58 Michael Wießner (Ger) URC Wals-Siezenheim                       
59 Michael Hutter (Swi) Pink Gili Swiss                            
60 Frederick Thöni (Aut) Team Pirchnerbau                          
61 Gerrit Rosenkranz (Ger) Bergwerk                                
62 Benjamin Brochhagen (Ger) Topeak Ergon Racing                   
63 Alexander Speisekorn (Ger) Team nolte-küchen                    
64 Torsten Walter (Ger) Team Orbea Deutschland                     
65 Severin Schweisguth (Ger) Ghost Racing Team                     
66 Jo Nordskar (Nor) Team ETTO Hoydahl                             
67 Markus Lang (Ger) Radfreunde Hilpoltstein                       
68 Sebastian Muth (Ger) Orbea MTB Sport                            
69 Alexander Lomakin (Rus) Author Racing                           
70 Daniel Elsässer (Ger) Team Bikemax/Voitl                        
71 Marcell Grüner (Aut) URC-Ötztal, Sölden                         
72 Johannes Thumm (Ger) MTB-Teck                                   
73 Pierre Meilick (Ger) RSG Zollern Alb/Gonso-Rawoflex             

Elite women

1 Irina Kalentyeva (Rus) Topeak-Ergon Racing Team           1.33.34
2 Elisabeth Osl (Aut) central GHOST Pro Team                   0.16
3 Sabine Spitz (Ger) central GHOST Pro Team                    0.58
4 Adelheid Morath (Ger) Rothaus-Cube MTB Team                  1.19
5 Mary Mcconneloug (USA) Kenda/Seven Cycles                    2.42
6 Julie Krasniak (Fra) Team Look                               3.21
7 Hanna Klein (Ger) Rothaus-Cube MTB Team                      3.38
8 Ivonne Kraft (Ger) Team Haibike                              6.02
9 Barbara Benkò (Ger) Rothaus-Cube MTB Team                    6.15
10 Anja Gradl (Ger) Central- GHOST- Pro Team                   6.34
11 Githa Michiels (Bel) Team Saeco                             7.15
12 Nina Wrobel (Den) Multivan Merida Biking Team               8.23
13 Alexandra Engen (Swe) Swedish National Team                 8.29
14 Annika Langvad (Den) HMTBK                                  8.57
15 Katherine Oshea (Aus) Torq Nutrition                        8.57
16 Sharon Laws (GBr) Great Britain                             9.08
17 Silke Schmidt (Ger) Fuji Bikes Europe                       9.14
18 Claudia Seidel (Ger) Ghost Racing                           9.14
19 Annie Last (GBr) Great Britain                              9.32
20 Melanie Späth (Irl) Cycleways                              10.15
21 Tatjana Dold (Ger) Fuji-Bikes Europe                       10.46
22 Katrin Schwing (Ger) Trek                                  13.32
23 Kajsa Snihs (Swe) Swedish National Team                    14.33
24 Zoe King (Aus) Australia                                   15.43
25 Claudia Siedler (Ger) Südtirol Rainer-Wurz Team AVS        18.47
26 Nadine Rieder (Ger) FBI racingteam.youngstars              19.19
27 Nina Kunz (Ger) Merida Deutschland                         19.48

Lapped

28 Silja Vetter (Ger) SC Hausach Neumayer Tekfor                   
29 Lily Matthews (GBr) Great Britian                               
30 Catherine Lohri (Swi) Free Mountain - Koba                      
31 Jana Valesova (Cze) Ceska sporitelna MTB team                   
32 Ines Thoma (Ger) SKS M.I.G. Team / SSV Wildpold                 
33 Sarah Holmes (Aus) MTBA                                         
34 Charline Merklin (Ger) Cannondale-Team Wein                     
35 Elisabeth Brandau (Ger) Team Haibike                            
36 Kim-Julia Gerlach (Ger) Gecko YoungWild                         
37 Angelina Siefert (Ger) Team Focus                               

Under 23 men

1 Matthias Wengelin (Swe) Swedish National Team             1.24.23
2 Josef Kamler (Cze) Ceska sporitelna MTB team                 2.11
3 Lukas Kaufmann (Ger) Rothaus-Cube MTB Team                   2.13
4 Henk Jaap Moorlag (Ned) De Brink - Ten Tusscher              2.36
5 Tim Lemmers (Ned) De Brink - Ten Tusscher                    2.47
6 Mattias Nilsson (Swe) Swedish National Team                  3.27
7 Simon Gegenheimer (Ger) Team MayerArbeitsbühnen/STEVEN       3.33
8 Felix Euteneuer (Ger) Rothaus-Cube MTB Team                  3.41
9 Heiko Gutmann (Ger) Rothaus-Cube MTB Team                    3.48
10 Andy Eyring (Ger) Team Marin Bikes/RWV Haselbach            4.28
11 Matej Nepustil (Cze) Ceska sporitelna MTB team              4.31
12 Rob Vangenechten (Bel) Team Saeco                           4.32
13 Sebastian Szraucner (Ger) Team Fuji-Bikes Europe            4.32
14 Simon Scheiber (Aut) Sunshine Racers ASV Nals               4.49
15 Fabien Canal (Fra) LAPIERRE INTERNATIONAL                   5.45
16 Markus Bauer (Ger) LEXWARE RACING TEAM                      6.01
17 Marcel Fleschhut (Ger) LEXWARE RACING TEAM                  6.01
18 Erik Groen (Ger) De Brink - Ten Tusscher                    6.20
19 David Fletcher (GBr) Great Britian                          6.28
20 Cal Britten (Aus) TORQ PERFORMANCE NUTRITION                6.32
21 Alexander Gehbauer (Aut) Radclub ARBÖ ASKÖ Klagenfurt       7.54
22 Vero Lüscher (Ger) Team MayerArbeitsbühnen/STEVEN           8.30
23 Rumen Voigt (Ger) Mühle Racing Team                         8.34
24 Matthias Hoi (Aut) Team Fuji Bikes Europe                   8.38
25 Tom Ettlich (Ger) White Rock                                9.01
26 Florian Schön (Ger) Scott Genius Generation/RSV Ba          9.14
27 Danny Neumann (Ger) NRW Landeskader / Team Bergamo          9.20
28 Günther Huber (Ger) Südtirol Rainer-Wurz Team AVS           9.33
29 Tommy Galle (Ger) Zweirad- Riese RT                         9.48
30 Marc Mensebach (Ger) SKS M.I.G Team                        10.04
31 Philipp Maximilian Daum (Ger) Team HAIBIKE                 10.28
32 Rupert Palmberger (Ger) Vaude-Simplon                      10.33
33 Jelmer Jubbega (Ned) De Brink-Ten Tusscher                 10.40
34 Marcel Braun (Ger) eleven/Radon Team                       10.43
35 Valentin Fiderer (Ger) Bergamont Race Team RSV Hochsc      10.50
36 Sebastian Hilbe (Ger) KRAFTSTOFF                           11.29
37 Simon Qvortrup (Den) SIF Cykling                           11.54
38 Florian Thaller (Ger) Team Zwillingscraft                  12.01
39 Stefan Schairer (Ger) RSG Zollern Alb/Gonso-Rawoflex       12.21
40 Henrik Hoffmann (Ger) NRW Landeskader / Team MERIDA-       12.35
41 Timo Modosch (Ger) Ghost Racing Team                       12.52
42 Markus Loisl (Aut) öamtc power biketeam windhaag           13.02
43 Andreas Kleiber (Ger) Team 2-Rad Schubert Allgäupowe       13.49
44 Yves Kellogg (Ger) Endorfin Solvis                         14.14
45 Julian Schwendemann (Ger) Endorfin Solvis                  14.30
46 Matthias Leisling (Ger) SV Wacker Burghausen               14.55
47 Philipp Ziegler (Ger) FxSports/SG Sparkasse Mainfran       15.20
48 Kai Kautz (Ger) Team Radsport F&W                          15.54
49 Daniel Staub (Ger) Team Haibike                            17.23

Lapped

50 Ludwig Doehl (Ger) BIKE Junior Team                             
51 Ernst Schwarz (Ger) RSV Team Auto-Riedel Schwarzen              
52 Patrick Titus (Ger) BIKE Junior Team                            
53 Mario Waibel (Ger) Team Cmtb                                    
54 Michael Führmann (Ger) Redheads Team                            
55 Markus Ziegler (Ger) SC Hausach Neumayer Tekfor                 
56 Svante Johanßon (Ger) Powerslide racing                         
57 Janosch Bühler (Ger) Deter Optik / Röhis Bikes                  
58 Christian Mai (Ger) SC Hausach Neumayer Tekfor                  
59 Sascha Nething (Ger) Team Bergamont                             
60 Peter Hermann (Ger) Team Berg Germany                           
61 Oliver Vonhausen (Ger) Ghost Racing Team                        
62 Elias Neubert (Ger) RSV Team Auto-Riedel Schwarzen              
63 Johannes Közle (Ger) Team Cmtb                                  
64 Pierre Happel (Ger) Team YoungWild.de                           
65 Martin Hankele (Ger) MSC Gerstetten/Fun & Bike                  
66 Benjamin Oesterle (Ger) MHW Cube Racing Team                    
67 Björn Herrmann (Ger) Bergamont Race Team RSV Hochsc             
68 Jens Ostwaldt (Ger) Powerslide Racing                           
69 Matthias Ulrich (Ger) RSF Niederlinxweiler / MTB Tea            
70 Lukas Bruder (Ger) TuS Oppenau                                  
71 Robin Oster (Ger) Milan-Racing Team                             
72 Simon Staufner (Ger) Team Cmtb                                  
73 Vitus Wagenbauer (Ger) Corratec World Team                      
74 Tom Fritsch (Ger) RSG Zollern Alb/Gonso-Rawoflex                
75 Lukas Haasis (Ger) RSG Zollern Alb/Gonso-Rawoflex               
76 Konstantin Jung (Ger) FxSports/ SG SPakasse Mainfran            
77 Ralf Genal (Ger) Schneelaufverein Ravensburg                    
78 Alexander Fischer (Ger) Sabine Spitz Junior team                
79 Kevin Waibel (Ger) Team Cmtb                                    
80 Torsten Lehmann (Ger) Team Nolte-Küchen                         
81 Phil Herbst (Ger) TEAM FOCUS                                    
82 Tim Kunze (Ger) MSC Gerstetten                                  
83 Jonathan Roth (Ger) RMSV Langenbrand                            
84 Christian Lindner (Ger) IBC Dimb Racing Team                    
85 Stephan Meier (Ger) Sabine Spitz Junior Team                    
86 Olaf Niogga (Ger) Kirkel                                        
87 Steffen Weisenseel (Ger) RWV Haselbach/Bikeworld-Brand          
88 Benjamin Merkel (Ger) RMSV Langenbrand                          
89 Andreas Muckenhirn (Ger) Bike Crew Münsterthal                  
90 Erik Winter (Ger) KSW-Radsport                                  

Under 19 men

1 Julian Schelb (Lexware Racing Team)                       1.16.25
2 Jonas Pedersen (Team T-Bikes)                                1.23
3 Markus Schulte-Lünzum (SKS M.I.G. Team)                      1.33
4 Martin Gluth (Team Bulls)                                    1.57
5 Marcus Nicolai (Team Bulls/TSV Dettingen/Erms)               3.57
6 David Simon (racingteam.youngstars)                          5.03
7 Timo Müller (Team Bergamont/TSV Dettingen/E)                 5.12
8 Wenzel Böhm-Gräber (SKS MIG TEAM)                            5.47
9 Sascha Bleher (SKS Made in Germany Team/TSV D)               6.27
10 Anselm Wüllner (NRW Landeskader / Team MERIDA-)             7.02
11 Michael Millerferli (URC Bikerei)                           7.09
12 Jan Pfitzner (Liteville)                                    7.11
13 Adrian Sauer (TuS Oppenau)                                  7.31
14 Marco Tippmann (nolte küchen)                               8.13
15 Christopher Schwab (NORA Racing Team)                       8.22
16 Benjamin Dorn (Stevens Racing Team)                         8.29
17 Falk Baron (biker-boarder.de)                               9.04
18 Tobias Kummle (VBC Waldshut-Tiengen)                        9.12
19 Michael Forster (Zwillingscraft)                            9.22
20 Matthias Reichart (RV Lindau)                               9.23
21 Pascal Hempel (Team-Steinlach-Wiesaz)                       9.32
22 Frederik Keldsen (Team T-Bikes)                             9.47
23 Patrick Marcher (Südtirol Rainer-Wurz Team AVS)             9.54
24 Lysander Kiesel (Capic Team/SSV Wildpoldsried)             10.12
25 Frederik Mörkeberg Mikkelsen (Team Rivette)                10.17
26 Jan Luorada (Ceska sporitelna MTB team)                    10.20
27 Daniel Waibel (Team Cmtb)                                  10.20
28 Lukas Kuch (Team nolte-küchen)                             10.23
29 Philipp Knüttel (SCMK Hirschau)                            10.42
30 Philipp Scheläschuß (Team Koch - Engineering)              10.51
31 Markus Zöller (Bergamont)                                  10.57
32 Maxi Maier (MTB Club München)                              11.13
33 Lukas Holtkamp (ATV Haltern am See)                        11.21
34 Alexander Laugesen (Århus 1900 MTB)                        11.24
35 Jan Carlsen (Cube)                                         11.50
36 Martin Schiefer (SC Rosenheim)                             12.00
37 Martin Knöpfle (Lexware Racing Team)                       12.01
38 Max Weber (MHW Cube Racing Team)                           12.33
39 Jan-Nils Preus (Bike Work Desch/ RFC-Rossbach)             13.07
40 Kristian Axelsen (Team Rivette)                            13.08
41 Gregor Raggl (Hai PowerBike Team Haiming)                  13.48
42 Raphael Freienstein (Team Orbea Deutschland)               13.56
43 Conrad Hüwe (White Rock)                                   14.07
44 Victor Nißle (Team Schneiderhan-Cube/TSV Det)              14.19
45 Dominik Ziegler (FxSports/SG Sparkasse Mainfran)           14.33
46 Marcel Pöter (ATV Haltern am See)                          14.39
47 Christian Pflug (BIKE Junior Team)                         14.40
48 Robin Sebastian Ries (Mr.Bike/Cube)                        15.05
49 Vadim Arko (URC.Bikerei.at)                                15.12
50 Marian Pablo Burkhardt (TV Oberlengenhardt/Team FUJI-B)    15.26
51 Philipp Richter (BikeSportBühne Bayreuth)                  15.34
52 Jan Waldman (Ceska sporitelna MTB team)                    16.15
53 Robert Traupe (Bergamont)                                  16.35
54 Alexander Köhler (Milan Race Team)                         16.46
55 Paul Schumacher (JBIS-Cycles)                              16.47
56 Sebastian Miller (Scott Team Heilenmann)                   16.50
57 Benjamin Bengl (Guttenberger & Partner)                    17.31
58 Ben Heider (Team Merida-Schulte)                           17.31
59 Raphael Bauer (MTB Teck)                                   17.53
60 Alexander Dandl (Team-Steinlach-Wiesaz)                    18.48
61 Felix Günter (Bergamont Race Team RSV Hochsc)              18.56
62 Jan-Eric Müller (MHW Cube Racing Team)                     19.59
63 Joseph Kuhn (TBR Bikes)                                    21.37
64 David Büschler (RV Schwalbe Eppelborn/Bike Aid)            23.15

Lapped

65 Stefan Braun (RSV Staubwolke Haslach)                           
66 Lucas Stix (MTB-Teck/Team nolte-küchen)                         
67 Marius Reiber (Team Gecko YoungWild)                            
68 Matthias Lauer (landeskader saar/bike-aid)                      
69 Marcus Macicek (BikeSportBühne Bayreuth, Merid)                 
70 Raoul Luzolo (TV Mosbach)                                       
71 Marc Weyland (RSF Niederlinxweiler/Team 2exe)                   
72 Patrick Grabowski (GONSO-Rawoflex-Team/RSG Zoller)              
73 Rick Steffen (NRW Landeskader / Orbea MTB Sp)                   
74 Johannes Müller (Best-Bike-Parts/HAIBIKE / RFC-)                
75 Michael Feinauer (MHW Cube Racing Team)                         
76 Sebastian Feige (Team Jmaster racing powered by)                
77 Daniel Sauter (GONSO-Rawoflex-Team/RSG Zoller)                  
78 Bastian Knöpfle (Bike-Team-Gerstetten)                          
79 Christoph Streit (SC Urach / Team Orbea Deutschl)               
80 Jonas Müller (NRW Landeskader / Team Fuji-Bi)                   

Under 19 women

1 Mona Eiberweiser (SKS M.I.G.Team / Ski & Bike De)           49.59
2 Helen Grobert (Lexware Racing Team)                          1.02
3 Vanessa Mosch (NRW Landeskader / Orbea MTB Sp)               2.55
4 Julia Haase (TSV Böhringen Team BERGAMONT)                   5.05
5 Regina Genser (BIKE Junior Team / BSB Bayreut)               6.49
6 Sarah Bosch (Ghost Racing Team)                              7.16
7 Leonie Back (NRW Landeskader / Team MERIDA-)                 8.01
8 Theresa Wolfrum (FC Wüstenselbitz)                           9.33
9 Vanessa Tempcke (Radfreunde Hilpoltstein)                   10.17
10 Carolin Steudle (TSV Böhringen Koch Engineering)           10.26
11 Ann-Kathrin Scheläschuß (Team Koch - Engineering)          11.46
12 Franziska Rödel (RSC Hengen)                               11.51

Lapped

13 Stephanie Frank (Bergamont)                                     

Master men

1 Max Friedrich (Best-Bike-Parts / Haibike)                   26.59
2 Joachim Oechsner (ESV Bikesport Regensburg/GHOST)            0.21
3 Anatol Just (Snow+Bike Action/Specialized)                   0.44
4 Andreas Bair (HAI Powerbike Team Haiming)                    1.26
5 Michael Venus (El Toro)                                      1.42
6 Silvio Hauschild (radon-eleven)                              1.46
7 Stefan Mosch (ORBEA MTB SPORT)                               2.31
8 Michael Dehler (Radfreunde Hilpoltstein)                     3.52
9 Hans Dehler (Radfreunde Hilpoltstein)                        4.51
10 Otto Jun. Liedtke (RSV Löwe Gifhorn)                       23.04
11 Dirk Heumann (RSV Löwe Gifhorn)                            23.52

Past winners

1987	Wolfgang Irion (Rottweil)   Angelika Darsch (Hausen)
1988	Jürgen Eckmann (Ger)        Ursula Bader-Frommelt (Ger)
1989	Edgar Wintz (Ger)           Angelika Darsch (Ger)
1990	Mike Kluge (Ger)            Anneliese Weber (Ger)
1991	Ondrey Glajza (Cze)         Maria Knust (Ger)
1992	Miloslav Kvasnicka (Cze)    Eva Orvosova (Cze)
1993	Jürgen Sprich (Ger)         Maria Knust (Ger)
1994	Joachim Hagl (Ger)          Irene Pfab (Ger)
1995	Jan Ostergaard (Den)        Hanka Kupfernagel (Ger)
1996	Albert Iten (Swi)           Susanne Alfes (Ger)
1997	Michael Gronbech (Den)      Hedda zu Putlitz (Ger)
1998	Mike Kluge (Ger)            Regina Marunde (Ger)
1999	Matthias Mende (Ger)        Hedda zu Putlitz (Ger)
2000	Lado Fumic (Ger)            Hedda zu Putlitz (Ger)
2001	Carsten Bresser (Ger)       Sabine Spitz (Ger)
2002	Karl Platt (Ger)            Sabine Spitz (Ger)
2003	Peter Riis Andersen (Den)   Alla Epifanova (Rus)
2004	Jochen Käss, (Ger)          Gunn-Rita Dahle, (Ger)
2005	Gujan Martin, (Swi)         Gunn-Rita Dahle, (Ger)
2006	Martin Gujan (Swi)          Gunn-Rita Dahle (Nor)
2007	Ralph Näf (Swi)             Gunn-Rita Dahle (Nor)
2008	Wolfram Kurschat (Ger)      Sabine Spitz (Ger)