MTB index page for all MTB content
British National DH Series #2 - 2
Innerleithen, Great Britain, May 25, 2008
2007 Results Results
Atherton and Cathro win British national round two
Rachel Atherton (Animal Commencal)
Photo ©: www.ianlinton.com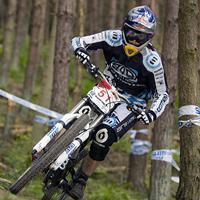 Ben Cathro (Mojo Orange) and Rachel Atherton (Animal/Commencal) won round two of the British National downhill series. While some racers, like Dan and Gee Atherton, were busy racing the Nissan Qasqhai event in central London, others headed to Innerleithen for a tight and twisty course for the National Series.
Dominating the weekend, Rachel Atherton won both the qualifying and final rounds of the elite women's race. With her final time, she would have finished 30th overall among all the men. Atherton bested former World Cup Champion Tracey Moseley (Kona) in qualifying. In the finals, she finished with at time of 3'09.10", a large eleven second margin on the second placed Moseley. Atherton leads the series with two of two victories so far.
In the elite men's race, Ben Cathro won round two with a time of 2'56.0. Gary Forrest (Sombrio) finished second just seven-tenths of a second behind while Joe Barnes (MTBcut.tv/Orange) finished third 2.9 seconds back.
Photography
For a thumbnail gallery of these images, click here
Images by www.ianlinton.com
Results

Elite men

1 Ben Cathro (Mojo Orange)                            2.56.0
2 Gary Forrest (Sombrio)                              0.00.7
3 Joe Barnes (MTBcut.tv/Orange)                       0.02.9
4 Neil Donoghue (Bike Radar)                          0.04.0
5 Chris Hutchens (Mojo Orange)                        0.04.8
6 Danny Hart (La Pierre/Saab Solomon)                 0.05.0
7 Ben Ineson (Solid)                                  0.05.9
8 Emyr Davies (Santa Cruz/Reverse)                    0.06.2
9 Ralph Jones (Dirt MTB Mag)                          0.07.0
10 Dave Smith (Santa Cruz Reverse)                    0.07.6
11 Robert Smith (Santa Cruz/Reverse)                  0.07.8
12 Ben Baker (Astrix Europe)                          0.08.6
13 Dan Stanbridge (Mojo/Orange)                       0.09.3
14 Will Longden (Bike Radar)                          0.10.1
15 Dan Critchlow (CRC Intense)                        0.11.4
16 Ashley Mullane (Cove/Race Face)                    0.11.6
17 Stuart Jenkinson (Foes Racing/Rockoil)             0.11.9
18 Nathan Vials (Yeti)                                0.12.2
19 James Hughes (Yeti/Reverse)                        0.12.8
20 Alistair Parkin (Santa Cruz/MTB Direct)            0.15.1
21 Tom Deacon (Ancillotti UK)                         0.16.6
22 Liam Little (Solid/Electric)                       0.18.0
23 Nikki Whiles (Team Skene)                          0.18.4
24 Scott Beaumont (Rocky Mountain UK)                 0.20.6
25 Fergus Lamb (Alpine Bikes)                         1.14.3
26 Dave Wardell (GT Bikes)                            1.15.0
27 Andrew Philips (Yeti UK)                           1.17.0
28 Scott Laughland (Santa Cruz/Reverse)               3.59.0

Elite women

1 Rachel Atherton (Animal/Commencal)                  3.09.1
2 Tracey Moseley (Kona)                               0.11.0
3 Katy Curd (Giant)                                   0.25.4
4 Sarah Newman (Balfa UK)                             0.37.0
5 Calamity-Jayne Cann (CF3)                           0.38.1
6 Haby-Blu Cann (EMBC/CF3)                            0.38.3
7 Aimee Dix (Mojo Orange)                             0.40.4

Junior men

1 Alastair Wilson (Ancillotti UK)                     3.06.6
2 Gareth Brewin (Descent-Gear.Com/Santa Cruz)         0.01.4
3 Bernard Kerr (Marzocchi/Millyard Racing)            0.02.1
4 James Scott (Cycle Jersey/Burgtec)                  0.04.0
5 Harry Heath                                         0.04.3
6 Harry Molloy (DMR/Resurgence/Mojo)                  0.05.3
7 Ewan Doherty (EZE Fitness)                          0.06.4
8 Kyle Farrow (Derry Air Cycles)                      0.07.1
9 Grant Garden (Team Ecosse)                          0.08.9
10 Sam Shucksmith (Ram Bikes UK)                      0.09.0
11 Joe Taylor (Mojo/Orange)                           0.09.5
12 Simon Parsons (Freedom Bikes)                      0.10.2
13 Joe Edge (Stendec)                                 0.11.2
14 Daniel Millard (Ecosse DH)                         0.11.3
15 Joe Flanagan (All Terrain Cycles)                  0.13.1
16 Jake Boylett (Dartmoor Cycles)                     0.14.5
17 Ryan Martin (Descend Hamsterley)                         
18 Alex Holowko                                       0.14.6
19 Ben Moorhouse (Ticket 2 Ride/Descent Gear)         0.17.6
20 Ben Rodgers (All Terrain Cycles)                   0.18.3
21 Ashley Maller (Knox)                               0.19.9
22 Robert Williams (Team Bicycle Doctor)                    
23 Aaron Shearer                                      0.20.9
24 Andrew Grant (Ecosse DH Racing)                    0.22.3
25 Ryan Chambers                                      0.22.7
26 John Bolton                                        0.23.0
27 Martin Simons                                      0.23.4
28 Sion Whitecross (Team Skene)                       0.23.7
29 Collins Chris (MTB Bitz)                           0.24.2
30 Cameron Leadbetter (Perth City Cycles)             0.24.8
31 Liam Moynihan                                      0.25.5
32 Jimmy Smith                                        0.25.9
33 Ross Hammond                                       0.26.0
34 Mark Blackler (Karcher)                            0.27.5
35 Gavin Black (Perth City Cycles)                    0.27.6
36 Scott Jones                                        0.28.4
37 Philip Carters                                     0.29.8
38 James Metcalfe (Moonglu Cycles)                    0.30.0
39 James Dower (Biketape.co.uk)                       0.30.9
40 Sam Roberts (W Homer Cycles)                       0.31.4
41 Paul Mcgrady (CRC)                                 0.33.7
42 Gareth Weston (Tollbar Warwick Volvo)              0.35.7
43 Craig Paterson (Gala CC)                           0.36.5
44 James Storey                                       0.37.0
45 Huw Oliver                                         0.37.5
46 Lewis Cochran                                      0.37.7
47 Jack Geoghegan (Ancillotti UK)                     0.38.9
48 Sean Pringle                                       0.50.9
49 Lewis Hawthorne (Team Skene)                       0.58.8
50 Sam Potter (Mountain Trax)                         1.22.4
51 Perry Gardener (Pearce Cycles RT)                  2.06.5
DNF Rory Watson                                             

Juvenile Men

1 Fraser Mcglone                                      3.18.9
2 Billy Mathews (JE James Cycles)                     0.15.5
3 Mathew Downes (Dave Rayner Cycle Sport)             0.31.3
4 Sam Herd (Perthcity Cycles)                         0.36.1
5 Mathew Lean                                         0.38.1
6 Neil Kennedy                                        1.10.4
7 Jevan Williams                                      1.29.7
8 Fraser Leadbetter (20 26 Distribution)              1.52.8
DNF Greg Gilfillan                                          
 
Youth men

1 Arran Gannicott (Santa Cruz)                        3.08.9
2 Lewis Buchanan (MTBcut.TV/Orange)                   0.03.3
3 Mark Scott (Ecosse DH Racing)                       0.06.8
4 Jamie Maller (Knox)                                 0.08.9
5 Sam Flockhart (Astrix/Descent Gear)                 0.09.6
6 Pete Robinson                                       0.15.0
7 Joshua Hodgetts (Ram UK/BCDS/Bad Ass Bikes)         0.15.4
8 Brad Mather                                         0.16.0
9 Adam Burnside (Santa Cruz/Formula)                  0.17.9
10 Joe Young (Descend Hamsterley)                     0.18.7
11 Andrew Kelly (All Terrain Cycles)                  0.19.0
12 Callum Dew (MSC Bikes/Descent-Gear.Com)                  
13 Stephen Millyard (Descent Gear)                    0.21.2
14 Ronan Taylor (777 Racing)                          0.21.4
15 Joseph Vials (Yeti)                                0.22.3
16 Sam Wakefield                                      0.23.3
17 Sam Webster (Team Skene)                           0.23.9
18 Daniel Carrigan                                    0.28.3
19 William Hewitt (Banjo Cycles)                      0.28.4
20 Rich Robertshaw (2 Stage/Pureriders.Co)            0.29.8
21 George Belk                                        0.32.5
22 Josh Swire (Foel DH Riders)                        0.35.9
23 Leslie Simpson (Alderbank Ltd)                     0.38.9
24 Tom Knight (MTB Bitz.co.uk)                        0.41.5
25 Johnathan Beattie                                  0.47.0
26 Robert Black                                       0.47.1
27 Benjamin Williamson (Perth City Cycles)            0.50.7
28 Robbie Nelson (Hetton Hawks CC)                    0.51.6
29 Willem Herd (Perth City Cycles)                    1.04.5
30 Jamie Crump (Pure Riders.Co/Bike Tape)             1.34.7
31 Reece Shields (Pearce Cycles RT)                   1.59.1

Senior men

1 Ross Anderson (MSC Bikes/Descent-Gear.Com)          3.13.7
2 Paul Goddard                                        0.00.9
3 Billy Campbell                                      0.01.1
4 Richard Challinor                                   0.01.2
5 Ben Whitehead (All Terrain Cycles)                  0.02.0
6 Rob Scullion (Continental/Orange)                   0.05.2
7 Michael Inman (Continental/Orange)                  0.05.4
8 Andy Woodvine (Leisure Lakes)                       0.05.8
9 Mark West                                           0.07.3
10 Joe Winston (www.ibike.co.uk)                      0.07.4
11 James Risker                                       0.08.0
12 Callum Gault                                       0.08.7
13 Tom Lamb (Alpine Bikes/Iron Horse)                 0.09.5
14 James Green (Midlands & Borders DH Club)           0.09.7
15 Mark Maciver (Square Wheels)                       0.10.4
16 Jeremy Callow                                      0.11.2
17 Craig Griffiths                                    0.12.5
18 Robert Mcdonald                                    0.12.9
19 David Duggan                                       0.14.4
20 Adam Holleyman                                     0.14.5
21 Steven Morris (Freeflow Bikes)                     0.14.7
22 Martin Astley (Iron Horse)                         0.14.9
23 Chris Breeze (Utopia)                              0.15.8
24 Richard Norton (Orban Air)                         0.15.9
25 William Davis                                      0.16.1
26 Dan Simmons                                        0.16.6
27 Jamie Smith                                        0.16.7
28 Billy Wright-Moseley                               0.17.7
29 Andrew Cooper (MTB Bitz/Found 8 Clothing)                
30 Roger Valler                                       0.18.4
31 Rob Williams (Bicycle Doctor)                      0.22.0
32 Johnathan Morley                                   0.22.1
33 James Norton (Bike Tape/Urban Air)                 0.23.0
34 Seb Frost                                          0.25.8
35 Karl Cooper                                        0.26.0
36 Paul Barnes                                              
37 Tristan Mayor                                      0.26.2
38 Thomas Clarkson (Fenwicks)                         0.27.8
39 Simon Ward                                         0.29.3
40 James Dalleywater                                  0.35.5
41 Doug Macgrain                                      0.42.3
42 John Stevenson                                     1.08.5
 
Expert men

1 Rich Thomas (Ancillotti UK)                         3.06.5
2 Scott Mears (Fox/Astrix/5 10)                       0.00.3
3 Richard Cunningham (Charge Bikes)                   0.01.1
4 Rob Young (Cross Trax)                              0.01.7
5 Ben Morgan (Pearce Cycles)                          0.02.0
6 Ian Cookson (Pedal Power)                           0.02.5
7 Peter Williams (Descent-Gear.Com)                   0.03.3
8 Tommy Wilkinson                                     0.03.4
9 Will Rowlands                                       0.04.1
10 Mike Strickland                                    0.04.4
11 Tom Rodgers (All Terrain Cycles/Giant)             0.05.2
12 Luke Marshall                                      0.05.9
13 Jethro Whitfield (Leisure Lakes)                   0.07.3
14 Kieron Mcavoy (MSC Bikes/Descent-Gear.Com)         0.07.5
15 Rob Pollock (Alpine Bikes/Burgtec)                 0.08.0
16 Joseph Horton (Pearce Cycles RT)                   0.08.5
17 James Flinders (MSC Bikes/Descent-Gear)            0.09.2
18 Alex Bond                                          0.09.3
19 Owain James (Pearce Cycles RT)                     0.09.6
20 Alex Florian (Pearce Cycles)                       0.10.0
21 Gary Drake (AW Cycles)                                   
22 Adam Morgan (Pearce Cycles)                        0.10.3
23 Nick Geoghegan (AW Cycles)                               
24 Chris Coates (Cycle Jersey)                        0.10.8
25 Graeme Forrest                                     0.11.4
26 Michael Gray (Psyclewerx/Cove UK)                  0.11.5
27 Matthew Parkinson (Ticket2RideBC/Descent-Gear.)    0.11.8
28 Duncan Ferris (Fusion Bikes)                       0.12.6
29 Simon Aplin (Bergamont)                                  
30 Jack Graham                                        0.13.3
31 Jack Tattersall (Sunn Ride-Central)                0.13.6
32 Steven Ruffel                                      0.13.9
33 Jamie Camburn                                      0.14.1
34 Mathew Pinches                                           
35 Andrew Wright                                      0.14.5
36 Kris Boram                                         0.15.4
37 Alasdair Maclennan                                       
38 Simon Parkinson (Ticket2Ride/Descent-Gear.Co)      0.19.7
39 Wayne Appleby (Fenwicks)                           0.20.5
40 Paul Webster (Cycle Jersey)                        0.21.4
41 Dave Valler (Mountain Cycle)                       0.23.1
42 Robin Weaver (CLICT)                               0.28.1
43 Liam O Ryan (MTB Direct)                           0.29.9
44 Nick Turner (The Development/Orange)               0.30.4
45 Darrel Upton                                       0.32.8
46 Bradley Shields (Pearce Cycles Rt)                 0.52.3
47 Will Soffe (Bigpeaks.Com)                          1.21.5
 
Veteran men

1 Alastair Maclennan (Off Beat Bikes)                 3.19.2
2 Rich Simpson                                        0.07.9
3 Jason Carpenter (Dragon DH)                         0.08.7
4 Gary Burns                                          0.09.7
5 Keith Wilson (MSC Bikes/Descent-Gear.Com)           0.13.7
6 Jerry Twigg (Cycleworld)                            0.16.9
7 Steve Felstead (T2R/Descent-Gear.Com)               0.27.0
8 Neil Edgar (Rave Racing)                            0.27.8
9 Keith Clarke (Rave Racing)                          0.27.9
10 Jason Gun Brennan (Rave Racing)                    0.37.5
11 John Boylett (Dartmoor Cycles)                     0.38.4
12 Derek Laughland (Castle Melamine)                  0.39.4
13 Dave Wills (Foel DH Riders)                        0.45.1
14 Greg Taylor (Rave Racing)                          0.54.0
15 Paul Kemp (Total Bike Tuning)                      1.20.3
16 Paul Molloy (Lifestyle Ford)                       1.30.8
17 Kem Avis                                           5.28.6
 
Master men

1 Andrew Buddin (Descend Hamsterley)                  3.16.1
2 Sion Jones (Santa Cruz MTB Direct)                  0.00.7
3 Mark Weightman (Leisure Lakes)                            
4 Chris Whitfield (Leasure Lakes)                     0.02.2
5 Zac Hubery                                          0.03.9
6 Tim Wilcox (Stand)                                  0.04.8
7 Russ Harland                                        0.06.2
8 Alan Lewis (AW Cycles)                              0.06.7
9 Andrew Titley (Kona Sombrio)                        0.07.0
10 David Tallontire (MSC Bikes UK/Uplift Scotlan)     0.11.4
11 Neil Arnold (Hope Technology)                      0.12.1
12 Ricardo (PARREIRINHA)                              0.12.6
13 Allan Hay (Cycle Jersey)                           0.13.2
14 Mark Wilcox                                        0.14.9
15 Philip Mclaren (Descend Hamsterley)                0.16.5
16 Jimmy Pewtress                                     0.16.7
17 Lance Harland                                      0.17.1
18 Jason Cavill                                       0.19.6
19 Stuart Villis (SDA)                                0.21.1
20 Gavin Beaumont                                     0.22.4
21 Kevin Duffy (Leslie Bike Shop)                     0.22.7
22 Martin Hodgson (Bawzoot Racing)                    0.23.5
23 Nick Browne                                        0.24.4
24 Jason Gidney (Cycle Centre Pz)                     0.26.0
25 Ben Greenland (Badd Ass Bikes)                     0.26.1
26 Alex Slater (Rave Racing)                          0.26.4
27 Stevie Boyd                                        0.27.4
28 David Christie                                     0.28.9
29 Phil Gray (Rave Racing)                            0.29.3
30 Ian Mcintyre (CRC)                                 0.29.7
31 Nev Duggan                                         0.30.3
32 Paul Bowyer                                        0.34.4
33 Dave English (Descend Hamsterley)                  0.35.9
34 Collin Miller (SDA)                                      
35 Daron Osborn (OZZ)                                 0.36.2
36 Richard Sparks (Vista Land Surveys)                0.46.9
37 Graeme Cochrane (Ride On)                          0.51.1
38 Stephen Russell (Badd Ass Bikes)                   0.52.4
39 Mark Milward (Swinnerton Cycles)                   2.02.4
 
Senior women

1 Manon Carpenter (Dragon DH)                         3.57.5
2 Sue Mahoney (Psyclewerx)                            0.13.0
3 Wendy Chambers (MSC Bikes/Descent-Gear.Com)         0.28.9
4 Kerry Wrigglesworth (MTB Bitz)                      0.43.2
5 Bex Reilly (Castle Douglas Cycle Center)            1.11.7