MTB index page for all MTB content
iXS European Downhill Cup - 2
Châtel (Haute - Savoie), France, August 9-10, 2008
2007 results Results
Beer and Pugin successful in Châtel
Nick Beer won
Photo ©: Christian Lubosch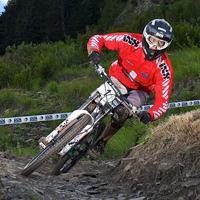 At the iXS European Downhill Cup's third stop in Châtel, France, Nick Beer and Floriane Pugin rode to not entirely surprising victories. A total of 200 racers from no less than 14 countries participated at France's race under virtually perfect conditions.
Situated within the Portes du Soleil region, Châtel's bike park hosted the day's racing. The Bike Patrol course had been discussed heavily before the race, and although the opinions varied all riders agreed on the fact that this was one of the hardest courses on the iXS calendar.
For Saturday's seeding run, the conditions were almost perfect. The course that had been wet in the morning was drying quickly in most places, which promised times around three minutes. Once again German Andreas Sieber (Solid A-Class Factory Team) proved his class, being the sole rider to slip under the three minutes barrier. Nick Beer crashed and decided to roll to the finish. His brother Marcel (both from Switzerland and competing for the iXS Sports Division team) on the other hand placed second, closely followed by Swiss Samuel Zbinden (Argentina Bike). Being considered as a pre-race favorite by many, New Zealand's Nathan Rankin (Iron Horse) did not take many risks and finished in eighth.
On Sunday, the weather was splendid and sunny for the final. Due to his crash in the seeding run, Beer was one of the first elite men's riders on the course. Nevertheless he posted a blazingly fast time with 2:53.297, thus occupying the Red Bull Hot Seat for a very long time. It was not until Rankin missed the fastest time by two seconds that Beer's ride showed its true quality. All the riders that followed could not touch the fastest time either, and even Sieber who had posted the fastest seeding run had to admit defeat, finishing in third behind Rankin.
The women's race was won superiorly by Frenchwoman Pugin (Playbiker/Ironhorse), who put more than seven seconds on Switzerland's Miriam Ruchti (Sport Promotion), who still felt the effects of surgery on a wisdom tooth, and France's Caroline Sax (Sport Promotion).
Brit Joseph Smith (Tomac Factory Racing) was the fastest junior in Châtel, pushing Frenchman Yannick Colomb (Lizon Mountain Cycle) and Ecuador's Malin Wind Disse (Akira) to second and third respectively.
After three of the five rounds, Marcel Beer is leads the men's overall by a margin of twenty points over his brother Nick, who has only competed in two races thus far due to his participation at the World Cup races in Canada. In the women's overall, Miriam Ruchti kept her lead, followed by Sax and Harriet Rücknagel.
The next round is scheduled for August 23-24, 2008 in Ilmenau, Germany, which has hosted Germany's national championships in 2007.
Photography
For a thumbnail gallery of these images, click here
Images by Christian Lubosch
Results

Elite women

1 Floriane Pugin (Fra) Paybiker - Ironhorse                  3.26.614
2 Miriam Ruchti (Swi) Sport Promotion                        0.07.817
3 Caroline Sax (Fra)                                         0.15.941
4 Sidonie Jolidon (Swi) Extrembike                           0.34.384
5 Carol Curtil (Fra) Chamonix mont-blanc                     1.02.373
6 Pascaline Reusser (Swi) Mondraker                          1.18.646
 
Elite men

1 Nick Beer (Swi) iXS Sports Division Racing Team            2.53.297
2 Nathan Rankin (NZl) Ironhorse                              0.02.025
3 Andreas Sieber (Ger) Solid aclass factory team             0.02.746
4 Samuel Zbinden (Swi) Argentina Bike / Jumping Crazy        0.03.335
5 Marcel Beer (Swi) iXS Sports Division Racing Team          0.05.723
6 Remi Charrier (Fra) Sunn Riders Society                    0.06.202
7 Cyrille Kurtz (Fra)                                        0.06.456
8 Lars Peyer (Swi) Suspension Center                         0.07.116
9 Michael Skinner (NZl) Ironhorse                            0.09.765
10 Nimrod Hemmo (Isr) 500Watt-Morewood                       0.09.973
11 Caroli Billy (Swi) RMteam                                 0.10.310
12 Esteban Deronzier (Fra) Vario                             0.10.354
13 Lorenzo Suding (Ita) Kenda Ironhorse Playbiker            0.10.601
14 James Stock (GBr) Switch-backsDH.com                      0.10.696
15 Matthieu Carnino (Fra) Choucas Bikers/Les 2 Alpes         0.10.830
16 Loic Delteil (Fra) vall-cycle.ch                          0.11.099
17 Jerome Bigoni (Fra) Nicolai - iXS                         0.11.125
18 Jerôme Crocombette (Fra)                                  0.12.093
19 Benny Strasser (Ger) iXS Sports Division Racing Tema      0.12.168
20 Romain Lescure (Fra) Scott - Mavic                        0.12.346
21 Benjamin Herold (Ger) NOX                                 0.14.105
22 Daniel Schmider (Ger) Grossman Bikes/ Maxxis              0.14.340
23 Ludovic May (Swi) Cross Road Martigny                     0.14.385
24 David Eme (Fra) VTT Conliège Jura                         0.14.555
25 Patrick Meyer (Swi) iXS Sports Division Racing Tema       0.15.078
26 Martin Frei (Swi) Solid Bikes Schweiz                     0.15.320
27 Remy Casanova (Fra) Wagon dh                              0.15.759
28 Aaron Bashford (Aus)                                      0.15.789
29 Jérôme Hunziker (Swi) acefactory                          0.16.007
30 Daniel Prijkel (Ned) Kona / FCC Oss                       0.17.173
31 Ghislain Ricci (Fra) LA COMU                              0.17.390
32 Jonas Bähler (Swi) one80-shop.ch                          0.17.498
33 Seb Muller (Swi) SantaCruz/HotPoint/Garage Burn           0.18.920
34 Alexander Evans (GBr) Empire Cycles                       0.19.212
35 Jérôme Crottaz (Swi) Crans-Mountain                       0.19.814
36 Joel Gebbie (Fra)                                         0.20.113
37 Samuel Baumann (Swi) Campione Celeste                     0.20.663
38 James Bashford (Aus)                                      0.20.869
39 Randy Van Goubergen (Bel) The Barracuda                   0.20.949
40 David Rölli (Swi) ZWO / VC Schötz                         0.21.380
41 Daniel Rossmann (Ger) WSV Oberhof/Fahrrad-Paul.           0.22.732
42 Fabrice Tirefort (Swi) Verbier Bike Team / Scott          0.23.634
43 Samuel Amouroux (Fra) Planète 2 Roues Lozère              0.23.799
44 Julien Rossé (Swi) RM Team                                0.23.803
45 Peter Ballin (GBr) Hot Trails                             0.24.166
46 André Wackenhut (Ger) Solid Bikes                         0.24.184
47 Pierre Etienne Dumont (Fra) RVTT KONA                     0.24.261
48 Fabian Bieli (Swi) Solid Bikes Schweiz                    0.25.825
49 Nicolas Legrand (Fra) Lulh Team                           0.27.717
50 Nicolas Cherix (Swi) ride Bulle                           0.27.765
51 Aviad Izrael (Isr) CCC-Trek                               0.27.876
52 Daniel Yeomans (GBr) Giant UK, Howies                     0.28.097
53 David Lischka (Ger) RCG Weissbenburg/Herobikes            0.30.773
54 Martin Schelberger (Aut) Besser Biken Clup                0.32.286
55 Jeremy Curtil (Fra) Chamonix Mont-blanc                   0.32.518
56 Grégory G'stalter (Fra) Razorbike Chatel                  0.34.448
57 Gilles Magnier (Fra) FR faulx wagon dh                    0.38.257
58 Falco Ruppert (Ger) Cannondale Germany/HMC Singen         0.52.172
59 Jean - Christophe Skrzek (Fra)                            1.59.694
60 Noah Grossman (Ger) Double Dragon/ Intense                8.53.654
DNS Nils Correvon (Swi)                                              
DNF Xavier Cerutti (Fra) RFP team                                    
DNF Joseph Nation (NZl) BikeNZ                                       
 
Junior women

1 Laura Lohner (Fra) RVTT Kona                               4.16.508
2 Leoni Dickerhoff (Ger) iXS Sports Division Racing Team     0.00.767
 
Junior men

1 Joseph Smith (GBr) Tomac Factory Racing                    3.01.457
2 Yannick Colomb (Fra) Lizon Mountain Cycle                  0.02.484
3 Malin Wind Disse (Ecu) Akira                               0.07.240
4 Robin Hagen (Swi) Tomac Factory Racing                     0.08.084
5 Laurie Dinham (Aus) Tomac Factory Racing                   0.10.250
6 Roman Roschi (Swi) Suspensioncenter                        0.10.613
7 Janick Lieberherr (Swi) iXS Sports Division Racing team    0.10.771
8 Daniel Gottschall (Ger) DH Youngstars/Bikepark Todtnau     0.10.806
9 Felix Groizard (Fra) RVTT Kona                             0.11.708
10 Jan Schaad (Swi) Friedli Bike Style / Fox Racin           0.12.144
11 Lucas Meyer (Swi) iXS Sports Division Racing team         0.12.513
12 Fabian Fader (Ger) SOLID Co-Factory Team                  0.13.638
13 Alexandre Lohner (Fra) RVTT Kona                          0.15.126
14 Julien Hericher (Fra) chamonix                            0.15.280
15 Christophe Carnino (Fra) Giant / Les 2 Alpes              0.15.539
16 Gernot Ruppert (Ger) Cannondale Germany                   0.17.858
17 Thibaud Krattinger (Swi) VC lancy                         0.18.098
18 David Schmied (Ger) DH-Youngstars                         0.18.119
19 Michael Matt (Aut) MB Racing Team                         0.20.111
20 Nicolas Gspan (Swi) EWZ mountainbiketeam loop             0.20.263
21 Alee Montanier (Fra)                                      0.21.187
22 Robin Van Goubergen (Bel) the barracuda                   0.22.014
23 Martin Buck (Swi) ewz mountainbiketeam loop               0.24.398
24 Adrian Uebelhart (Swi) Solid Bikes Schweiz                0.24.968
25 Raphaël Epitalon (Fra) Velo Club St Quentin Fallavier     0.25.236
26 Vincent Figarella (Fra) Cran-gevrier VTT                  0.26.487
27 Emeric Srodawa (Fra) solid bikes                          0.26.566
28 Florian Heuschling (Fra)                                  0.29.647
29 Dante Langkitsch (Fra) Cran Gevrier VTT                   0.30.430
30 Jakob Kreisl (Aut) Bikestore/Bodenhaftung                 0.30.869
31 Fabian Pfister (Swi) EWZ mountainbiketeam loop            0.31.283
32 David Hosang (Swi) Suspension Center                      0.33.620
33 Florian Arthus (Fra)                                      0.37.024
34 David Vincent (Fra) Sport promotion                       0.40.320
35 Timo Bürgler (Aut) bikestore.cc/bodenhaftung              0.53.053
36 Andy Kläy (Swi)                                           3.49.462
37 Roman Devouassoux (Fra) Chamonix VTT                      5.16.013
DNS Markus Planitzer (Aut) Bikestore/Bodenhaftung                    
DNS Mario Reinbacher (Aut) Giga Sport                 

Masters men

1 Michael Stammbach (Swi) Fatwork                            3.15.357
2 Marcel Waldmann (Swi) DT Swiss,Nicolai,IXS                 0.00.210
3 Heinz Hostettler (Swi) banditbike.ch                       0.02.930
4 Tino Beutel (Ger) Fly Zonenschein Cosmicsports             0.05.765
5 Thomas Weber (Swi) ewz mountainbiketeam loop               0.06.118
6 Laurent Castella (Swi) RideBulle                           0.09.853
7 Sebastien Aymon (Swi) cyclone anzere                       0.13.047
8 Urs Sturzenegger (Swi) Rüegger Downhill Sport              0.13.888
9 Olivier Lagger (Swi) fatwork                               0.16.703
10 Carsten Portsch (Ger) Royal Bavarian Spirt                0.27.265
11 Peter Boo (Swi) Fatwork                                   0.31.215
12 Jean Krattinger (Swi)                                     1.10.615