MTB index page for all MTB content
K-Capital Cup #2 - 2
Banbridge, Ireland, March 25, 2007

Davis takes tremendous victory
By Andy Potts
Elite Men's riders away.
Photo ©: Ken Farrar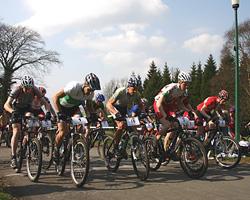 International cross country mountain biking came to County Down Riviera on Sunday, Rostrevor to be precise, as Banbridge Cycling Club promoted the second round of the K-Capital Cup. The venue was Rostrevor Forest, with the caravan site in Kilbroney Park serving as the main arena. Weather conditions were superb and helped produce a sunshine day to remember the 157 riders of all ages who took part.
The main event was the Elite Men's race, which drew entries from Scotland, England, Ireland, Germany and South Africa. The race took place over eight laps of the 3.96 kilometre course, which meant the riders had to face the tortuous opening kilometre long climb eight times. Pre-race favourite Robin Seymour, from County Wicklow, had to borrow a bike shortly before the start of the race, after his own bike was damaged during practice.
Davies looking cool, calm and collected
Photo ©: Ken Farrar

For the opening three laps the large crowd was entertained by a four-way scrap for the lead involving Seymour, Dubliner Niall Davies, Conor McConvey from Belfast and German rider Benjamin Sonntag. On lap four, Seymour was forced to stop for almost three minutes to fix a broken chain, which also lost him a place to English rider James Fraser Moodie. The battle for the lead became a dual when Sonntag had to pit for a wheel on the sixth lap after puncturing his front wheel.
On the penultimate lap Davis broke clear of McConvey which sent him out on the final lap with an advantage of 22 seconds. By the finish the gap had grown to 34 seconds and it was a jubilant Davis who crossed the line to take his first international win, a stark contrast to the opening round where he struggled to even finish.
This was a tremendous result for Davis and now boosts his chances of representing Ireland at the Beijing Olympics. For McConvey it was a superb result in what was only his second outing at senior level. Sonntag was overjoyed with his third place, though he had to battle hard on the last lap such was the pace being set by a charging Robin Seymour, only 20 seconds separating the pair at the finish. For Seymour, it was his first defeat in Ireland since 2003, however fourth place was enough to keep him in the K-Capital Elite Cup lead. Fraser Moodie was fifth with Scottish rider Gareth Montgomery just getting the better of the amazing Peter Buggle, the old man finishing 14 seconds down on Montgomery.
Aidan McDonald was strong
Photo ©: Ken Farrar

Ryan Sherlock continued to impress in his first season in Elite competition, taking eighth place. South African ace John Paul Pearton finished in ninth and admitted he was not used to riding on forestry courses.
Meanwhile, John Paul found it cold in Rostrevor as the natives bathed in the Spring sunshine. His last race in South Africa two weeks ago saw temperatures of around 40 degrees.
The Elite Women's race was won by Dublin's Beth McCluskey, winner of the opening round in Bray. Runner up was Scottish rider Ruth McGavigan with Belfast's Ciara McManus taking her best ever International result by finishing third.
Team Worc's Yvan Sugno took the honours in the Experts event, after he took the lead on the third lap from fellow Worc rider Phil Roche. The Experts set off along with the Masters, a superb sight as they charged up the main straight towards the start of the climb. Dave Barry (IMBRC) took a great second though Team BHB's Matt Ferguson produced an equally good ride, finishing just five seconds down on Barry. The Master's race proved to be a real tussle between Peter O'Farrell (U/A) and Joe McCall (Rocky Mountain). After leading at the end of the first lap McCall had to make way for O'Farrell on the second lap, O'Farrell staying in the lead until the final lap when McCall moved back to the front. McCall took the win with a disappointed O'Farrell in second. Team Worc's Gordon Lucas was third.
McGavigan in control.
Photo ©: Ken Farrar

The Veteran's race saw Apollo rider Aidan McDonald hold off a determined challenge from Robbie Lamont (XMTB) to grab his second win of the series with new veteran Gerry McCabe a close third.
Sean Downey repeated his first round success to win the Junior race, the Banbridge rider leading from start to finish. Downey's fellow Banbridge rider Liam McGreevy overcame the disappointment of retiring from the first round due to injury to finish a good second. Neil McGimpsey (XMTB) was going well in the early stages and inspite of suffering sickness on the final lap he still managed to hold third place.
The Sports Men's race was another close affair, with Luke Webber (U/A) just getting the better of Robert Magee(Nomad). Dromara CC's Gary Gray finished a fine third. The Sports Women's race was dominated by Sadhbh Baxter (West Coast Wheelers) who led from start to finish. Newry based Ann Duff was runner up, Inga Doak (MAD) a close third.
Race promoters Banbridge CC saw their riders dominate much of the Youth action. In the U-8 race Banbridge riders filled the first five places, John Buller winning from Shannon Buller, Richard Baird, Stuart Dunlop and Shenna McKiverigan. In the U-10 event it was another case of Bann domination with James Curry winning from fellow Club members Rcahel Mayne and Joseph Baird. Mark Downey scored again for Banbridge with victory in the U-12 race, his team mate Dan Runciman in second and Dromara's Zak Hanna in third. Jack Wilson (East Antrim Audi) broke the Bann success as he took a start to finish win in the U-14 class. Matthew Adair just held off fellow Banbridge rider Michael Runciman to take second. XMTB produced its own demolition job on the U-16 class, Jonny Beers winning from William Boyd, Jes Laird and Chris Cameron.
Photography
For a thumbnail gallery of these images, click here
Images by Ken Farrar
Results
Elite Men

1 Niall Davis (IMBRC)                               2.01.40
2 Conor McConvey (XMTB)                                0.34
3 Benjamin Sonntag (Team Fuji Bikes/Germany)           1.58
4 Robin Seymour (Team Worc)                            2.18
5 James Fraser (Moodie Pedal Power)                    3.30
6 Gareth Montgomery (Team Enduro/Scotland)             7.34
7 Peter Buggle (Team Worc)                             7.48
8 Ryan Sherlock (MAD)                                 11.45
9 John Paul Pearton (Team Merida/South Africa)        11.45
10 James McCluskey (Team Worc)                        17.50
11 Dave O'Shea (U/A)
DNF Lewis Ferguson (Team BHB)
DNS Simon McConnell (MTB Rider)

Elite Women

1 Beth McCluskey (U/A)                              1.37.17
2 Ruth McGavigan (The BicycleWorks .com)               3.49
3 Ciara McManus (XMTB)                                13.18
4 Cait Elliott (UCD)                                  14.03
DNF Tarja Owens (Team Worc)

Junior Men

1 Sean Downey (Banbridge CC)                        1.25.16
2 Liam McGreevy (Banbridge CC)                         3.14
3 Neil McGimpsey (XMTB)                                9.54
4 Robert McCabe (Cuchulainn)                          12.32
5 Andrew Godfrey (U/A)
6 Stephen Scrivener (MAD)
DNF Paul O'Brien (IMBRC)
DNF Graham Boyd (XMTB)