MTB index page for all MTB content
K-Capital Cup #1 - 2
Kilruddery, Ireland, March 11, 2007
Seymour wins K-Capital Cup
By Shane Stokes
Seymour pushes ahead.
Photo ©: Ken Farrar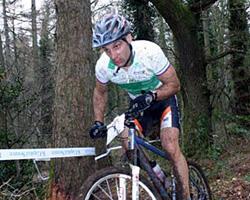 Multiple Irish MTB cross country champion Robin Seymour came out on top in the K-Capital Cup in Kilruddery on Sunday, beating UK rider Adrian Lansley after over two and a half hours of racing.
Seymour and Lansley dominated the event, the Wicklow man finishing 49 seconds clear of his rival, with the next riders being a long way down. Conor McConvey was 10 minutes 7 seconds in arrears, while James Moodie and Peter Buggle were further back in fourth and fifth. James McCluskey netted sixth.
There were world ranking points up for grabs at the UCI Class 2 event. The women also benefited, and this will help both in their push to qualify a rider for next year's Olympic Games. Beth McCluskey (unattached) was best in the near-two hour event, beating Irish XCO champion Tarja Owens (Team Worc) by 7 minutes and 57 seconds. Ruth McGavin (Bicycleworks.com) was third, 17 minutes and 53 seconds down, while XMTB's Ciara McManus was fourth.
In the other categories, Yvain Sygno (Team Worc) beat Philip Roche (Team Worc) and Matt Ferguson (Team BHB) to dominate the Expert class, while Damien Mulcrone (Epic MTB), John Doris (Sorrento CC) and Joe McCall (Rocky Mountain/K Capital Source) finished within 1 minute and 47 seconds of each other in a relatively tight Masters' race.
Aiden McDonald (Apollo CC) bested fellow Veterans Gerry McCabe (Cuchulainn CC) and Robert Lamont (XMTB) in their race. Sean Downey (Banbridge CC), Robert McCabe (Cuchulainn CC) and Steve Scriver (MAD) were the podium-getters in the junior event.
That leaves the Sport and Under 16 categories; Robert Magee (Nomad) came in ahead of Brian Cooney (Epic MTB) and Oisin Fitzgerald (MAD) to win the former, and Jonny Beers (XMTB), Jessica Laird (XMTB) and William Boyd (XMTB) were best in the latter.
Photography
For a thumbnail gallery of these images, click here
Images by Ken Farrar
Results

Elite men
 
1 Robin Seymour (Team Worc)                    2.32.39
2 Adrian Lansley (Pedalon.co.uk)                  0.49
3 Conor McConvey (XMTB)                          10.08
4 James Moodie (Pedal Power RT)                  14.09
5 Peter Buggle (Team Worc)                       17.17
6 James McCluskey (Team Worc)                    18.51
7 Lewis Ferguson (Team BHB)                      19.40
8 Ryan Sherlock (MAD)                            25.53
9 Philip Spencer (Subaru Gary Fisher)            28.41
One lap behind
10 Niall Davis (IMBRC)                                
 
Elite women
 
1 Beth McCluskey (unattached)                  1.57.03
2 Tarja Owens (Team Worc)                         7.57
3 Ruth McGavin (Bicycleworks.com)                17.53
4 Ciara McManus (XMTB)                           33.53
 
Expert
 
1 Yvain Sygno (Team Worc)                      1.46.29
2 Philip Roche (Team Worc)                        7.23
3 Matt Ferguson (Team BHB)                        9.34
4 Evan Ryan (Team Worc)                               
5 Brian Conway (IMBRC)                            9.36
6 Dave Barry (IMBRC)                             10.03
 
Master
 
1 Damien Mulcrone (Epic MTB)                   1.51.14
2 John Doris (Sorrento CC)                        1.18
3 Joe McCall (Rocky Mountain/K Capital Source)    1.47
4 Gordon Lucas (Team Worc)                        2.02
5 Peter O'Farrell (unattached)                    2.05
6 Owen Keith (Epic MTB)                           5.51
 
Veterans
 
1 Aiden McDonald (Apollo CC)                   1.47.43
2 Gerry McCabe (Cuchulainn CC)                    3.00
3 Robert Lamont (XMTB)                            7.44
4 Johnny McCabe (Cuchulainn CC)                  11.47
5 Gary Nilson (EACC)                             12.32
6 Knud Jensen (Sorrento CC)                      12.40
 
Junior
 
1 Sean Downey (Banbridge CC)                   1.47.03
2 Robert McCabe (Cuchulainn CC)                  12.28
3 Steve Scriver (MAD)                            29.11
4 Graham Boyd (XMTB)                             33.23
 
Sport
 
1 Robert Magee (Nomad)                         1.08.51
2 Brian Cooney (Epic MTB)                         2.54
3 Oisin Fitzgerald (MAD)                          5.57
4 Cormac Eason (MBUL)                             5.59
5 Gareth Maguire (IMBRC)                          7.01
6 Nigel Shakelton (MAD)                           9.38
 
Under 16
 
1 Jonny Beers (XMTB)                           1.09.35
2 Jessica Laird (XMTB)                            4.19
3 William Boyd (XMTB)                            16.42
4 Shane Geoghegan (MAD)                          21.51