MTB index page for all MTB content
Mazda Big Induna 75km/SA Marathon Championship - NE
Hazyview, South Africa, June 16, 2007
Evans and Speedy win SA champs
An ecstatic Kevin Evans celebrates his victory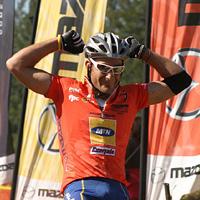 Kevin Evans revealed his big match temperament while Yolande Speedy put on a display of gutsy perseverance to become the 2007 South African Elite men's and women's mountain bike champions respectively at the Mazda Big Induna event in Hazyview. Defending both his SA title and the Mazda Series leadership, Evans (Raleigh MTN Energade) took the racing to his rivals with an impressive display of confidence and control to earn the right to wear mountain biking's most coveted jersey for another year.
Evans was quick to thank his teammate, Melt Swanepoel, who rode unselfishly to set up the platform from which Evans launched his race-winning move on the challenging 75km route.
"Melt was simply awesome today," said a beaming Evans. "He softened the others up and at the right moment, I made my move and got clear on my own. It showed that team tactics can actually play a part in mountain bike racing. Melt sacrificed himself for me today. I hope I can repay him some day."
Max Knox (Adidas William Simpson) set the early pace on a technically challenging opening 40 kilometre loop through the fruit plantations and indigenous forest. Evans was ever vigilant though, placing himself on Knox's wheel with Swanepoel, Renay Goustra (Mongoose) and John Paul Pearton (Mazda Merida) in tow.
Yolande Speedy (left) is all smiles after winning

The chase group comprised Shan Wilson (Adidas William Simpson), Arno Viljoen (Mr Price GT), Brandon Stewart and Mannie Heymans (both Raleigh MTN Energade) and David George, 2006 Commonwealth Games road race silver medallist, giving the off-road scene a bash.
As the lead group began the first big climb of the day at the 41km mark, Swanepoel, appropriately wearing the polka-dot Velotex King of the Mountain competition leader's jersey, began to set a blistering pace on the 5km ascent which dispatched first Goustra and then Knox, leaving just himself, Evans and Pearton at the head of affairs.
But even after, the climb, Swanepoel kept the pace high on the front to ensure none of the riders behind would be able to rejoin the leaders. Evans and Pearton simply sat in Swanepoel's slipstream until a steep four kilometre climb 12 kilometres from the finish when Evans put in a fierce attack that launched him clear, despite a brave effort by Pearton to close him down.
Kevin Evans, in the orange Mazda Series leader's jersey,

Evans then rode on alone to finish in a fast 2.52.05 and secure the national marathon title for the second year in succession. Swanepoel was later able to ride away of Pearton and claimed the silver medal with Pearton rounding out the year's most important podium. Viljoen, winner of this race in 2006, put in a late surge to claim fourth place with Heymans fifth and George, completing an impressive marathon debut, to secure sixth place.
In the women's race, the eagerly anticipated tussle between Yolande Speedy and Yolande de Villiers appeared doomed early on. While De Villiers (Mazda Merida) was forging into an early lead, Speedy (IMC Mongoose) was floundering in fifth place after just 10 kilometres.
"My legs felt terrible. Like they were full of lactic acid and I just couldn't get going at a decent pace," explained Speedy, who'd flown home from Europe just two days earlier to compete in the national championships.
After a poor start, Yolande Speedy surprised herself

But the 31 year-old Speedy steadily began to find her rhythm and, one-by-one, began closing the other women down. She eventually caught De Villiers with just 15km remaining but, shortly after passing her, crashed.
"I jumped up quickly and tried to get going again, but my calves were both cramping as I tried to get my shoes back into the pedals," recalled Speedy afterwards. "There were a few tense moments!"
But she managed to remount and re-pass De Villiers just before the long, fast final stretch down to the finish. Speedy is known for her superb technical skills and she used the winding six kilometre downhill to carve out a healthy lead, allowing her to enjoy the feeling of claiming her first marathon SA title in 3.21.51, and giving her an impressive 22nd place overall.
De Villiers, still sporting a bandage after fracturing her left elbow in early May, rolled home second, with national cross country champion, Amy Jane Mundy (Jeep Specialized) a distant third.
Evans' win helped him extend his lead in the men's category of the 2007 Mazda Series, while Tania Raats still leads the women's rankings, despite finishing fourth at the weekend. The fifth leg of the 2007 Mazda Series takes place in Knysna on July 7.
Photography
For a thumbnail gallery of these images, click here
Images by Mazda Big Induna
Results
Pro men
 
1 Kevin Evans (Raleigh MTN Energade)     2.52.05
2 Melt Swanepoel (Raleigh MTN Energade)     1.21
3 John Paul Pearton (Mazda Merida)          2.13
4 Arno Viljoen (Mr Price GT)                5.39
5 Mannie Heymans (Raleigh MTN Energade)     7.29
6 David George                              8.05
7 Brandon Stewart (Raleigh MTN Energade)    8.46
8 Francois Theron (Mazda Merida)            9.24
9 Oliver Munnik (Adidas William Simpson)    9.35
10 Shan Wilson (Adidas William Simpson)     9.42
 
Pro women
 
1 Yolande Speedy (IMC Mongoose)          3.21.51
2 Yolande de Villiers (Mazda Merida)        1.19
3 Amy Jane Mundy (Jeep Specialized)        11.32
4 Tania Raats (Maverick Momentum)          18.14
5 Angelique van Zyl                        25.25