MTB index page for all MTB content
Curse of Dark Hollow - NE
Michaux Endurance Series Race #2, Pennsylvania, July 15, 2007
2006 results Results
Price wins over Eatough and sets battle for tight finale
Sorenson extends women's series lead with victory
Harlan Price (Independent Fabrication)
Photo ©: Tom Miller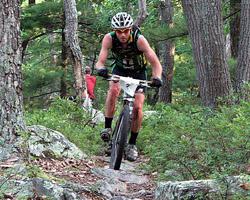 At the Curse of Dark Hollow, the second race of the East Coast's toughest endurance series, Harlan Price (Independent Fabrication) pulled off a career best ride to defeat national 24 hour solo champion Chris Eatough (Trek/VW) by just seven minutes. Price finished the 100km course in 5'23. The duo was joined by Brandon Dragaulis (Cannondale/ Bear Naked), Mike Keefer (Gettysburg Bicycle), and Steve Schwarz on the podium. In the rock-strewn course, Eatough lost contact with Price early in the day when he had to stop and tighten a stem bolt. Afterward Eatough seemed unable to close the one minute gap, which continued to grow as the sun climbed higher.
"When Chris stopped in the trail, I asked him if he was okay. He said yeah, so I kept riding thinking he would catch me pretty quickly," said Price. "When I didn't see him for awhile, I figured it was a major mechanical. He's so strong I couldn't take my lead for granted. I spent the rest of my day running."
"I had to stop and tighten my stem bolts twice, but that didn't lose me the race," said Eatough at the end of the day. "That might have cost me two or three minutes at most."
Meanwhile, Cheryl Sorenson (Trek/VW) topped the women's podium with a time of 7'41. VisitPA's Michell Snyder was 46 minutes behind and Stephanie Stago trailed by over two and a half hours. Only three women completed the demanding course.
It's all about the concentration
Photo ©: Tom Miller

Taking first place on singlespeeds was 2005 singlespeed world champion Brian "Buck" Keich (Independent Fabrication) with at time of 6'43. Rounding out his podium were Jamie Huber and Topher Valenti.
The Michaux State Forest, Gettysburg Bicycle, and Trek Bicycles combined to play host to the grueling 62 mile (100km) single lap race through the forests north of Gettysburg, Pennsylvania. For those addicted to the terrain of Michaux, but unilling to spent their entire day on the bike, there were 25 mile (40km) and 10 mile (16km) options.
Known for its rocks and rugged singletrack, many racers in the area opted for the smoother course of a competing series, which accidentally scheduled a race for the same day.
Those who made the trip to Michaux were treated to the physical and mental challenge Gettysburg Bicycle creates with their tough course design. To soften the blow, there were well-stocked aid stations, a dinner the night before, breakfast the morning of the race, and food after the race. The series finale, The Terror of Teaberry, will be held on September 16. Last year's Teaberry winner Jeremiah Bishop (Trek / VW) said of the course, "I loved it, but it was the hardest race mile for mile I have ever done." For 2007, the promoters will be adding ten miles (16km) to the Terror to keep with the new 50 miler (80km) format.
Photography
For a thumbnail gallery of these images, click here
Images by Tom Miller
Results
100km

Elite Men

1 Harlan Price           5.23.17
2 Chris Eatough             7.13
3 Brandon Draugelis        17.03
4 Mike Keefer              44.18
5 Steve Schwarz          1.14.58
6 Ryan Leach             1.24.15
7 Peter Sonthimer        1.55.13
8 Stephen Wahl           1.58.33
9 Kyle Lawrence          2.04.43
10 Stephen Romback       2.12.29
11 Peter Schmidt         2.13.58
12 Robert Lamb           2.21.39
13 Chris Newell          2.22.38
14 Jason Berry           2.23.27
15 Joe Wychock           2.49.09
16 Dan Williams          3.08.43
17 Brian Carey           3.12.43
18 Jake Davidson         3.17.59
19 Michaul Faust         3.56.42
20 Scott Green           4.25.59
21 Nick Sisk             5.16.58
 
Masters

1 Shawn Withers          7.32.50
2 Gary Landen              20.10
3 Don Morningstar        2.03.11
4 Richard Young                 
 
Singlespeed

1 Buck Keich             6.43.30
2 Jamie Huber               5.00
3 Topher                   32.00
4 Michael Tresslar         37.00
5 Ben Yoder                42.30
6 Kevin Diamond            56.54
7 Bender                   57.00
9 Larry Camp             1.08.42
9 Albert Greene          1.08.43
10 Chris Larkin          1.16.20
11 Kevin Clark           1.26.00
12 Buddy Briggs          1.41.48
13 Eric Allen            1.44.30
 
Elite Women

1 Cheryl Sornson         7.47.24
2 Michelle Schneider       46.16
3 Stephanie Stago        2.37.26
 
25 miler

Junior Men

1 Jake Sitler            3.11.30
2 Madison Matthews         21.00
3 Tyler Berger             44.02
 
Senior Men

1 Marty McKeon           2.35.50
2 Pete Minar                5.13
3 Christian Bowman          6.30
4 Eric Rinehart            16.22
5 John Pramik              28.42
6 Jason Butler             29.56
7 Darren Aldinger          30.42
8 Jason Ring               31.12
9 Bobby Miller             32.53
10 Jason Myers             57.57
11 Ian Coleman             58.30
12 John Hughes           1.06.02
13 Luis Duran            1.17.09
14 Ian Gallagher         1.33.54
 
Veteran Men

1 Travis Saeler          2.14.09
2 Paul Spicher             20.39
3 Greg Sampson             23.53
4 Tim Horan                24.29
5 Chuck Buczeskie          27.46
6 Bob Smith                35.49
7 Mike Brandt              37.21
8 Mike Rineer              38.39
9 Paul Patarini            40.17
10 Dwayne Williamson       44.45
11 Brian Foster            45.45
12 Hans Schmide            46.01
13 David Beach             47.43
14 David Bare              49.45
15 Chris Horsley           52.20
16 Jerry Fonshell          53.15
17 George DeMartyn         54.13
18 Brad Stouch             57.19
19 Joe Druck               58.33
20 Roger Carter            58.48
21 Robert Mazzei         1.00.53
22 Brian Cordell         1.06.07
23 Jim Heilmann          1.09.14
24 Todd Goetz            1.11.41
25 Lewis Rhinehart       1.12.27
26 Scott Stahl           1.15.00
27 Mark Henderson        1.15.56
28 Bob Graefe            1.25.59
29 Ben Sellers           1.42.27
30 Chris Freeman         1.44.39
31 Anthony Mignon        1.44.45
32 Paul Lavioe           1.55.12
 
Masters Men

1 Bill Marciniak         2.39.32
2 Donald Pagaus             7.02
3 Peter Bell               36.55
4 James Matthews           40.06
5 Michael Malone           42.15
6 Bruce Deming             45.40
7 Mike Cullen            1.28.04
 
Singlespeed

1 Chad Miller            2.25.35
2 Keith Goulet             13.00
3 Aaron Cruikshank         17.52
4 Rich Webb                37.11
5 Daniel Ness              47.43
6 Ryan Gerlach             58.47
7 Scott Krauss           1.18.03
 
Senior Women

1 Michelle Johnson       3.16.00
2 Nicole Sheets             1.18
3 Amy McCullough            1.44
4 Tracy McMilton           11.32
5 Laura Csira              30.05
6 Kristin Lamb             35.42
7 Jan Ramsly               47.28
8 Sue Witter               55.03
9 Mary Zadnik-Newell     1.17.50
10 Sue Taylor            1.42.24
11 Holly Hoover                 
 
10 miler

Junior Men

1 Tim Murphy             1.50.03
2 Ethan Lavoie             30.20
3 Logan Baltozer           31.44
4 Mark Wychuck             38.55
5 Hank Schmincke           55.39
 
Senior Men

1 Lucas Neiderer         1.25.44
2 Derick Miller             2.17
3 Josh White               14.45
4 Trent Fenner             15.12
5 Matthew Strow            16.54
6 Travis Feeser            24.18
7 Wyatt Taylor             26.22
8 Dwayne Stum              29.24
9 Brian Dowling            30.22
10 Nicholas Torres         32.25
11 David Neile             38.58
12 Tim Livelsberger        41.57
13 Nate Strine             47.35
14 Brent Gregg           1.03.43
 
Veteran Men

1 Greg Spath             1.37.19
2 Jason McConnell           1.36
3 Troy Dean                 8.45
4 Scott Langeheine         12.42
5 Mike Culp                29.05
6 Daniel Foland            39.49
7 Joe Shlikas              52.29
8 Mike Grady               59.05
9 William Shearn         1.44.45
 
Masters Men

1 Russ Neiderer          1.47.06
2 Ken Virtus                5.25
 
Senior Women

1 Cathy Large            2.11.49
2 Emily McKeon             40.43
3 Jessica Tause          1.10.15
4 Debbie Grady           1.21.11