MTB index page for all MTB content
Slovenian Cup - 1 DHI
Maribor, Slovenia, August 26
Polc fastest on new Maribor DH course
Filip Polc (Gravity Group) couldn't be matched
Photo ©: Andrej Dekleva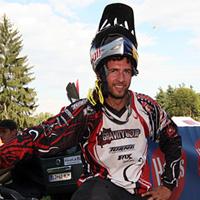 Slovak downhill mountain bike star Filip Polc has been declared Slovenian by mistake on many occasions. One place everybody knows he is not Slovenian is Maribor, the venue of 2007 Nissan UCI Mountain Bike World Cup final. Today the 25 year-old won the Slovenian Cup downhill final in a strong international field. "A good race in nice conditions," said Polc. "The course is not too long so a clear run is even more important here. While it was grippy and very fast in the dry it will be hard in wet because of all the roots."
The track, with 450 metres in elevation drop, is very similar to the classic one near the top but completely new towards the bottom. In the afternoon final, Filip Polc (Gravity Group) came down the hill as the last rider and posted the best time of the day with 3.03 minutes. That was just over a second faster than Italian champion Alan Beggin, who had been sitting in the hot seat for the previous 10 riders.
Polc and Beggin were in a class of their own today on the dry track. Austrian champion Markus Pekoll from Schladming followed in third, Austrian junior Georg Sieder placed fourth and local junior, 17 year-old Denis Paradiž, fifth.
Austrians dominated the women's race - Petra Bernhard won in front of Anita Molcik and Helene Valerie Fruhwirth.
"I don't remember the old course all that well and I was riding a different bike so I can't compare them," noted Polc, who placed 14th in the downhill at the 2006 World Championships. "I remember the old one was ahead of its time and this one is similar to what we ride in the World Cup these days."
Photography
For a thumbnail gallery of these images, click here
Images by Andrej Dekleva
Results
Elite men
 
1 Filip Polc                               3.03.40
2 Alan Beggin (Mapei Merida)                  1.32
3 Marcus Pekol (Fast4Ward Racing)             4.23
4 Georg Seider (Fast4Ward Racing)             6.55
5 Denis Paradiž (Kk Ravne)                   10.30
6 Boštjan Volf (Šd Supersnurf)               10.46
7 Jan Cestnik (MTB Trbovlje Cult)            11.07
8 Nejc Rutar (MBK Hidria)                    11.58
9 Boris Tetzlaf (Fast4Ward Racing)           14.39
10 Luka Novak (Novice Extreme)               14.49
11 Martin Mikulenka                          14.43
12 Arkadiusz Perin                           15.31
13 Matej Drnovšek (MTB Trbovlje Cult)        16.44
14 Krystof Krawczyk                          19.00
15 Saša Merljak (Kk Murska Sobota)           19.58
16 Andraž Jeršin (MTB Trbovlje Cult)         21.23
17 Blaž Hölcl (Kk Ravne)                     23.27
18 Thomas Warmuth                            24.08
19 Jaka Seme (Guerilla Bike Racing)          25.48
20 Robert Nagl (Zauberberg Bikers)           25.56
21 Andrej Šumbergar (Šd Supersnurf)          25.47
22 Boštjan Felc (MTB Trbovlje Cult)          26.45
23 Sebastjan Zmrzljak (MTB Trbovlje Cult)    28.47
24 Georg Nagl (Zauberberg Bikers)            29.41
25 Jan Bolha (Guerilla Bike Racing)          29.46
26 Jakob Schaffer Umar (Asvö Schladming)     30.30
27 Grzegorz Zielinski (Total Bikes)          32.08
28 Rudi Gale (MTB Sokol Fun)                 32.21
29 Matthias Stonig (Ironhorse Playbiker)     33.02
30 Tine Mahkovec (MTB Sokol Fun)             33.51
31 Grega Oblak (Kk Ravne)                    33.39
32 Georg Vit (Arbo Bang Brothers)            34.08
33 Dino Žunjic (Bbk Zlatni Medvjed)          34.53
34 Jože Veber (Kk Tropovci)                  35.04
35 Matjaž Tavzelj (Kk Ravne)                 35.41
36 Patrik Zolej (Hun)                        35.44
37 Miha Jakopic (Šktd Avce)                  36.41
38 Alej Riha                                 37.36
39 Jiry Svak                                 38.30
40 Miroslav Bureš (Specialized)              40.50
41 Aleš Verbnik (MTB Sokol Fun)              41.26
42 Mate Ferentzi (Jozsefhegyi Se)            42.49
43 Jan Lovše (MTB Trbovlje Junior)           42.59
44 Rok Podbevšek (Calcit Kamnik)             43.11
45 Rene Vrecl (MTB Bike Park)                43.16
46 Cszaba Halasz (Hun)                       43.34
47 Peter Gacs (Limit Racing Team)            43.57
48 Alen Šumandl (MTB Bike Park)              44.51
49 Simon Belšcak (MTB Bike Park)             45.12
50 Kai Crow                                  45.57
51 Janez Bartolj (MTB Trbovlje Junior)       46.31
52 Peter Dorfinger (Union Vertical)          46.56
53 Rok Jurca (MTB Sokol Fun)                 47.24
54 Nino Dušak (Cro)                          47.57
55 Balazs Kutasi (Hun)                       48.54
56 Michael Nowotny (Bikestore Graz)          49.59
57 Blaž Cuk (MBK Hidria)                     49.21
58 Peter Levpušcek (Šktd Avce)               49.38
59 Janez Štupar (Calcit Kamnik)              51.10
60 Tadej Razpet (MBK Hidria)                 51.41
61 Primož Gosak                              54.12
62 Rok Geremšek (Kolo Klub Šprikla)          55.01
63 Luka Ferlic (MTB Trbovlje Junior)       1.00.21
64 Luka Španjol (Xbbxs Adrenalina)         1.03.21
65 Marinko Rago (Xbbxs Adrenalina)         1.04.58
66 Rok Kralj (Šd Supersnurf)               1.07.22
67 Miklos Csorba (Bringabanda Sc)          1.07.56
68 Boštjan Vižin (Šd Supersnurf)           1.10.48
69 Andraž Grum                             1.10.26
70 Miroslav Bureš                          1.17.08
71 Erik Kimmel                             2.11.22
DNS Žan Jurca (MTB Sokol Fun)                     
DNS Jure Menard                                   
DNS Samo Bucar (Kk Murska Sobota)                 
DNS Marko Lorenz (Sub Dh Team)                    
DNS David Hetherington (MTBa (Aus))               
DNS Kristian Halasz (Hun)                         
DNF Tadej Humar                                   
DNF Miha Halzer (Kd Hrastnik)                     
DNF Simon Marcic (Kk Murska Sobota)               
DNF Primož Dernulovec (Calcit Kamnik)             
 
Elite women
 
1 Petra Bernhard                           3.44.02
2 Anita Molcik                                7.08
3 Helene Valerie Fruhwirt (Trek Europe)      25.10
4 Anna Sojka (Remerx Grafobal)               39.11
5 Ana Vanessa Gnjezda                      3.57.09

Sportsman
 
1 Mitja Poglonik                           3.30.00
2 Markus Planitzer                            1.01
3 Aleksander Mikowitsch                       2.14
4 Gašper Klemencic (MBK Hidria)               5.38
5 Gašper Jereb (Kolovrat Team)                6.20
6 Krisztian Franko (Hun)                      7.57
7 Akos Polgar (Hun)                          10.06
8 Walter Zeidler                             13.05
9 Mitja Horvat (Bikeek Ptuj)                 13.09
10 Sebastjan Stubelj (Sm Motocenter)         16.13
11 Tobias Gosch (Maximum Racing)             17.09
12 Peter Mlinar                              20.05
13 Urban Pogladic (Guerilla Bike Racing)     25.33
14 Ivan Golob                                25.37
15 Tadej Razpet                              26.37
16 Žiga Pandur                               27.21
17 Žiga Fujan                                27.11
18 Mario Reinbacher (Bikestore Graz)         29.08
19 Domen Janc                                29.23
20 Robert Brodaric                           29.55
21 Aleš Drole (MBK Hidria)                   30.17
22 Martin Kobal                              33.26
23 Jernej Smole                              35.33
24 Matevž Korenin (Šd Supersnurf)            39.09
25 Matjaž Starina                            41.32
26 Blaž Vrtacnik (Supersnurf Gulc)           42.43
27 Saša Dolgov (Kk Murska Sobota)            43.09
28 Klemen Pacnik                             44.13
29 Jani Novak (MTB Bike Park)                47.22
30 Dejan Kastelic                            49.03
31 Jan Nemec (Kk Murska Sobota)              49.06
32 Miha Kosi Fuks                            50.18
33 Alen Linardic (Xbbxs Adrenalina)          52.25
34 Kristjan Sliško (MTB Bike Park)         1.02.51
35 Rok Korenin (Šd Supersnurf)             1.03.25
36 Denis Gregorcic                         1.20.34
37 David Ferlic                            1.36.26
38 Anže Mihelic (MTB Ribncan)              1.57.23
39 Zvonimir Cepic (Giro Sjft)