MTB index page for all MTB content
Slovenian GP/Pohorje Cup 2007 - 1 XCO
Maribor, Slovenia, August 25
Fumic Brothers rule Maribor rehearsal
Brothers in arms, and glory: The Fumic brothers,
Photo ©: Andrej Dekleva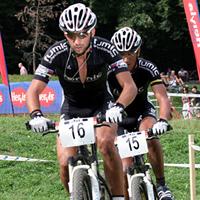 The new Olympic cross-country track which is to host the Nissan UCI Mountain Bike World Cup Finals in three weeks time had a successful opening with today's Slovenia Cup finals, a UCI Class 1 race. In men's race, brothers Lado and Manuel Fumic of Fumic Brothers International ruled the racing on 4.5 kilometre lap with 150 metres of elevation. 31 year-old Lado led from the start of the eight-lap race to be later joined by his six years younger brother Manuel, the former Under 23 World Champion.
"I stayed in front from the start, I was trying to test my shape," said Lado. "It was working okay, then I waited for my brother and we continued together. It worked perfectly on this course, here riding in a small pack is faster than riding in a larger group."
In the end Lado was faster than Mani, finishing a few meters in front of him. Ukrainian National Team member Sergiy Rysenko finished in third just under two minutes behind. Czech Merida team rider Jiri Friedl followed in fourth and Austrian champion Christoph Soukup. Soukup rode in third close to FBI riders for more than half of the race before being slowed down by a flat tire.
Austrian Elisabeth Osl was the class of the women's field,
Photo ©: Andrej Dekleva

"I think the race course is pretty good," added Lado. "It is a fast course and there is no place to recover. It will be a really hard race at the World Cup finals. Today the weather was perfect, it was dry, but still humid and slippery in the forest. So I hope it doesn't rain for the World Cup."
In women's race the Austrian champion Elisabeth Osl seemed as good as invincible. Slovenian Nina Homovec came closest, finishing in second 3.44 minutes behind. Slovak Janka Stevkova finished third, followed by Kaytee Boyd of New Zealand and another home rider Blaža Klemencic.
Austrian Alexander Gehbauer won the men's and Hungarian Barbara Benko the women's junior race.
On Sunday the Slovenia Cup finals end with the downhill race.
Photography
For a thumbnail gallery of these images, click here
Images by Andrej Dekleva
Results

Elite men
 
1 Lado Fumic (Ger)                              1.52.23
2 Manuel Fumic (Ger)                               0.01
3 Sergiy Rysenko (Ukr)                             1.56
4 Jiri Friedl (Cze)                                3.24
5 Christoph Soukup (Aut)                           3.56
6 Christof Bischof (Swi)                           4.55
7 Michael Weiss (Aut)                              5.19
8 Roman Rametsteiner (Aut)                         6.39
9 Robert Gehbauer (Aut)                            7.59
10 Oleksandr Yakymenko (Ukr)                       8.40
11 Milan Barenyi (Svk)                            10.30
12 Andreas Melts (Hun)                            11.41
13 Roland Plank (Aut)                             12.52
14 Gerald Hauer (Aut)                             13.06
15 Michal Plesnik (Svk)                           13.42
16 Uwe Hochenwarter (Aut)                         14.59
17 Anže Bizjak (Ukr)                              16.39
18 Andriy Gumenyuk (Ukr)                          18.16
19 Luka Rakuša (Slo)                                   
20 Martin Kostelnicak (Svk)                            
21 Bilal Akgul (Tur)                                   
22 Matjaž Budin (Slo)                                  
23 Andras Parti (Hun)                                  
24 Zsolt Szlobodnyk (Hun)                              
25 Luka Mezgec (Slo)                                   
26 Luka Homovec (Slo)                                  
27 Đani Simcic (Cro)                                   
28 Borut Fonda (Slo)                                   
29 Kamil Alev (Tur)                                    
30 David Vogrin (Slo)                                  
31 Nejc Cernilogar (Slo)                               
32 Christoph Plank (Aut)                               
33 Jernej Muzga (Slo)                                  
34 Jaka Tancik (Slo)                                   
35 Luka Mom (Slo)                                      
DNF Miha Šolar (Slo)                                   
DNF Szilard Buruczki (Hun)                             
DNF Lenart Noc (Slo)                                   
DNF Matej Lovše (Slo)                                  
DNF Robert Kircher (Aut)                               
DNF Lukas Hanus (Svk)                                  
DNF Josip Domjancic (Cro)                              
DNF Klaus Maier (Aut)                                  
DNF Samo Rauter (Slo)                                  
DNF Markus Loisl (Aut)                                 
DNF Martin Skopek (Svk)                                
 
Elite women
 
1 Elisabeth Osl (Aut)                           1.40.45
2 Nina Homovec (Slo)                               3.44
3 Janka Stevkova (Svk)                             7.51
4 Kaytee Boyd (NZl)                                9.32
5 Blaža Klemencic (Slo)                           10.26
6 Natalya Krompets (Ukr)                          11.04
7 Tanja Žakelj (Slo)                              11.48
One lap down
8 Darinka Brešar (Slo)                                 
9 Liliya Zaytseva (Ukr)                                
10 Senem Guler (Tur)                                   
11 Ana Zupan (Slo)                                     
Two laps down
12 Semra Yetis (Tur)                                   
DNF Maria Osl (Aut)                                    
 
Junior men
 
1 Alexsander Gehbauer (Carinthia Power Bike)    1.33.09
2 Mykhaylo Batsutsa (Ukr)                          4.16
3 Matthias Hoi (Arbö Rlm Omya)                     4.53
4 Jože Zager (Kk Ravne)                            7.03
5 Blaž Žnidaršic (Kd Uni Team Lj)                  7.33
6 Richard Gantner (Rc Lassnitzhöhe)               14.23
7 Milivoj Antic (Bk Crikvenica)                   15.01
8 Balint Lukacs (Csömör Ksk)                      15.53
9 Nejc Podgornik (Sloga 1902 Idrija)              17.29
One lap down
10 Primož Ravnik (Kk Završnica)                        
11 Matej Pikovnik (Kd Hrastnik)                        
12 Primož Resman (Kk Završnica)                        
13 Martin Jesih (B.V.G. Gulc)                          
14 Žiga Knež (Kk Bike - Ek)                            
15 Lukas Steiner (Arbö Rlm Omya)                       
Two laps down
16 Anže Horvat (Kk Završnica)                          
 
Cadet men
 
1 Marko Bulic (Bbk Istrabike)                   1.47.56
2 Urban Ferencak (Šd Pintatim)                     3.12
One lap down
3 Blaž Petek (Kd Calcit Kamnik)                        
4 Dieter Gutschi (Arbö Rlm Omya)                       
5 Domen Vogrin (Šd Energija)                           
6 Miha Tertinek (Ganesha Team)                         
Two laps down
7 Matic Slabanja (Kd Calcit Kamnik)                    
8 Tine Horvat (Kk Završnica)                           
DNF Klemen Nicoletti (Šd Energija)                     
 
Junior women
 
1 Barbara Benko (Pccc)                          1.35.23
2 Alla Boyko (Ukr)                                 7.18
3 Polona Batagelj (Mbk Hidria)                     8.55
4 Jerneja Tratnik (Mbk Hidria)                    19.12
DNF Eva Justin (Kk Završnica)                          
DNF Melissa Horvat (Carinthia Power Bike)              
 
Masters
 
1 Grega Miklic (Kd Calcit Kamnik)               1.36.25
2 Peter Vesel (Kd Uni Team Lj)                     4.02
3 Jure Kukovic (Kd Calcit Kamnik)                 13.19
One lap down
4 Iztok Robic (Kk Bikeek)                              
5 Matej Dakskobler (Mbk Hidria)                        
6 Vedran Berkovic (Bk Kalorija)                        
7 Veljko Brajkovic (Bk Mtb Istra Pazin)                
8 Peter Rapac (Kk Frirajd Koroška)                     
Two laps down
9 Aleš Boben (Kk Postojna)                             
 
Amateurs
 
1 Sašo Rupnik (Mbk Hidria)                      1.42.55
2 Tit Kukovec (Kk Ravne)                           0.28
3 Marko Cretnik (Ganesha Team)                     1.44
4 Primož Jurak ()                                  1.52
5 Klemen Hojnik (Mtb Koroška)                      5.44
One lap down
6 Ivo Rubinic (Bbk Marun Lovran)                       
7 Simon Pernovšek ()                                   
8 Luka Vodopivec (Kk Djak)                             
9 Blaž Podricnik (Kk Ravne)                            
10 Mario Podrebarac (Bbk T-Rex Karlovac)               
Two laps down
11 Denis Tomašic (Bbk T-Rex Karlovac)                  
DNF Andrej Ošlak (Kk Frirajd Koroška)                  
 
Boys
 
1 Matija Jauševec (Bbk T-Rex Karlovac)         26.32.00
2 Žan Podgornik (Sloga 1902 Idrija)             1.33.00
3 Miha Poljanec (Sloga 1902 Idrija)             7.25.00
 
Girls
 
1 Tina Perše (Kk Završnica)                    28.45.00
2 Tajda Venko (Kd Hrastnik)                    13.25.00