MTB index page for all MTB content
Australian 24 Hour Solo National Championships - CN
Innabaanya, Australia, April 7-8, 2007
Bell and Van Der Spiegel win national titles
World champion Gordon drops out due to stomach bug
Andrew Bell
Photo ©: Gregory Nelson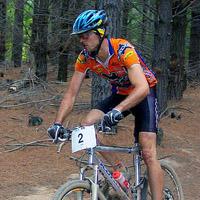 Andrew Bell and Katherine Van der Spiegel were awarded the green and gold Australian national championships jerseys by Mountain Biking Australia President Gillian Duncan after both won their titles in the 24 hour Solo championship race at Innabaanya Guide Camp in the Mt Majura pine forest near Canberra. Both winners will receive airfare and a paid race entry fee for the 24 Hours of Adrenaline World Solo Championships in Monterey, California, in October.
Bell, who finished second last year, defeated 70 other riders in the men's race during the Easter weekend competition on the 8.2 km track. The 32-year-old logged 49 laps and finished one lap ahead of John Claxton. Daniel Mackay came in third at 46 laps.
Bell's said of his victory, "It's the best thing ever – I've been working towards this for three years and it was a bonus to win the national championships and represent Australia at the world championships," Bell said to Mountain Bike Australia according to their website.
Women's winner Katherine Van der Spiegel
Photo ©: Gregory Nelson

"The Mt Majura track was the most demanding that I have ever ridden and I was so surprised to finish third with so many big name riders in the championships – I couldn't have done it without my support crew," said bronze medalist Mackay.
Last year's 24 Hours of Adrenaline World Solo Champion, Craig Gordon, was forced to drop out after only 16 laps due to a stomach bug.
35-year-old Katherine Van der Spiegel, took her win with 42 laps, and her lead was strong throughout. "It's the second time that I have won the race – I paced myself through the night and managed to hold on," Van der Spiegel said to Mountain Bike Australia.
Van der Speigel was followed by Alexandra Kiendl in second (with 39 laps) and Celia Thompson in third (with 37 laps).
Photography
For a thumbnail gallery of these images, click here
Images by Gregory Nelson
Results
Men - Overall

49 laps
1 Andrew Bell                                    24.00.20

48 laps
2 John Claxton                                   24.00.23

46 laps
3 Daniel Mackay                                  24.03.37

45 laps
4 Joel Donney                                    24.41.30

44 laps
5 Graeme Allbon                                  24.00.25
6 Brendan Den                                    24.15.28

43 laps
7 Rob Preston                                    24.03.34
8 Craig Peacock                                  24.09.14

42 laps
9 Chris Osborne                                  24.16.38

40 laps
10 Neil Dall                                     24.27.06

39 laps
11 Phillip Haughton                              24.05.54

38 laps
12 Garry James                                   24.00.46

35 laps
13 Morgan Pilley                                 24.00.30

33 laps
14 Ben Randall                                   24.01.00
15 Richard Peil                                  24.02.43
16 Brad Mertens (Sydney Single Speed Society)    24.14.02

32 laps
17 Trent Hewitt                                  24.01.49
18 Warrick Hancock                               24.03.05
19 Craig Armour                                  24.09.38

31 laps
20 Kevin Wells                                   24.00.26

30 laps
21 Chris Schulz                                  24.46.51

29 laps
22 Ben Egger                                     24.28.39

28 laps
23 Michael Free                                  24.00.43
24 Klaus Heil                                    24.01.51
25 Dave McGregor                                 24.39.10

27 laps
26 Samuel Warmington                             24.14.05

26 laps
27 David Power                                   24.15.32

25 laps
28 Chris Millman                                 24.00.58
29 Paul Floro                                    24.31.28

24 laps
30 Russell Hatton                                24.00.34
31 Arran Pearson                                 24.04.31
32 Ryan Dixon                                    24.19.33

23 laps
33 Richard Smyth                                 24.00.34
34 Hieu Nguyen                                           
35 Paul Ryan                                     24.04.03
36 Trevor Page                                   24.04.28
37 Rhys Cutifani                                 24.00.55

22 laps
38 David Firth                                   24.02.12

21 laps
39 Glenn Apps                                    24.04.05

20 laps
40 Jason Peterson                                24.13.56

19 laps
41 Jack Spahr                                    24.14.59

16 laps
42 Jason Dreggs                                  24.11.35

15 laps
43 Sasha Pesic                                   24.00.28

14 laps
44 Justin Bagge                                    
45 Luke Graydon                                           

DNF Mark Fenner                                          
DNF Saul Britton                                         
DNF Tristan Bennett                                      
DNF Nicholas Lee                                         
DNF Craig Gordon                                         
DNF Matt Free                                            
DNF Mark Walker                                          
 
Women - Overall

42 laps
1 Katrien Van Der Spiegel                        24.06.57

39 laps
2 Alexandra Kiendl                               24.18.39

37 laps
3 Celia Thompson                                 24.04.51

35 laps
4 Claire Graydon                                 24.18.19

30 laps
5 Emily Dirksen                                  24.24.40

27 laps
6 Lauren Tanzen                                  24.00.34

25 laps
7 Philippa Rostan                                24.13.46

22 laps
8 Megan Dimozantos                               24.07.52

18 laps
9 Karen Foat                                     24.00.34

11 laps
10 Avril Baker                                   24.11.24

10 laps
11 Jenny Firman                                  24.01.03

5 laps
12 Amanda Graydon                                24.15.16

Men 18-24

45 laps
1 Joel Donney                                          24.41.30

39 laps
2 Phillip Haughton                                     24.05.54

35 laps
3 Morgan Pilley                                        24.00.30

22 laps
4 Rhys Cutifani                                        24.00.55

14 laps
5 Luke Graydon                                         24.18.22
 
Women 18-24

35 laps
1 Claire Graydon                                       24.18.19

11 laps
2 Avril Baker                                          24.11.24
 
Men 25-29

46 laps
1 Daniel Mackay                                        24.03.37

43 laps
2 Rob Preston                                          24.03.34

33 laps
3 Ben Randall                                          24.01.00

32 laps
4 Warrick Hancock                                      24.03.05
5 Craig Armour                                         24.09.38

29 laps
6 Ben Egger                                            24.28.39

24 laps
7 Ryan Dixon                                           24.19.33

23 laps
8 Trevor Page                                          24.04.28

DNF  Tristan Bennett SS                               11.15.58
DNF  Nicholas Lee                                     14.43.13
 
Women 25-29
25 laps
1 Philippa Rostan                                      24.13.46

22 laps
2 Megan Dimozantos                                     24.07.52

18 laps
3 Karen Foat                                           24.00.34
 
Men 30-34

49 laps
1 Andrew Bell                                          24.00.20

48 laps
2 John Claxton                                         24.00.23

42 laps
3 Chris Osborne                                        24.16.38

33 laps
4 Brad Mertens  (Sydney Single Speed Society)          24.14.02

32 laps
5 Trent Hewitt                                         24.01.49

31 laps
6 Kevin Wells                                          24.00.26

27 laps
7 Samuel Warmington                                    24.14.05

26 laps
8 David Power                                          24.15.32

25 laps
9 Paul Floro                                           24.31.28

24 laps
10 Arran Pearson                                       24.04.31

23 laps
11 Richard Smyth                                       24.00.34
12 Hieu Nguyen                                                 

22 laps
13 David Firth                                         24.02.12

20 laps
14 Jason Peterson SS (Sydney Single Speed Society)     24.13.56

15 laps
15 Sasha Pesic                                         24.00.28

14 laps
16 Justin Bagge SS                                     24.01.46

12 laps

DNF  Matt Free                                         8.01.48
 
Women 30-34

39 laps
1 Alexandra Kiendl                                     24.18.39
 
Men 35-39

44 laps
1 Brendan Den SS                                       24.15.28

30 laps
2 Chris Schulz                                         24.46.51

28 laps
3 Michael Free                                         24.00.43

25 laps
4 Chris Millman                                        24.00.58

21 laps
5 Glenn Apps                                           24.04.05

16 laps
6 Jason Dreggs                                         24.11.35

DNF  Mark Fenner                                      18.17.34
DNF  Saul Britton                                     10.09.29
DNF  Craig Gordon                                      6.50.45
 
Women 35-39

42 laps
1 Katrien Van Der Spiegel                              24.06.57

37 laps
2 Celia Thompson                                       24.04.51

30 laps
3 Emily Dirksen                                        24.24.40

27 laps
4 Lauren Tanzen                                        24.00.34
 
Men 40-44

44 laps
1 Graeme Allbon                                        24.00.25

33 laps
2 Richard Peil                                         24.02.43

24 laps
3 Russell Hatton                                       24.00.34

23 laps
4 Paul Ryan                                            24.04.03
 
Men 45-49

43 laps
1 Craig Peacock                                        24.09.14

40 laps
2 Neil Dall                                            24.27.06

38 laps
3 Garry James                                          24.00.46

28 laps
4 Klaus Heil                                           24.01.51
 
Women 45-49

10 laps
1 Jenny Firman                                         24.01.03
 
Men 50+

28 laps
1 Dave McGregor                                        24.39.10

19 laps
2 Jack Spahr                                           24.14.59

DNF  Mark Walker                                              
 
Women 50+

5 laps
1 Amanda Graydon                                       24.15.16
 
Men Under 18

27 laps
1 Scott Chancellor                                     24.03.21

26 laps
2 Mark Tupalski                                        24.11.32

19 laps
3 Anton Pluschke                                       24.06.26

DNF  Andrew Adams                                      3.24.11