MTB index page for all MTB content
NORBA series round 4 - E1
Durango Colorado, August 2-4, 2002
Four-cross - August 3: Durango
Carter & Jonnier make it look easy; real battles for second place
By Josh Ellis
Big air, cunning passes and numerous crashes marked a popular National Championship Series mountain cross (aka four-cross) competition in Durango today. The course was popular with the riders, with Eric Carter describing it as "awesome". Once the hydraulic gate lowered, the racers took off on an 18-percent descent into a right-hand turn. After jumping a two-stage tabletop, the riders entered a left-hand berm, which set up a rhythm section. Another right hand turn sent the racers into a double rhythm section - they then snaked through a smooth left-right-left section to build their speed into the final 50 yards. Two 7-foot-tall doubles challenged the riders before the finish line, a challenge more than a couple racers lost.
Men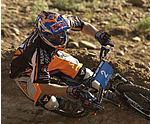 Eric Carter
Photo: © Rob Karman
Eric Carter, seeded as the number two man, made a surge at the gate and let his natural talent flow to strike gold against a field of 64 pro men racers. After four rounds, Sabrina Jonnier showed her rivals why she was the number one seed as she methodically out-raced the women's pro field.
Carter faced Wade Bootes, Brian Schmith and Rich Houseman in the final round. Carter, on the faster, inside line, got the holeshot as the gate dropped and didn't look back. Bootes, Schmith and Houseman, however, worked the full length of the course for a better finish. Bootes, a self-proclaimed BMX-railer, found a line through his two competitors and made a late charge towards Carter, but came up shy. Houseman finished for third, while Schmith followed in for fourth.
"Bootes was sleeping on the gate, we were laughing about it at the finish, and I had the course to myself after that. I think that it was an awesome course. Having fun is key," Carter said.
Mike King, favored for the mountain cross title, was knocked out in the semi-finals after being bumped off line by Schmith. King tried to recover, but found himself finishing third in the semi-final round despite his efforts. One placing shy of proceeding to the final round.
"That start was kind of weird 'cause everyone flinched. It was a long start, it seemed like 13 seconds. I was in a good position and had a good start, but then Schmith came on the inside and bumped me and I never got back on track. It was good racing, but when he bumped me it just caused me launch a little farther than I like," King said.
Women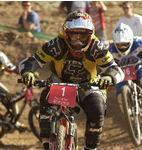 Sabrina Jonnier
Photo: © Rob Karman
Jonnier, riding the inside line for every challenge, used it to her fullest advantage and kept all her competition behind her every time down the hill, a showing of total domination.
"I'm really tired from jet lag, but it's good. The importance, the focus is really on the gate, the start. I won the qualifier and that was good, cause I could choose which is good, because we have only one good line, inside, and makes it difficult for somebody to pass," Jonnier said.
As in the men's final, the real battle seemed for second place - which was dueled out by Tai-Lee Muxlow, Katrina Miller and Melissa Buhl. Muxlow was the eventual runner-up, but grabbed the advantage after Miller got crossed up on the upper section of the course, which slowed both her and Buhl.
"It was good. Qualifying didn't help cause I was in the outside lane, and that put me a little behind the 8-ball. My main aim was to stay upright for this race, not get tangled in this race. I've had a couple good crashes this year so I want to stay healthy till World's," Miller said.
Seeded as the number two woman, Tara Llanes did not race in the finals after suffering from a crash just before the finish line during practice runs. One of the few women to take on the 7-foot doubles, Llanes landed short on the second of two doubles and was sent face-first into the ground, and later to the hospital.
Photography
Images by Rob & Renna Karman/www.mtnbikephotos.com
Results
Pro Women 
       
1 Sabrina Jonnier (Intense)                                       200
2 Tai-Lee Muxlow (Dirtworks/Fox)                                  180
3 Katrina Miller (Jamis Bicycles)                                 140
4 Melissa Buhl (Khs/Odi)                                          120
5 Maxine Irving (Turner/Romic)                                     80
5 Jill Kinter                                                      80
5 Jamie Lilly (Systems Web)                                        80
5 Vanessa Quin (Intense Cycles)                                    80
9 Diana Marggraff (Royal Orange)                                   40
9 April Lawyer (Maxxis Tires)                                      40
9 Cassandra Boon (Giant Bicycles)                                  40
9 Hiroko Inomata (Foes/Credit)                                     40
9 Kathy Pruitt (Zeal Optics/Santa Cruz)                            40
9 Lisa Sher (Chumba Wumba)                                         40
9 Tara Llanes (Yeti/Pearlizumi)                                    40
9 Gale Dahlager (Razor Rock Racings)                               40       
       
 
Pro/Semi Pro Men
 
1 Eric Carter (Mongoose/Hyundai)                                  200
2 Wade Bootes (Trek/Volkswagon)                                   180
3 Rich Houseman (Team Houseman)                                   140
4 Brian Schmith (Mongoose/Hyundai)                                120
5 Thomas Allier (Giant)                                            80
5 Mike King (Team Haro Lee Dungarees)                              80
5 Ross Milian (Yeti/Rpm)                                           80
5 Brian Lopes (Gt Bicycles)                                        80
9 Jared Graves (Mad Cats Orange)                                   40
9 Todd Bosch (Intense/Racers Edge)                                 40
9 Aaron Peters (Sunrace Santacruz)                                 40
9 Nathan Rankin (Foes/Azonic)                                      40
9 Joe Haley (Specialized)                                          40
9 Chris Powell (Profile Racing)                                    40
9 Jeff Evans (Cheeta/Spy/Romic)                                    40
9 Karl Rogne (Wtb/Karpiel)                                         40
17 Aaron Chase (Sobe/Cannondale)                                   20
17 Robin Baloochi (Oakley/Romic)                                   20
17 Christopher Odriscoll (Azonic/Oakley)                           20
17 Jared Rando (Foes/Azonic)                                       20
17 Gary Houseman (Team Houseman)                                   20
17 Jordie Lunn (Sunrace Santacruz)                                 20
17 Erick Morningstar (Specialized/Jones Soda)                      20
17 John Kirkcaldie (Maxxis)                                        20
17 Waylon Smith                                                    20
17 Philip Tinstman (Mad Catz/Spy/Orange)                           20
17 Orlando Martinez (Spy Profile)                                  20
17 David Klaassenvanoorschot (Intense/Spy)                         20
17 Rob Brown (Turner/Romic)                                        20
17 Bernie Fredrick (Lenz Sport)                                    20
17 Joe Lawwill (Trek/ Fox Shox)                                    20
17 Jamas Stiber (Chacher)                                          20
33 Bryn Atkinson (Royal Orange)
33 Bryan Culp (Wtb)
33 Tommy Tokarczyk (Oakley/Azonic/)
33 Koichi Inomata (Foes/Credit)
33 Jiro Nakamura (Wtb)
33 Alex Morgan (Bcd Sun)
33 Jonathan Canfield (Trek/Volkswagon)
33 Bert Boyce (Vision Sf/Planet X)
33 Todd Leduc (Foes/Azonic)
33 Darrell Young (Arrow Racing)
33 Eric Porter (Iron Horse/Sunrims)
33 Juan Ashworth (Kovachi Wheels)
33 Curtis Keene   
33 Shane Leiggi (The Racers Edge)
33 Mark Meyer (Oc Racing)
33 Caile Noble (Royal Orange)
33 Nicholas Oneil (Wtb Sunrace)
33 Sean Methven (Hopey Dampers)
33 James Dorr (Yeti/Azonic)
33 Matt Thompson (Big Crank Racing)
33 Dave Ziegman (Big Crank Racing)
33 Brian Schroyer   
33 Jody Stoddard (Fox/Intense/Maxxis)
33 Lars Tribus (Racers Edge/Intense)
33 Brian Deem (Intense/Flyingw)
33 Zeke Corson (Karpiel)
33 Kyle Ebbett (Iron Horse)
33 Chris Del Bosco (Oakley Fast Times)
33 Nate Adams (Big Crank)
33 Tj Cowern (Poison Spike Bicyle)
33 David Ignatew   
33 Dan Weinman (Team Free Taos)