MTB index page for all MTB content
NORBA series round 4 - E1
Durango, Colorado, August 2-4, 2002
Cross-country - August 2: Durango
Florit hangs tough, closes in on series lead
By Josh Ellis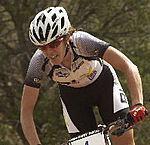 JiMena Florit
Photo: © Rob Karman
Early-morning rain aside, it was another beautiful day for JiMena Florit as the Argentine out-paced the Women's pro cross country field for her second National Championship Series win this year in Durango today.
Florit's win brings her within two points of current NCS leader Allison Dunlap in the final standings, and guarantees a showdown between the two at the NCS Finals at Mount Snow, Vermont August 15-18.
Florit finished with a 1 minute, 52 second lead over Dunlap, after exchanging the lead back and forth for all but the last lap. Mary Grigson chased the two leaders, and finished third for her efforts, 2:46 back. Local hero Shonny Vanlandingham fought off former world champion Alison Sydor for fourth place, finishing 3:13 and 3:15 back respectively.
After charging into first place, Florit forced a 15 second lead over Dunlap at the end of their partial lap, 6.4 miles, but Dunlap reeled her in on the climbs and flat sections to exchange the lead. The two diced back and fourth, never leaving each other's sight.
"When she caught me, I thought I would be fighting for second place. I knew she was going to go around me, and she was attacking all the time, everywhere. Then something clicked inside me, and I dug deep and dropped her," Florit said.
Florit maintained a defensive role for most the race, warding off Dunlap's tireless attacks, but after being almost tied at the end of the second lap, a 7.9-mile loop - Florit went on to put almost two minutes on the NCS leader.
"It was really hard. She deserved to win - she rode the strongest," Dunlap said.
Working hard behind the two leaders were Grigson, Vanlandingham, Sydor and Susan Haywood. The five riders were almost always within sight of each other, but finding a zone in the final lap - Grigson put a 30-second spread on her rivals, finishing third.
Vanlandignham, Sydor and Haywood were left to duel the course by themselves. Sydor dropped into the final descent 10 seconds ahead of Vanlandingham, who reeled her in with her full-suspension bike and stayed on her wheel climbing out of the valley.
In the sprint finish to the line, Vanlandingham started early, hoping to tame the quick power in Sydor's legs with her natural endurance prowess. It worked giving Vanlandingham a two-second spread.
"It was a great race. I was feeling a little weak on the climbs, but as the race progressed, I felt stronger, especially the last quarter-mile. It reminded me of my track days, and how to attack against the fast sprinters. You just have to attack early 'cause they can't last - and I knew she's fast," Vanlandingham said.
Another sweet victory for Green
By Josh Ellis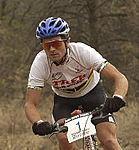 Roland Green
Photo: © Rob Karman
With another stellar performance, Green rode to his fourth consecutive National Championship Series cross-country win this year in Durango today. Green has yet to lose an NCS race this year, a habit he doesn't want to break.
Racing a 6.4-mile partial lap for starters, the race looked to be completely open and as the second lap concluded, the lead was exchanged between the top four riders, Green, fellow Canadian Ryder Hesjedal, and Americans Travis Brown and Jeremy Horgan-Kobelski.
The 30-mile competition, however, was wrapped up in the third lap as Green steadily pulled away from the chasers, eventually finishing the course with a 1 minute 5 second lead.
"I didn't get to pre-ride the course so I wanted to follow them and get to know the lines. After I knew the lines, I didn't want to pull them around. When it was raining, I was a little worried. It was hard to control the bike," Green said.
Hesjedal challenged Green's winning streak, leading through the first full lap, but an accident caused by the lead motorcycle forced Hesjedal into the rear until he could recover.
"I felt really good today. Of course, when you come to altitude - you never know how you'll feel. It's always a gamble. Who knows what would have happened though. I didn't need to get crashed by anyone but myself. Not another racer, especially not the motorcycle," Hesjedal said.
Green, however, never had any doubts and calmly rode away.
Brown and Horgan-Kobelski paced each other throughout the race, and finished with a calculated sprint, which Brown won by a hair's width. The two raced around the cross-country track leading to the finish line dodging back and forth, each waiting for the other to attack. Brown struck first and held Horgan-Kobelski off enough for the third place finish.
"My form's good and I had a good start. I know Roland hadn't looked at the course and could tell once he had the course down, he'd blow us away," Brown said.
Chasing the last spot on the podium, Seamus McGrath rounded out the top five, trailing 3:31 behind.
The NCS Finals will be held at Mount Snow, Vt. August 15-18.
Photography
Images by Rob Karman/www.mtnbikephotos.com
Women
Men
Results
Men
 
1 Roland Green (Can) Trek/Volkswagen                     2.11.09
2 Ryder Hesjedal (Can) Subaru/Gary Fisher                   1.06
3 Travis Brown (USA) Trek/Volkswagen                        2.17
4 Jeremy Horgan-Kobelski (USA) RLX Polo Sport               2.17
5 Seamus Mcgrath (Can) Haro Lee Dungarees                   3.31
6 Deiber Esquivel Benavide (CRi) Café De Costa Rica         4.06
7 Jose Adrian Bonilla Bonilla (CRi) Café De Costa Rica      4.59
8 Adam Craig (USA) Balance                                  5.36
9 Jay Henry (USA) Specialized                               6.03
10 Peter Wedge (Can) Kona USA                               6.29
11 Geoff Kabush (Can) Kona                                  7.07
12 Jeremiah Bishop (USA) Trek/VW                            7.18
13 Eric Jones (USA) Sobe/Cannondale                         7.31
14 Frank Mapel (USA) Specilized                             7.33
15 David (Tinker) Juarez (USA) Volvo Cann                   8.16
16 Carl Swenson (USA) RLX Polo Sport                        8.16
17 Todd Wells (USA) Mongoose/H                              8.56
18 Dave Wiens (USA) RLX Polo Sport                          9.06
19 Jeff Hall (USA) Salsa Cycles                             9.13
20 Marc Gullickson (USA) Mongoose/H                        10.04
21 Henry Raabe Mendez (CRC) Café De Costa Rica             10.21
22 Andreas Hestler (Can) Rocky Mountain                    10.28
23 Brian Smith (USA) Dean Bicycles                         10.44
24 Chris Eatough (GBr) Trek/VW                             10.58
25 Chris Sheppard (Can) Haro Lee Dungarees                 11.19
26 Walker Ferguson (USA) Subaru - Gary Fisher              11.21
27 Paul Rowney (Aus) Yeti/Pearl Izumi                      11.37
28 Carl Decker (USA) Deschutes                             11.40
29 Michael Broderick (USA) Seven Cycles                    11.44
30 Charlie Storm (USA) Cycling Sp                          12.49
31 Jimi Mortenson (USA) Tokyo Joes                         12.54
32 James Van Toever (Can) Highlands                        13.11
33 Mike West (USA) Trek/Vw                                 13.56
34 Skyler Reeves (USA) Specialized                         14.25
35 Nathan Phillips (USA) Team Diabe                        14.34
36 Charles Jenkins (USA) Giant West                        15.19
37 Barry Wicks (USA) Clif Bar                              18.16
38 Bart Gillespie (USA) Biogen                             18.36
39 Brent Miller (Aus) Khs Shimano                          18.45
40 Cody Peterson (USA) Lost River                          18.51
41 Chad Melis (USA) Pcw/Tfg/Sm                             19.21
42 Troy Barry (USA) Guru's/Sra                             19.22
43 Michael Janelle (USA) Tokyo Joes                        19.24
44 Douglas Campbell (USA) Khsnm.Com                        20.27
45 Perren Delacour (Aus)                                   21.01
46 Ariel Lindsley (USA) Subaru/Gary Fisher                 22.20
47 Brian Matter (USA) Hayes Brak                           23.11
48 John Macinnis (USA) Sobe/Cannondale                     23.24
49 Russ Tiles (USA) Chalchalch                             24.00
50 Bryson Perry (USA) Guru's                               24.46
51 Jason Moeschler (USA) Giant                             24.49
52 Ryan Trebon (USA) Highland                              25.00
53 Shawn Mitchell (USA) Sobe/Cannondale                    25.30
54 Jamey Yanik (USA) Giant                                 26.01
55 Ben Moody (USA) Harpoon                                 27.16
56 Adam Bucklin (USA) Harpoon                              27.32
57 Brandon Dwight (USA) Ritchey                            28.02
58 Edgar Garcia (Mex) Adventureo                           28.11
59 Brian Astell (USA) Independent                          29.54
60 Nick Waite (USA) Balance                                30.52
61 Kevin Day (USA) Smith Sung                              31.47
62 Andy Johnston (USA) Epx/Air                             33.21
63 Charles Pendry (USA) Highlands                          33.57
64 Garnet Vertican (USA) Odi /South                        35.06
65 Eric Atwood (USA) Ritchy                                35.46
66 Brian Laiho (USA)                                       36.34
67 Ryan Edwards (USA) Devo/Balance                         36.46
68 Nat Ross (USA) Gary Fisher                              40.44
69 Brad Van Orden (USA) Giant                              45.24
DNF Brandon Dwight (USA)
DNF Mathieu Toulouse (Can) Gearsracing
DNF Matt Pacocha (USA) Ritchey
DNF Neil Shirley (USA) Russ Denny
DNF Josh Bezecny (USA) Dragon
DNF Andy Guptill (USA) Coxsackie
DNF Matt Shriver (USA) 3D Racing
DNF Jesse Swift (USA) Dean Bicycles
DNF Jason Sager (USA) Team Diabe
DNF Dave Irving (USA) Atlanta
DNF Andy Jacques-Maynes (USA) Solano
DNF Jason Jones (USA) Atlanta
DNF Duncan Meyers (USA) Soulcraft
DNF Billy Holmes (USA) Ifbikes.com
DNF Mike Wilk (USA) Rpm/Yeti
DNF Thomas Danielson (USA) Sobe/Cannondale
DNF Matt Unger (USA) Tokyo Joes
DNF Kirk Molday (USA) Sunrace
DNF Jamie Morgan (USA) Moots
DNF Burke Swindlehurst (USA) Moots
DNF Joel Hennings (USA) Trek VW
DNF Luke Middleton (USA)
 
Women
 
1 JiMena Florit (Arg) RLX Polo Sport                     1.46.54
2 Alison Dunlap (USA) Luna Women                            1.53
3 Mary Grigson (Aus) Subaru/Gary Fisher                     2.46
4 Shonny Vanlandingham (USA) Sobe/Cannondale                3.13
5 Alison Sydor (Can) Trek-VW                                3.16
6 Susan Haywood (USA) Trek-VW                               4.49
7 Melissa Thomas (USA) Ritchey                              6.59
8 Dara Marks (USA) Titus                                    7.49
9 Mary Mcconneloug (USA) Seven Cycles                       9.39
10 Trish Sinclair (Can) Gearsracin                          9.56
11 Jamie Whitmore-Cardenas (USA) K2                        10.13
12 Lisa Matlock (USA) Ford No Boundaries                   11.35
13 Katerina Hanusova (USA) Luna Women                      11.50
14 Kelli Emmett (USA) Luna Women                           11.59
15 Willow Koerber (USA) Cane Creek                         12.06
16 Kerry Barnholt (USA) Sobe Cannondale                    12.39
17 Gretchen Reeves (USA) Rocky Mountain                    12.51
18 Julie Emmerman (USA) Ritchey                            13.07
19 Lanie Mason (USA) Cane Creek                            13.40
20 Heather Irmiger (USA) Nantucket                         14.03
21 Karen Dewolfe (Can) Rags                                14.48
22 Sally Warner (USA) Biogen                               15.32
23 Jennifer Smith (USA) Dean                               15.32
24 Joan Orgeldinger (USA) Redhook                          16.42
25 Karen Masson (Aus) Sobe Cannondale                      17.14
26 Sarah Tescher (USA) 3D & Easto                          18.25
27 Lorenza Morfin (Mex) Turbo                              18.53
28 Petra Rocha (Aut) Trek/Vw                               19.11
29 Shelly Whisenhant (USA) Velo Bella                      19.32
30 Karen Matamoros Zungiga (CRC) Costa Rica                19.59
31 Heather Szabo (USA) Tokyo Joes                          20.26
32 Gina Hall (USA) Luna Women                              20.53
33 Sonia Lopez (Mex) Mexico                                21.12
34 Jilayne Lovejoy (USA) Trek/Volkswagen                   21.13
35 Alice Pennington (USA) Clif Bar                         21.47
36 Sara Bresnick (USA) Rage-Harrp                          23.04
37 Myra Moller (NZl)                                       23.10
38 Jennifer Todd (USA) Ellsworth                           23.40
39 Adriana Gonzalez (Mex) Mexico                           24.45
40 Lea Davison (USA) Team Balnce                           25.26
41 Carla Salgado (Mex) Mexico                              26.48
42 Jennifer Wilson (USA)                                   26.57
43 Nina Baum (USA) Two Wheel                               27.42
44 Robin Mcgee (USA) Gurus                                 28.07
45 Nina Musich-Baker (USA) Highlands                       29.10
46 Rachel Massey (USA)                                     30.00
47 Nikki Garza (USA) Soul Craft                            30.55
48 Kristy Mantz (USA) Port Norfo                           31.44
49 Kate Lynch (USA) Gurus                                  32.45
50 Shari Hausbeck (USA) Ford No Boundaries                 34.01
51 Alexandra Robinette (USA) Bicycle Sp                    38.05
52 Tonya Laffey (USA) Mtbchick.com                         38.55
53 Leslie Gilmore (USA) Soulcraft                          40.04
54 Simone Otto (USA)                                       41.43
55 Dorthy Wong (USA)                                       46.22
56 Rachael Mirvish (USA) Trek Rocky                        59.44
DNF Lisa Peck (USA) Biogen
DNF Barbara Kreisle (USA) Titus
DNF Lonen Lightfield (USA) Richards
DNF Leah Trapp (USA)
DNF Becca Blay (USA) Aspen Velo

Semi-pro Men
    
1 Nick Gould                                          1.55.25.10   60
2 Mitch Moreman (DEAN/SMART)                              .28.89   55
3 Anthony Colby (3D/GO JUS)                              2.03.19   51
4 Grant Berry (IONIC/CLIF)                               2.54.89   47
5 Ladd Mcclain (GARY FISHE)                              3.13.48   44
6 Joseph Marshall (RITCHEY)                              3.50.25   41
7 Cale Redpath                                           4.02.76   38
8 Andrew Lee (POWDER TOO)                                4.07.60   35
9 Richard Thurman (SOULCRAFT)                            4.27.26   33
10 Jason Jablonski (BOLLA/BIAN)                          4.55.44   31
11 Christopher Phillips (IONIC)                          5.11.70   29
12 Mike Telega (KELLY BIKE)                              5.12.42   27
13 Mitch Westall (DEAN/DYNAT)                            5.33.24   25
14 John Salskov (SPECIALIZE)                             5.48.63   23
15 Mitch Carrier (DURANGO CY)                            5.58.76   21
16 Brandon Ott (TAILWIND B)                              6.13.96   19
17 Douglas Ryden                                         6.32.36   17
18 George Gatseos (MESA STATE)                           6.38.18   15
19 Brian Behrmann (SOBE CANON)                           6.40.04   13
20 Ron Koch (MOOTS)                                      6.50.37   11
21 Joshua Powers                                         6.53.90   10
22 John Foley (BICYCLE AL)                               6.59.14    9
23 Craig Sandstrom (IDAHO STAT)                          7.25.54    8
24 Adam Palmer (TOKYO JOES)                              7.41.92    7
25 Rob Scott (SOBE/CANNO)                                7.45.41    6
26 Ryan Lynch (TPA/GO FIR)                               7.47.24    5
27 Anthony Slowinski (TREK/JEFFE)                        8.17.73    4
28 Neil Davies (TEAM BIG S)                              8.18.10    3
29 Joe Cooper (GO FAST)                                  9.32.52    2
30 Amon Pease (TREK/VW WE)                               9.34.53    1
31 Aren Timmel (SOULCRAFT)                               9.34.83
32 Aaron Potts (HASSLE FRE)                              9.51.23
33 Mark Roebke (IONIC)                                   9.59.50
34 David Binker (RITCHEY)                               10.12.13
35 Eli Mercer (GARYFISHER)                              10.12.42
36 Jeffrey Welch (ABSOLUTE B)                           10.30.15
37 James Upshaw (3D RACING)                             10.34.82
38 Kip Biese (GIANT)                                    10.46.74
39 Dana Weber (TEAM DIABE)                              10.55.47
40 Clint Muhlfeld (TEAM FISH)                           11.03.56
41 Derrick Brown (ABSOLUTE B)                           11.09.67
42 Seth Ramsbottom (YETI CYCLE)                         11.11.07
43 Everett Baker (HIGHLANDS)                            11.22.78
44 Travis Hutchinson (KRYSTAL)                          11.28.66
45 Josh Snead                                           11.28.97
46 Leonardo Sandoval (TEAM ZOMBI)                       11.45.47
47 Jim Moser (SOULCRAFT)                                11.52.97
48 Jason Karew (THOMSON)                                11.54.01
49 Miles Venzara (GOJUS)                                11.54.69
50 Eric Anderson (GREGS CANN)                           12.06.24
51 Brian Eppen (SOBE/CANNO)                             12.09.07
52 Brian Rouse (SCB/SRAM/T)                             13.33.56
53 Daniel Cooley (BOLLA/BIAN)                           13.46.17
54 Josh Kravetz (CLIF)                                  13.50.52
55 Craig Wohlschlaeger (BIG SHARK)                      14.20.21
56 Darren Lightfield (DOBBICO)                          14.36.96
57 Damon Roberson                                       15.58.66
58 Robert Cagle (ATLANTA CY)                            16.29.36
59 Robbie Robinette (BICYCLE SP)                        16.37.50
60 Yuri Hauswald (SOULCRAFT)                            16.58.35
61 Paul Bennett (TOKYO JOES)                            17.12.53
62 Glen Gronsky (TEAM NEMA/)                            17.21.37
63 Glenn Fant (NOR CAL VE)                              18.11.02
64 Shane Bresnyan (SOULCRAFT)                           19.30.34
   Chris Jung (G0OFY)                                        DNF
   Justin Rinehart (SOBE/HEADS)
   Nick Gould (SANTA CRUZ)
   Robert Johnston (MCCC/KRYST)
   Matt Fisher (RPM/YETI)
   Nick Payne   
   Brandon Firth (ROCKY MTN)
   Ryan Harris (GOJUS)
       
Expert Men 19-24
   
1 Thomas Turner (SOBE/CANNO)                          2.00.38.78   30
2 Alex Hagman (DT SWISS)                                 1.48.92   25
3 Kyle Gillespie (DOUGS'S AU)                            2.09.51   21
4 Jack Gervais (A RACERS E)                              2.24.47   18
5 Collin Becker (CU CYCLING)                             4.21.82   15
6 Ben Seltzer                                            4.24.27   12
7 Jesse Stephen (PAST)                                   4.24.60   10
8 Brett Vaughan (CYCLE 360)                              4.41.51    8
9 Nick Martin (TREK/VW RO)                               5.02.14    7
10 Leland Turner (SANTA CRUZ)                            5.11.17    6
11 Nathan Ringquist (HARPOON/RA)                         5.11.43    5
12 Christian Favata (INDEPENDEN)                         5.58.58    4
13 Stephen Shepherd                                      6.36.89    3
14 Ryan Artale (GO FAST SP)                              7.13.93    2
15 Alejandro Siguere (GUATAMALA)                         7.16.22    1
16 Jon Bailey (SOBE CANNO)                               7.51.10
17 Andy Schultz (NORTHERN R)                             8.07.76
18 Paul Clark (YOUNG RIDE)                               8.37.17
19 Lucas Livermon (TREK-GRASS)                           8.47.84
20 Larry Hasbrouck (OUTER CIRC)                          8.54.85
21 Greg Lewis (GOJUS)                                   10.28.80
22 Daniel Murray (FULLCYCLE)                            10.44.40
23 Chris Heinrich (UC IRVINE)                           11.16.55
24 Scott Mccalmon (IONIC BICY)                          11.39.37
25 Chad Cheeney (MRAZEK/FT)                             11.47.81
26 Cody Deane                                           12.24.23
27 Josh Robertson (ZIA VELO)                            14.30.78
28 Griffith Vertican (COMPETIVE)                        14.48.73
29 Erik Peterson (DIRTWORLD.)                           16.16.52
30 Peter Hudnut                                         16.32.73
31 Josh Borgmeyer (REMAX REAL)                          17.04.18
32 Brain Fahey (MOJO WHEEL)                             17.04.70
33 Bryce Glovatsky                                      18.14.30
34 Robin Guitbume                                       18.17.04
35 Thomas Bell                                          18.17.87
36 Daniel Adams (TEAM N.S.O)                            21.59.35
37 Justin Maka (ROCK N ROA)                             22.39.58
38 Matt Sutton                                          22.59.32
39 Rafael Olvera (MERCURIO)                             23.32.79
40 Andrew Hawkes (SMBA/DEAN)                            24.31.54
41 Karl Nielsen (TEAM NSO)                              26.03.83
42 Tulio Fuentes (GUATEMALA)                            27.31.51
43 Adam Gurtler (TWIN SISTE)                            28.22.43
44 Curt Kippenberger (MIZZOU CYC)                       37.25.61
45 Brain Hepinstall (SOBE CANNO)                        38.03.88
46 Mike Pimm                                            38.04.20
47 Gary Phillips (ABSOLUTE B)                           42.30.55
48 Dustin Gross (LITESPEED/)                            52.41.87
   Chris Wentz (INCYCLE/SC)                                    DSQ
   Philip Monell (HELENS CYC)                                DNF
   Dave Hill (MONTANA ST)
   Zac Hardy (TEAM RED R)
      
Expert Men 25-29
    
1 Chris Christiansen (GUTHRIE)                        2.06.01.39   30
2 Brent Winebarger (GO JUS)                               .28.06   25
3 Blake Zumbrunnen (GUTHRIE)                             2.08.96   21
4 Zeppelin Tittensor (TEAM FLOWE)                        3.19.36   18
5 Carlos Sanchez                                         3.20.33   15
6 Forest Smith (OKC ROCKS)                               3.33.66   12
7 Chan Head (GUTHRIE BI)                                 3.43.36   10
8 Heath Garvey (MOUNTAIN B)                              3.54.72    8
9 Jon Paino (TREK/VW WE)                                 5.58.67    7
10 Kris Arnott (PIKES PEAC)                              6.24.46    6
11 Robin Rasmussen                                       6.36.71    5
12 Colin Mckernan (NOHAIR.COM)                           6.38.18    4
13 Al Krueger (PCW)                                      6.52.66    3
14 John Stevens                                          8.30.57    2
15 Gabe Keck (FULL CYCLE)                                9.50.99    1
16 Kenny Deemer (DYNATEK)                               10.28.02
17 Alan Simons (BIKESOURCE)                             10.54.91
18 Forrest Huisman                                      11.18.30
19 Robert Maleofsky                                     11.21.47
20 Mike Schock (A RACERS E)                             14.55.82
21 Jeff Smith                                           16.29.79
22 Chris Latham (FULL CYCLE)                            17.21.91
23 Kenny Gotcher                                        17.29.15
24 Michael Winegar                                      20.46.81
25 Dejay Birtch (FULL CYCLE)                            21.36.11
26 David Kriegshuser (STEAMING B)                       22.29.91
27 Brad Wood (DEAN ULTIM)                               37.23.91
   Matt Long (SOBE/CANNO)                                    DNF
   Chris Catham (FULL CYCLE)
   Justin Valente (BELLA BIAN)
   Tim Bolton (AZ FITTIRE)
   Ben Carter (COLORADO A)
      
Expert Men 30-34
     
1 Stosh Bankston (BICYCLE WA)                         2.02.01.10   30
2 Patrick Bush (TREK/CLIFB)                              1.07.30   25
3 Brett Malin                                            2.50.92   21
4 Rob Fornataro                                          4.08.89   18
5 Charles Knoll                                          4.16.93   15
6 Jerry Jayne (AMGEN)                                    5.08.80   12
7 Eric Rasmussen (GSR)                                   6.08.04   10
8 Brett Stockelmann (SUN AND SK)                         6.27.21    8
9 Whitney Albright (DURANCE)                             6.49.84    7
10 Robert Powell (ROCK SHOX)                             7.04.81    6
11 Christopher Lattimer (LATTIMER E)                     7.44.46    5
12 Jason Pilarski (ABSOULTE B)                           7.59.85    4
13 Arlo Buijten (TITUS-VSG)                              8.44.88    3
14 Matt Wolf (BIOGEN)                                    9.50.24    2
15 Robert Cotton (STRUCTURAL)                            9.50.86    1
16 Paul Ruhling                                          9.51.50
17 Whitney Richards (RITCHEY RO)                        13.38.05
18 Matt Nyiri (SOULCRAFT)                               14.39.04
19 Christopher Weber (GO FAST/TE)                       14.52.02
20 Mike Eyer                                            15.43.99
21 Chad Christian (OFF ROPELL)                          16.23.10
22 X Sampson (CHRISTY SP)                               17.00.53
23 Mike Aucutt (OUTER CIRC)                             17.40.80
24 Rob Lockey (TEAM GO FA)                              17.57.36
25 Kurt Ireland                                         18.17.09
26 Gary Gellin (WEBCORAL/A)                             19.12.62
27 Dennis Ellington (ORTHOPEDIC)                        21.06.91
28 Shawn Candelaria (DURANGO WH)                        23.26.47
29 Taro Smith                                           24.47.18
   Sean Peck (GO JUS/3D)                                       DSQ
   Bobieto Sherrick (PSYOHO/MTB)                             DNF
   Jeff Cospolich (BRECKENRID)
   Dan Gruning (NOHAIR.COM)
   Todd Thompson (GO FAST SP)
      
Expert Men 35-39
    
1 Andrew Evans (ASPEN BIKE)                           2.02.26.51   30
2 Greg Frozley (CTS)                                     3.52.41   25
3 Bert Gritters (HUTCHS/CLI)                             4.46.20   21
4 Scott Fifield (K2)                                     6.31.93   18
5 David Harris (GO JUS/ALL)                              8.22.79   15
6 Chris Defrates (MAMMTH SPT)                            8.30.18   12
7 Anthony Anderson (K2 BIKES)                           10.51.01   10
8 Ronald Famiglietti (MOOTS CYCL)                       11.43.78    8
9 Kevin Riseborouch (AZ-FATTIRE)                        13.42.87    7
10 Volker Orgeldinger (TEAN REDHO)                      13.43.90    6
11 Dave Hagen (DURANGO MT)                              16.57.36    5
12 James Rocha (PACK SAND)                              19.00.90    4
13 Lonnie Kinkade (STAR TEXAS)                          19.14.33    3
14 Tim Barnes (TEAM DEAN)                               19.16.47    2
15 Pat Dowling (FLCC/FISHE)                             20.22.08    1
16 Chris Latshaw                                        23.05.86
17 Doug Foxworth (TEAM DIABE)                           25.50.82
18 Ben Suttlemyre (VERTICAL E)                          26.13.31
19 Christopher Smith                                    27.25.90
20 Scott Schlosser (MTN PEDLAR)                         30.54.11
21 Brian Teed                                           32.58.92
   Jeff Traynor (PINNACLE P)                                 DNF
      
Expert Men 40-44
    
1 Rick Callies (DURANGO DI)                           1.22.28.57   30
2 Michael Scanlon (HUB OF ASP)                           1.08.20   25
3 Steven Meyer (ELLSWORTH)                               1.50.01   21
4 Randy Iddings (RAD RACING)                             2.27.01   18
5 David Sullivan                                         2.36.95   15
6 Erik Flockoi (SIMPLE GRE)                              2.46.37   12
7 Scott Tucker (CROW CYCLE)                              3.02.39   10
8 Andrew Ferguson (DURANGO)                              6.05.15    8
9 Bob Koerber (CANE CREEK)                               7.01.47    7
10 David Anderson (K2 BIKES)                             7.21.80    6
11 John Seibert (CLIFF BAR)                              8.11.06    5
12 Marco Hellman (FROG & PEA)                           10.17.00    4
13 Doug Boykin                                          10.31.96    3
14 Steve Dressen (PINNACLE C)                           11.25.87    2
15 Marty Soetaert (REI AUSTIN)                          23.11.60    1
   Peter Peterson                                            DNF
   Jim Rogers (NORDAS.COM)
   Jerry Hutchinson (MONGOOSE M)
      
Expert Men 45-49
    
1 Bruce Muhlfeld (TEAM HELEN)                         1.26.12.00   30
2 Robert Anderson (TEAM CROW)                             .59.80   25
3 Ian Davidson (SOBE CANNO)                              1.38.32   21
4 Danny Pate                                             2.45.86   18
5 Billy Newmyer                                          3.11.85   15
6 Russell Asleson (MAD DOG ME)                           3.44.99   12
7 Jeffrey Dean (MATHIS BRO)                              4.05.31   10
8 Larry Dewitt (PIKES PEAK)                              6.02.01    8
9 Circ Toepel (CORNERSTON)                               9.20.62    7
10 Michael Martin (LENZ Sport)                          13.59.47    6
11 Jim Goss (HUTCHS)                                    19.57.79    5
12 Jason Tandeta (PEN VELO)                             20.41.09    4
   Michaelangelo Marbe (HUB OF ASP)                          DNF
   Johnny Schaefer   

Expert Men 50-54
   
1 Paul Krewet (ST LOUIS C)                            1.15.33.93   30
2 Steve Becker (CANNONDALE)                               .21.82   25
3 Roger Gillespie (AARDVARKCY)                            .33.14   21
4 Ronald Lemos (EAGLE CYCL)                              1.56.47   18
5 Ray Wilson (CARVE)                                     3.34.15   15
6 Mike Kunnecke (ABSOULUTE)                              4.25.68   12
7 Dan Wanstrath                                          5.21.98   10
8 Timothy Messersmith (FIRST CAPI)                       5.34.48    8
9 Michael Brown (PARAGON TE)                             6.28.78    7
10 Charlet Mackown (CRUNCH)                             12.14.34    6
11 Alfonso Favata (TABLE ROCK)                          16.44.13    5
12 Jorge Portilla (BIKE Sport)                          25.26.05    4
13 Peter Blelinski                                      33.24.02    3
14 Robert Charbeneau (VELO DIABL)                       36.19.91    2
       
Expert Men 55-59
    
1 Don Mapel (DURANGO WH)                              1.28.06.04   30
2 Bill Harris (DESERT BIC)                                .23.83   25
3 Bill Moreman (TREK/BICYC)                             12.05.12   21
      
Expert Men 60-64
    
1 Ed Hawkins (MERCY CYCL)                             1.22.24.67   30
2 Desmond Rolf (BIKESport)                              25.13.18   25
3 Trevor Finch (GYPSY)                                  25.58.29   21
      
Expert Men 65 +
     
1 Walt Axthelm                                        1.51.05.01   30
2 James Van Manen (BICYCLES O)                          27.47.62   25

Expert Women 19-24
    
1 Abigail Hippely (MAVERICK A)                        1.33.10.80   30
2 Kristin Johnson (SOBE/CANNO)                            .57.74   25
3 Jennifer Gersbach                                      9.12.53   21
4 Lisa Ropke (INDEPENDEN)                               11.24.91   18
5 Kristen Hayden                                        16.29.48   15
6 Tierra Villasenor (INTENSE/OA)                        33.39.20   12
   Sarah Faulkner (BICYCLE SP)                               DNF
      
Expert Women 25-29
     
1 Judy Freeman (PEDAL POWE)                           1.34.03.31   30
2 Annemarie Huisman (CYCLEPATHS)                          .13.02   25
3 Kathy Sherwin (TREK/RESOR)                             1.31.03   21
4 Jenna Woodbury (RIM TOURS)                             4.03.07   18
5 Cynthia Hackel                                         4.17.65   15
6 Barbara Howe (UPMC FUJI)                               4.49.86   12
7 Heather Halbakken (GO FAST SP)                         6.08.71   10
8 Sarah Kennedy                                          7.00.16    8
9 Allison Carter (COLORADO A)                            7.37.49    7
10 Melodie Metzger (MISSING LI)                          7.38.03    6
11 Jaime Losey                                           8.06.96    5
12 Susan Gradjean (HASSLE FRE)                           9.02.70    4
13 Darcy Cornell (BICYCLE AL)                            9.17.67    3
14 Summer Stewart (HANDEL BAR)                          10.43.13    2
15 Susan Juedes (MONGOOSE)                              11.24.30    1
16 Robin Tiles-Fitzpatrick (DENVER SPO)                 13.16.24
17 Jessica Runyon (CYCLEPATHS)                          13.54.15
18 Alicia Mayer (SPECIALIZE)                            15.25.84
   Jennifer Charrette (DEAN BICYC)                           DNF
      
Expert Women 30-34  
  
1 Linda Gabor (TREK/VW/JB)                            1.36.11.34   30
2 Kristen Downs (CLIF BAR)                                .38.24   25
3 Sonya Swartzentruber                                   1.30.99   21
4 Nichole Wangsgard (BICYCLE CE)                         2.17.21   18
5 Trish Stevenson (THE CLEAN)                            3.14.96   15
6 Theresa Richardson (BIKE DOCTO)                        5.55.32   12
7 Lauren Costantini (SYCIP)                              5.56.26   10
8 Dj Morisette (ELLSWORTH)                               6.08.75    8
9 Ruby Raitt (HELENS)                                    6.52.37    7
10 Eliza Walthers (K2 BIKES)                             7.52.29    6
11 Leesa Bolden (DRTHOPEDIC)                            15.18.37    5
12 Erika Lovejoy (SYCIP BIKE)                           17.10.97    4
13 Lila Mcfarland (DEAN/ZEAL)                           21.19.53    3
   Jennifer Klausner (OUTER CIRL)                            DNF
      
Expert Women 35-39
 
1 Shannon Galison (CRAZY CAT)                         1.38.34.62   30
2 Sonja Evers (PIKES PEAK)                                  3.25   25
3 Pam Hanlon (JANS/TREK)                                 1.40.95   21
4 Mary Monroe (TOKYO JOE')                               5.18.37   18
5 Mary Misiaszek (TEAMBICY)                              6.01.96   15
6 Alexandria Fabbro (VELO BELLA)                         6.40.53   12
7 Sherry Sanders (SOULCRAFT)                            11.13.19   10
8 Holly Harris (PALO ALTO)                              13.52.17    8
9 Kristi Olson (KENWOOD OF)                             16.42.15    7
10 Kathy Bodie (KB HOMES/)                              16.57.68    6
11 Holly Hageman (VERNON CYC)                           31.44.54    5
   Merry Gourley (AMGEN)                                     DNF
      
Sport Men 19-24
   
1 Dwight Debroux (BIKES AND)                          1.11.31.47   30
2 Branden Rakita                                         2.51.91   25
3 James Jensen                                           3.44.73   21
4 Nick Finch (GYPSY HEAR)                                3.45.38   18
5 Steve Bowerman (STRUCTURAL)                            5.42.69   15
6 Maxwell Hunter                                         6.00.13   12
7 Carlos Tejada (GUATIMALA)                              6.55.52   10
8 Luke Debrona (BIKES AND)                              11.46.23    8
9 Mike Humpal (GIANT/RCTC)                              18.58.28    7
  Chad Mcglamery                                          DNF
      
Sport Men 25-29
   
1 Wb Sephus Jr (CRRC/MATUS)                           1.14.07.40   30
2 Christopher Henderson                                  1.09.10   25
3 Courtney Cardenas (RACE BUILD)                         1.48.55   21
4 Nathan Mccrary                                         1.59.63   18
5 Gabriel Carbajal (SOLSCADE R)                          2.10.39   15
6 Chris Sherwin (RESORT QUE)                             2.41.54   12
7 Jake Kirkpatrick                                       3.07.17   10
8 Geoffrey Crawley                                       4.44.49    8
9 Matt Schenk                                            5.45.28    7
10 Nate Kingdon (CANNONDALE)                             9.42.64    6
11 Seth Townsend (AMGEN)                                10.28.16    5
12 Jon Dunham                                           19.00.00    4
13 Michael Lechner                                      25.17.30    3
   David Fisher                                              DNF
      
Sport Men 30-34
   
1 Dustin Barton                                       1.16.12.26   30
2 Damon Shelton                                          1.04.18   25
3 Bill Giddens (BICYCLE JO)                              2.43.28   21
4 Eric Jones                                             2.43.66   18
5 Linde Smith (BIOGEN)                                   4.34.99   15
6 Jeff Pillus                                            4.46.01   12
7 Anthony Sloan (UNIVERSITY)                             4.52.21   10
8 Tom Erb (DOG FISH R)                                   5.12.82    8
9 Peter Langsdorf (TEAM KNUCK)                           7.03.73    7
10 Gregory Delapaz (CHUMBA WUM)                          7.55.39    6
11 Paul Squadrito (GO FAST/PU)                           8.01.53    5
12 Chris Richardson (BIKE DOCTO)                         9.39.84    4
13 Terry Jordon (PIKES PEAK)                            10.33.12    3
14 Brien Gonzales (TEAM KNUCK)                          12.19.70    2
15 Michael Gaines (VISION CYC)                          17.30.54    1
16 Steve Yaninek (PIKES PEAK)                           19.54.19
17 Peter Vincent                                        21.27.89
18 Laurent Denove                                       24.37.10
19 Clyde Stafford Jr (WHEELS & F)                       39.00.45
   Darren Ray                                                DNF
      
Sport Men 35-39
    
1 John Fenlon (STRUCTURAL)                            1.14.19.94   30
2 Mike Tichi (HASSLE FRE)                                2.53.75   25
3 Chris Conroy                                           4.16.75   21
4 Timothy Allison                                        4.43.16   18
5 Darren York (DAY RACING)                               6.19.39   15
6 Alvin Sessions                                         7.11.43   12
7 Bryan Adams (DOGFISH/SA)                               9.48.11   10
8 Richard Merrick                                       10.31.91    8
9 Greg Rutledge                                         10.42.56    7
10 Umberto Baca (SOL DE ORO)                            11.09.47    6
11 Criag Hyden (TEAM TELEC)                             12.49.36    5
12 Brendan Oconnor (TEAM KNUCK)                         12.53.36    4
13 John Mcmanus                                         13.32.54    3
14 Edward Rosipayla (SUGARS BIK)                        15.49.66    2
15 Terry Morris (KEKE RACIN)                            17.34.96    1
16 Michael Gibson                                       21.55.90
   David Shellenberger (STRUCTURAL)                          DNF
   Johnny Bussart (TEAM BIKE)
      
Sport Men 40-49
   
1 Chris Davis                                         1.18.17.37   30
2 William Scalf                                             8.52   25
3 James Butler                                           1.47.59   21
4 Peter Tempest                                          2.22.28   18
5 Walt Brown                                             2.31.58   15
6 John Gorman                                            2.50.60   12
7 John Phillips (3D RACING)                              3.36.82   10
8 Randy Stenglein                                        4.17.58    8
9 Paul Mckenzie (CLIF BAR)                               4.56.68    7
10 Field Blevins                                         4.59.38    6
11 Mark Meacock                                          4.59.72    5
12 David James                                           5.17.53    4
13 Todd Litton                                           5.19.34    3
14 Scott Russell                                         5.34.01    2
15 John Glover (MOUNTIAN B)                              5.44.72    1
16 Matt Barr                                             6.05.88
17 Alex Mclean                                           6.12.30
18 Steve Lietz (STRUCTURAL)                              7.39.70
19 Gary Chilson                                          8.01.84
20 Jeff Lancaster                                        9.06.63
21 Peter Emery                                           9.18.83
22 Kevin Quigley                                         9.23.03
23 Dave Reed (DIRTWORLD.)                               10.25.41
24 Bob Rule                                             13.11.60
25 T.D. Casper (STORM RACI)                             14.39.41
26 Stan Mickelson (GUTHRIE BI)                          15.46.58
27 Robert Remlinger (BACK DOOR)                         31.55.87
   Scott Mydock (TEAM EXCEL)                                 DNF
      
Sport Men 50+
    
1 Bill Peterson (GURUS)                               1.27.02.00   30
2 Greg Shoemaker                                         4.27.95   25
3 Jim Stabler (EXCELLENT)                               13.06.59   21
4 Bruce Going                                           18.57.51   18
  Jim Simons                                                DNF
      
Expert Women 40-44
     
1 Sharon Mcdowell-Larsen (PIKES PEAK)                 1.24.41.23   30
2 Sandra Knox (H. B. RACI)                               4.50.82   25
3 Julie Trimble (MOUNTIAN V)                             5.16.36   21
4 Kathy Judson (TEAM IRONC)                             11.07.19   18
  Holly Harris (PALO ALTO)                                  DNF
      
Expert Women 45-49
    
1 Mary Ann Davies (TEAM BIG S)                        1.26.14.87   30
      
Expert Women 50-54
   
1 Martha Iverson                                      1.46.04.33   30
2 Janis Moreman (BICYCLES I)                            31.16.22   25
  Lydia Barter                                              DNF
      
Sport Women 19-29
     
1 Teri Strayer (BIKE Sport)                           1.32.09.09   30
2 Lindsey Richter (RUHOOKED)                              .34.85   25
3 Angelika Klarenfjord                                   1.24.65   21
4 Emma Pfister (WILD ROSE)                               2.13.84   18
5 Corine Visser (PIAZZA SPO)                             2.14.15   15
6 Elizabeth Carrington                                   2.55.80   12
7 Nicole Davis (GO FAST SP)                              4.00.18   10
8 Keri Henderson                                         5.44.80    8
9 Megan Corradino                                        5.46.98    7
10 Anne Gallage                                          6.40.10    6
11 Liz Zumbrunnen (GUTHRIE)                              7.00.26    5
12 Rosy Ward (FAT TIRE C)                                7.28.51    4
13 Melanie Crystal (BROADWAY B)                          7.30.56    3
14 Mary Rudy                                             8.14.21    2
15 Sarah Bender (BICTCLE CE)                             8.26.34    1
16 Angela Houghton                                      10.24.38
17 Jennifer Ringquist (HARPOON)                         11.48.90
18 Julia Rolig                                          13.28.24
      
Sport Women 30-39
     
1 Amy Colyar (MATT)                                   1.29.05.77   30
2 Carolyn Feller                                          .22.45   25
3 Tj Holmes                                              2.23.39   21
4 Maren Partridge (BIOGEN)                               3.38.49   18
5 Mary Tesitor                                           7.11.92   15
6 Sandy Norvell                                          7.20.43   12
7 Katie Hedrich (BICYCLE JO)                             8.35.57   10
8 Terresa Schlosser (JUNIPER MO)                        10.52.86    8
9 Lauren Shellenberger (STRUCTURAL)                     11.25.99    7
10 Lisa Famiglietti                                     13.14.56    6
11 Lisa Cotton (STRUCTURAL)                             16.07.53    5
12 Heidi Bowen (BICYCLE JO)                             19.23.38    4
13 Lorraine Gallego                                     33.33.65    3
   Mary Wehe (K2/RUDY PR)                                    DNF
      
Sport Women 40+ 
   
1 Cindy Mclean                                        1.37.12.41   30
2 Becky Suttlemyre (VERTICAL E)                          2.36.70   25
3 Dianne Zinchini                                        4.41.38   21
4 Holly Summers                                         12.49.68   18
      
Beginner Men 19-24
    
1 Andrew Rae                                            25.42.05   30
2 Duncan Leao                                             .22.36   25
3 William Shelton                                        8.28.23   21
      
Beginner Men 25-29
    
1 Jason Amrich                                          25.41.53   30
2 Nathan Wyant                                           1.34.21   25
  Ricardo Puente                                            DNF
      
Beginner Men 30-34
   
1 Edward Jobes                                          27.39.43   30
2 Bart Thurman (CAMPUS CYC)                              2.27.25   25
  Paul Reinarz                                              DNF
  Laurent Denoue (PAINRELIEF)
      
Beginner Men 35-39
    
1 Olney Kent (BETTY FORD)                               27.31.35   30
2 Noel Garcia (AZ-FATTIRE)                               1.25.73   25
3 Daniel Jaber                                           1.27.96   21
4 James Hansman                                          1.50.14   18
5 Jon Gobba (SSE)                                        5.13.02   15
      
Beginner Men 40-49
   
1 Pete Masiel (MISSION CY)                              27.26.89   30
2 Mark Grahnemann                                        3.37.15   25
3 Rich Fersch (RACE HAUS)                                3.38.61   21
4 Joe Gaines (TEAM SWIFT)                                4.26.01   18
5 Paul Gervais                                           5.07.43   15
6 Heggie Wilson (YOUNG RIDE)                             5.15.91   12
7 Arty Blanco                                            5.44.65   10
      
Beginner Men 50+   
 
1 Lu Livermon (BICYCLE WO)                              27.20.59   30
2 Wayne Gordon                                           4.14.88   25
  Robert Pacheco                                            DNF
      
Junior Olympic Men 14 & Under
   
1 Marcus Torres (TEAM NOVA)                             26.01.45   30
2 Ryan Harrison (GURUS)                                     7.19   25
3 Travis Livermon (BICYCLE WO)                            .39.50   21
4 Chris Peterson (GURUS)                                 1.05.27   18
5 Tristan Uhl                                            1.54.43   15
6 Chad Wanstrath                                         1.59.61   12
7 Dutch Wiehe (YOUNG RIDE)                               2.19.81   10
8 Kaleb Le Gore (GURUS)                                  2.30.29    8
9 Ryan Zupko (TEAM NOVA)                                 2.45.79    7
10 Tyler Scott (YOUNG RIDE)                              2.56.76    6
11 Andrew Jorgenson (NO BRAKES/)                         2.57.12    5
12 Tres Wilson (YOUNG RIDE)                              3.15.93    4
13 Colton Anderson (AJ CONSTRU)                          3.35.29    3
14 Kevin Perry (GURUS)                                   3.39.42    2
15 John Gerstenberger                                    4.12.91    1
16 Matt Briefer (NO BRAKES/)                             4.13.27
17 Cody Hawman (DURANGO DI)                              4.48.36
18 Kyle Williams (DURANGO DI)                            4.49.06
19 Luke Blalock                                          6.49.69
20 Joseph Schneider                                      7.02.10
21 Sam Gallen (NO BRAKES)                                7.26.98
22 Tj Hermesman                                          8.45.37
23 Brian Jorgensen                                       8.51.48
24 Scotty Howard                                         9.22.29
25 Trevor Karle                                         13.50.63
26 Alex Casey (AZONIC)                                  18.24.03
27 Ryan Ellinton (TEAM NOVA)                            21.03.38
   Will Heldfold                                             DNF
   Chris Ellington (TEAM NOVA)
   Scotty Howard (DURANGO DI)
      
Junior Olympic Men 16 & Under 
   
1 Jeremy Zuend (KEGELS)                                 24.10.01   30
2 Nick Wieber (NOVA)                                        0.80   25
3 Jim Conant (TEAM NOVA)                                  .26.63   21
4 Carson Schubert (SUMMIT CYL)                            .27.12   18
5 Adam Mcgrath (RITCHEY RO)                               .30.66   15
6 Rand Shoaf                                             1.18.73   12
7 Geoffrey Pendry (BIKING BUD)                           1.54.76   10
8 Guillermo Ferrer (DURANGO MO)                          1.55.74    8
9 Nick Certeza (MOUNTIAN P)                              1.57.01    7
10 Trevor Downing (ABOVE & BE)                           2.12.61    6
11 Rick Grahn (CANYON SPO)                               2.14.31    5
12 Andrew Wait                                           2.56.36    4
13 John Brender (TOUNG RIDE)                             2.58.90    3
14 Michael Cummings (SPAM/CHRIS)                         3.37.39    2
15 Alex Taylor                                           3.51.44    1
16 Peter Ciasca (SPAM RACIN)                             5.14.91
17 Ben Weatherly (TEAM NOVA)                             8.40.59
18 Tanner Soetaert (TEAM NOVA)                          10.11.61
      
Junior Olympic Men 18 & Under
  
1 Mike Weeks (GURUS)                                    26.22.23   30
2 Matt Kaufman                                           1.34.06   25
3 Gregory Dering (BERKELEY H)                            1.38.11   21
4 James Smith                                            1.38.47   18
5 Neno Delgiudice (YOUNG RIDE)                           2.49.87   15
6 Robert Bassett (NOVA)                                  7.31.54   12
  Ben Peterson (RAD)                                        DNF
  Zach King (YOUNG RIDE)
  Jaymes Khademi   
      
Beginner Women 19-29 

1 Danae York                                            31.24.70   30
2 Juliet Mickelson (GUTHRIE)                              .49.07   25
3 Tory Foster                                            1.41.31   21
4 Cathie Lents                                          11.22.59   18
1 Sandra Guarrera (CYCLONAUTS)                            .43.50   30
2 Debby Thompson                                         2.14.37   25
3 Michelle Mckovich (TEAM BS/VE)                         5.47.47   21
      
Beginner Women 40+  
 
1 Barb Clark (YOUNG RIDE)                               42.10.82   30
      
Junior Olympic Women 14 & Under
   
1 Rachel Throop (TEAM NOVA)                             29.56.74   30
2 Amber Throop (TEAM NOVA)                               2.51.99   25
3 Essence Barton (GIANT/ DIR)                            4.56.52   21
4 Wallis Spears (HILL CO BI)                             5.52.90   18
5 Deidre York (DAY RACING)                               6.05.01   15
6 Amy Stabler (EXCELLENT)                                8.21.55   12
7 Katie Mclean                                           8.51.58   10
8 Jessie Bosch (DURANGO MT)                             11.55.19    8
9 Jenny Remlinger (TEAM NOVA)                           20.39.50    7
      
Junior Olympic Women 16 & Under 
    
1 Tiffany Callahan (X Men)                              29.47.50   30
2 Chantel Shoemaker (TEAM NOVA)                           .40.16   25
      
Junior Olympic Women 18 & Under
     
1 Alison Lewis (YOUNG RIDE)                             29.42.28   30
2 Jenna Zander                                            .15.00   25
3 Blair Rajamaki (X Men)                                  .49.74   21
4 Melanie Perry (GURUS)                                  1.47.82   18
      
       
Junior Olympic Men 10 & Under
  
1 Kevin Fish (TEAM NOVA)                                 7.44.80
2 John Turner                                               1.20
3 Colin Wait                                                6.90
4 Cal Lieb (BOURE)                                       1.12.00
5 Taylor Gaines (TEAM SWIFT)                             1.50.10
6 Blake Wiehe (YOUNG RIDE)                               1.57.10
7 Matthew Mandelski (RODEWAY IN)                         3.48.20
8 Collin Fish                                            3.48.90
   Jake Long                                                 DNF
      
Junior Olympic Women 10 & Under
    
1 Essence Barton (GIANT/ DIR)                            8.25.20
2 Audrey Gibson                                           .30.20
3 Bentley Oquinn                                         1.00.90
4 Kara Uhl (NOVA OF TE)                                  1.17.30
5 Aubery Garcia (AZ-FATTIRE)                             1.17.70
6 Jayden Suttlemyre (VERTICAL E)                         1.49.90
7 Kara Wright                                            2.11.70
8 Kelsey Mclean                                          2.25.60
9 Mattie Wyckoff                                         4.16.40
      
Junior Olympic Men 12 & Under
     
1 Alex Scott (YOUNG RIDE)                               11.26.90
2 Spencer Gibson                                            0.50
3 Brian Jorgensen                                           1.10
4 Jason Throop (TEAM NORA)                                .45.90
5 Kasey Ziegler                                           .50.60
6 Kevin Cosgrove (TEAM NOVA)                             1.52.30
7 Pat Garner (TEAM SWIFT)                                2.13.10
8 Jake Long                                              3.18.20
      
Junior Olympic Women 12 & Under 
   
1 Amber Throop (TEAM NOVA)                              10.52.50
2 Jesse Bosch                                            1.28.20
  Wallis Spears (HILL CO BI)                                 DNF

Junior Men
   
1 Adam Swartzbaugh                                    2.00.49.01   30
2 Todd Henriksen (RPM/YETI)                                 4.37   25
3 Spencer Paxson (DISCO VELO)                             .27.88   21
4 Michael Mcclure (BALANCE BA)                            .44.60   18
5 Ethan Johnson (MOOTS CYCL)                             1.42.77   15
6 Kevin Deane (SMITH)                                    3.12.58   12
7 Ryan Iddings (RAD RACING)                              3.35.49   10
8 David Timmons (RPM/YETI)                               3.44.86    8
9 Robbie Stone (HGR/GIANT)                               5.01.52    7
10 Sam Jurekovic (SPECIALIZE)                            5.08.55    6
11 Alex Hodge (HUTCHS BIK)                               6.03.95    5
12 Sam Schultz (BIG SKY CY)                              7.48.79    4
13 Josh Kahle (TEAM DEVO)                                8.07.51    3
14 Eric Marrison (FRONT RANG)                            8.10.81    2
15 Rand Miller (GARY FISHE)                              8.23.49    1
16 Scott Allen (YOUNG RIDE)                              8.38.46
17 Jason Eder (SMITH/TREK)                               9.01.92
18 Graham Stansbery (FRONT RANG)                         9.03.10
19 Brian Weldon (INDEPENDEN)                             9.25.59
20 Braden Kappius (KING OF TH)                           9.26.74
21 Noah Singer (TITUS CYCL)                             11.12.68
22 Perry Paolini (BALANCE BA)                           12.06.29
23 Eli Owenby (TEAM NOVA)                               12.28.14
24 Cj Reed (YOUNG RIDE)                                 13.05.57
25 Adam Zimmerman (TWIN SISTE)                          13.30.69
26 Andrew Freye (TEAM GRIMA)                            13.50.19
27 Eduardo Rangel (CRAZY CAT)                           14.00.34
28 Ciayton Karz (YOUNG RIDE)                            14.19.32
29 Paul Mumford (NO BRAKES)                             14.42.72
30 Mark Welgos (N/A)                                    21.18.37
31 Nick Payne (SOBE CANNO)                              21.43.68
32 Nate Scherling                                       21.44.70
33 Jesse Dudley (DURANGO JU)                            22.46.26
34 Christopher Phillips (SRAM)                          22.56.74
35 Sergio Roldan Guerrar (CRAZY CAT)                    22.57.07
36 Dustin Wanstrath (HASSLE FRE)                        24.21.84
37 Chris Paulson                                        24.52.24
38 Dylan Johns                                          24.52.55
39 John Flanagan (RPM/YETI)                             27.28.93
40 Jonathan Yaseen (PEDAL THE)                          28.28.37
41 Adam Stepanovic (COLORADO S)                         29.29.68
42 Dustin Wynne (YOUNG RIDE)                            29.34.83
43 Evan Anderson (TEAM NSO)                             29.38.64
44 Bill Cooper (DT SWISS/R)                             30.52.36
45 Colby Jesset (BLISS RACI)                            32.49.34
46 Ian Burnett (DURANGO WH)                             34.22.41
47 Rand Shoaf (SUMMIT CYC)                              34.23.63
48 Mithchell Peterson (GURUS)                           45.37.14
49 Jt Toepel (TEAM CORNE)                               46.50.10
50 Donnie Grotts                                        54.00.77
51 Nicholas Mcgowan (BICYCLE WO)                        59.03.26
   Stefano Barberi                                           DNF
   Adam Snyder (TEAM BALAN)
   Seth Harney   
   Steven Dodds (BACKCOUNTR)
   Matt Mirell (123BIKES.C)
   Michael Sproul   
   James Sancineto (NO BRAKES)
   Tane Hunter   
   Logan Onken (RPM/YETI)
   David Milne (DEAN BIKES)
   Patrick Sahs   
   Dominic Van Nielen (UNITED YOU)
   Greg Smith (JOES BIKE)
   Thomas Magrath (VERTICAL E)
   Tom Peterson (RAD RACING)
   Dan Fredrickson   
      
Junior Women
  
1 Molly Hummel (GOJUS/ALLT)                           1.37.20.68   30
2 Sabra Davison (BALANCE BA)                             4.09.45   25
3 Liza Winne (BLISS RACI)                                8.55.53   21
4 Kathleen Weber                                         9.12.63   18
5 Thais Da Silva (DOGFISH)                              10.29.18   15
6 Caitlyn Tuel (K2)                                     13.14.17   12
7 Sheena Wieber (NOVA)                                  14.01.89   10
8 Hilary Wright (YOUNG RIDE)                            15.57.05    8
9 Michele Gibson (TEAM NSO)                             17.38.97    7
10 Erin Easton                                          19.55.19    6
11 Leana Gerrard (JF2 RACING)                           22.10.74    5
12 Rebekah Muster (TEAM NOVA)                         1.08.18.54    4