USA Cycling Mountain Bike National Championships - CN
Mt. Snow, Vermont, USA, July 17-22, 2008
Main Page Results Overall standings Previous Race Next Race
Race 12 - Saturday, July 19: Elite men cross country
Craig wins second pro Cross Country Championship
By Dave McElwaine in West Dover, Vermont
Adam Craig (Giant MTB Team) took the time to celebrate
Photo ©: Dave McElwaine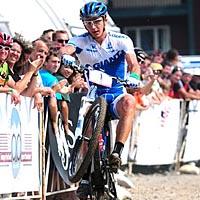 Adam Craig (Giant) led the entire race at Mount Snow, with the exception of the first quarter lap to win his second consecutive championship. Craig claimed a 1"41' victory over a surging Ryan Trebon (Kona) while Jeremy Horgan-Kobelski took third, followed by Carl Decker (Giant) and Sam Schultz (Gary Fisher/Subaru).
Craig consistently increased his lead throughout the race, particularly on the third lap where added one minute to his gap. Craig was clearly descending the steep trails at Mount Snow faster than his competition. He was riding a new prototype full-suspension Giant Anthem (named Alabama) with one 35 tooth chainring.
"I was trying to ride smooth and fast and have a good time," said Craig. "I just tried to ride a steady race and be Kabush-esque."
The newly re-designed cross country course at Mount Snow features more steep fire road climbs and less single-track, however the final technical section had been re-routed to a fire road. Despite heavy rains overnight, the course was still relatively dry compared to previous years at Mount Snow.
Todd Wells (GT/Pacific) trying to close
Photo ©: Dave McElwaine
Trebon, who bolted off the front on the 'parade lap', appeared to be struggling during his first two laps. He began to move better on lap three and started picking off riders.
"The first lap was killing me," said Trebon. "I was going so slow. Then I just started riding a pretty good tempo.
"I didn't ride fast, just the same speed the whole course," he added. "Sometimes that works."
Horgan-Kobelski also seemed to struggle early in the race, but improved dramatically towards the end to finish third. " I tried not to go out too hard because the climbs here are really steep and they would get harder towards the end of the race," he said.
Jeremy Horgan-Kobelski (Gary Fisher/Subaru)
Photo ©: Dave McElwaine

"I was cracking pretty good towards the end and Ryan got me," added Horgan-Kobelski.
Decker raced conservatively at first but in what is becoming his trademark style, moved steadily through the field to finish fourth. Young Sam Schultz (Gary Fisher /Subaru) finished a strong fifth.
Jeremiah Bishop (Trek/VW) and Todd Wells (GT/Pacific) were both having good races but flatted, ruining their chances at making the podium.
Photography
For a thumbnail gallery of these images, click here
Images by Dave McElwaine/www.trailwatch.net
Images by Jamie Lau/www.jamielau.com
Results
1 Adam Craig (USA) Giant MTB Team                                1.43.40
2 Ryan Trebon (USA) Kona                                            1.38
3 Jeremy Horgan-Kobelski (USA) Subaru-Gary Fisher                   2.07
4 Carl Decker (USA) Giant MTB Team                                  4.22
5 Sam Schultz (USA) Subaru-Gary Fisher                              5.22
6 Todd Wells (USA) GT Bikes                                         6.39
7 Jeremiah Bishop (USA) Trek/VW                                     6.49
8 Michael Broderick (USA) Kenda/Seven Cycles                        7.20
9 Barry Wicks (USA) Kona                                            9.48
10 Andy Schultz (USA) Kenda Titus Hayes                             9.55
11 Thomas Turner (USA) Outspokin Bicycles                          10.25
12 Jeff Schalk (USA) Trek VW- East                                 10.59
13 Justin Lindine (USA) Target Training/Windham Mtn Outifitting    11.31
14 Troy Wells (USA) Tokyo Joes                                     12.17
15 Brandon Draugelis (USA) Sobe Cannondale                         12.22
16 Nick Waite (USA) Trek/VW                                        12.33
17 Spencer Paxson (USA) Team S&M Young Guns                        12.46
18 Adam Snyder (USA) 3-D Racing                                    13.31
19 Andy Guptill (USA) Windham Mtn Outfitters                       14.18
20 Harlan Price (USA)                                              15.20
21 Alex Grant (USA) Rocky Mountain Bicycles                        15.33
22 Travis Woodruff (USA) Momentumendurance.Com                     16.27
23 Bryan Alders (USA) Mona-Vie/Cannondale                          16.37
24 Michael Simonson (USA) Bells Brewery/Quiring Cycles             17.28
25 Dana Weber (USA) Trek VW/Westcoast                              18.02
26 Ross Schnell (USA) Trek/VW                                      18.55
27 James Williams (USA) Sobe/Cannondale                            18.59
28 Matthew Okeefe (USA) Ccb/Cannondale                             19.13
29 Ben Thompson (USA) Sobe-Cannondale                              19.34
30 Charles Pendry (USA) Inland - Btd                               20.06
31 Samuel Koerber (USA) Gary Fisher 29Er Crew                      20.33
32 Michael Patrick (USA) 29Ercrew.Com                              21.02
33 Chris Peariso (USA) Adventure 212 /Titus                        21.31
34 Robert Marion (USA) Kenda Titus                                 22.19
35 Andrew Freye (USA) Bikeman.Com/Salsa                            22.55
36 Lucas Livermon (USA) Inland Construction                        23.05
37 Mike Phillips (USA) Adventure 212/Specialized                   23.18
38 Kevin Bradford-Parish (USA) Lapierrebikes.Com                   23.38
39 Ryan Woodall (USA) Industrynine/Powerbar                        25.07
40 Nathan Ringquist (USA)                                          25.09
41 Drew Edsall (USA) Endurancefactor.Com/Scott                     25.22
42 Mike Joos (USA) Bikeman.Com                                     26.09
43 Cody Peterson (USA) Scott Bicycles                              27.49
44 Aaron Oakes (USA) Bulldog/Campor                                28.33
45 Ryan Iddings (USA) Lapierre                                     38.31
46 Dave Harrison (USA) Reddrox/Tamarack Resort                     43.17
47 Bryan Fawley (USA) Park Place Lexus                             49.04
DNS Erik Tonkin (USA) Kona Les Gets                                     
DNF Brendan Moore (USA) Velorochester                                   
DNF Jay Richards (USA) Salsa/Maplelag Resort                            
DNF Marko Lalonde (USA) Gary Fisher 29/Bkb/T6                           
DNF Blake Zumbrunnen (USA) Revolution/Crank Bros                        
DNF Jesse Lalonde (USA) Gary Fisher 29/T6/Bkb                           
DNF Nathan Wyatt (USA) Carolina Fatz/Santa Cruz/1-9                     
DNF Christian Favata (USA) Favatas Table Rock                           
DNF Matthew Bailey (USA)                                                
DNF Daniel Vaillancourt (USA) Toshiba/Santo Pb Herbalife                
DNF Robert Herber (USA) Intense/Dixon                                   
DNS Michael Mooradian (USA) Spin/Rr Donnelly