Mountain Bike World Championships - CM
Fort William, Scotland, September 4-9, 2007
Main Page Results Overall standings Previous Race Next Race
Race 9 - September 7: 4X Finals
All American affair in 4-Cross
By Rob Jones in Fort William
Lopes rode away from everyone
Photo ©: Rob Jones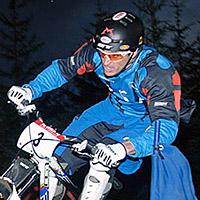 Friday night it was all USA as Americans took three of six medals in the 4-Cross, including both world titles. In a replay of the 2005 world championships, Brian Lopes and Jill Kintner illustrated their dominance in the sport as they each collected their third-career world 4-Cross title. Lopes also has a world title from the Dual Slalom. Melissa Buhl took the bronze medal in a crash-marred women's final.
After qualifying third on Thursday, Lopes rode away from top-seeded Romain Saladini (France), Jurg Meijer (Netherlands) and Roger Rinderknecht (Switzerland) to earn the title. However, his progress wasn't without a near upset in the semifinals. Lopes was nearly eliminated in the semifinals after a bad start when he unclipped but recovered to place second in the heat and advance to the final four. In the final, Lopes was the fastest out of the gate before Rinderknecht and Meijer tangled and crashed, effectively making it a two-man race against Saladini for the title.
"Leading up to the semifinals I had pretty good gates and led pretty much from start to finish in each round," Lopes explained. "Unfortunately in my semi I came out of my pedal on the second stroke straight-away, and when that happens you pretty much fall off the pace real quick. I was pretty bummed out as soon as it happened, but I got my foot back in, grabbed a gear and just started pedaling. Thank God they added a little bit of length to the course because if it was a 20-second course it wouldn't have played out too well for me."
With defending champion and second-seeded Michal Prokop (Czech Republic) eliminated after a crash in the 1/8 finals (he was trying to move up after also unclipping), only the top-seeded Saladini remained a credible threat to Lopes in the final compared to the seventh-seeded Rinderknecht and the 20th-seeded Meijer.
"As soon as you hear something like that, it definitely makes your bracket a little bit easier," said Lopes of the defending gold medalist's early exit. "At some point, maybe in the semis, I would have met up with Michal and not having him in there makes it a little bit easier, for sure."
Kintner takes tricky final
Jill Kintner
Photo ©: Rob Jones

Kintner, who was riding a two year winning streak, defeated Anneke Beerten (Netherlands), Buhl and Jana Horakova (Czech Republic) to earn her third consecutive rainbow jersey.
With just 16 women qualified through from Thursday's time trial, the top-four seeds all advanced to the final. Like Lopes in the men's contest, Kintner looked unbeatable all evening and jumped out to an early lead in the Final once the gate dropped. Almost immediately after the start, Buhl and the top-seeded Horakova crashed, leaving Kintner to hold off only Beerten for the win. Of the two downed riders, Buhl was the quickest to recover before descending down the course to claim the bronze medal.
Kintner had crashed two days earlier in training, banging up her right elbow, and she was feeling the effects of the crash. "I am definitely feeling it more than yesterday; but it is mainly sore and little stiff, so it isn't too catastrophic. I felt that I was prepared and ready, so it didn't throw me off too much."
"The length they added (from the previous World Cups) was great - it was tricky with the sandy dirt. There weren't a lot of options, so the start was critical, you had to get out of the gate first or second. This was a a bit weaker course than Rotorua (New Zealand, last year's Worlds), because there weren't enough passing options."
Race Note
- Kintner has been on a whirlwind tour the past few weeks as she juggles 4-Cross and Olympic BMX preparation. While the Olympics are a major focus between now and the Olympics next August "once that is done I am back to 4-Cross. This is way better, way more fun."
Photography
For a thumbnail gallery of these images, click here
Images by Rob Jones/www.canadiancyclist.com
Results
Women
 
Final

1 Jill Kintner (United States of America)         
2 Anneke Beerten (Netherlands)                    
3 Melissa Buhl (United States of America)         
4 Jana Horakova (Czech Republic)                  
 
Small Final

5 Mio Suemasa (Japan)                             
6 Rachel Seydoux (Switzerland)                    
7 Joey Gough (Great Britain)                      
8 Caroline Buchanan (Australia)                   
 
1/4 Finals

9 Fionn Griffiths (Great Britain)                 
10 Steffi Marth (Germany)                         
11 Diana Marggraff (Ecuador)                      
12 Julia Boer (Hungary)                           
13 Anita Molcik (Austria)                         
14 Neven Steinmetz (United States of America)     
15 Laura Brethauer (Germany)                      
16 Elisa Canepa (Italy)                           
 
Qualifications

17 Orsolya Szeghalmi (Hungary)                    
18 Jessica Vogt (United States of America)        
DNS Joanna Petterson (South Africa)               
 
Men
 
Big Final

1 Brian Lopes (United States of America)          
2 Romain Saladini (France)                        
3 Jurg Meijer (Netherlands)                       
4 Roger Rinderknecht (Switzerland)                
 
Small Final

5 Rafael Alvarez De Lara Lu (Spain)               
6 Tomas Slavik (Czech Republic)                   
7 Scott Beaumont (Great Britain)                  
8 Jared Graves (Australia)                        
 
1/4 Finals

9 Kamil Tatarkovic (Czech Republic)               
10 Mickael Deldycke (France)                      
11 Gee Atherton (Great Britain)                   
12 Johannes Fischbach (Germany)                   
13 Cédric Gracia (France)                         
14 Joost Wichman (Netherlands)                    
15 Filip Polc (Slovakia)                          
16 Lewis Lacey (Great Britain)                    
 
1/8 Finals

17 Dan Atherton (Great Britain)                   
18 Ross Milan (United States of America)          
19 Dominik Gspan (Switzerland)                    
20 Matej Vitko (Slovakia)                         
21 Will Longden (Great Britain)                   
22 Peter Prajczer (Hungary)                       
23 Gabor Deli (Hungary)                           
24 Tilen Frank (Slovenia)                         
25 Michal Prokop (Czech Republic)                 
26 Jakub Hnidak (Czech Republic)                  
27 Matej Stapic (Slovenia)                        
27 Jared Rando (Australia)                        
29 Jeremiah Work (United States of America)       
30 Sascha Meyenborg (Germany)                     
31 Nigel Page (Great Britain)                     
32 Luke Strom (Australia)                         
 
1/16 Finals

33 Guido Tschugg (Germany)                        
34 Daniel Auerswald (Germany)                     
35 Robin Wallner (Sweden)                         
36 Reon Boe (New Zealand)                         
37 Thomas Tokarczyk (United States of America)    
38 Mario Sieder (Austria)                         
39 Jijon Ricardo (Ecuador)                        
40 John Swanguen (United States of America)       
41 Jonas Westmann (Sweden)                        
 
Qualifications

DNS Markus Pekoll (Austria)                       
DNS Michael Hannah (Australia)                    
DNS Chris Kovarik (Australia)                     
DNS Markolf Berchtold (Brazil)                    
DNS Nathaniel Giacomozzi (Brazil)                 
DNS Georg Sieder (Austria)                        
DNS Elias Somvi (Italy)                           
DNS Amiel Cavalier (Australia)                    
DNS Grzegorz Borodajko (Poland)