Mountain Bike World Championships - CM
Fort William, Scotland, September 4-9, 2007
Main Page Results Overall standings Previous Race Next Race
Race 17 - September 9: Elite men downhill finals
Versatile Hill takes muddy downhill
By Rob Jones in Fort William
Sam Hill (Australia) repeats
Photo ©: Rob Jones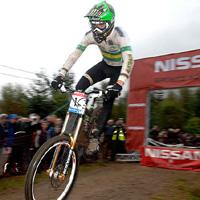 Sam Hill was definitely the man to beat in the elite men's downhill. This year he has proven that he can win on wet tracks, dry ones, long or short. However, he did not qualify well, and 2003 world champ Greg Minnaar (South Africa) rode an extremely strong qualifier.
Hill's early start began to look prophetic when rain rolled in more or more heavily through the men's competition. The first rider off, Pasqual Flix Canals of Spain set an an extremely strong time; so strong that it held up until Hill set the winning time of 4:52.01 with 23 riders left. Fabien Barel (France), just back from injury, came within 64-hundredths of a second of taking his third title, but that was a close as anyone got.
Gee Atherton (Great Britain), second from last, managed 4:56.38 - good enough for third - while Minnaar could not duplicate his qualifying performance, finishing fourth, eight seconds back.
Hill explained his relatively poor showing in qualifying was partially due to circumstances and partially by choice.
"I had only one day of practice before qualifying, so I didn't know the lines very well and took it easy in qualifying. Plus, I didn't want the pressure of going last, and the pressure was more this time because I was defending."
"I like a longer course like this one because it takes me a little while to get into a rhythm, but this one was almost too long. I had quite a few little mistakes, and I didn't feel fully into my run, but I think it came down to the fittest guy who makes the fewest mistakes."
Photography
For a thumbnail gallery of these images, click here
Images by Rob Jones/www.canadiancyclist.com
Results
1 Samuel Hill (Australia)                              4.52.0
2 Fabien Barel (France)                                4.52.6
3 Gee Atherton (Great Britain)                         4.56.4
4 Greg Minnaar (South Africa)                          5.00.0
5 Pasqual Canals Flix (Spain)                          5.00.3
6 Matti Lehikoinen (Finland)                           5.00.9
7 Julien Camellini (France)                            5.01.1
8 Florent Payet (France)                               5.01.5
9 Samuel Blenkinsop (New Zealand)                      5.01.8
10 Dan Atherton (Great Britain)                        5.02.0
11 Michael Hannah (Australia)                          5.02.4
12 Nathan Rennie (Australia)                           5.03.2
13 Marc Beaumont (Great Britain)                       5.03.4
14 Ben Reid (Ireland)                                  5.05.4
15 Fabien Pedemanaud (France)                          5.06.3
16 Filip Polc (Slovakia)                               5.06.7
17 Amiel Cavalier (Australia)                          5.06.9
18 Jared Rando (Australia)                             5.07.4
19 Damien Spagnolo (France)                            5.07.6
20 Luke Strobel (United States Of America)             5.08.3
21 Ivan Oulego Moreno (Spain)                          5.09.1
22 Bernat Guardia Pascual (Spain)                      5.11.2
23 Adam Vagner (Czech Republic)                        5.11.8
24 Alan Beggin (Italy)                                 5.12.0
25 Marcus Klausmann (Germany)                          5.12.6
26 Brendan Fairclough (Great Britain)                  5.12.7
27 Duncan Riffle (United States Of America)            5.13.0
28 R. Leiva Figueroa (Chile)                           5.13.2
29 Claudio Caluori (Switzerland)                       5.13.2
30 Robin Wallner (Sweden)                              5.14.7
31 Herman Olund (Sweden)                               5.14.7
32 Dominik Gspan (Switzerland)                         5.14.8
33 Neil Donoghue (Great Britain)                       5.15.6
34 Nick Beer (Switzerland)                             5.16.1
35 Marco Milivinti (Italy)                             5.16.2
36 Mickael Pascal (France)                             5.16.6
37 Espen Johnsen (Norway)                              5.16.7
38 Cole Bangert (United States Of America)             5.17.0
39 Mike Skinner (New Zealand)                          5.18.2
40 Samuel Zbinden (Switzerland)                        5.19.1
41 Steve Chan (Canada)                                 5.19.3
42 Daniel Wolfe (Ireland)                              5.20.4
43 Kieran Bennett (New Zealand)                        5.20.5
44 Greg Okeefe (Ireland)                               5.20.7
45 Tyler Morland (Canada)                              5.21.3
46 Kamil Tatarkovic (Czech Republic)                   5.21.6
47 David Vazquez Lopez (Spain)                         5.21.9
48 Jonas Westmann (Sweden)                             5.22.4
49 Elias Somvi (Italy)                                 5.22.5
50 Matej Charvat (Czech Republic)                      5.23.3
51 Gerard Wolfe (Ireland)                              5.23.9
52 Carlo Gambirasio (Italy)                            5.24.8
52 Jeff Beatty (Canada)                                      
54 Emanuel Pombo (Portugal)                            5.25.9
55 Erik Irmisch (Germany)                              5.26.0
56 Claudio Loureiro (Portugal)                         5.26.4
57 Markus Pekoll (Austria)                             5.27.9
58 Livio Zampieri (Italy)                              5.28.2
59 Santiago De Santiago (Argentina)                    5.28.3
60 M. Estrada Pulgarin (Colombia)                      5.28.4
61 Mario Sieder (Austria)                              5.29.1
62 Tim Sharp (United States Of America)                5.29.8
63 D. Klaassenvanoorscht (United States Of America)    5.31.7
64 Gundars Osis (Lativia)                              5.34.6
65 Franco Emanuel Riva (Argentina)                     5.36.2
66 Karlis Kisuro (Lativia)                             5.37.4
67 Steve Peat (Great Britain)                          5.39.6
68 Darren Quille (Ireland)                             5.42.7
69 Jurgen Beneke (Germany)                             5.47.0
70 Claudio Cozzi (Italy)                               5.47.4
71 Sven Martin (South Africa)                          5.48.0
72 Glenn Haden (New Zealand)                           5.49.9
73 Martins Sprogis (Lativia)                           5.53.6
74 Krisztian Halasz (Hungary)                          5.56.2
75 Laur Samlik (Estonia)                               5.57.1
76 A. Barilaro Caparros (Andorra)                      5.58.1
77 Ninoslav Ruzicka (Croatia)                          6.03.8
78 Frank Schneider (Germany)                           6.06.2
79 Gregorz Zielinski (Poland)                          6.08.1
80 Nathan Rankin (New Zealand)                         6.13.9
81 Gergely Veres (Hungary)                             6.38.9
82 Mario Hohnjec (Croatia)                             6.46.7
83 Viljar Teppo (Estonia)                              6.55.1
84 Jared Graves (Australia)                            7.07.2
85 Ricard Ferreira Campos (Andorra)                    7.26.7
86 Chris Kovarik (Australia)                           7.44.3
87 Dan Stanbridge (Great Britain)                      9.17.6
88 Andrew Neethling (South Africa)                    14.17.2
89 Jonty Neethling (South Africa)                     14.51.6
DNF Ivan Brajkovic (Croatia)                                 
DNS Cédric Gracia (France)                                   
DNS Mathias Haas (Austria)                                   
DNS Christopher Herndon (United States Of America)           
DNS Chris Van Dine (United States Of America)