Mountain Bike World Championships - CM
Fort William, Scotland, September 4-9, 2007
Main Page Results Overall standings Previous Race Next Race
Race 4 - September 6: Junior men cross country, 34.2km
Litscher captures another gold for Switzerland
By Rob Jones
Thomas Litscher gets gold for Switzerland
Photo ©: Rob Jones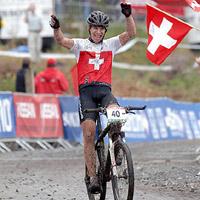 Switzerland took their second title of the Mountain Bike World Championships today when Thomas Litscher won the junior men's race ahead of Piotr Brzozka (Poland) and host country favourite David Fletcher (Great Britain).
Litscher was one of five riders who began to distance themselves from the rest of the field on the first lap. Others in the group included Fabien Canal (France) Brzozka, Fletcher and Alexander Gehbauer (Austria). On the climb in lap two, the group stretched their lead to 30 seconds on chasers Sebastien Carabin (Belgium) and Haimy Shlomi (Israel). Shlomi had possibly the most remarkable ride of the race after starting at the very back of the field, and moving up into the top 10 within one lap, eventually finishing seventh.
Litscher finally broke clear of the others on the third lap and held a 40 second lead over Brzozka and Fletcher by the end of the lap. Canal was chasing on his own at one minute, with Carabin, Gehbauer and Shlomi just behind. However, Litscher's win was by no means secured going into the final lap.
"On the last lap the Polish rider (Brzozka) was only 10 seconds behind on the climb, so it was very stressful," said Litscher. "I attacked in the third lap because I knew that was my only chance to win. I went as hard as possible on the climb and then tried to increase the lead on the downhill, which is my best part."
Podium: Piotr Brzozka, Thomas Litscher, David Fletcher
Photo ©: Rob Jones

Litscher hung on to win by 27 seconds over Brzozka, with Fletcher a further 13 seconds in arrears. Gehbauer and Carabin overtook Canal in the final lap to round out the top five.
Both Brzozka and Fletcher were more than happy to make it onto the podium, with Brzozka exuberantly exclaiming in the press conference, "It is the best course in my life. I love it, and I love this country!"
Fletcher gave Great Britain their first medal of the championships, and admitted that regular training on the course had helped. "The team has been up here a lot trying to dial it in. Having the chance to train here made a big, big difference, because I knew how hard I could go in every section."
Race Notes
- Litscher, who has now won the Swiss title, European title, team relay world title and now the cross-country title, summed up his season, "I have had a great season, and today it was my course. It was a great day today." The Swiss swept the Junior podium last year, but Mathias Fluckiger, Martin Fanger and Pascal Meyer have all moved up to the senior ranks.
- Tomorrow afternoon it is the turn of the U23 Men to race, and they are expected to do five laps. The clear favourite is defending champion Nino Schurter of Switzerland, who anchored the Swiss team to the Team Relay title on Tuesday. The race begins at 1:30 pm local time.
Photography
For a thumbnail gallery of these images, click here
Images by Rob Jones/www.canadiancyclist.com
Results

1 Thomas Litscher (Switzerland)                  1.37.06 (21.13 km/h)
2 Piotr Brzozka (Poland)                            0.27
3 David Fletcher (Great Britain)                    0.40
4 Alexander Gehbauer (Austria)                      1.40
5 Sebastien Carabin (Belgium)                       1.42
6 Fabien Canal (France)                             1.51
7 Haimy Shlomi (Isreal)                             1.54
8 Peter Sagan (Slovakia)                            2.20
9 Andy Eyring (Germany)                             2.32
10 Marek Konwa (Poland)                             2.42
11 Marcel Fleschhut (Germany)                       3.18
12 Jérémy Huguenin (Switzerland)                    3.43
13 Matthias Rupp (Switzerland)                      3.45
14 Ole Haavardsholm (Norway)                        3.47
15 Markus Bauer (Germany)                           4.02
16 Henk Moorlag (Netherlands)                       4.13
17 Alex Paton (Great Britain)                       4.15
18 Laurent Mineur (Belgium)
19 Gilles Sarrazin (France)                         4.24
20 Mykhaylo Batsutsa (Ukraine)                      4.26
21 Fabian Strecker (Germany)                        4.29
22 Maciej Dombrowski (Poland)                       4.49
23 Jim Aernouts (Belgium)                           5.22
24 Tim Lemmers (Netherlands)                        5.45
25 Henrique Avancini (Brazil)                       5.51
26 Mattias Nilsson (Sweden)                         5.54
27 Nicolas Cadene (France)                          5.56
28 Roman Orlov (Russian Federation)                 6.36
29 Jonas De Backer (Belgium)                        6.38
30 Chris Peterson (United States Of America)        6.44
31 Konny Looser (Switzerland)                       6.50
32 Felix Euteneuer (Germany)                        6.55
33 Clément Koretzky (France)                        7.11
34 Niklas Gustavsson (Sweden)                       7.25
35 Blaz Znidarsic (Slovenia)                        7.31
36 Francesco Aulino (Italy)                         7.42
37 Holman Vanegas Villarraga (Colombia)             7.44
38 Filip Adel (Czech Republic)                      8.10
39 Radovan Bierski (Czech Republic)                 8.23
40 Matthias Hoi (Austria)                           8.46
41 Umbert Almenara Verges (Spain)                   8.58
42 Alexandr Fedotov (Russian Federation)            9.13
43 Nathan Haas (Australia)                          9.18
44 Mirco Widmer (Switzerland)                       9.21
45 Bryce Munro (South Africa)                       9.28
46 Ashley Hough (New Zealand)                       9.41
47 Paul Van Der Ploeg (Australia)                  10.09
48 Pavel Priadein (Russian Federation)             10.29
49 Zsolt Juhasz (Hungary)                          10.31
50 Nick Daems (Belgium)                            10.38
51 Kristian Johansen (Norway)                      10.41
52 James Williamson (New Zealand)                  11.13
53 Idan Shapira (Isreal)                           11.27
54 Ricardo Hazbun (Chile)                          11.35
55 Hamish Creber (Great Britain)                   11.42
56 Dominic Calitz (South Africa)                   12.22
57 Liam Mcgreevy (Ireland)                         12.28
58 Jaco Du Toit (South Africa)                     12.36
59 Rodrigo Darnay (Argentina)                      12.48
60 Andreas Gravdal (Norway)                        12.54
61 Shaun Hurrell (Great Britain)                   13.04
62 Kazuya Nakayama (Japan)                         13.15
63 Jeff Clarkson (Canada)                          14.08
64 Marco Minnaard (Netherlands)                    14.17
65 Timothy Stark (South Africa)                    14.24
66 Nizan Margalit (Isreal)                         14.48
67 Stephen Ettinger (United States Of America)     14.57
68 Nicolas Jeantet (Italy)                         15.51
69 Abdurrahman Dandal (Turkey)                     15.53
70 Francis Morin (Canada)                          17.22
71 Maxim Toporishcev (Russian Federation)          17.39
72 Alexios Kokovikas (Greece)                      17.48
73 German Dorhmann (Argentina)                     17.53
74 Paul O'reilly (Ireland)                         18.15
75 Willie Brink (South Africa)                     18.17
76 Graham Boyd (Ireland)                           18.19
77 Ethan Gilmour (United States Of America)        18.23
78 Pablo Rob. Voigt Rodriguez (Mexico)             18.56
79 Alex Mcgregor (New Zealand)                     19.49
80 Milivoj Antic (Croatia)                         20.22
81 Kyriakos Papanastasiou (Cyprus)                 21.07
82 Seiichi Shimoyama (Japan)                       22.30
83 Aleksandr Volkov (Russian Federation)           24.00
84 Tristan Cowie (United States Of America)        24.43
85 Gregory Carpenter (United States Of America)    34.28
One lap down
86 Andreas Nicou (Cyprus)
Two laps down
87 Timotheos Skettos (Cyprus)
DNF Conor Macfarlane (New Zealand)
DNF Daniel Koczka (Hungary)