13th Crocodile Trophy - NE
Australia, October 23-November 1, 2007
Main Page Results Overall standings Previous Stage Next Stage
Stage 7 - October 29: Mt. Mulgrave - Laura, 148 km
Czech Sibl wins premier stage as Crocodile Trophy "Shows Her Dark Face" in Laura
By John Michael Flynn in Laura
Radek Sibl gives the fisted
Photo ©: John Flynn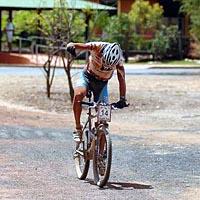 Three-time Crocodile Trophy protagonist, Czech Radik Sibl, completed one of his life's dreams today as he broke through for a stage victory on the shattering 150 kilometre journey from Mount Mulgrave to Laura in Australia's remote Far North.
Even the dramatic on-course events where tempers frayed, and grown men reduced to tears as their race hopes evaporated, could not overshadow the performance of the unshakeable Czech, who has endured three campaigns in the Outback suffer-fest, to finally emerge with a coveted stage win. Sibl earned the victory in the hardest possible fashion, breaking away from the withering lead group with thirty kilometres remaining, then going it alone on the riveting ride into Laura, across the virtual minefield that is the road to Cape York.
"I think it was by biggest dream of this year because my dream was to maybe be in the top three of one stage, but to win one stage was a higher honour," Sibl said upon reaching Laura. "This is something which I feel very good in these conditions. When I attacked, I found enough mental strength in my head."
Mirroring most of the events taking place on the long dusty road to Laura, Sibl's victory didn't come without controversy. Dane Michael Borup, who finished second after winning the bunch kick launched a verbal tirade aimed firmly in Sibl's direction.
"Sibl was very, very strong today, but if you ask me he has a bit of unsporting behaviour towards the Dream Team, particularly Mauro (Bettin)," Borup said. "He was always attacking when Mauro was having mechanical difficulties. But I have to recognize he was the strongest guy."
Dream Team Drama
Mauro Bettin's Felt Dream Team had dramas of its own to deal with on the course.
Benoit Joachim struggles
Photo ©: John Flynn

The overall race leader suffered a flat tyre at the twenty-kilometre mark and his team-mate, dual stage winner Benoît Joachim was forced to sacrifice his own stage chances, to offer Bettin a replacement wheel. Versions of events differ, but Joachim felt it wasn't his role to be playing spare parts man for Bettin, given his position as the second-best placed rider from the Dream Team on G.C. A third member of the Dream Team, Australian Brett Anderson, chose to ride on with the lead bunch, leaving the Luxembourger infuriated.
Worse was to come as Joachim struggled to change the flat tyre he had been handed by Bettin. The Astana rider (representing the Dream Team in the Crocodile Trophy) threw a malfunctioning CO2 container to the ground and expressed his frustration verbally in numerous languages, as he was forced to pressurize a tyre with a hand pump. In the heat of the moment, and the heat of the day, Joachim lost precious minutes, which eventually cost him any chance of catching the leaders and contesting the stage.
The wash-up from the incident turned as the Dream Team manager Christi Valentine and Anderson reached a mutual agreement to part ways with three stages remaining in the race, meaning the nineteen year-old Australian will ride solo on tomorrow's stage to Cooktown.
Broken Dreams – How The Drama Unfolded
Stefan Rucker, Mauro Bettin
Photo ©: John Flynn

Mauro Bettin's flat tyre was the first in a series of incidents during what was, as always, a race defining stage in the Crocodile Trophy.
Even before the stage began there were frantic moments as riders, including Austrian Stefan Rucker and Australian David Wood rushed to replace punctured and perishing tyres, in what was a taste of things to come.
Rucker's diminishing luck resurfaced at the twenty-five kilometre mark when, again, he punctured. This time around the toll, mentally, was too much to bear for the one-time contender in the Crocodile Trophy of 2007.
"I think today the crocodile trophy showed me her dark face," Rucker admitted when he eventually reached the finish line. "I had a puncture quite early, the first puncture I had on the start, then the second one after the first depot."
With his morale in the Crocodile Trophy at an all-time low, only the thought of the pain being endured by Belgian Marc Herremans on his hand cycle kept Rucker going. "I thought about quitting the trophy, I thought about The Trophy, I thought about surviving in the outback," Rucker admitted. "Even for us professionals it's sometimes about surviving. I'm just happy that I'm here, I want to finish the Trophy."
Another aspirant for the ultimate prize, Dane Allan Carlsen, experienced the heartbreak of a poorly timed puncture.
Even with the skills of a seasoned mountain biker, the mental challenge of repairing a flat in the blistering heat of the outback proved too taxing a task. Like Joachim, Carlsen too was reduced to screaming in anger as Australian Dennis Van Mill stopped to render assistance and get him going again.
The pace begins to lift.
Photo ©: John Flynn

"I did everything I could to prevent punctures," Carlsen said. "All the air came out again and then I tried with my mini pump and it was just not working, shit just happens. I don't know how much time was spent but I felt like I was out there forever."
It might as well have been forever in terms of the classification. Carlsen lost a further 13 minutes on race leader Mauro Bettin, to finish the stage 34'24" behind Bettin in third place overall.
The heartbreak of the stage was exemplified by Dutch entrant Ewart Van der Puttin, who fought back tears as he recounted an experience which saw his position in the overall classification slide drastically. A flat tyre at kilometre ten cost the Herbalife / Merida rider valuable time, but worse was to come as his efforts to catch up resulted in projectile vomiting.
"First ten kilometres was ok, I could follow the front group and then I had a flat tyre and I had to pump it up," an emotionally drained Ewart said. "Twice I had to go full speed to the front group again, it was too much and I had to spew twice. When you spew you lose a lot of energy."
Australia's highest placed rider in the Crocodile Trophy, Flight Centre's Tim Bennett also experienced the peril of constant punctures on the journey to Laura. Maintaining the positive outlook he has brought to the race, Bennett was one of the few cyclists to appear lucid at the stage finish.
The chase group
Photo ©: John Flynn

"Today I think was a true classic," Bennett said. "One of those hot, hard days, rough roads and quite a lot of punctures." The situation for Bennett's team-mates doesn't appear as promising. "We're having a training ride today," Flight Centre's Nick Both revealed as he and team-mate Ryan Hawson rolled through yet another outback cattle station. An admission, perhaps, that the challenge of competing daily in the Trophy is overwhelming. "I think anyone, it's human nature that when you challenge yourself this much you can only take so much," Bennett mused of the predicament facing his team-mates.
South African Lieb Loots, who has completed the gruelling Cape Epic, also appeared a shattered man when he finally reached the Quinkan country of Laura. With the mercury once again pushing forty degrees and the road surface considerably hotter still, Loots called upon his experience to prevent himself pushing too hard in such an unforgiving environment.
"It's harder than the Cape Epic," Loots admitted. "It's much longer and much hotter. The crocodile's a challenge, every day's a challenge and I'm going to complete that challenge."
Bettin has firm grip on race lead
Allan Carlsen gets help from Dennis
Photo ©: John Flynn

Even with the risk posed by punctures and the fracture within his team, a composed Mauro Bettin completed today's stage without any serious damage being inflicted to his overall lead, which stands at 19'32" on his nearest challenger, Czech Ondrej Fojtik.
Bettin admitted to being tired at the end of today's stage, but the former World Cup champion is still satisfied that his goal to win the Crocodile Trophy is firmly on track. "Today is a long stage very, very hot," Bettin said. "It's looking good for the (general) classification. With every stage it looks good for a win."
Fojtik now appears the only protagonist left with any chance of challenging Bettin for the ultimate prize over the coming three stages. The ever-consistent Czech shadowed the race leader on the way to today's finish, but will need to take a chance on the road from Laura to Cooktown tomorrow to bridge the gap.
"Mauro today was strong he's a world champion and he has a very good team," a physically and emotionally drained Fojtik said. "It's too hard to win." But Fojtik isn't giving up all hope yet, based upon his observations of the race leader during today's stage. "Mauro is now a little bit tired and nothing is certain," Fojtik said.
Herremans gets home
Marc Herremans shows courage
Photo ©: John Flynn

Twelve and a half hours after starting today's stage, Belgian ironman Marc Herremans finally reached the stage finish in Laura, to the loud and unanimous applause of the Crocodile Trophy caravan.
Those here in Australia's remote Far North are witnessing what may be one of the great achievements in the world of sport, by a man whose enthusiasm, commitment and pure drive appears to know no boundaries.
Through it all, even tonight as he was blinded by the dust created by road trains in the still of night while venturing to the finish in darkness, Herremans kept up the smile which has become his trade mark.
"It was another very hard day today, very hot, my team helped me a lot," Herremans said. "We have come too far to go back now. In another twelve hours we start again on the stage to Cooktown. "Tomorrow will be very hard." Ultimately, the race doctor may have to determine Herremans fate in the Crocodile Trophy of 2007.
Belgium's paraplegic hand cyclist has sustained a pressure wound injury to his buttocks during the race as a result of being seated for such long hours in the cockpit of his machine.
Last minute modifications were made to the seat of Herremans' cycle this morning to prevent the situation worsening, but if it does, Marc's dream of completing the Crocodile Trophy may be facing a premature end. "It can get very serious," Herremans admitted. "It may be that I cannot continue, but we will see."
At this stage, Herremans intends starting tomorrow's Queen of stages in the Crocodile Trophy which will take the peloton on another brutal journey from Laura to Cooktown. The opening section of the parcours tracks along the Battle Camp Road, where bull-dust patches traditionally have wreaked havoc with riders.
The Crocodile Trophy continues.
Photography
For a thumbnail gallery of these images, click here
Images by John Flynn/Cyclingnews.com
Results
Elite men

1 Radoslav Sibl (Cze) Team Ironbike - Bikezone                     5.20.58 (27.67 km/h)
2 Michael Borup (Den) Team GHOST - avj.dk                             3.43
3 Mauro Bettin (Ita) Dream Team1                                          
4 Ondrej Fojtik (Cze) Toyota Dolak                                        
5 Attila Marton (Hun) Meditech Sport Club - CIB Leasing               9.09
6 Tim Bennett (Aus) The Flight Centre Team1                               
7 Brett Anderson (Aus) Trak Cycles                                   21.27
8 Gerald Bauer (Aut) Publicity PowerBike Team                        26.15
9 Max Becker (Lux) Dream Team1                                       28.21
10 Jacob Agger Troelsen (Den) Team Wonsild - www.wonsild.dk          32.04
11 Ryan Hawson (Aus) The Flight Centre Team1                         32.38
12 Nick Both (Aus) The Flight Centre Team2                           43.04
13 Dennis Van Mill (Aus) Team Gordon Street Cycles - Solid Stairs    44.49
14 Dave Wood (Aus) The Flight Centre Team1                                
15 Benoît Joachim (Lux) Dream Team1                                  47.59
16 Stefan Rucker (Aut) Elk Haus                                      48.16
17 Lukas Mraz (Cze) X - SPORTS                                     1.16.02
18 Patric Wiedmer (Swi) Wiedmer-RRGLMV                             1.21.32
19 Roman Stastny (Cze) Rock Machine - Cyklomax                     1.30.25
20 Matt Hubber (Aus)                                               1.49.35
21 Daniele Avico (Ita)                                             2.29.56
22 Dario Cerisara (Ita) Cicli Giorgio                              3.07.26
23 Marc Herremans (Bel) Team Heremans                              5.41.02
24 Dirk Van Gossum (Bel) Team Heremans                                    
25 Glenn Creynen (Bel) Team Heremans                                      
 
M1
 
1 Roberto Haegdons (Bel) Belgian Joven Team_01                     5.24.41 (27.35 km/h)
2 Valentin Zeller (Aut) Endurance Team Kärnten                            
3 Allan Carlsen (Den) Alb-Gold Mountainbike Team                     13.51
4 Allen St Pierre (USA)                                              17.44
5 Ewart Van der Putten (Ned) HERBALIFE-MERIDA                        22.32
6 Chrisophe Heinix (Bel) Team www.sjette.be                          24.16
7 Salvatore Paolo Albano (Ita) Pedale Travisio                       28.21
8 Christophe Desimpelaere (Den) Riis Cycling                         31.10
9 Karel Peelman (Bel)                                                35.39
10 Robby Lemmens (Bel) Belgian Joven Team_02                         37.26
11 Christan Hofer (Aut) Radsport Janger                              47.39
12 Roman Petr (Svk)                                                1.11.35
13 Franz Schwoediauer (Aut) Hrinkow Bikes                          1.23.30
14 Lloyd Newell (Aus) Team Gordon Street Cycles - Solid Stairs     1.24.18
15 Struan Lamont (Aus) Team Scott                                  1.30.43
16 Mauro Canale (Ita) Team Ironbike                                1.31.39
17 Christoph Herr (Ger) Team Radsport König                        1.35.30
18 Bohuslav Babor (Cze) X - SPORTS                                 2.20.09
19 Philipp Zenklusen (Swi) World Wide Erne Spirit                  2.30.27
20 Jose Ezequiel Garcia Carmona (Spa) Valbuena                            
21 Josh Freeman (Aus) Team Gordon Street Cycles - Solid Stairs     2.42.20
22 Giovanni Roveri (Ita) Cicli Giorgio                             2.44.27
23 Juan Kolbe Castillo Inga (Spa) Valbuena                         3.03.43
24 Joan Valbuena Roset (Spa) Valbuena                              3.17.24
25 Michalak Slawomir (Pol) Bank BGZ Team                           3.26.11
DNF Ugo Dalla Riva (Ita) Cicli Giorgio                                    
DNF Günter Rafeiner (Aut) KTM Mountainbiker.at                            
 
M2
 
1 Willy Welles (Ned) Mega-NPB.NL                                   5.48.57 (25.45 km/h)
2 Lieb Loots (SA) Squirt Lube                                        11.23
3 Kurt Alderweireldt (Bel) Kyphon                                    52.45
4 Freddy Compernolle (Bel) Team www.sjette.be                             
5 Rudolf Senn (Swi) World Wide Erne Spirit                           53.33
6 Christan Sengstbratl (Aut) SV Lichtenberg                        1.03.05
7 Scott McLennan (Aus) Abs Security                                1.21.36
8 Greg Featonby (Aus) Full Cycle of Albury                         1.41.59
9 Han Vaalt (Ned) Klein-Puelhuis                                   1.59.31
10 Wallace King (Can) Athleteslowyer.de                            2.18.04
11 Joseph Kerkhofs (Bel) Belgian Joven Team_01                     3.22.13
12 Eduard Pleschutznig (Aut) Endurance Team Kärnten                3.26.56
13 Dave Webb (Aus) Marco Polo (CTBE)                                      
DNF Franz Duller (Aut) Fincon - CML                                       
DNF Hennie Schoonheim (Ned) NO Worries                                    
DNF Peter Dalziel (Aus) Team Dalley                                       
 
Women
 
1 Michela Benzoni (Ita) Team Lissone Isolmant                      6.00.20 (24.64 km/h)
2 Sandra Klomp (Ita) Team Ironbike                                   56.00
3 Marika Covre (Ita) Bike Pro Action                               2.41.45
4 Lindy Vandevenne (Bel) Belgian Joven Team_01                     3.10.50
5 Helle Sejersen Jepsen (Den) Riis Cycling                                
 
Finalgeneral classification
 
1 Mauro Bettin Ita) Dream Team                                    28.06.47 
2 Ondrej Fojtik (Cze) Toyota Dolak                                   19.32
3 Michael Borup (Den) Team GHOST - avj.dk                            36.53
4 Radoslav Sibl (Cze) Team Ironbike - Bikezone                       42.31
5 Tim Bennett (Aus) The Flight Centre Team                           42.34
6 Stefan Rucker (Aut) Elk Haus                                     1.14.50
7 Benoît Joachim (Lux) Dream Team                                  1.41.35
8 Attila Marton (Hun) Meditech Sport Club - CIB                    1.54.20
9 Brett Anderson (Aus) Trak Cycles                                 1.58.51
10 Jacob Agger Troelsen (Den) Team Wonsild - www.wonsild.dk        2.06.20
11 Gerald Bauer (Aut) Publicity PowerBike Team                     2.08.48
12 Nick Both (Aus) The Flight Centre Team                          2.17.57
13 Dennis Van Mill (Aus) Team Gordon Street Cycles                 3.01.06
14 Max Becker (Lux) Dream Team                                     3.05.51
15 Ryan Hawson (Aus) The Flight Centre Team                        3.21.18
16 Dave Wood (Aus) The Flight Centre Team                          3.33.08
17 Roman Stastny (Cze) Rock Machine - Cyklomax                     5.00.09
18 Patric Wiedmer (Swi) Wiedmer-RRGLMV                             6.12.43
19 Matt Hubber (Aus)                                               7.55.53
20 Lukas Mraz (Cze) X - SPORTS                                     9.00.13
21 Daniele Avico (Ita)                                             9.24.20
22 Dario Cerisara (Ita) Cicli Giorgio                             23.29.47
23 Marc Herremans (Bel) Team Heremans                             33.12.30
24 Dirk Van Gossum (Bel) Team Heremans                                    
25 Glenn Creynen (Bel) Team Heremans                                      
 
Points classification elite men
 
1 Mauro Bettin Ita) Dream Team                                          85 pts
2 Stefan Rucker (Aut) Elk Haus                                          59
3 Benoît Joachim (Lux) Dream Team                                       50
4 Ondrej Fojtik (Cze) Toyota Dolak                                      39
5 Radoslav Sibl (Cze) Team Ironbike - Bikezone                          32
6 Michael Borup (Den) Team GHOST - avj.dk                               27
7 Gerald Bauer (Aut) Publicity PowerBike Team                           25
8 Tim Bennett (Aus) The Flight Centre Team                              20
9 Nick Both (Aus) The Flight Centre Team                                15
10 Max Becker (Lux) Dream Team                                          10
11 Attila Marton (Hun) Meditech Sport Club - CIB                         2
12 Dennis Van Mill (Aus) Team Gordon Street Cycles                        
13 Jacob Agger Troelsen (Den) Team Wonsild - www.wonsild.dk               
14 Brett Anderson (Aus) Trak Cycles                                       
15 Dave Wood (Aus) The Flight Centre Team                                 
16 Ryan Hawson (Aus) The Flight Centre Team                               
17 Patric Wiedmer (Swi) Wiedmer-RRGLMV                                    
18 Roman Stastny (Cze) Rock Machine - Cyklomax                            
19 Matt Hubber (Aus)                                                      
20 Daniele Avico (Ita)                                                    
21 Lukas Mraz (Cze) X - SPORTS                                            
22 Dario Cerisara (Ita) Cicli Giorgio                                     
23 Marc Herremans (Bel) Team Heremans                                     
24 Dirk Van Gossum (Bel) Team Heremans                                    
25 Glenn Creynen (Bel) Team Heremans                                      
 
Teams classification elite men
 
1 Dream Team                                                      88.21.03
2 The Flight Centre Team                                           3.36.23
3 Team Ironbike                                                    8.05.12
4 Team Gordon Street Cycles                                       16.49.52
5 Belgian Joven Team_01                                           33.43.02
6 Valbuena                                                        35.48.31
7 Team Heremans                                                   93.33.06
DNF Cicli Giorgio                                                         
 
M1
 
1 Allan Carlsen (Den) Alb-Gold Mountainbike Team                  28.41.11
2 Valentin Zeller (Aut) Endurance Team Kärnten                       35.23
3 Roberto Haegdons (Bel) Belgian Joven Team_01                     1.03.20
4 Ewart Van der Putten (Ned) HERBALIFE-MERIDA                      1.13.45
5 Allen St Pierre (USA)                                            1.17.23
6 Salvatore Paolo Albano (Ita) Pedale Travisio                     1.52.02
7 Chrisophe Heinix (Bel) Team www.sjette.be                        2.10.57
8 Karel Peelman (Bel)                                              4.03.33
9 Robby Lemmens (Bel) Belgian Joven Team_02                        4.37.28
10 Struan Lamont (Aus) Team Scott                                  5.05.58
11 Mauro Canale (Ita) Team Ironbike                                5.18.43
12 Christophe Desimpelaere (Den) Riis Cycling                      5.28.48
13 Christan Hofer (Aut) Radsport Janger                            5.37.15
14 Lloyd Newell (Aus) Team Gordon Street Cycles                    5.47.09
15 Franz Schwoediauer (Aut) Hrinkow Bikes                          6.11.43
16 Christoph Herr (Ger) Team Radsport König                        6.46.45
17 Roman Petr (Svk)                                                8.18.51
18 Philipp Zenklusen (Swi) World Wide Erne Spirit                  8.30.05
19 Joan Valbuena Roset (Spa) Valbuena                              9.59.12
20 Jose Ezequiel Garcia Carmona (Spa) Valbuena                    10.08.19
21 Giovanni Roveri (Ita) Cicli Giorgio                            10.33.48
22 Josh Freeman (Aus) Team Gordon Street Cycles                   10.53.31
23 Bohuslav Babor (Cze) X - SPORTS                                12.26.55
24 Michalak Slawomir (Pol) Bank BGZ Team                          17.00.16
25 Juan Kolbe Castillo Inga (Spa) Valbuena                        17.58.30
26 Günter Rafeiner (Aut) KTM Mountainbiker.at                     18.00.45
 
M2
 
1 Lieb Loots (SA) Squirt Lube                                     31.38.41
2 Willy Welles (Ned) Mega-NPB.NL                                     19.07
3 Rudolf Senn (Swi) World Wide Erne Spirit                         1.42.16
4 Scott McLennan (Aus) Abs Security                                4.27.59
5 Greg Featonby (Aus) Full Cycle of Albury                         4.28.52
6 Kurt Alderweireldt (Bel) Kyphon                                  4.30.26
7 Freddy Compernolle (Bel) Team www.sjette.be                      5.06.56
8 Christan Sengstbratl (Aut) SV Lichtenberg                        5.48.09
9 Wallace King (Can) Athleteslowyer.de                             9.09.52
10 Han Vaalt (Ned) Klein-Puelhuis                                 10.57.06
11 Eduard Pleschutznig (Aut) Endurance Team Kärnten               14.07.26
12 Joseph Kerkhofs (Bel) Belgian Joven Team_01                    14.30.27
13 Peter Dalziel (Aus) Team Dalley                                16.27.16
14 Dave Webb (Aus) Marco Polo (CTBE)                              18.26.50
15 Franz Duller (Aut) Fincon - CML                                23.30.01
 
Women
 
1 Michela Benzoni (Ita) Team Lissone Isolmant                     31.34.27
2 Sandra Klomp (Ita) Team Ironbike                                 2.02.16
3 Marika Covre (Ita) Bike Pro Action                               6.30.40
4 Lindy Vandevenne (Bel) Belgian Joven Team_01                    14.35.59
5 Helle Sejersen Jepsen (Den) Riis Cycling                        14.52.10