USA Cycling Mountain Bike National Championships - CN
USA, July 19-22, 2007
Main Page Results Overall standings Previous Race
Race 15 - Sunday, July 22: Elite Men / Women/ Semi-Pro Men Short Track,
Trebon rages to redemption on Mount Snow short track
Cool McConneloug collects second title of the weekend
By Jackson Weber in West Dover, Vermont
Ryan Trebon (Kona)
Photo ©: Jackson Weber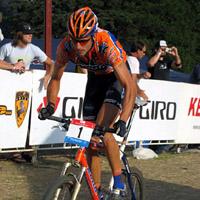 In a stunning contrast of conditions to the rest of the weekend's events, Mount Snow short track was a short, dusty and dry affair - a far cry from the mud that characterized, and in parts coated, the rest of the weekend. With conditions that were better aligned with criterium than cross country racing, fans were treated to race speed and tactics that erased any need for technical skills.
The men's race was all about one man - Ryan Trebon (Kona/Les Gets). Motivated by the previous day's poor results in the cross country race, all eyes were on Trebon. "I was mad, because yesterday sucked so much, and that was the day," explained the lanky Oregonian. "I didn't want to lose, its nice to win and I especially didn't want to lose a national champs jersey."
That anger went straight to the pedals as Trebon screamed off the line, and proceeded to have yet another mechanical at the end of the first lap. Unfortunately for the rest of the field, it only served to further enrage the rider known as Treefarm. What ensued was a combination of savage power and focused anger that made the race a foregone conclusion.
Cross country and Super D winner Adam Craig tried to give Trebon a run of it, but by the second lap his gaping mouth and slow turning cranks showed that the Mainer just didn't have the legs to challenge Trebon's tear. "I was not feeling spry out there," explained the sedate Craig. "I've been feeling pretty snappy all weekend and the snap's finally gone."
In the end Trebon and Craig separated themselves from the rest of the field, chasing down an attack by race surprise Alan Obye (Jamis). Trebon then showed surprising patience, waiting for the numbered laps before blowing the wheels off Craig and rolling to his well deserved victory.
Behind Trebon and Craig a three-way battle developed for third between Jeremy Horgan-Kobelski (Subaru-Gary Fisher), Todd Wells (GT Bikes), and U23 surprise Sam Schultz (Subaru-Gary Fisher). In the final lap Schultz made a move that only Wells was able to follow, but in the end the elder, Wells, was able to take the sprint to the line.
In the women's race a dogfight developed between the top female riders. Georgia Gould (Luna) was the early animator, as expected, looking to avenge her loss in the cross country race two days earlier. Pushing hard early she shaved off a good portion of the field but couldn't shake her main opponents - Willow Koerber (Subaru-Gary Fisher), Mary McConneloug (Kena/Seven), nor surprise riders Rachel Lloyd (Proman/Paradigm), who was surprisingly fresh off her Super D win, and Vermont local and crowd favourite Lea Davison (Trek/VW).
What ensued looked more like a criterium breakaway as the riders formed a paceline and drilled it about the course, occasionally testing one another with short surges but none making any serious moves, all apparently too cautious to throw down completely. At the beginning of the last lap that caution evaporated as an on form McConneloug drilled up the courses' only climb, a move that left her companions gaping.
"It was blistering if you made a surging attack and I didn't make any surging attacks," said a smiling McConneloug. "I just stayed with the group and...yeah."
Yeah, McConneloug's attack proved untouchable and gave her a second stars and stripes jersey for the weekend, an affirmation of a training plan that even she herself hadn't been totally sure of until the weekend.
Koerber won the sprint for second, narrowly edging out Lloyd, whose recent road training apparently paid huge dividends. Also worthy of note were local rider Lea Davison's gritty sixth place finish, which capped a breakout performance for the young rider from Vermont.
Photography
For a thumbnail gallery of these images, click here
Images by Jackson Weber / Cyclingnews
Ryan Trebon (Kona) had a seemingly endless supply of power as beat the men's field into submission.
Results
Pro men
 
1 Ryan Trebon (USA) Kona/Lesgets                     23.54
2 Adam Craig (USA) Giant                              0.12
3 Todd Wells (USA) Gt Bikes                           0.22
4 Sam Schultz (USA) Subaru-Gary Fisher                0.22
5 Jeremy Horgan-Kobelski (USA) Subaru-Gary Fisher     0.27
6 Carl Decker (USA) Giant                             0.47
7 Cody Peterson (USA) Scott Bicycles                  0.53
8 Jeremiah Bishop (USA) Trek/Vw                       0.57
9 Erik Tonkin (USA) Kona Les Gets                     1.01
10 Michael Broderick (USA) Kenda/Seven Cycles         1.12
11 Sam Jurekovic (USA) U23 National Team              1.18
12 Barry Wicks (USA) Kona                             1.39
Pulled
13 Michael Simonson (USA) Bells Brewery/Quiring Cycles    
14 Andy Schultz (USA) Bear Naked/Cannondale               
15 Bart Gillespie (USA) Mona Vie/Cannondale               
16 Alan Obye (USA) Jamis                                  
17 Colin Cares (USA) U23 National Team                    
18 Charles Pendry (USA) Inland - Btd                      
19 Ryan Woodall (USA) Industrynine/Titus                  
20 Troy Wells (USA) Tokyo Joes                            
21 Chance Noble (USA) Cal Giant/Specialized               
22 Mike West (USA) Maverick                               
23 Kevin Bradford Parish (USA) Lapirre Usa                
24 Keith Hickerson (USA) Tamarack                         
25 Luke Pennington (USA) S And M                          
26 Thomas Turner (USA) Bear Naked/Cannondale              
27 Jeff Schalk (USA) Trek Vw- East                        
28 Tad Elliott (USA) U23 National Team                    
29 Spencer Paxson (USA) Discover Bicycles Hood River      
30 Bryan Fawley (USA) Kenda/X-Fusion/Titus                
31 Travis Livermon (USA) Cycling Spoken Here              
32 Aaron Snyder (USA)                                     
33 Mcconnell Franklin (USA) Devo                          
34 Mitch Hoke (USA) Tm Radical Racing                     
35 Christian Favata (USA) Overlookmtb/Hutchinson/Spy      
36 James Williams (USA) Bendelitemtb.Com                  
37 Jay Richards (USA) Salsa/Maplelag Resort               
38 Ryan Lynch (USA) James Frames/Mafia                    
39 Kyle Hammaker (USA) Cadence                            
40 Adam Snyder (USA) 3-D Racing                           
41 Andrew Alesio (USA) Wild Blues                         
42 Dana Weber (USA) Jax Bicycle Center                    
43 Paul Hanson (USA) Bear Naked/Cannondale                
44 Mitchell Peterson (USA) Devo                           
45 Brett Racine (USA) Jamis/Alpine Shop                   
46 Dylan Alesio (USA) Giant                               
47 Brandon Draugelis (USA) Bear Naked/Cannondale          
48 Travis Woodruff (USA) Momentumendurance.Com            
49 Mike Joos (USA) Bikeman.Com                            
50 Lucas Liberman (USA) Cycling Spoken Here               
51 Daniel Corum (USA) Inland/Btd                          
52 Alex Ryan (USA) Land Rover/Cannondale                  
53 Trevor Downing (USA) Team Devo                         
DNS Jason Sager (USA) Monavia/Cannondale                  
DNS David Yakaitis (USA) Garmin/Jamis                     
 
Pro women
 
1 Mary Mcconneloug (USA) Kenda/Seven Cycles          22.23
2 Willow Koerber (USA) Subaru-Gary Fisher             0.02
3 Rachel Lloyd (USA) Proman/Paradigm                  0.02
4 Shonny Vanlandingham (USA) Luna Womens Mtb Team     0.02
5 Georgia Gould (USA) Luna Womens Mtb                 0.03
6 Lea Davison (USA) Trek/Vw                           0.29
7 Susan Haywood (USA) Trek/Vw                         0.54
8 Kelli Emmett (USA) Giant Mtb Team                   1.08
9 Zephanie Blasi (USA) Kenda/X-Fusion/Titus           1.13
10 Heather Irmiger (USA) Subaru-Gary Fisher           1.13
11 Judy Freeman (USA)                                 1.25
12 Jenna Zander (USA) Bear Naked/Cannondale           1.26
13 Sue Butler (USA) Bear Naked/Cannondale Mtb Tm      1.26
14 Carolyn Popovic (USA) Trek/Vw East Coast           1.32
15 Kyia Malenkovich (USA) Headmethod/Cannondale       1.36
16 Shannon Gibson (USA) Velo-Bella/Kona               1.46
17 Heather Holmes (USA) Kenda/X-Fusion                1.59
Pulled
18 Kathy Sherwin (USA) Titus                              
19 Chloe Forsman (USA) Luna Womens Mtb Team               
20 Sara Bresnick-Zocchi (USA) Lynskey Performance         
21 Caitlyn Tuel (USA) Trek/Vw /Rocky Mountain             
22 Emily Van Meter (USA) Bear Naked/Cannondale            
23 Nina Baum (USA) Bear Naked/Cannondale                  
24 Barbara Howe (USA) Velo Bella/Kona                     
25 Cassandra Perkins (USA) Bear Naked/Cannondale          
26 Jamie Dinkins (USA) Vantaggio/Xpecialized              
27 Cheryl Sornson (USA) Trek East Coast                   
28 Jennifer Gersbach (USA) Bmc/Sports Garage              
29 Melanie Meyers (USA) Kenda/Titus/X-Fusion              
30 Sabra Davison (USA) Maxxis/Devo                        
31 Patricia Buerkle (USA) Tahoe Northstar/Giant           
32 Kimberly Flynn (USA) Vantaggio/Specialized             
33 Theresa Richardson (USA) Bear Naked/Cannondale         
34 Christie Pleiss (USA) Pass Pt/Gary Fisher              
35 Chenoah Henderschot (USA) Bear Naked/Cannondale        
36 Jamie Whitmore (USA) Cannondale/Michelin               
DNF Melissa Thomas (USA) Tokyo Joes/X-Fusion              
 
Semi-pro men
 
1 Weston Schempf (Visitpa.Co)                        24.26
2 Ryan Iddings (Lapierre)                             0.00
3 Mike Phillips (Alterra/Sp)                          0.08
4 Chris Peariso (Titus / Mu)                          0.22
5 David Wilson (Titus/Clif)                           0.24
6 Robert Marion (Bmc/Kenda)                           0.25
7 Benjamin Moore (Velo Roche)                         0.49
8 Brett Nichols (River City)                          1.46
DNF Matt Googe (Baylor Cyc)                               
DNF Art Degraw                                            
DNF Brent Mellen (Omer And B)                             
DNF Justin Raynes (Bikes Unli)                            
DNF Lyle Warner                                           
DNF Luke Brechwald (Rad Racing)                           
DNF Jesrin Gaier (Specialize)                             
DNF Christopher Hamlin (Bliss Raci)                       
DNF John Burns (Bikeman.Co)                               
DNF Matt Wittler (Sierra Exp)                             
DNF Art Nelsen (Tokyo Joes)                               
DNF Mathew Katz (Giant/Alpi)                              
DNF John Davis (Spinbikesh)                               
DNF Nathan Wyatt (Carolina F)                             
DNF Luke Rozanski (Giant/Maxx)                            
DNF David Bishop (Krystal)                                
DNF Justin Swett (Northstar)                              
DNF Ryan Leech (Visitpa.Co)                               
 
Junior expert men
 
1 Eric Thompson (Nature Val)                         23.33
2 Ethan Gilmour (Devo/Okemo)                          0.05
3 Stephen Ettinger (Arlberg Sp)                       0.10
4 Greg Carpenter (Giant/Devo)                         0.10
5 Brad Nelson (Khs/Kenda)                             0.17
6 Eric Emsky (Rad Racing)                             0.18
7 Seth Kemp (Khs/Kenda)                               0.24
8 Sean Worsech (Rad Racing)                           0.31
9 Chris Peterson (Devo)                               0.41
10 Ryan Harrison (Devo)                               0.44
11 Matthew Beaton (Tokyo Joes)                        1.03
12 Jerome Townsend (Team Bike)                        1.43
13 Matt Rotroff (Btd/Inland)                          1.46
Pulled
14 Erik Kristiansen (Skyland Cy)                          
15 Joshua Berry (Scott Usa)                               
16 Jeremy Blalock (Ventana)                               
17 Seamus Powell (Windham Mt)                             
18 Andy Gallagher (Liberty Cy)                            
19 Cody Cox                                               
20 Ben Kraushaar (Devo/Nso)                               
21 Dani Rudd (Chase Velo)                                 
22 Ramsay Fretz (Bliss)                                   
23 Lars Mommer (California)                               
24 Matt Nudy (Beans Bike)                                 
25 Matthew Keiper (Ncvc/Inova)                            
26 William Rowland (Bliss Raci)                           
27 Chris Parmer (Bliss Raci)                              
28 Patrick Cafferky (Bliss Cycl)                          
DNS Cai Clothier (Gravitywor)                             
DSQ Zach Adams (Yellow Bre)                               
DNS Austin Eterno (Santa Cruz)                            
DNS Jonathan Merritt (Byrds)                              
DNS Menso De Jong (Santa Cruz)                            
DNS Kristo Jorgenson                                      
DNF Tristan Cowie (Cycle Yout)                            
DNS Allen Steckmest (Byrds)                               
DNF Bradford Perley (Trek/Cape-)                          
DNF Nicholas Keough (Clnoonan)                            
 
Expert men 19-29
 
1 John Peterson (Www.Bikeba)                         22.29
2 Thomas Bender (Tm Wheaton)                          0.21
3 Michael Bartlett (Cyclethera)                       0.32
4 Mike Loranty (Ag Edwards)                           0.34
5 Robert Goldman (Wissahicko)                         0.35
Pulled
6 Stephen Petersen                                        
7 Alex Boone (Helens/Sub)                                 
8 Matt St. Marie (Sycamore C)                             
9 Pierre Vanden Borre (Hup United)                        
10 Caley Fretz (Bliss Raci)                               
11 Timothy Halliday (America's)                           
12 Carl Hesselein (Revolution)                            
13 Robert Poole (Bikebarnra)                              
14 Eric Carlson (Team Ironh)                              
15 Nathan Pepin                                           
16 Ben Ollett (Western Sc)                                
17 Mitchell Clement (Team Nptu)                           
18 Nathaniel Campbell (Dreamscape)                        
19 Mark Romanovsky (Pawling Cy)                           
20 Jonathan Favata (Team Overl)                           
21 Ben Corbalis (Union Velo)                              
22 Matt Montross (Nav/Pedros)                             
23 Katriel Statman (Overlook M)                           
 
Expert men 30+
 
1 Jeff Dickey (Ncvc/Nova)                            24.19
2 Wes Dickson (Sycamore C)                            0.00
3 Todd Wheelden (Kona/Portl)                          0.03
4 Nathan Piekielek (Meredith G)                       0.05
5 Mark Gunsalus (Bike Barn)                           0.08
6 Greg Ferguson (Meredith G)                          0.16
7 Chuck Ross (Sierra Exp)                             0.22
8 Perry Roper (Chinook)                               0.26
9 Mike Hebe (Visitpa.Co)                              0.30
10 Tim Butler (River City)                            0.37
Pulled
11 Peter Smith (Revolution)                               
12 Stuart Jensen (Easternblo)                             
13 Jarred Swalwell (Yeti Cycle)                           
14 Noah Meineke (Team Bulld)                              
15 Michael Nixon (Cannondale)                             
16 Joe Mctague (No Atlanti)                               
17 Andrew Rigel (Ellsworth)                               
18 Biu Marciniak                                          
19 Michael Laub (Mountainsi)                              
20 Paul Speranza (Beans Bike)                             
21 Joshua West (Bikeman.Co)                               
22 Wyatt Roberts (Overlook)                               
23 John Ormsby (Dick Sonne)                               
24 Jeff Fontaine                                          
25 Jeff Seaton (Burke Mtn)                                
26 Rich Bartlett (Block)                                  
DNS Doug Owen (Lees-Mcrae)                                
DNS Rodger Carter (Race Pace)                             
DNS Lath Carlson (South Mtn)                              
DNS Mark Kutney (Van Dessel)                              
DNS Waldek Stepniowski (Luna Women)                       
DNS Brian Pierce (Minuteman)                              
DNS James Mcmillan                                        
 
Open women
 
1 Annajean Dallaire (Schellers)                      25.46
2 Anne Grabowski (Nature Val)                         0.40
3 Elizabeth Sheldon (Tokyo Jo's)                      0.40
4 Callie Mcdowell (Bikeman.Co)                        0.47
5 Erin Vicary (Darkhorser)                            1.19
6 Philicia Marion (Bmc/Kenda)                         1.21
7 Lindsey Bishop (Team Bulld)                         1.41
Pulled
8 Essence Barton (Devo/Nso)                               
9 Erin Disterheft (Team Billy)                            
10 Joy Duerksen (Team Jose)                               
11 Jane Rynbrandt (Tough Girl)                            
12 Jane Finsterwald (Chipotle-T)                          
13 Laura Jensen (Benidorm/E)                              
14 Marianne Stover (If/Kempner)                           
15 Shannon Morrison (Vantaggio/)                          
16 Stef Goldberg (Race Apce)                              
17 Deidre York (Velobum.Co)                               
18 Pauline Frascone (Bike Barn)                           
19 Lydia Barter (Bike Alley)                              
20 Anna Kelso (City Bikes)                                
21 Hollis Owens (Charlottes)                              
22 Carol Busick (Pro Helath)                              
DNS Nicole Beck (Byrds)                                   
DNS Margaret Thompson (Sonnesraci)                        
DNS Brooke Warner (Bicycle Jo)                            

Back to top