USA Cycling Mountain Bike National Championships - CN
USA, July 19-22, 2007
Main Page Results Overall standings Previous Race Next Race
Race 4 - Friday, July 20: Elite Women Cross Country,
McConneloug crowned cross country queen
By Jackson Weber in West Dover, Vermont
Mary McConneloug (Kenda/Seven)
Photo ©: Dave McElwaine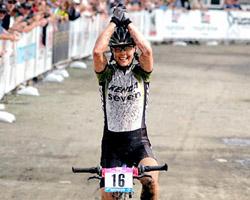 As the clouds rolled overhead in rather ominous fashion, the 56 starters in the US cross country national championship took off in a relatively calm start that saw Mary McConneloug (Kenda/Seven) use a combination of speed and finesse to leave the rest of the field far behind on her way to her third national title.
Yesterday's rain, combined with today's occasional patches of sunshine left the already challenging course spotted with vicious, little sections of mud and rock, including a virtually unrideable climb that had the entire field running up it. An upbeat Georgia Gould (Luna Women's MTB), the national champion in 2006, explained at the finish. "This course was really hard to get in any kind of rhythm - there's no real sustained climbs...so that was more the problem for me."
After the first, smaller loop of the course, it became clear that it was going to be a three-woman race. Mary McConneloug, fresh of her silver at the Pan Am Games last weekend, was the first into view, followed by Willow Koerber (Subaru-Gary Fisher) and then a hard-charging Georgia Gould. McConneloug's lead appeared only a temporary one as both Koerber and Gould seemed to be reeling her in as they moved back out of sight and into the back single track of the course. It turned out that was the closest they would get to the on-form McConneloug.
"I get going better when I'm not chasing - when I'm up front and just in my own head," said McConneloug afterwards.
Women's cross country podium (left to right):
Photo ©: Dave McElwaine

Instead of letting Gould and Koerber back into the race, McConneloug shut the door, thriving in the muddy singletrack that she would bubble about after the race - terrain which her fellow riders had very few positive things to say about. Coming out of the long back loop of the course, McConneloug's lead had grown slightly to about 10 seconds.
Midway through the second lap, that gap ballooned to 40 seconds, as the still smooth McConneloug "'floated'" about course while her chasers fatigued. Behind her, Gould dropped Koerber when she ran a section that Koerber chose to ride, but McConneloug was too strong, leaving the lanky Luna sensation to settle for second, at nearly a minute and a half behind.
McConneloug crossed the line in near tears with a smile breaking through her mud-blackened face. "This is my focus race of the year," explained the new national champion. "To come here and get the national championship title back, it was my season goal."
Willow Koerber came in four minutes down, with her teammate, Heather Irmiger fourth and Luna's Shonny Vanlandingham rounding out the top five.
Race notes
- McConneloug's victory earns her an automatic spot on the US National team for the UCI Mountain Bike World Championships in Fort William, Scotland. Koerber and Gould previously qualified by virtue of finishing top-five in World Cup races this season.
- The top-three finishers are also the top three Americans in the women's World Cup series. Gould is currently ranked fourth ahead of McConneloug (7th) and Koerber (9th).
Photography
For a thumbnail gallery of these images, click here
Images by Jackson Weber / Cyclingnews
Images by Dave McElwaine/www.trailwatch.net
Results

1 Mary McConneloug (Kenda/Seven Cycles)         2.06.59
2 Georgia Gould (Luna Womens Mtb)                  1.18
3 Willow Koerber (Subaru-Gary Fisher)              3.58
4 Heather Irmiger (Subaru-Gary Fisher)             7.42
5 Shonny Vanlandingham (Luna Womens Mtb Team)      8.16
6 Susan Haywood (Trek/Vw)                          8.56
7 Lea Davison (Trek/Vw)                            8.57
8 Kelli Emmett (Giant Mtb Team)                   16.02
9 Jamie Whitmore (Cannondale/Michelin)            20.15
10 Zephanie Blasi (Kenda/X-Fusion/Titus)          21.20
11 Betsy Shogren (Dairyland/Casdorph)             22.01
12 Jenna Zander (Bear Naked/Cannondale)           23.00
13 Melissa Thomas (Tokyo Joes/X-Fusion)           23.40
14 Kyia Malenkovich (Headmethod/Cannondale)       25.08
15 Judy Freeman                                   25.46
16 Sue Butler (Bear Naked/Cannondale Mtb Tm)      26.07
17 Sara Bresnick-Zocchi (Lynskey Performance)     27.46
18 Kathy Sherwin (Titus)                          29.17
19 Jennifer Gersbach (Bmc/Sports Garage)          30.29
20 Carolyn Popovic (Trek/Vw East Coast)           32.12
21 Karen Potter (Mtbmind.Com)                     32.34
22 Bryna Nestor (Bear Naked/Cannondale)           34.25
23 Barbara Howe (Velo Bella/Kona)                 35.06
24 Paula Burks (Vantaggio/ Specialized)           37.33
25 Marci Titus-Hall (Desalvo)                     37.41
26 Nina Baum (Bear Naked/Cannondale)              37.48
27 Patricia Buerkle (Tahoe Northstar/Giant)       38.14
28 Kimberly Flynn (Vantaggio/Specialized)         38.51
29 Theresa Richardson (Bear Naked/Cannondale)     39.33
30 Susan Schubel (Dark Horse)                     39.36
31 Emily Van Meter (Bear Naked/Cannondale)        40.37
32 Cheryl Sornson (Trek East Coast)               40.50
33 Mary Lynn Wikar (Titus/Michelin)               42.36
34 Cassandra Perkins (Bear Naked/Cannondale)      43.36
35 Meggan Flaherty (North Atlantic Velo)          47.05
36 Johanna Kraus (Charlottesville Racing Club)    47.37
37 Christie Pleiss (Pass Pt/Gary Fisher)          50.13
38 Erika Krumpelman (Velo Bella/Kona)           1.03.37
DNF Jennifer Tribe-Wilson                              
DNF Chenoah Hendershot (Bear Naked/Cannondale)         
DNF Becca Blay (Bear Naked/Cannondale)                 
DNF Shannon Gibson (Velo-Bella/Kona)                   
DNF Monique Simone (Tamarack)                          
DNF Kristina Maier (Bmc/Sports Garage)   

U23 women
 
1 Chloe Forsman (Luna Women)                    2.32.19
2 Caitlyn Tuel (Trek/Vw /R)                        4.27
3 Natasha Cowie (Velo Bella)                       6.09
4 Jamie Dinkins (Vantaggio/)                       7.02
5 Sabina Kraushaar (Team Healt)                   25.25
6 Rachel Throop (Devo)                            47.08
7 Kay Sherwood                                    51.30
DNF Hilary Wright (Devo)                               
DNF Danae York (Velobum.Co)                            
DNF Melanie Meyers (Kenda/Titu)                        
DNF Rose Long (Colby Coll)